Paris-Nice 2020 – Stage 1 preview
By David Hunter
Plaisir – Plaisir 154km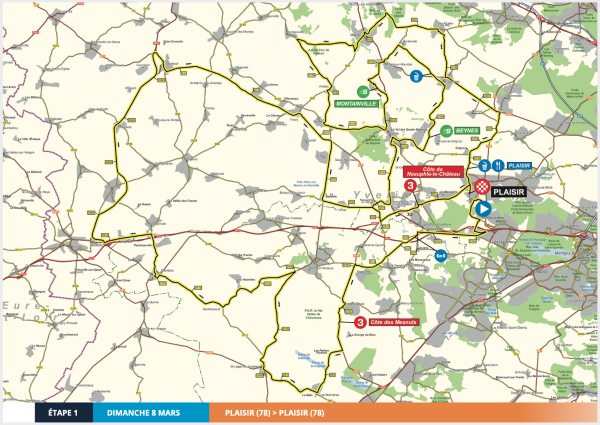 Time to get the show on the road.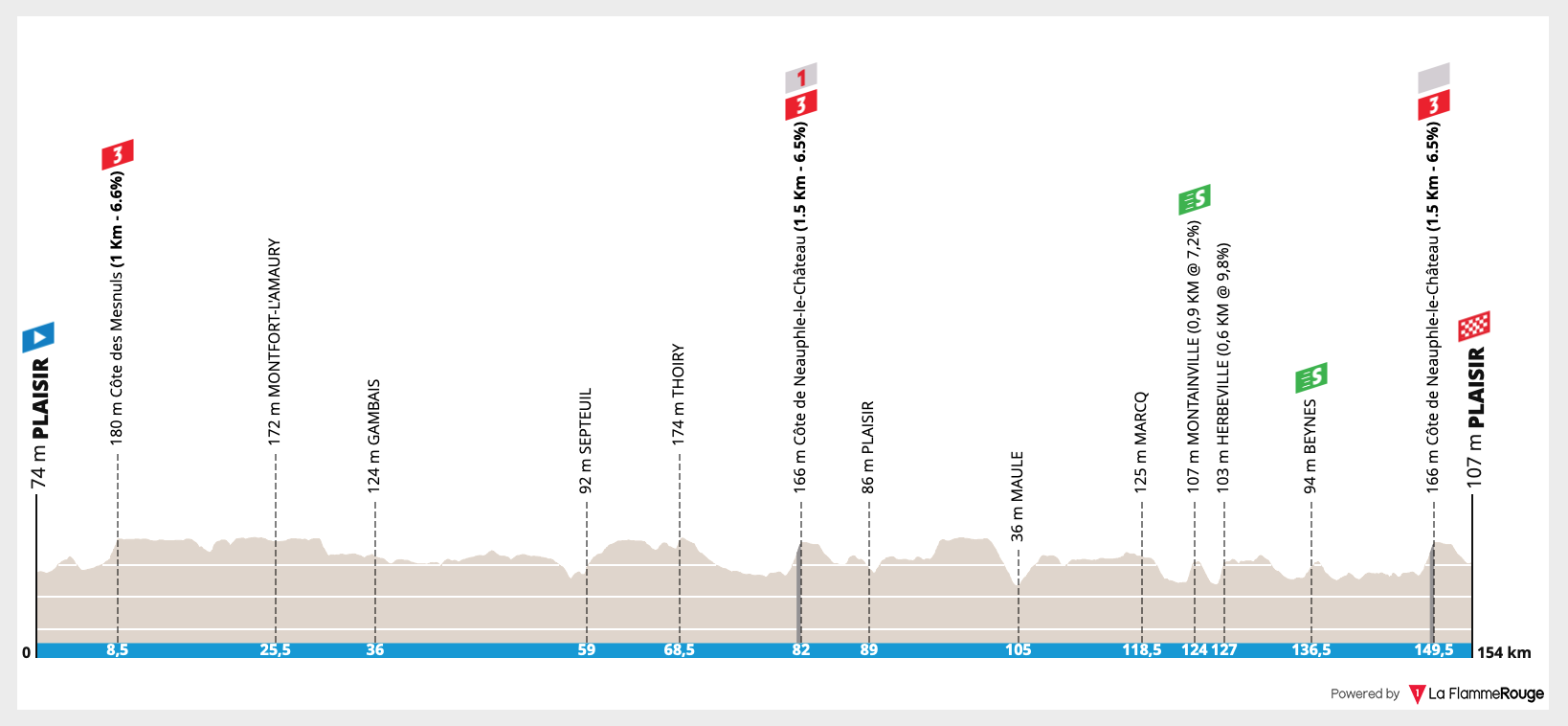 This is a Corona virus free zone; all talk of it is banned! The opening stage looks like a dull one, but the profile is a little deceiving as we have plenty of uncategorised lumps to test the legs of the sprinters, and we also have the weather…
Weather
Rain and wind, well it is Paris-Nice! The wind will be around 30km/h, but gusting up to 50km/h. Coming from the south-west, we have plenty of crosswind sections for the bunch to negotiate. Throw in some rain, and we're in for another classic start to PN.
Echelons
It's on like donkey Kong! There are many exposed sections in this stage, with perfect conditions to split the race. As Tirreno has been cancelled, most teams arrive with a lovely mix of GC riders, sprinters and classics experts. This means the classics boys will be licking their lips at the potential fun they'll have in this stage.
As early as km 45 I can see the race split. From this point the riders have to negotiate around 20km of crosswind chaos. Usually teams are reluctant to split things early in a race, as it is very difficult to continue with the push for the whole stage, but I think some teams will try to blow it apart at this point. If it all comes back together, there is another good spot after km 110, which is obviously much closer to the finish. I would be amazed to see the full bunch together for the finale of the stage.
Finale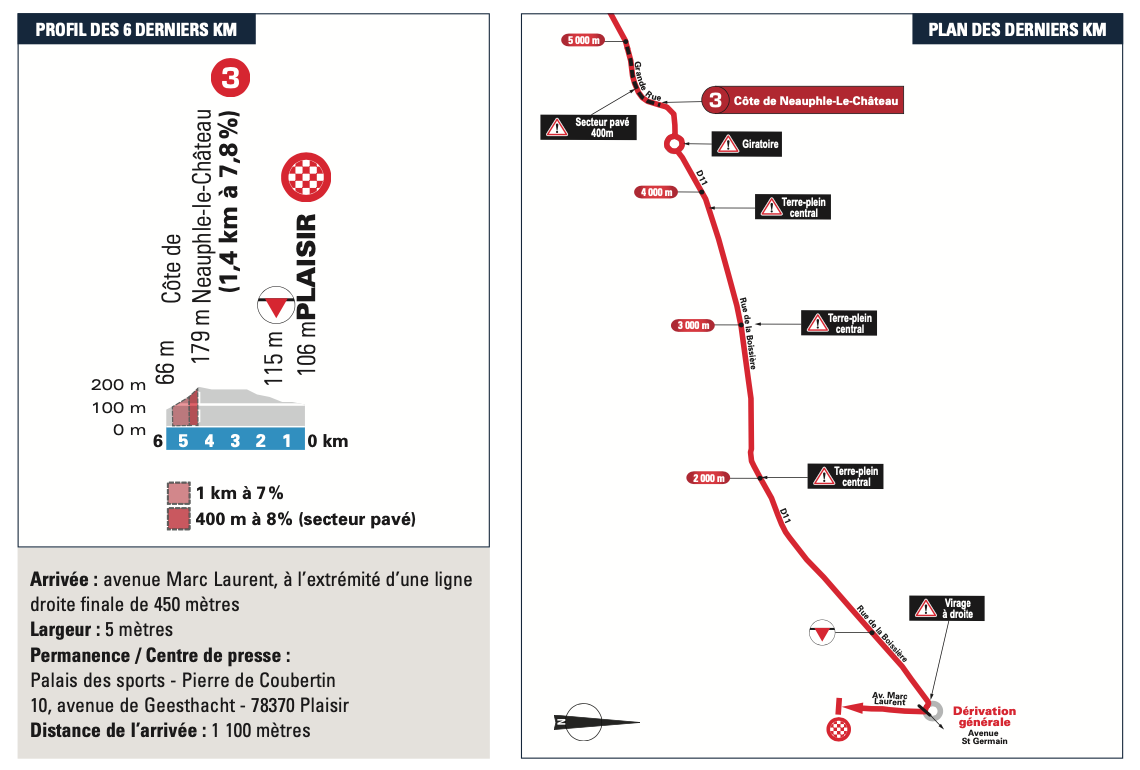 We have a cat 3 climb which crests with around 4km to go. Officially it is 1.5km at 6.5%, but just wait until you see the cobbles!
Take a look on street view, you'll see just how narrow the road is, and how proud the cobbles are. This 400m section averages 9%, it is very demanding, but quite short. From the top, a lovely tailwind will blow any brave attackers towards the finishing line, this will certainly tease out a few riders, and could be bad news for the sprinters. If the bunch is already relatively small, this climb will be very decisive. Sprinters are very good in windy conditions, but if that front group is small, this climb will destroy any hopes of a sprint.
Contenders
Julian Alaphilippe – not started the season in great form, but I don't see that as a big problem. Remember that he's targeting the Tour of Flanders this year, which is only four weeks away. This is a wonderful stage for him, as QuickStep arrive with a team who can split the race. They do have a sprint option in Sam Bennett, a rider who is strong in crosswinds, but if the front group is small I don't think they'll try and hold things together. If Alaphilippe attacks on the cobbles, I'm not sure who'll be able to follow him. I remember the opening stage of the 2017 edition of this race, where crosswinds blew the peloton apart. Alaphilippe attacked on the final kicker, but Démare was able to follow him and win the two-up sprint. Could we see something similar in 2020?
Jasper Stuyven – current form is just wow! He was brilliant in Omloop, taking the win, and followed that up with a strong showing in KBK, finishing 5th in the sprint despite having attacked on many occasions. Trek have some of their classics guys here, but will they have to protect Nibali in the crosswinds? Stuyven, Theuns and Kirsch are three of the very best in these conditions, I hope they get permission to rip it apart. Stuyven will surely look to attack on the cobbled climb, and he'll be confident of winning from a small group too, the same can be said of Theuns.
Tiesj Benoot – started the season off last weekend in good form, I want to see more! The weather forecast is good news for him, he loves a tough day out in the saddle. All the classics guys arrive with a team leader to protect, but Tiesj is the team leader! Almost all of their team is good in crosswinds, they are another squad who'll be looking to take advantage of the weather conditions. In the finale they certainly have options, with Tiesj, SKA, Matthews and Bol all good cards to have. We'll have to see how the tactics play out, but I want to see Tiesj attack on the cobbles.
Sam Bennett – can handle himself the wind, but if it becomes a selective day he'll need to do some work for Alaphilippe. The opening stages of the UAE Tour didn't go according to plan, which will have left him feeling a little frustrated. The final climb in this stage won't scare him, but holding it all together for a sprint is going to be a challenge.
Peter Sagan – we've not seen Peter for a while, I'm missing him. He started his season out in Argentina, and then followed that up with an altitude camp. He was one of the many riders who was heading to Italy, before the last-minute change of plan. Bora have a bit of a mixed team; they don't look as strong as most. With their sights set on GC and helping Ackermann in the sprints, I'm not sure what role Sagan will fulfil, but he's surely going to get some freedom. It's hard to predict what his current form will be like, but I hope he's strong.
Pascal Ackermann – walked away from the UAE Tour with a stage win, which will have given him a nice boost. The German is a fine sprinter, but he can also handle a climb or two. As I've already mentioned, holding this together for a sprint will be very difficult, I don't think Bora are strong enough to do this.
Caleb Ewan – the little Aussie is the main man at Lotto-Soudal, they will fully commit to him. He is very good in windy conditions, as is most of his team. The finale of the race will be interesting for the squad, as they have Gilbert and De Buyst as attacking options. Caleb is strong on the climbs, but he won't be able to follow the big attacks on the short-cobbled section.
Prediction Time
The presence of the big classics riders will blow this stage to pieces, thanks to the weather conditions and exposed sections. Teams like QuickStep, Sunweb and Trek will be more than happy to split things early and push on. The two unclassified climbs with 30km remaining will help slim the group further, before we get the winning move going on the cobbled climb. When the dust settles, we'll see another win for Jasper Stuyven, he is the man in form.
David Hunter
Follow us on Twitter and Instagram
Join us on facebook: Ciclismo Internacional
Copyright © 2012-2020 Ciclismo Internacional. All Rights Reserved