París Nice 2021 – Stage 1 Preview
By David Hunter
Saint-Cyr-L'École > Saint-Cyr-L'École 166km
Stage 1 is a day with a few possible outcomes, but to me it looks like a sprint. We start and finish in Saint-Cyr-L'École, which is the twin town of where I live!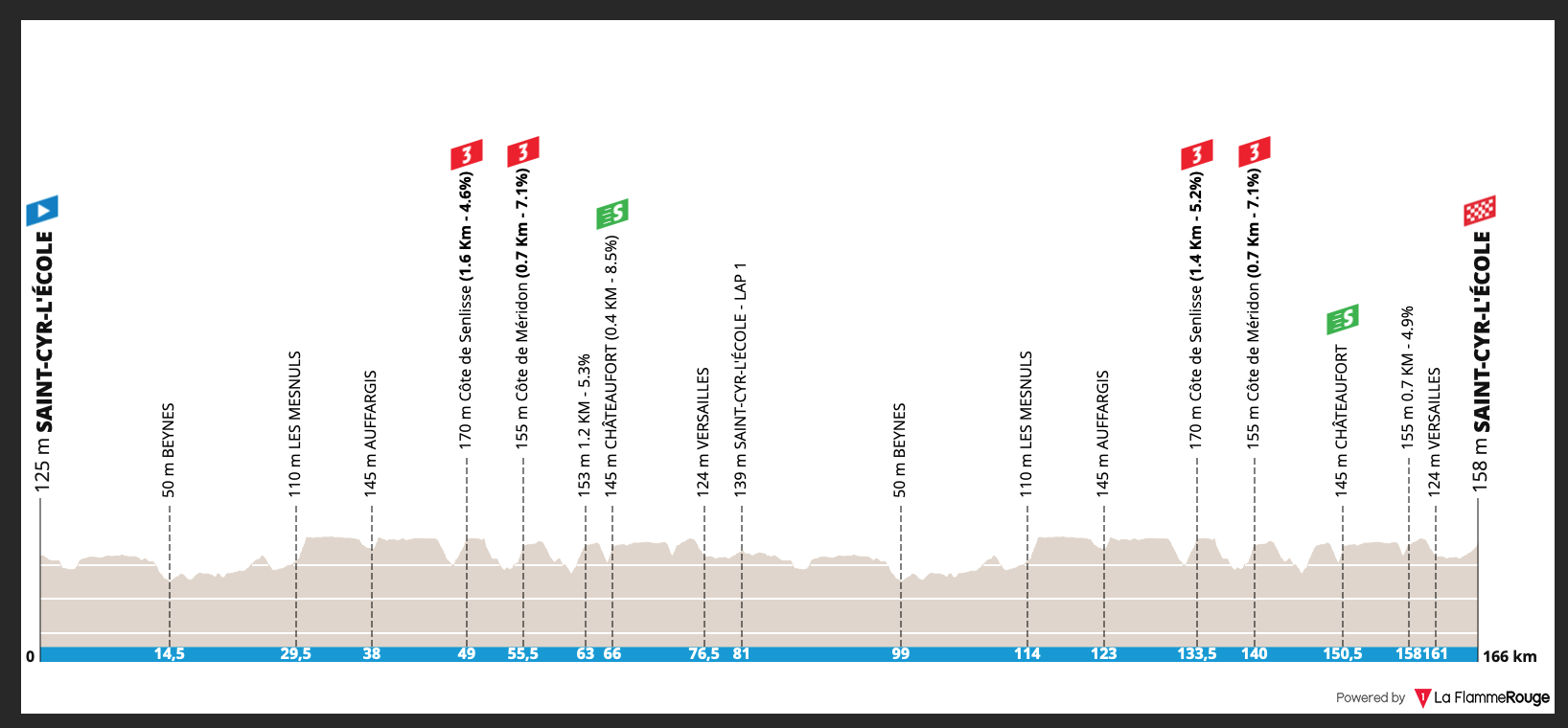 Yes, it is a little bit lumpy, but we're only talking about 1500m of climbing. The climbers will have been franticly checking the weather forecast, so I'll put them out of their misery.
Weather
Sunny, but cold. The temperature at the start of the day will only be 1 degree, and it will only reach a maximum of 6. The wind will be around 10km/h, which is a shame as there are a few perfect spots for crosswind fun. I doubt we'll see splits, the wind isn't strong.
Tactics
The route is basically two laps of a big circuit. The lap has two cat 3 climbs, but they are nice and easy for the riders. Without wind, this should be an easy day for the peloton, until we hit the final 20km.
Bonus Sprint
The final intermediate sprint comes with just over 15km left in the day. It's been placed just at the crest of this steep little climb, which means some of the GC riders should be interested in trying to take the 3 seconds on offer. It is a tough little kicker, but only 400m long means that it's unlikely we'll then see a GC rider looking to push on over the top, but that's not to say a plucky puncheur might not have a go.
Finale
The final 2km does rise, but the gradients are relatively easy until the final 300m which averages 4.2%.
With 500m to go the riders are faced with quite a lot of road furniture. At this point the riders go to the right, where the road narrows to one lane for a brief moment, before opening up to two lanes for the finishing straight. As in all uphill sprints, timing of your launch is very important, sprinters must be patient and not go too early, although the cross/tailwind will help a little.
DS Cycling Mole
Omloop didn't go according to plan, but Trek-Segafredo have still asked me back.
Right lads guess who's back? Time to talk lead outs, Kenny, you can leave the room. Jaco, your job is to get us good position in the final 5km. Get your elbows out and position the boys near the front. Next up is Kirschy. Big man, time for an old school lead out. I want you to smash to the front inside the final 2km, then it's over to fast Eddie. I want you to guide the boys to 600 to go, making sure we get good position for the section that narrows, then it's over to Jappy. Forget about Mørkøv, you're the man! Madso, be patient, don't launch first. It's as easy as that.
Contenders
Sam Bennett – the UAE Tour was an overwhelming success for the Irishman. His stunning success in 2020 put him right at the top of the sprinting leagues, two wins in his first race just reaffirmed how good he is just now. His lead out will likely be Lampaert, Sénéchal and Mørkøv which is very strong and a longer train than he had in the UAE Tour. Bennett doesn't mind an uphill sprint, he has the strength required for efforts like this. He starts as the man to beat.
Arnaud Démare – he's not hit the ground running. He was off the pace in Provence, and then disappointed in Kuurne, he's yet to look anywhere near the rider he was in 2020. FDJ arrive with his usual sprint train: Scotson, Sinkeldam and Guarnieri. This is tried and tested, a train that usually performs very well in races. To win this stage, he'll need to be going a lot better than how he was last week.
Pascal Ackermann – he's still coming to terms with how to ride without Rudi Selig. Being without your trusted lead out man is very difficult, you can see Ackermann is struggling without his best friend. I've said it before and I'll say it again, without Selig he won't win.
Mads Pedersen – took a confidence boosting win in Kuurne, which was a great result considering he didn't look very good in either of last weekend's races. Going into this stage he'll have Kirsch, Theuns and Stuyven to lead him out. We all saw last season that this train is one of the best in cycling, and they are perfect for this type of finish. If they get Pedersen into position, we'll see if last week papered over the cracks.
Cees Bol – I was surprised to see a fair amount of criticism fly his way after the UAE Tour. That was his first race of the season, and he had a new lead out train ahead of him. I've made no secret of my admiration for the big Dutchman, I believe he's one of the best sprinters in the world. This is his first big target of the season and the route suits him well. The team arrive with his usual sprint train: Kragh Andersen, Sütterlin, Eekhoff and Pedersen, which looks like one of the best in the race. Bol is a big fan of uphill sprints, just think back to his win in Algarve back at the start of 2020. I think he'll be fighting for the win.
Michael Matthews – first race of the season for the Aussie, but that's the way he likes it. He is now back racing with BikeExchange, a move that made a lot of sense to me. His days of winning flat sprints are over, but this uphill finish is much better for him. With the likes of Edmondson, Jansen and Groves to lead him out, Matthews should start the sprint in a good position.
Giacomo Nizzolo – I've previously voiced my concerns about his lead out, these will remain for the whole season. I don't see him winning a race of this stature with a poor sprint train.
Christophe Laporte – form is very good, and the uphill sprint is better than him than a flat one, but is he fast enough to win a world tour sprint?
Alexander Kristoff – the cold temperatures are good for him, but I don't see him winning.
Prediction Time
Sorry to be boring, but this looks like another win for Sam Bennett, but watch out for Cees Bol.
David Hunter
Follow us on Twitter and Instagram
Join us on facebook: Ciclismo Internacional
Copyright © 2012-2021 Ciclismo Internacional. All Rights Reserved