Paris-Tours 2019 – Preview
By David Hunter
Chartres – Tours 217km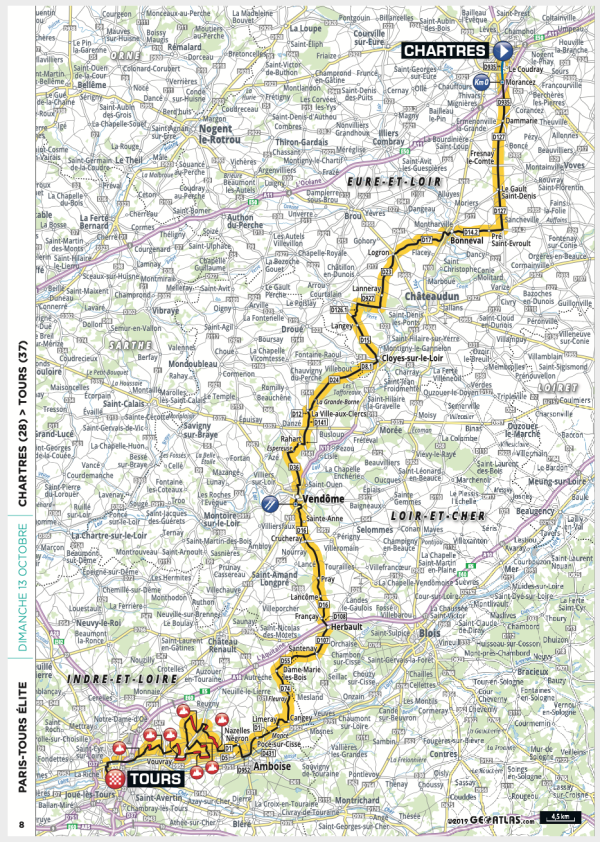 No QuickStep, no party?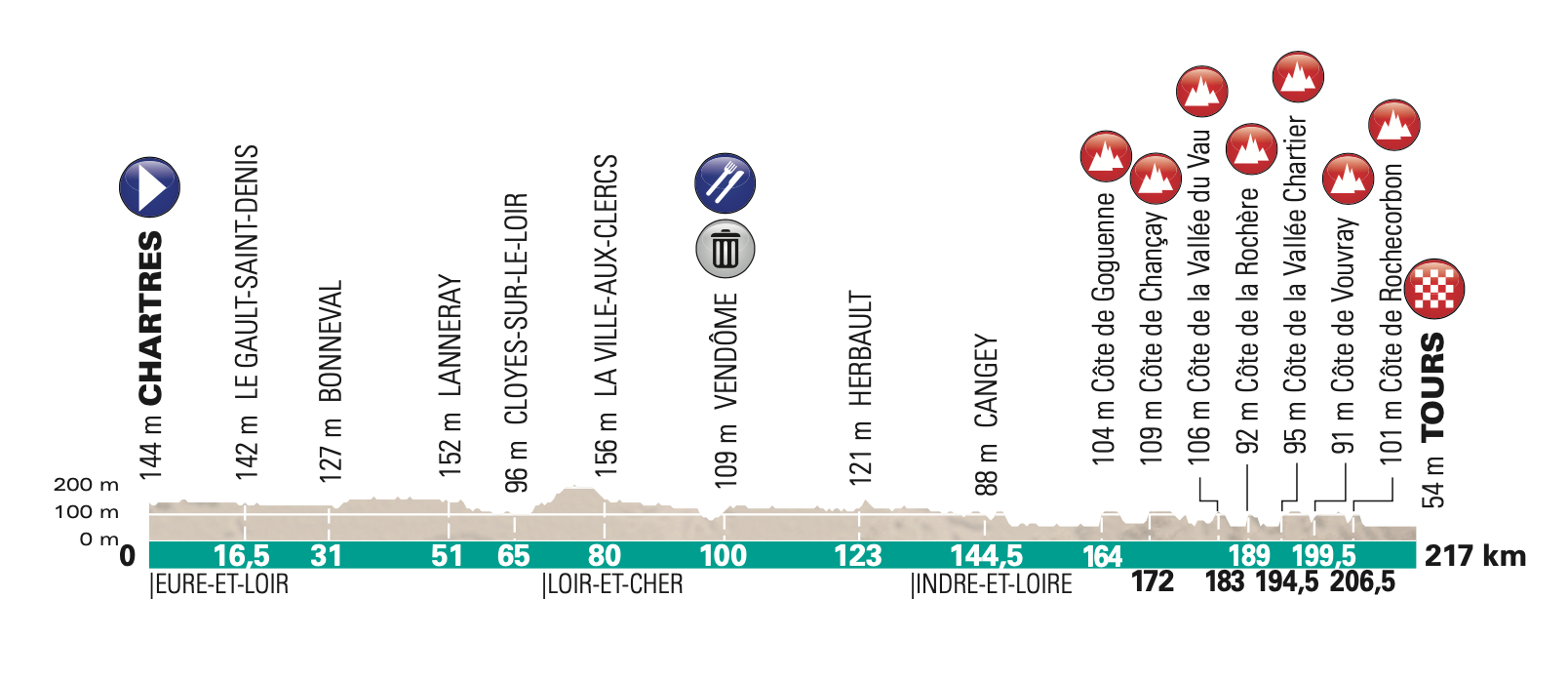 Last year saw the organisers go crazy and introduce some off-road sectors. These sectors aren't like anything you'll see in any other road race, they are littered with huge chunks of rock, not something that skinny little tyres like. In response to the route change, QuickStep said they would not return, and they've been good to their word.
The organisers have decided to stick with the route, but have made a few little changes.
Grosse Pierre is now sector 9, it was sector 7 last year. This change of route also sees Château de Valmer move from sector 9 to sector 8 and we have two new sectors: de Chançay à Reugny and Noizay. The total amount of off-road action is down from 12km to 10.7km.
In terms of the climbs, we still have seven but two of these are new to the race. All the climbs are short and steep, the toughest is Côte de la Rochère, which is steep but also incredibly narrow. The length of the climbs means that the winning move is unlikely to go when the road points up, they simply aren't long enough to make a big selection amongst the main riders. The off-road sectors are what make the difference in this race. The final 32km of the race is similar to last year, with the same sectors and climbs. Will we see as much chaos as 2018?
Weather
Very windy. We have a sizeable amount of wind coming from the south-west for the whole day, which means a lot of cross/headwind as the riders head south towards Tours. Once they start to turn west at 150km, the majority of the rest of the day the riders will have to deal with strong crosswinds. The off-road sectors are very exposed, the wind will help make this a hugely selective day.
Tactics
The headwind will help keep things all together for the opening of the stage, once we turn west we'll see lots of teams interested in splitting it up. Last year showed that pre-race tactics are worth very little in this race, you need to carry a huge slice of luck to win this one. The huge chunks of rocks means we see lots of punctures and this is what many of the riders don't like. Forgot about tactics, you need good legs and lots of luck to win Paris-Tours.
Contenders
Søren Kragh Andersen – the Dane is the defending champion, but he doesn't arrive here with much form to speak of. This makes it very difficult to talk about him as a genuine contender for this race, but as he won in 2018 I cannot write him off completely.
Niki Terpstra – second last year, after he played a game of poker with Cosnefroy, I'm sure you'll all still remember the look he gave him on the finishing line. His move from QuickStep to Direct Energie was never going to result in a huge number of wins, but a big fat pay cheque makes up for that! Recent form has been okay, and this is a race that Terpstra will have been targeting for a number of months. He has to start as one of the men to beat.
Oliver Naesen – in my book, he's the favourite for the title. Oli loves riding at this time of year, it's when he's picked up his best results as a professional. Just a couple of days ago he was pipped on the line in Binche, he'll still be a little frustrated about that as he had the speed to take the win. 2019 has been year of near misses for Naesen, but he did take a home win in Geraardsbergen, beating Van Avermaet to take the final stage in the Binck Bank Tour. In the last four years he's won one race each year, I wonder if he can squeeze out a second win and start a new trend.
Arnaud Démare – the big French hope for the win. Démare is a rider who was talked up as a Paris-Roubaix contender for a number of years, but it just didn't happen. FDJ arrive with a strong team and they would love to try and hold the race together and set up a sprint involving their team leader, but I just can't see that happening. Stefan Küng is another rider who will have freedom in this race, and the Swiss TT star is in good form. Allowing him to attack will give FDJ multiple options, and I think we'll see the team on the front foot.
Jelle Wallays – winner of this race back in 2014, but the route was very different. He was going well last year, but a puncture took him out of contention. The Belgian does have the right characteristics to win this race, and Lotto will have second option in Jens Keukeleire. Both riders are in good form and will hope to have a say in the outcome of the race.
Nils Politt – anyone that finishes 2nd in Paris-Roubaix can certainly win Paris-Tours. The big German is a cracking rider, one that has a bright future ahead of him. This season he's been making significant progress in one day classics, not only was he 2nd in PR, but he also finished 6th in E3 and 5th in Flanders. He has to be one of the main contenders for this title.
Tom Van Asbroeck – 4th in Tour de l'Eurométropole, winner in Binche and 2nd in Paris-Bourges, the Belgian is ending the season in sparkling form, he's not finished outside the top 20 in his last 7 races. I wouldn't normally consider him for a race like this, but you cannot ignore form.
Prediction Time
Given how much luck is required to win this race, only an idiot would try to predict it… Oli Naesen will win from a small group!
End of the Season
This is my 177th preview of the year, and my last. Reader numbers continue to grow, which is very pleasing to see. A massive thank you to everyone who reads my work, I hope it enhances your cycling enjoyment. As always, respect to Pablo Palermo, for all his editing and translating work. See you all soon.
Vamos!
David Hunter
Follow us on Twitter and Instagram
Join us on facebook: Ciclismo Internacional
Copyright © 2012-2019 Ciclismo Internacional. All Rights Reserved