Riders to Watch in 2015 – Edoardo Zardini
By David Hunter
After a good 2013, Edoardo Zardini of Bardiani CSF, had a brilliant 2014. Not only did he take his first victory, but he took two! His aggressive style of riding has won him many fans and seen him getting noticed by riders and owners of other teams. Still just 25, he has many years to improve and grow as a rider. I recently had the chance to ask Edoardo about his season.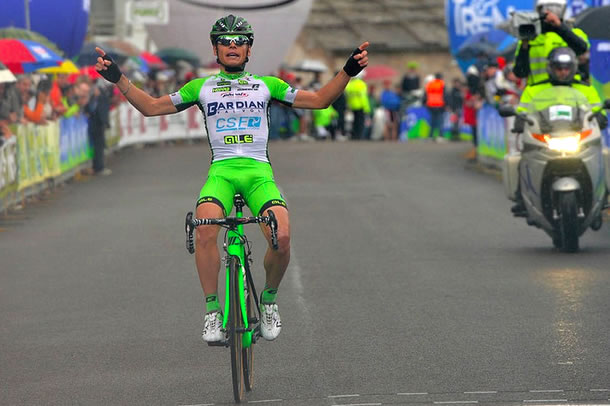 What an amazing season. At the beginning of the year, did you dream of such a wonderful season?
My 2014 goal was to win at least one time. So to win two races and both .HC has been a fantastic result. It gave to me a lot of confidence and, I suppose, that thanks to the victories, I improved a lot.
Lets go back to your first pro win. It was Giro del Trentino, stage 2 and the climb of San Giacomo di Brentonico. You attacked from a long way out, and held off the peloton to win. What do you remember of the day?
In Giro del Trentino my shape was so brilliant. I came there after a long altitude training camp with Bongiorno on Mount Etna. Also I had big motivation because the stage that I won was close to my hometown. So I knew the climb. With 10km to go I attacked and then in the middle I went solo to win. Only after I crossed the line did I understand what I did and the importance of the victory.
When did you feel confident the stage was yours?
As said before, while the gap between the chasers was enough, only after the finish line I realised I had won.
What did it feel like to go to the start of the next day, wearing the pink jersey?
The day after was amazing. It was so nice also because for my team it was the first win of the season, after a lot of podiums and top-10s. The media coverage and the article in Gazzetta dello Sport, gave me great emotions.
The Giro d'Italia started in Ireland. What did you think about the country and fans?
The departure in Ireland was fantastic. I had goose bumps during the opening stage, looking at all the people wearing dressed in pink.
Your best day was stage 18, where you finished 5th. The climb looked very hard, what do you remember of the day?
I had targeted that stage because I supposed the breakaway could win. It was so hard to make the break and I made a big effort to get in it. I guess I reached the best result especially because I managed really well the last steep climb against some expert riders like Arredondo, Duarte and Pellizotti. I was the first to drop from the leading group but with a great comeback I got a solid 5th place.
You seem to prefer attacking from distance, is this true?
When I have really good confidence I showed that if I attack at the bottom of a climb and the group give me some space then it's hard to catch me. Anyway, I know that after my 2014 victories, I'll be watched more in the future.
The next big moment of the season, was the Tour of Britain. Stage 3 finished with the climb of The Tumble, in Wales. Again, you attacked at the start of the climb to take the stage. When Roche passed you it seemed your chance was gone, but you fought back to win. Talk me through the climb and what happened when Roche passed you?
That day I felt really strong, one of the best days of my cycling career. My SD, Roberto Reverberi, gave to me a lot of confidence and suggested to attack at the bottom of the climb. After the attack and the first part of the uphill solo, I was smart when Roche joined me. Because I waited, I had the time to relax and then to attack again when I understood that his pace was slowing down.
You entered the final part of the season in great form, with 8th place in Tre Valli Varesine, where you helped Colbrelli to 2nd place. You were selected to go to the World Championships, but didn't make the final team. What was this experience like?
Being named for World Championships, I guess, was the award after a great season. It was a fantastic experience that helped me a lot and from which I grew up as a rider and man. The days before the race inside the national team was great.
You finished off your season with 4th place in Giro dell'Emilia, my favourite race. You were 6th here in 2013. Can you see yourself winning this race, in the future?
Giro dell'Emilia was my last goal of 2014. My shape was really good, I helped Bongiorno but at the same time was strong enough to arrive close to the podium. However, in the future I want to try to win this important one-day race.
How do you feel about taking on a leading role in the team?
When I'm in condition, I don't have fear to be the leader. It gives me a lot of energy. It's a nice feeling.
It's going to be harder to attack from distance, as you'll now be a "marked" man. Will you change your style?
As said before I suppose that in 2015 I'll be more "marked", but I'm not scared. When the situation arrives, I'll be ready to attack and try to win.
Is there anything that you and the team have identified you should work on?
We like to attack and don't care what the other riders "think about us". We are young and hungry for victory.
What are your best and worst moments of 2014?
Best moments, of course the two victories and the selection for the World Championships. The worst was the Italian Championships. We came to Trentino with huge expectations, after a great June, but it didn't work as we planned and in the end we were not happy.
What are your goals for 2015?
My goal will be to continue to win. I dream, of a mountain stage in the Giro d'Italia. To take a win like that, would mean a new step of growth in my cycling career.
Team leadership is something he'll have to get used to, in 2015. Being a "marked" rider takes some getting used to, but thanks to his explosive kick, it's difficult to keep Edoardo under wraps. With his sights firmly set on the Giro, I wouldn't be surprised to see him achieve his goal of a stage win.
David Hunter
Follow us in facebook https://www.facebook.com/CiclismoInternacionalLatinoamerica?fref=ts … or Twitter @CiclismoInter