Riders to Watch in 2015 – Hugh Carthy (interview)
By David Hunter
It's nice to come across a rider that breaks the mould. In British sport, it's very unusual to come across young people who move into Europe, at an early age. There are very few footballers doing this and only a handful of cyclists.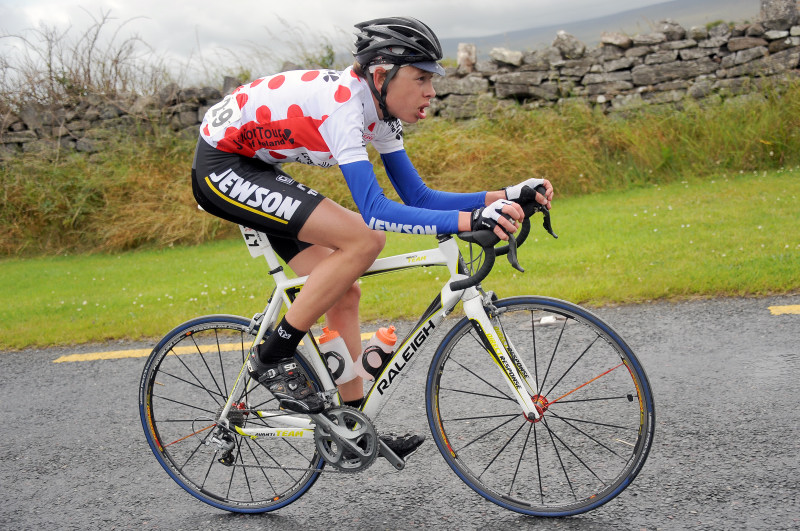 The Yates twins cheated and joined an English speaking team, but Hugh Carthy is doing it properly! The 20 year old from Preston, is moving to Spain, to join Caja Rural in 2015.
"It's going to be difficult; I'm under no illusions. I studied Spanish at school a few years ago and this winter I hired a private tutor. Luckily, learning languages is something I enjoy, so I'm improving nicely. It's not a quick process but I feel I've done as much as possible to help myself. Once I start living in Spain, it won't take very long to get to a high level. I was nervous when I first met the team to sign my contracts. I knew very little Spanish and I suddenly felt like an outsider. With the help of my agent, Jorge Quintana from Velofutur, I signed the contracts and left Spain in July feeling happy about the decisions I had made and ready to make the step up. I'll be based in Pamplona when the season starts. My parents were delighted for me. They've helped me every step of the way so far and would never hold me back!", he said.
What made the Spanish team sign the young lad from England? Well, he had a stunning 2014! 6th in the Mzansi Tour, 6th in the Tour of Japan (he won the KOM and white jersey) and winner of the Tour of Korea. These are serious results for a young rider.
"My main quality is climbing although I can time trial relatively well too. I guess this makes me good for stage races."
The Spanish squad have signed a jewel. They struck early, negotiating a contract in June/July. This got them to the front of the queue and some teams closer to home missed out. The win in Korea certainly got the attention of many.
"It was my first ever UCI win as an U23. I had been close to a win on two occasions in Japan, the previous week, so it was nice to go one better and win. With the offer to turn professional coming from that win, I'd definitely say it was a pivotal moment in my career."
The Tour of Korea is not an easy race to win. It's full of attacking riders and Hugh managed to beat the promising Aussie talent, Jack Haig.
"Korea is an unpredictable race that I've enjoyed riding twice. The racing isn't very controlled and has lots of attacking. It can be hard to know which moves to go with and which to ignore."
It wasn't all good news in 2014. Carthy crashed out of the Tour of Britain, thanks to a motorbike!
"A low point would have to be the Tour of Britain, in September. I crashed and broke my collarbone on stage 2, the same stage I crashed out in 2013. It was disappointing because it was a big opportunity, but I wasn't as upset as in 2013. I had a contract for 2015 and 2016 with a bigger team, so I tried to focus on recovering properly from my injuries and starting my preparations for 2015 in the right condition."
This was a sad way to end his career with the Rapha Condor JLT squad. He spent 2 very happy years working under the guiding eyes of John Herety.
"My time at Rapha was very important indeed. John Herety has a lot of experience running professional and national teams, in the past, so he know's the right formula for making riders successful. His main focus was providing the team the best race programme possible and making sure every rider on the team got opportunities to race big races. We worked with some of the best staff and some experienced riders who all helped me learn and develop. John kept us all grounded and encouraged us to keep learning."
Hugh's new team, Caja Rural, had their first team meetings way back in early November. It gave the young talent a chance to meet his new teammates and management.
"It was a lot less stressful than I thought it would be. I thought my lack of Spanish would be a real problem. Everybody was accommodating and welcoming and I left there feeling part of the team. I spoke a lot more Spanish than I thought possible and it definitely helped my confidence. Other than that, it was very typical – clothing measurements, bike measurements, etc."
Caja Rural are a Pro Continental team, but secure invites to very big races. They race in all the Spanish races: Andalucia, Catalunya, Pais Vasco, San Sebastian, Burgos and are almost certain to get invited to the Vuelta Espana. They also spend a lot of time in France, Portugal and Italy riding races like Trentino, Il Lombardia and Volta Algarve. There will be plenty of opportunities for Carthy to shine, especially as the squad only has 19 riders.
"I'll have a healthy race programme with races that suit me. The team haven't given me any specific targets yet. We'll get a more substantial race programme at the team training camp in January. To ride a Grand Tour would be massive for me. I have 2 years with the team to make progress, so I'm not going to put lots of pressure on myself in my first year. I have to look at the bigger picture. That said, if the opportunity came along, I wouldn't turn it down."
Whilst some teams like to keep a very close eye on their riders, during the close season, Caja Rural, take a different approach. The team are quite relaxed and trusting that Hugh is training hard during the winter months.
"I've been working with my own coach, Ken Matheson, for a few years now and we work well with each other now. The team are happy for me to do my own training and trust that I'll be in good shape when the season starts. I've always trained in the same way. I prefer to get the quantity in first and foremost. I regularly do interval training, when the season starts, but I feel more confident racing knowing that I've got distance under my belt."
Some riders like to set very high targets and some very low. Hugh took a totally different approach!
"I don't want to set any specific targets, at this stage. I want to continue learning and developing everyday, which will hopefully lead to some success."
The interview was conducted on Christmas Eve, so we ended by looking forward to Christmas Day….
"I see Christmas as the last time to indulge before the season starts. I won't be eating ridiculous amounts, but I certainly won't feel guilty!"
Hugh Carthy does break the British stereotype. He is a confident young man who is taking the opportunity to work away from home and family. He is looking to quickly learn the language and fully integrate into his team. If he manages to get that right, he has the talent to become a massive success. He stands an impressive 189cm and is still growing! He has a great climbing ability and can TT, does he start to remind me of some other British GC stars!? 2015 will be a transitional year for him but it wouldn't surprise me to see him raising his arms in delight.