Riders to Watch in 2015 – Louis Meintjes
By David Hunter
He's just 22 years old and rides for MTN – Qhubeka. Despite his young age he already started to impress in 2013, with 2nd place in the under 23 World Championship Road Race. 2014 was a transitional year for Louis as he tried to make his mark, in the world of pro cycling. Much is expected of the South African and many have marked him as a star of the future. I recently spoke to Louis, about his 2014 season.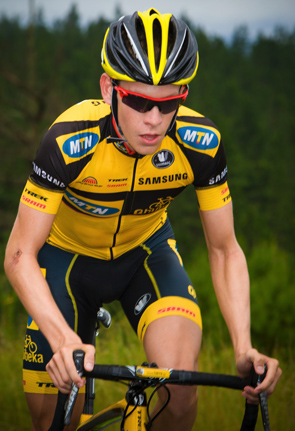 I'll start at the beginning of the year and what a start. You won your national road race title, beating Daryl Impey to the line. How much did this mean to you?
It really meant a lot. It gave me a lot of confidence and I think it was really good for my career going forward.
Winning at just 21 years old, is very special. How much of an honour was it to wear the jersey for the whole year?
It has been a really special year wearing the jersey and very happy that I got the opportunity so early in my career.
You took part in the brutal Milan-SanRemo, but didn't finish. How hard was the race?
It was hard, but more just because of the extreme cold.
The race is over 290km, how do you cope with such distances?
We train every single day of our lives to try and cope with it :-P
Giro del Trentino was a massive moment for you. The final stage was on Monte Bondone, with its crazy number of hairpin bends. You finished 2nd, just behind Landa, and took 5thplace on GC. What do you remember of the final stage? Is it a race you would like to return to?
It's a race that really suits me and I really like it. Already at the bottom of the climb I could feel I was having a good day. And the previous days gave me a lot of confidence. I was really happy with my 2nd place but also sad because the win felt so close.
You finished 61st in LBL, another very long race. What did you think of the race?
Also a race I really like and that I think can suit me. I really want to go back to it and focus on it as one of my goal races in the future.
The Vuelta Espana marked a very historic moment for the team. What was the atmosphere like, in the team, on the eve of the race?
Everyone was super motivated and gave 100% in our preparations. There was a really good vibe.
You unfortunately crashed early in the race. How did this effect you?
Luckily it wasn't very serious and didn't really effect me.
The highlight of your race was 5th place to La Camperona. The climb looked brutal, how hard did you find it?
Yes it is one really steep climb and having to do it after being in the break all day was pretty hard. It was one of my hardest days on the bike ever.
Looking back at the Vuelta, how do you rate your performance?
I am happy. Of course it could have gone better. But I learned a lot and gained a lot of confidence, so it was good.
Was it difficult being on the road for 3 weeks?
Having to pack and unpack your bag 21 days in a row was hard!
Who did you room with? Did you get on well?
Christian Sbaragli. He is a pretty cool guy.
Does the food get boring?
Haha YES.
At the World Championship, you were 8th in the under23 ITT. How much work do you do on your TT bike and position?
Not really all that much but a lot more than I normally did. I would have like to have focused on it a bit more but it was hard with the Vuelta being so close.
To be a GC rider in Grand Tours, you need to be a good TT rider. Is this something that motivates you to get better?
Yes for sure.
You ended the season in Italy. You were 11th in Giro dell'Emilia(my favourite race!). What did you think of the climb to San Luca?
Think it is my favourite race too. It's really steep and the whole lap is hard. Definitely want to do it again next year.
Looking back at 2014, how do you rate your own performance?
I think it was a good year. I can see that I have made progress from the year before so I am happy.
What goals do you have for 2015?
Just to keep on improving. And hopefully get a win in Europe.
The team have made some big signings: Boasson Hagen, Goss, Farrar, Cummings, Berhane and Pauwels. What do you think about these recruitments?
I really hope they help us get into some bigger races.
Cummings, Berhane and Pauwels will be a big help in the mountains. How will you cope with extra responsibility?
I can only give 100% there is nothing more you can do.
What do you look forward to the most, in the off-season?
Just to see my friends and family.
If you could, only win 1 race in 2015, which race would it be and why?
TDF, of course.
With a Grand Tour, under his belt, I fully expect to see Meintjes start to win some big races in 2015. The new signings will be crucial in getting more invites to World Tour races, this is where everyone wants to be. It will still be possible for him to fly under the radar, in these races. 1 week stages races, certainly look achievable and I hope to see him riding in Tirreno, Catalunya and Pais Vasco. One to watch in 2015!
David Hunter
Follow us in facebook https://www.facebook.com/CiclismoInternacionalLatinoamerica?fref=ts … or Twitter @CiclismoInter