Riders to Watch in 2015 – Mattia Cattaneo
By David Hunter
When you talk about riders with pedigree, Mattia Cattaneo is one of the finest. Winner of the baby Giro, back in 2011. In that race, a certain Fabio Aru was 4th. Later that year, he was 3rd in the Tour de l'Avenir, with Chaves winning and Barguil in 5th. He was 3rd again in 2012, with Barguil winning. He was all set to take pro cycling by storm, but had a health scare in 2013. This year was his time to slowly rediscover himself and lay the foundations for the years to come. Here is my interview with Mattia.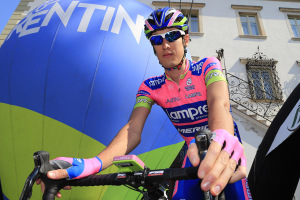 Now that the season is over, what do think about your performance in 2014?
It has been positive enough. I have completed a good Giro D'Italia and after it, a very good Tour of Suisse.
It was an important year for you, as you were free of ill health and injury. Did it feel good to be back on the bike and feeling good?
Sure it did. It was great to come back after a long period of stop.
You raced all 3 Ardennes Classics. What did you think of each race?
Amstel Gold race is a very nervous race but beautiful, Liege is very, very, very hard but fantastic for road and people and I don't like Fleche Wallone too much.
How difficult is it to ride over 250km?
It's very hard. After 210 km everything is difficult!
The Giro seemed to be a big turning point for you. You were very active and performed well. What did you think about the start in Ireland?
I didn't like it because of the weather but I loved Ireland for Irish People, a great public.
You and Polanc were both in the break, on stage 14 to Oropa. What do you remember of the day?
That day was the best day of Giro for me.
You were back in the break on the Zoncolan. How hard is it?
It's so hard that you have to go your pace, taking your time without overdoing it.
In the Tour de Suisse, you impressed with your TT ability, finishing 10th in both ITTs. Is this something you work on?
Yes, I love this speciality and I'm going to improve my performances in TT.
You competed in the World Championship TTT. Did you enjoy your first taste of the Elite World Championships?
I was pleased to be part of the Lampre Merida selection.
You finished 3rd in the Tour de l'Avenir in 2011 and 2012 and won the Baby Giro in 2011. In these races you were beating riders like Aru, Barguil and Chernetckii. Do you get frustrated when you see how far they have progressed or does it motivate you?
It motivates me to reach that level as soon as possible.
Riders often speak of their improved condition, once they complete a Grand Tour. Do you feel the difference?
Yes, I felt the difference in Tour of Suisse.
During the Giro, who did you room with?
Winner Anacona.
What was the whole, 3 week experience like?
It's very hard but when it starts the time flies because you're always on a bicycle.
2015 will be a massive year for you. What goals have you set yourself?
I will try to be competitive in short stage races.
What do you enjoy doing during the off-season?
I love to stay with Giulia, my girlfriend.
If you could win any race in 2015, which one would it be?
My dream since ever, is to win Tour de France, but I think it has to rest as a dream just now.
What bike are you riding just now? What do you think about it?
My bike is a MERIDA REACTO EVO. I love it, it's very rigid and I feel good on it.
Do you see yourself taking on a bigger role in the team, in 2015?
I hope to conquer my place on the road.
2015 is the year that Mattia Cattaneo reminds everyone what a talent he is. He has the potential to be one of the best Italian cyclists, in recent years, and I don't think he's going to let the opportunity pass him by. Still only 24, expect him to make a big move this year.
David Hunter
Follow us in facebook https://www.facebook.com/CiclismoInternacionalLatinoamerica?fref=ts … or Twitter @CiclismoInter