Riders to Watch in 2015 – Mitchell Lovelock-Fay (interview)
By David Hunter
Mitchell Lovelock-Fay is the man who went to New Zealand and took their race! It was the first time in 50 years that an Aussie had won the Tour of Southland, a sign of the potential that Mitch has.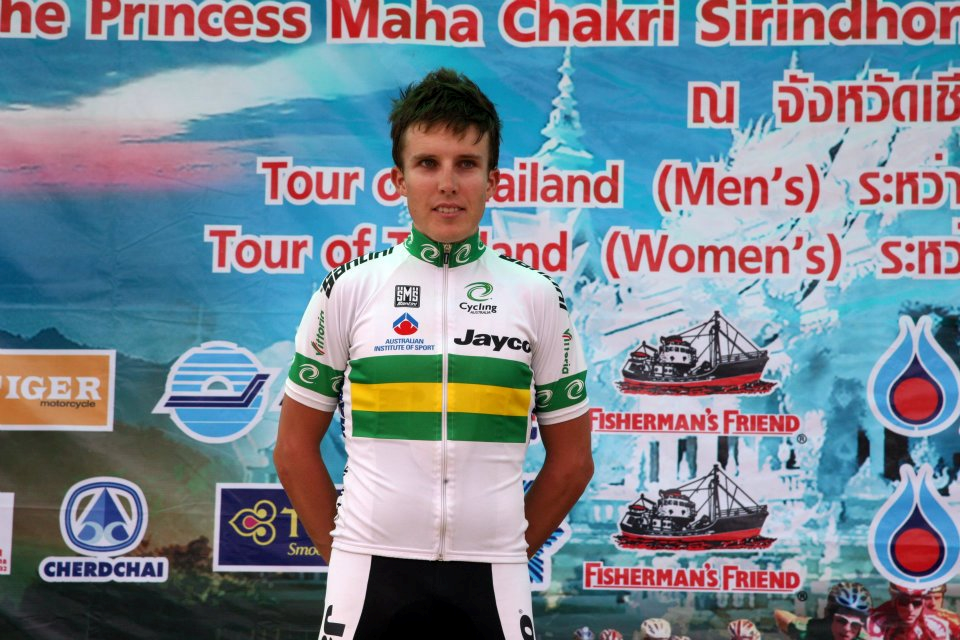 "The Tour started off with a wet Team Time Trial prologue around the city of Invercargill. It was great to get up for a win with the Avanti boys. I find winning in a team event more thrilling. It was a special moment. We went on to lose the lead the next day, but in hindsight it was a good thing that we lost the lead. We were able to put two of our guys into the move on the stage, as a bluff, which gave myself an easier ride to the base of the climb. Finishing third was a good feeling.  Stage 3 into Te Anau was a stressful day. I had a mechanical at the bottom of the climb mid way through the stage and was unable to change gears. The bunch slowly pulled away as I had to stop to try and fix the problem. I had a team mate drop back to help me get over the climb and onto a small group. I was able to make it back to the front group thanks to my team mates. The next day was 188km from Te Anau to Coronet Peak. We had a team mate in the move again, but 100km in, the move split into two and our team mate came back to the bunch. We had to chase into the climb using up our riders. I was just following other riders for the first half of the climb letting the race pan out. I saw an opportunity to attack, thinking that I would get chased down, sit in and then go again. I attacked, looked back and nobody was on my wheel so I just put my head down and rode. I was able to pull out a big enough gap that I pulled on the yellow jersey at the top and got my first win for the season. Stage 6, the time trial, was the stage I knew I had to do well in and I also knew I had the ability to do well.  To finish 21 seconds off my teammate, Joe Cooper, was a great feeling. Little by little, I am getting closer to his times. It was such a good feeling to be standing on the podium again for the third time in the Tour, next to my team mate."
"I was relieved when I crossed the line, on the final stage.  The first thing I knew I had to do was find my team mates and give them a big hug and thank them. Without their selfless hard work I wouldn't have been able to win the tour. I knew I could finally relax, take it in and use the win as motivation for my 2015 season."
Mitch was first introduced to cycling, via triathlon. He soon ditched the swimming and running to focus on the bike.
"I never really thought about having talent as a junior cyclist, I just enjoyed riding my bike and improving over time. Seeing my progression was good, but once I made that step from B grade to A grade at junior state level cycling, it put me in another level and at first I wasn't able to keep up. My coach at that time was John Armstrong and he was behind me every step of the way. He had a lot of faith in me being able to get results at the National level in cycling. It wasn't until I was 16 when I placed 6th in the U17 Mens National Individual Time Trial when I thought I could have some potential given that I had only been riding a very short time."
Just 1 year later, at 17 years old, Mitch won gold in the 2010 Junior Worlds Team Pursuit. An experience most can only dream of.
"Winning that night in the velodrome, in front of my family and some friends who all travelled to Italy to support me, just being so so close to the World record and setting a new Australian record was the greatest experience at that time of my life. To stand on top of the podium, wearing the rainbow colours and listening to the National Anthem was such a proud moment in my life. To be able to call myself a world champion was something I never thought I would be able to say."
Life hasn't always been easy. Mitch made the move to Europe in 2013, signing for Christina Watches-Onfone. He moved to Italy, but things didn't go according to plan.
"I had a lot of ups and downs in 2013, in Europe. Being based in Italy was amazing, it's my second favourite country to train and live in behind Australia. The hills surrounding where I lived, provided the perfect training grounds, however not having any team mates living close by was difficult when it came to the training side of things. Unfortunately I suffered a severe bout of blood poisoning from a wisdom tooth infection at the beginning of the racing season in Europe and I found it difficult to get my body back to the peak fitness level it was, when I arrived in Italy in late January.  I really enjoyed the company of my team mates throughout the year and I learnt a lot about myself, probably more so than I did about riding my bike and racing.  I think last year was tough to deal with at the time, but in the long run it has been good for me and my cycling career. I have been able to bring the knowledge I learned about the European style of racing back with me to Australia.  You have to go through downs to have ups and I used the tough year, last year, to spur me onto bigger and better things this year."
Despite this, Mitch did enjoy his time in Italy.
"There is no doubt that Italian food is my favourite. I love the Italian pizzas, pastas and Gelatos. Last year was a big learning year for me with what foods are good for you in a different lifestyle and country. I do love my Italian food, but realise that you can only eat it in moderation so that you can maintain the weight you need to be for this sport. I like the relaxed lifestyle Italy takes on. Everybody just looks so relaxed, you never have any problems with cars on the roads and they are all friendly and helpful. I would love to be able to buy a house in Italy in the future."
"Learning a language is always tough, but I was lucky to have learnt some Italian when I was riding for the Jayco-AIS team based in Varese in 2011. It was easier to learn the language again once I arrived in Italy. My Italian last year I would have said was good, but being back in Australia the whole year I haven't used any so I would be a little rusty at the moment."
As most can appreciate, being away from home at such a young age, would be very difficult. Not just being alone, but having to cook, clean and wash your clothes!
"I have been in and out of home with training camps and racing from an early age. Cycling Australia do a good job to help the young guys coming up feel like they are at home, but I think they need to look at spending a little more time providing the riders with skills to look after themselves and develop the riders so they can cope in situations like this. I did miss my family at times, but I was lucky to have them come join me for a holiday mid year. I really enjoyed being in Europe and I hope I can do it again, in the near future, and this time make sure I get everything right!"
"The team owner, Claus Hembo was very good at helping us settle in. He kept in touch with both Jordan Kerby and I and made sure we had everything we needed. To start off with we didn't have a car, so we were unable to drive anywhere but Claus was able to leave a team car at the house for us. That was the main thing that we needed so we could get groceries and go find wifi at the cafes. Cariza, Michael's wife, also helped us out immensely, showing us the best places to shop, getting us groceries when we didn't have a car, driving us to the airport, cooking us some great meals and so on."
After a disappointing year, Mitch returned to Australia in 2014. Luckily, he found a team willing to take him on.
"I didn't have the ideal year in 2013, my best result result was the Best Young Rider in the Tour of Morocco early on in the year. I raced a number of the tours, but was struggling to find the right mix of diet and training with being in a new environment. I found training in Denmark very difficult due to the geography of the land.  No hills!  I worked out what I needed to do and what worked for me. I went back to Italy, trained hard in the hills, and got my diet back on track.  I let the team know that I was ready to race, but i didn't have Training Peaks so they couldn't see the form I had. I was in Italy and the team management was based in Denmark, so it did make things tough. Our race calendar was shortened finishing in August due to budgetary constraints with only the older riders riding Tour of China later in the year. I wasn't offered another contract for 2014. Once back in Australia I was contacted by Andrew Christie-Johnston to ride for Avanti. The opportunity to prove myself as a cyclist in the best team in Australia was too good to miss."
But what kind of rider is Mitch? Is he a climber?  A TT rider? Or both?
"When I first started cycling at 15, I would have only said that I was good at time trialing. I was more on the heavier side of things, but could use my raw power. It wasn't until I started training for my second year in the U19 age group when I put a lot of hard work into losing weight and becoming more of a tour rider. John Forrest, who took over my training program from John Armstrong, would come out training with me in the hills, out the back of Canberra and push me to my limits.  That in combination with watching what I would eat changed me as a rider. I slowly but surely transformed into a time trialler who could climb hills, but with more years of training under my belt in the hills, I have become more of a climber who can time trial. I would also have to say that the many hours I spent at the velodrome, with John Forrest by my side, putting in the hard yards in order to gain selection to the Australian Junior national track team for the pursuit to compete at the World Championships, certainly has helped me with my time trialling."
Australian cycling is extremely strong, just now. Having a WT team is obviously having an impact on the young cyclists.
"The calibre of riders coming up from the junior ranks in Australia is getting stronger every year. To have guys like Caleb Ewan, already getting podiums at World Tour races is a positive sign for cycling in Australia. I think that I am in that age group where riders are starting to shine and prove that it is possible to win races as a NeoPro. I just hope that I can follow in the footsteps of former team mates, Flakemore & Haig next year, and take that step." 
"It definitely helps. having Orica GreenEdge. Teams in the National Road Series weren't getting noticed until GreenEdge came along. Now riders keep getting signed into Europe, even if it's not with GreenEdge.  I think they had a big part to play with cycling in Australia being more noticed."
Mitch has re-signed with Avanti Racing Team for 2015, and is looking forward to a big year.
"I feel like I have just hit my straps. I have more motivation than I have ever had. My life is in a good place, my head is in a good place and I have identified my goals for 2015. My coach believes in my ability and so does Avanti.  I am excited to train, race and go through the ups and downs but I am more excited to take that step next year and put my name on the radar, in the hope to pick up a contract with a professional team in 2016."
The team will switch to  New Zealand registration, in 2015. This should provide more opportunities for their talented squad.
"Hopefully now that Avanti is riding under a New Zealand license, we will get an invite to some racing in the US and the Tour de Langkawi. That's a race I would really like to do. I would also like to head back to Tour of Southlands and try to back up my win from this year."
Looking forward to 2015, Mitch has clear goals. Whilst most of the pro peloton are happily going about their training, the Aussie riders are nearly into their season. The nationals and the Tour Down Under are only a matter of weeks away.
"I am targeting both the TT and Road race, in the nationals. I hope to do well at both events as the courses both suit me. I am stepping up from the Under 23 age group into the Elite races, so I know I have to set myself realistic goals."
"I have to prove myself at the National Championships in January in order to get a ride for the Uni-SA team, in the Tour Down Under, backing up my results from this season in the NRS and my Tour of Southlands win. I am hoping that I can perform well enough to get a ride for the Uni-SA team."
Arriving in Ballarat, in top form, is crucial to Mitch's selection for the Tour Down Under. Thankfully, he is under a watchful eye.
"My coach Mark Fenner will monitor my training and power profiles, from each session closely, to ensure I'm in top condition. There will be a lot of time trial sessions, as well as long rides in the hills."
To be good at time trialling you must devote time to the discipline. Mitch is fully aware of this.
"This past year, I haven't had to spend too much time on my TT bike as the TT's in the NRS level were on road bikes. Leading into the National Championships I will be training on the TT bike 6-8 hours a week."
Despite being a dedicated cyclist, Mitch is also studying to become a Primary School teacher, one of the hardest jobs known to man! The split between this and cycling is very demanding.
"I always try to make sure I get my work done, ahead of time, so that when I go away to races and I don't have to think about school work and study. I make sure I put my cycling, training and recovery first, then use the rest of my time for study." 
"I have always enjoyed working with children. In the past I have taught children to swim, as well as worked at the Active After School Care program."
As a fan of climbing, I couldn't help but ask about the toughest climb Mitch has ever done.
"Although it's a short climb, Bluff Hill would have to be the hardest. It averages 16% and it's max is 25%. There is no easy way up. Luckily enough I have only had to ride it once.  Tour of Thailand in 2012 also had a mammoth climb which I managed to conquer and win the stage."
"I enjoy any climb. I never used to like the steep climbs, but these days I prefer the longer climbs with steep pinches." 
Mitch is a very focused young man. He knows what he needs to achieve to earn himself a World Tour contract, in 2016. He is fully motivated to do this. His goals in 2015 are:
"To ride into the top 10 in the road race, at Nationals. To ride the Tour Down Under and to win the overall NRS championship."
He also wants:
"Lots of wins, maintaining our spot as the number one NRS team, staying healthy and loving my bike!"
2015 is going to be a massive year for Mitchell Lovelock-Fay….this is his time!