Riders to Watch in 2015 – Roy Jans
By David Hunter
At 24 years of age, Roy Jans, looks like becoming the next big sprinter from Belgium. He rides for Wanty-Groupe Gobert and produced some eye catching results in 2014. His 2nd place at the Belgian nationals made a lot of fans take note of his name and his excellent end of season performance, in Paris-Tours, brought his name to a larger audience. Here is my interview with Roy.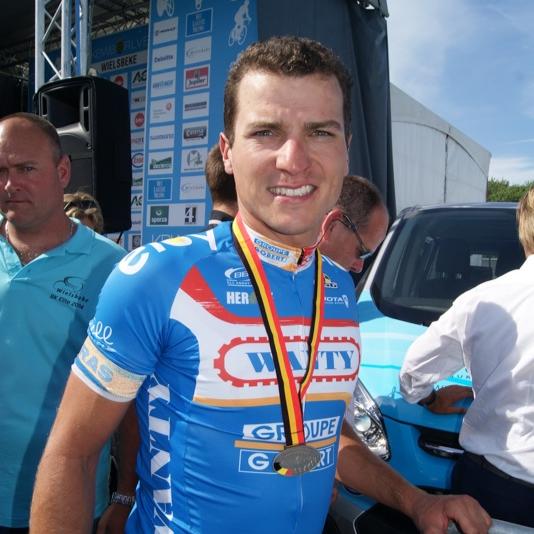 The 2014 season is now over. What are your thoughts on your season?
It was a season with ups and downs. I started the season very well, with a victory and many 2nd places, before I started to feel tired and sick. So I went to the doctor and they noticed I had Pfeiffer disease. After that, I came back stronger than before but I still got ill a lot. So, I needed to comeback every time after I got sick.
How long does it take until you are cured of this disease?
The laryngitis and the fever are usually short term symptoms. I had the flu and fever for just one week. But the tiredness can last a very long time. Some people are very tired for just one week, and then it's over. Others have problems for months. Most internet sites and encyclopedias say it lasts 3 to 4 weeks but the aftermath can take years. I was tired every autumn and spring for a few years. In the summer and the winter I felt better. But it's tricky the fatigue is different per person, so you can never know when Glandular fever is over.
What can you do to recover?
That's difficult. There is no medicine for it. You just have to 'listen to your own body'. So sleep enough and do not overexert yourself. When you feel you have to stop, then stop. If you don't, the disease will last longer. Of course eating many fruits and vegetables and drinking fruit juice is healthy too. You have to drink plenty of water, but not too much. Drinking water helps you to remove the waste products. It's sensible to drink little to no alcohol, because it affects your liver.
Best moment of the season and why?
2nd place at the nationals. Why? In the beginning of the season it was my main goal to perform well at the nationals, but due to my Pfeiffer I thought I couldn't make it in good shape. But I worked hard once the doctor gave me the green light.
Worst moment of the season and why?
Due to my Pfeiffer disease I missed the classics in Belgium and a lot of beautiful races.
You started the season well in La Tropicale Amissa Bongo, with a win, two 2nd places and the green jersey. What was it like to race in Gabon?
In the beginning I struggled with the high temperatures but after 2 days I was used to it. The race was really well organised and it was a nice Tour.
You performed well in Ster ZLM. What was it like competing with Kittel and Greipel?
It's nice to ride good results at races where there are many strong riders, like in Ster ZLM. It was the first time that I achieved a good result at a race with so many strong riders, so it was good for my confidence that I was able to perform well at bigger races.
At the Belgian National Championships you finished an excellent 2nd. Were you happy or disappointed with this?
The first moment when I crossed the finish line I was happy but already a few metres further I realised that I was really close to the victory, and it was a missed opportunity.
You competed in the Eneco Tour. Some of the sprints were very scary. Do you every get scared in the sprints?
No, when you get scared in the sprint it's better that you stop sprinting because you brake too often and it gets dangerous for the other riders.
In the Tour du Poitou-Charentes, you managed to beat Cavendish. How happy were you with this?
The first day I saw I was able to beat Cavendish. The second day something went wrong in the sprint and the third day I did beat him. I was really happy to beat Cavendish as he's one of the fastest men on a bike.
You picked up a major result in the Brussels Cycling Classic, finishing 5th. This was your first top 5, in a 1.1 race. Did it feel like a big moment in your career?
Actually not, because I wasn't positioned well to start the sprint but either way made it to a good result. After the race I wasn't happy with the result because I was able to finish in a higher position.
What do you remember of the race and sprint finish?
It was a hard race with lots of climbs throughout the whole day and they rode at a high speed. In the last kilometre I was in a good position but lost that position in the last corner. I needed to start my sprint really early and from too far out.
You then won the 1.2 race, Gooikse Pijl. How much satisfaction do you get from winning?
Despite it only being a 1.2 race, winning is always nice. To cross the line first and to put your hands in the air is a feeling you can't describe with any words.
You finished the season with 15th in Paris-Bourges and 4th in Paris-Tours. How comfortable are you on short, steep climbs?
This season I made a lot of progress on short climbs, last season I always struggled on climbs, but this season this goes much smoother.
Finishing 4th in Paris-Tours was huge! Were you happy with your performance?
I was really happy with this 4th place. Paris-Tours is a classic and it's a really nice race, which I really would like to win in the future.
Are you a sprinter that likes a challenging race over a flat day?
I prefer a challenging race.
What about bad weather? How does the cold, wind and rain effect you?
I like to ride in the wind and it doesn't disturb me when it's a rainy day.
Who are your best friends in the peloton?
Where I live there are many pro riders, so they are also the riders who I speak to the most: Tom Dumoulin, Karsten Kroon, Jos van Emden, Tim Wellens…
What is your favourite race and why?
I don't have a favourite race. I'm motivated for everyone.
Who has been your best lead-out man? What qualities make a good lead-out?
Jempy Drucker and Danilo Napolitano are without doubt my best lead-out men. Unfortunately Jempy leaves the team and goes to BMC. Danilo has a lot of experience as a sprinter and I only need to follow him until the last 300m.
What bike did you ride this year? What did you think about it?
Last season we rode Kuota Kom bikes. They are really good bikes.
Wanty-Groupe Gobert seem like a close and happy team. What makes the team so good?
All the teammates are always motivated to make the most of all races.
What are the maximum watts you have achieved in a race?
During the races I don't ride with a powermeter, so I don't know my maximum watts.
What do you do in training to help with the sprints?
Actually nothing, for me it's more important to climb some mountains so I struggle less during the races.
Is there anything you particularly look forward to do, next season?
Ride the Belgian classic races.
What are your goals for 2015?
Prove that I can win races and improve myself in everything. Also, the nationals are a goal again for 2015.
If you could only win 1 race in 2015, which race would it be?
Gent-Wevelgem.
What type of rider do you hope to become?
A really good sprinter.
2015 is going to be a big year for Roy. 1 year older and stronger should help him to go faster in the sprints. If this happens, he'll start to pick up some very impressive victories. His team will do everything possible to help and I expect him to start the year very quickly. Keep an eye out for him, he'll be wearing the Belgian champion jersey for the 2nd half of the season!
David Hunter
Síguenos en facebook https://www.facebook.com/CiclismoInternacionalLatinoamerica?fref=ts … o Twitter @CiclismoInter