Riders to Watch in 2015 – Tiesj Benoot
By David Hunter
At just 20 years old, Tiesj Benoot is just one of a long line of talented, young Belgian riders. He has signed a contract with Lotto Soudal and has already competed in a few big races for Lotto Belisol. He was very close to reaching the under 23 World Championship podium, finishing 4th. He will spend most of 2015 working hard for teammates, but when he gets his chance, watch him go! I recently caught up with Tiesj, to discuss all things cycling and more!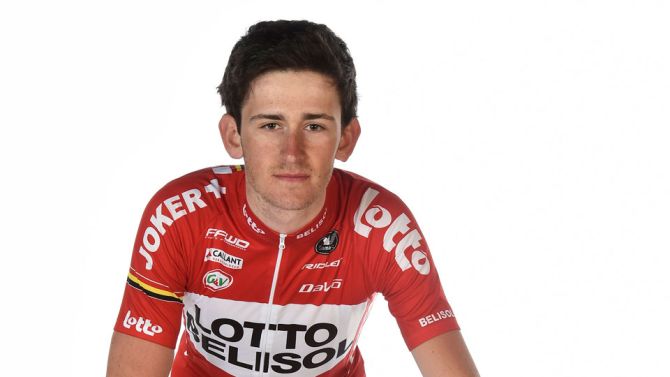 For those that don't know about you, can you tell us about yourself? When did you start cycling? Who do you model yourself on? What is your motivation?
I started with cycling when I was 11 years old. I wanted to do it already long before, but my parents didn't agree. I think I have the same qualities as Greg Van Avermaet, but on a lower level ;). I just love the sport and I am very ambitious in everything I do.
What type of rider would you describe yourself as?
Allrounder/Puncher
What is your TT ability like?
When I am in good shape I can do a decent TT, but it's my biggest working point.
You finished 8th in Binche, do you like riding on cobbles?
Yes, I really like it (in race, not in training). I like the heroic part of it.
In the under 23 World Championship Road Race, you finished a brilliant 4th. What did you think of the race and your performance?
I think we did a perfect race with the national team. Just the final was a bit hectic. I think when I can save more energy, when moving up in the wind (I had to do it on my own). It will let me start my sprint in a better position, then the podium is possible. But the team did a good job! A good lead-out in such a big race is very difficult.
You finished 16th in Paris-Tours, working for Jens Debusschere. What did you think of the race?
It was my first race of 240K so I didn't know what to expect. It was in my favour that it started raining, it's something I like. I was lucky I just moved up before the big crash, at the roundabout, took place (at 16k from the finish I think). From there on I was around 5th position, in the wheel of John Degenkolb. So I was in the perfect position for the last little hills, but I was still surprised I could follow the 'big guys' like Vanmarcke, Van Avermaet, Degenkolb,.. But Voeckler and Wallays were also strong and the collaboration in our group was not good so we got caught with 2k to go, I think. But I think I can be happy with my performance there.
It was the first time you completed a race of that length. How did you cope with the extra kilometres?
I had no problems with it! But during the race there were no echelons, so that it made it a bit more 'easy'.
What is your favourite race and why?
I don't have 1 favourite race in particular. I just like all the classics of the spring.. RVV, LBL, P-R,.. But when I really have to choose 1 race, I think I would go for the RVV. I grew with this race and also the special atmosphere around the race is something I like.
Lotto is full of experienced riders. What are they like to work with?
The guys I raced with are all very friendly and helpful. I always try to listen well and learn from them.
What are your hopes and goals for 2015?
Do my job for the team and from time to time showing something from myself. I think it's possible in the small races.
You also study Economics. How do you manage to study and race?
I don't do the whole programme at school, but I still have to schedule everything very well. Luckily Ghent University supports athletes of high level very well!
What do you think of Keynesian Economics?
I like the ideas of John Keynes. A little support of the government is always necessary I think. But I also don't believe a real communistic economy, so I agree (in particular) with his ideas about economics.
How much training do you do?
It depends…
What do you do when you are training? Do you work alone or with others?
It depends, sometimes alone (then I mostly listen to music) or sometimes in a group.
There is currently a strong group of young Belgian riders with Lotto: you, De Buyst, De Bie and Vervaeke. Is Belgian cycling particularly strong just now?
We will see the next few years ;)
What are you most looking forward to about turning professional?
Everything! Professional assistance, doing big races with a lot of crowd, just living the life of a pro cyclist…!
It's always refreshing to here the new generation talk of their excitement about the sport. Tiesj has all the ability to go very far in the world of cycling. 2015 will be an important year for him, as he looks to build on a very promising junior and under 23 career. Keep an eye out for this one!
David Hunter
Follow us in facebook https://www.facebook.com/CiclismoInternacionalLatinoamerica?fref=ts … or Twitter @CiclismoInter