Riders to Watch in 2015 – Valerio Conti (interview)
By David Hunter
It's one day until the Vuelta and you get the call. "Horner is out you're in!" How would you feel?
"I was not nervous I was calm."
These are the words of Valerio Conti, Lampre-Merida's 21 year old star. Racing with number 1 on his back, he started with a bang, when he joined the break on stage 2.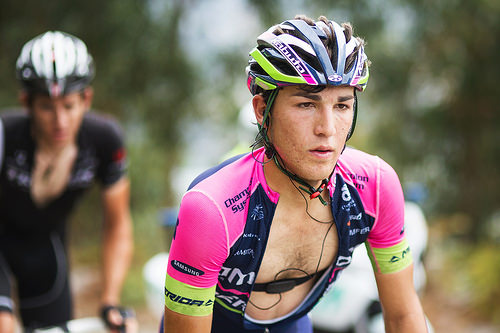 "It is a very good start, I was very happy with the ride, unfortunately, after the first week I had a physical problem but I finished the ride anyway."
His early season had been ruined by a knee injury, stopping him from riding in December, January and February. The good performances started with the Italian ITT championship, in June. 6th place was very strong for a rider of his age and he only missed out on the podium, by 21 seconds.
"In Italy there is Malori who is very strong in the time trial, and I hope one day to get to his level."
From that point, his season took off! A Grand Tour debut followed by a ride in Il Lombardia. He also got to taste riding in America, in the Tour of Utah, but a high placing was never on the cards.
"In Utah I was not in good shape, it is a race that takes place at altitude and is a good workout to prepare for the Vuelta."
Like all Italian riders, Il Lombardia is a race close to Valerio's heart,
"I love the tour of Lombardy, maybe it's too early to get a good performance because it's too long, at 260km, for a young first year. I hope to fight for a win in the future."
When a rider completes their first Grand Tour, they often find a higher level of fitness. Valerio took advantage of this to claim his first pro victory, in GP Bruno Beghelli. It's a wonderful moment for a rider to claim their maiden win,
"The victory gave me a lot of happiness and morale for the future."
He was part of a late escape that only just managed to stay away from the peloton,
"I was worried! I wanted to win and I managed to do so."
There was still one race to go, The Japan Cup. It was the second consecutive year Valerio competed in it. He managed to get in the crucial move, with teammate Jan Polanc, but couldn't finish it off,
"The Japan Cup is a beautiful race. We arrived with about 10 riders, in the sprint, but I could not do a good sprint … I regret."
A podium finish would have capped a brilliant year, but Valerio was very happy with his 2014,
"I'm satisfied with my 2014. I hope to continue my career well and get good results."
At this time of the year thoughts turn to 2015. He's penciled in some altitude training as he looks to become stage race rider, with an eye on a return to Il Lombardia. His goals are clear,
"First I need to still improve with further growth and experience. I hope to do some nice races, maybe a stage win at the Giro d'Italia."
Like most Italians, he wants to race the Giro. A successful debut at the Vuelta, has certainly helped his chances. He could be a key helper for a young rider like Mattia Cattaneo. His climbing ability and fast finish mean we'll be seeing a lot more of Valerio Conti in 2015. Lampre have got another rider capable of taking stage and 1 day wins. Watch this space!
David Hunter
Follow us in facebook https://www.facebook.com/CiclismoInternacionalLatinoamerica?fref=ts … or Twitter @CiclismoInter
Copyright © 2014 Ciclismo Internacional. All Rights Reserved