Riders to Watch in 2019: Ben O´Connor
By David Hunter
"31st October is when the route comes out for the Giro. Right? It's unfinished business!"
Spoken like a true fighter. Ben O'Connor was one of the sensations of 2018, mainly due to a stage win in Tour of the Alps and a brilliant showing in the Giro. He was sitting on the cusp of the top 10, but disaster struck during stage 19, when he crashed out of the race. If he hadn't, he looked like the first rider since Leo König, in 2013, to finish in the top 10 of their debut Grand Tour. That would have been a huge achievement, but getting so close and then crashing isn't easy to deal with.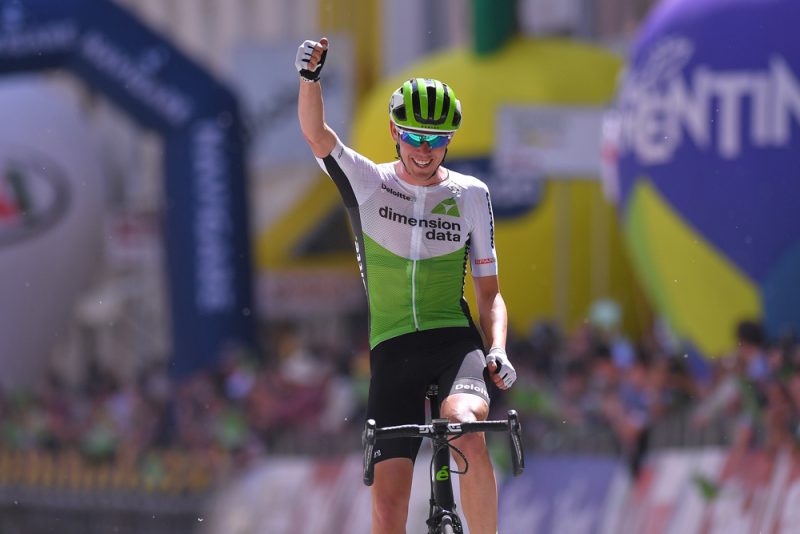 "I'm not ashamed in saying I cried. It was letting people down who had nurtured me the whole year into this memorable moment that the Giro was, and to end it was my own mistake, which really hurt me. It was a breaking moment for me in my career, and still is… but I didn't finish it."
There is much more to Ben O'Connor than just his brilliant performance in the Giro, this is a climber who I have been watching for a few years. Hailing from Western Australia, he joined Avanti in 2016. This is the continental squad responsible for the development of riders like Richie Porte, Nathan Haas, Paddy Bevin and Jack Haig. It's clear that by joining Avanti that Ben was in safe hands. In 2016, O'Connor managed to win the New Zealand Cycle Classic and finish 3rd in both the Tour de Taiwan and Tour de Savoie Mont Blanc. Such big performances led to a contract with Dimension Data and a move to the World Tour.
Moving from Australia to Europe at the age of 22 isn't an easy thing to do. Ben started out in Italy, but it didn't take long for him to move to the Mecca of the cycling world.
"It's not hard to move – it is just hard to adjust to something so different. I started in Lucca, and I was lucky to have been to Europe traveling when I was younger, a lot, so I was not culturally too much in shock! My family visited me and so did my girlfriend, but from this year she has been living with me pretty much the whole time in Girona. I moved for both our causes of being able to have more like minded people and chance of more friends! I know Italian, my Spanish is poor, but at least I can ready food and wine menus!"
A rider's first year in the big time is always difficult, but when you have just moved continents, things are even harder.
"It was kind of like going through high school. You're completely unaware of how things are done properly, and also incapable of handling either the stress or panic that sets in… for me anyway! I also missed home, friends and girlfriend, so I ended so poorly. It was the off bike elements that are the hardest to deal with for me as I had to live out of home for the first time, in Italy, and try make friends with people always older than me…."
Most riders are just one win away from a change in fortune. This moment came for Ben in the Tour of Austria, where he took final mountain stage and finished 5th on GC.
"I think for Austria it was a definite sign that I can climb in the very big mountains with proper competition – not just young u23 stuff. It also set a realisation that long mountain days really defined the kind of rider I believe I would turn to be. I don't believe I can do what some of these other boys can, 'fresh', but after 4-5hrs I think I don't change too much. As my former teammate told me 'long and strong'."
That helped put the doubts to bed.
"I am my hardest critic so yes, I had doubts. Although, I always believed I had the ability to be very good especially after the stage I won in Austria. It's the small doubts between races when very clearly all the boxes have been ticked, yet you still go into the race so unsure – Catalunya this year was a big example of this."
Despite being worried about his ability to compete in the 2018 Volta a Catalunya, Ben managed to finish 11th, which was a massive point in his career.
"I grew up in Perth, and it has hills but only short ones. We used to ski every year in Europe and when I began riding I used to dream of racing up those mountains. So I guess when we began La Molina in the snow and I was able to move off the front of the group… dream time for sure! To be actually racing in the mountains in a WT race… awesome!"
This was the first occasion where he managed to hang with the big boys of the pro peloton and proved to everyone that he was a match for them. It was at this point a lot of people started to sit up and take notice, just as well really, he was about to explode!
Next up was the Tour of the Alps, where he managed to win stage 3, with an attack in the closing kilometres. I've always wondered what goes through your head, when you know you are about to take a big win.
"I believed I had a really good chance already with Pinot and Pozzovivo. Then once down in the valley I thought it was game over unless I went when I did. With about 1500m to go I was fairly sure I had it. It's amazing what you think – the reactions of people who would have been watching (my girlfriend, family, best mate), the pure joy. It was a feeling of I guess 'I can do this' rather than relief."
Ben only had a few weeks to recover before heading to Jerusalem and the start of the Giro. How did he manage to maintain a long peak and was he worried that he might just pop?
"Haha, I really don't know. I genuinely think it was being happy at home, the confidence the team gave me in my ability and the real point of my task in being 'The last guy with Louis in the mountains'. I was never worried I would pop because I had no pressure of consequence, if I did, but my own. I knew I was really good but was pretty much waiting for the day I exploded… which in the end wasn't the legs!"
Riding in Grand Tours isn't just about the action on the bike, most of the time is spent off it. This is where riders must also learn how to interact and fit into the team.
"The main aspect I really began to enjoy was communication, learning that process of what maybe will one day happen if you can become a Grand Tour leader. Being honest, giving encouragement and listening to the guys who are helping you. Understanding the moods around certain people, dinner table or bus all require adjustment and you need to be aware of how to approach that."
What about the mighty Zoncolan?
"I remember saying at the finish 'That was horrible' which it certainly was. You actually feel kind of lonely in a way because you move so slow, and the guys seem so close in front of you, yet it might be 20 seconds! The crowds, flags, and then the soldiers at the top in this mountain stadium… holy shit it's unforgettable!"
Much of the time after the Giro was spend recovering from the effort of the race and healing broken bones. The rest of the season didn't exactly go to plan, with not many results to shout about.
"The first half I am overjoyed with, upon reflection, even though the Giro ended with a small heartbreak! The second half, I hit a plateau and subsequent cliff fall. So it's a tale of two halves I guess!
After knowing where you can physically be, to not be able to achieve anywhere near close to feeling, in a race again, just oozed frustration. After Cadel's race I was sick with pneumonia. Playing catchup then to be good for Catalunya, and then breaking the bone in the Giro and then wanting to be back up at that level for later… I think is why I exploded, haha."
The end of the season provides plenty of time for reflection and analysis.
"With the thoughts of 'I could have finished 8th in the Giro?!' in your head, it gives me massive confidence then to know I have so many more years to try, improve, and become the best rider I can be. Which may one day mean winning a big race on the world stage… we will see!"
What about highs and lows?
"The high of realising the best I can be as an athlete is up there with the best GC guys; along with the sacrifices my loved ones made for us to be together throughout the year. It is humbling.
The low of just crushing a dream and letting then those loved ones down… even though they are not let down and are proud, I still feel that way!"
Away from the racing, I wondered how much Ben uses data to analyse his performances, especially as he is a graduate of the Watts Factory run by Mark Fenner of Avanti.
Very much so, Mark Fenner trained us that way! One of the Dimension Data guys, Trevor, coaches me and I enjoy that hands on approach of specificity and directness. Feedback is vital, especially in those days you look at and think 'I can't do that'. 
I tend to train alone. I enjoy the freedom to ride at the pace you wish, the bliss of solitude and moments of excitement over the nature around."
Once back from a training ride, you can often find Ben in the kitchen.
"I do cook and am I guess a 'foodie'. As a shock to many I don't actually eat pasta or much rice at all. I love salad bowls, and for the carbs I'll have either granola, cous cous, quinoa, or sweet potato but not heaps. I adore seafood. I'm not all health though – wine is frequent. I'm turning part time sommelier, haha."
All aspiring cooks have a signature dish, Ben is no different.
"Anything to do with the cooking of Salmon or Ocean Trout… crispy skin on the grill, Asian ginger marinaded bake… usually tends to be with Israeli sliced roast veggies like Cauliflower or sweet potato."
Looking to the future, I wanted to know what areas Ben would like to improve.
"It's really hard to practise, and hard to execute all the time, but it's the positioning especially on that decisive climb that splits the group.
The word my coach used and drove into me was repeatability. Before I would just stop, or have nothing at all by the time we hit the final climb, this can always be improved. Very importantly though a stronger mental head for when you don't get the result you should have earned or wanted."
2019 promises to be a big year for Ben O'Connor. After stepping up in 2018, he will no longer be taken lightly by his rivals. His performances also mean that Dimension Data will look towards him in stage races and expect to see some big performances. What will a successful year look like for him and how will he deal with the extra pressure?
"A top 10 in a Grand Tour, a stage win (in any race but hopefully WT) and some better consistency.
I don't believe it will change actually much. As I said I'm my worst and harshest critic. The pressure to be great at more races will be new, but not compared to what I would love to achieve one day. To cope – it's stepping back at home, enjoying what you live with and making the most of the fact too that I'm a young Australian, living an athletic life in Europe with my lovely girlfriend, and we are free to enjoy what is culturally so different to our true home."
Finally, looking through his 2018 results, one jumps out at me…an hors delay in Strade Bianche!
"Never had I raced a proper MTB or CX race before, so for me it was just ridiculous, cold, verging on hilarious. I was actually kind of disappointed as I was feeling great but punctured at the end of the 13km sector, I think, and our car was miles back so I was out the race. Want to do it again!"
There it is again, the determination that I want to see in riders. 2018 was a great year for the Aussie, but 2019 should be even better. I'm expecting a top 10 in the Giro and some big performances at other stage races too.
If you liked this interview, head over and listen to my podcast series.
David Hunter
Follow us on @CiclismoInter
Join us on facebook: Ciclismo Internacional
Copyright © 2012-2018 Ciclismo Internacional. All Rights Reserved