Riders to Watch in 2019 – James Knox
By David Hunter
"I got my head kicked in at the Giro Valle D'Aosta, crashed 5 times in 2 days and otl'd before the final day. Sort of surprised I'm still here after that."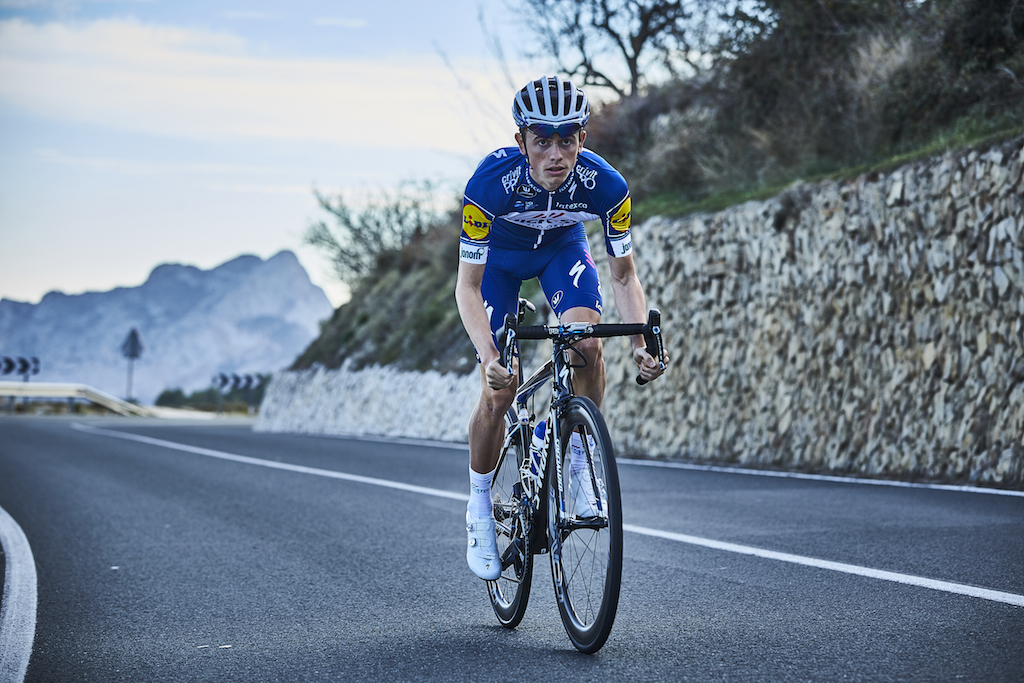 James Knox is part of the next wave of climbing stars. The 23-year-old Englishman hails from the north-west of the country, a place that has lots of lumps and bumps. He's just completed his first season riding for Quick-Step, a year that was mainly about making the transition from talented under 23 to an elite cyclist, something that didn't seem possible back in the 2014 edition of Giro Valle D'Aosta. James didn't follow a usual path, he stayed on at school to complete his qualifications, before looking to focus on cycling.
"My Mum and Dad had me and my brother trying out as many sports as possible when we were young, I fell into running and Jonny, a couple years older, into cycling. I was half decent at running, cross country and fell running was my thing and I was even a national champion a few times, but became more of a fan of cycling from my brother. Especially the extra dynamics of the sport and even the mystery surrounding it all compared to running. I'd still ridden bikes a bit, it was a family activity, and it was easy for me to get into having my brother and dad basically done all the junior races already when I started at 15/16. Obviously, I wasn't expecting much, it was a serious shock to get to a level to ride for GB juniors in my second season racing, but still didn't consider it really going anywhere beyond delaying University for a bit. As a November born, I had to finish my A-levels during my first year senior, and thankfully Flavio Zappi was happy to let me stay at home and not really race until that was done in June, and that was the deal with my parents basically, I could do what I wanted, as long as I got those under my belt.
Biochemistry at Sheffield University was my plan, I guess I always imagined I'd just end up at university, but it wasn't a big deal at the time. After not much discussion, I deferred my place to join Zappi's, you can go to university whenever but making that pathway as a cyclist is a very limited window, even as an 18-year-old and not much ambition, that was clear. I deferred my place at Sheffield every season as an under 23, not ever being sure if I'd have to go back to it and it's still there if I need it, I would maybe have to consider doing an easier course now mind you, think 5 years outside of the education system has slowed me down a fair bit.
The GB academy was never really for me, and I had my head in the clouds dreaming about racing in Europe anyway, so Zappi's was a nice fit for me. It was a completely different environment to what I was used too, Flavio can be quite intense, but it was still an English team, so it never felt too alien. It was a real shock when I first got to the house in Italy and of course there were always moments when I wondered what I was doing it for, but that's all part of the process, I think."
So, James ended up riding in Italy under the watchful eye of Flavio Zappi. After a couple of seasons learning and developing, the opportunity to join Team Wiggins presented itself. The team had only been created the previous year and their goal is to help develop the best British cycling has to offer.
"I was sceptical about the team, there's a lot of promises in cycling, but they delivered on everything and gave me the perfect platform to get to the top echelons of the sport."
During this period is when people started to take notice of this up and coming climber. We all know what cycling is like, everyone is keen to find the next big thing and rumours started to circulate about this exceptional climber from the north. Looking back, his first year with Team Wiggins wasn't a bed of roses, there were a few good results but nothing to start jumping up and down about.
"It was my first year living in Girona with teammate Dan Pearson and learning how to be truly independent. We were training hard, really hard, probably too hard and super dedicated in everything we did. In fact, we made a lot of mistakes I think looking back, but if you don't make those mistakes you don't learn from that. We'd train full gas all the time and never really had a break all year, I had a nice little purple patch around Ronde l'Isard and Course de la Paix, but instead of sitting on it we trained harder. We went to altitude in Andorra and trained, didn't let our foot off the gas, then turned up to important races broken men and finished the last couple months of the year, unable to train, race or enjoy much about cycling. It was a well-earned off season."
It's the learning that interests me the most. As young cyclists, there isn't a rule book to follow. Everyone makes mistakes, but the difference is that some learn from these mistakes. James now had an idea of what not to do and changed his approach in 2017. Now in his final season as an under 23, we started to see consistently strong results and his stock started to rise.
"There was actually a lot of pressure, all from myself, because it was my last year as an under 23 and I saw this as a massive make or break for grabbing the attention of a major team. So, in all honesty LBL was more of a relief than anythjng, confirmation that I was good enough. I did royally **** it up though and was about a tyres width off the win, it haunted me for a while after."
2nd place in LBL was an enormous result for James, of course it was frustrating not to win, but these are the results that grab the attention of pro teams. Riders in their final season at this level are all in the same position, they are fighting for their future. If no contract comes, the dream of being a professional cyclist is over. Alternatively, have a good season and you get to progress to the next level and see if riding a bike for a living can actually become reality.
After LBL, James just had two days before he started the Tour of Croatia. It's not often under 23 riders get to compete in such a race, Team Wiggins did a great job getting an invite. On the start line was Vincenzo Nibali, this was his final preparation race before the Giro d'Italia.
"Croatia was a laugh actually, you don't get many opportunities as an under 23 to have a relaxed race like the pros do, so we were all loving it. I knew I had the legs straight off the back of Liege and there was a lot less stress, just see what I could do. I somehow even got up there on the last day with a 500m cobble berg we had to do 3 times, that was actually the highlight of the week. I ended up being annoyed that I didn't win the white jersey actually, but it was a great week and proved I was good enough to do it with the pros as well, which is very important when trying to get a contract. I'd consider myself a realist, I know what I'm capable of, I'm quite happy just to see steady improvement every year and see where it gets me."
James ended the race in 8th place on GC, losing the white jersey by just 4 seconds, it was a brilliant result for him and one that impressed many. The good form didn't stop there, he was 5th in Ronde de l'Isard, 8th in Giro Mont Blanc and 6th in Tour Alsace, but there wasn't an offer of a contract.
"I was getting nervous, after LBL and Croatia I think I just expected to start hearing from teams, but that's not really how the market works. I was the last piece of the puzzle, get all the big hitters sorted then worry about the small fry.
But still it was approaching Tour de l'Avenir and I didn't have anything solid. In the week before there was a flurry of activity, out of nowhere, I did end up with a couple of offers from Pro Conti teams during and after l'Avenir. The whole Quick-Step Floors offer came from the scout they had that year, Matxin, he saw me at some under 23 races and arranged a test a few days out from l'Avenir. I was convinced that I wasn't getting a contract and having to haul my training bike to Belgium and sort to get back after the race, I almost didn't go. Thankfully I did and ended up testing in my best form of the season, then put in a couple of rides at l'Avenir and somehow winged myself a contract from Lefevere."
A couple of rides! James is being rather modest, he was 2nd in the Queen stage and 8th on GC at the end of the week. He had confirmed what many already knew, he was ready to make the step into the professional ranks, but when did he actually get the news of the Quick-Step deal?
"It was in between l'Avenir and Tour of Britain and I was seeing a girl in Newcastle, spent £1.80 getting the bus into town and got the call from my agent… I still remember how surreal it felt now. I knew instantly I was going to take it, it was a dream come true, I had to tell a few people I'd be going elsewhere first, then got the contract sorted as soon as I could, just in case they realised what a mistake they were making."
Realised they were making a mistake? This is typical of James, such a level-headed young man. Being a keen student of cycling, James was well aware of the stars he was about to be riding with, I can only imagine what the nerves would have been like. First race for his new team was in Abu Dhabi, not a race for a climber! Quick-Step arrived with a team built around Viviani. The Italian had started the season in sparkling form, already taking wins in the Tour Down Under and Dubai Tour, which meant that Quick-Step were going to get little help in controlling the race. They didn't have their usual breakaway killers, so turned to a skinny little climber!
"I'd had a knee injury and had to miss my intended start of the season at Oman and take 3 weeks off the bike, only a week or two before Abu Dhabi, so it wasn't a great start, but I guess I had no expectations. When I was told I was riding the front in the pre-race meeting, I wasn't particularly stressed, I knew it was coming. It was, however, a bit of a reality check when the break rolled away after 500m and before we'd even got to the 5km mark the message came over the radio to get to the front and start making a steady pace. We had 185km to go at this point, and was sort of hoping I could chill out a bit but that's not how it works, is it? It was a disgustingly long day at the head of the race, I peeled with less than 10km to go, but a big experience for my first pro race and gave me a lot of confidence that I could do some of the things I was so worried I couldn't for a team like Quick-Step. After Viviani got the leaders jersey, I even controlled one of the stages on my own for 80km; a pleasant surprise."
Despite his success, I think Tim Declercq can sleep easy! There was no easing James into the season, his next races were Catalunya and Pais Vasco, two of the hardest stage races in the calendar. This is the point where the first-year pros tend to get a big shock. I've interviewed many riders and most have told me how worried they were after these races. They come from being the best in the under 23 races and suddenly find it difficult to even move up the peloton, most leave these races with a little dent in their confidence.
"Yeah, I really did get my head kicked in here, I'm not sure what I was expecting but I wasn't expecting such a cruel introduction to the top level. It's maybe particularly hard when you consider yourself a climber but literally can't stay with a group of 80 on the climbs. Thankfully the team was going really well and that's the ultimate distraction when you're not so pleased with your own performance. I was a bit more help at Pais Vasco helping ride for Julian on a few days, but it was a massive racing block and I was really cooked after it."
I'll skip forward to June and James is in the squad for the Dauphiné, a race that suits him fine. This is where he can show himself in the mountains, helping his team leaders, Bob Jungels and Julian Alaphilippe. Unfortunately, we have a TTT before that point. We all know how strong Quick-Step are in this discipline, just imagine lining up beside Niki Terpstra! The Belgians had some enormous power in the squad for this stage, but how would their little climber get on?
"I was really nervous, no one wants to get found out during a TTT. I never really expected to be able to help much, or make it to the end, just try to slow the guys down as little as possible. But still, getting booted after only 5km wasn't fun at all, I was a bit embarrassed with my own performance, but you just have to move on and maybe do a bit more TT work for next year…
I ended up going to Ionica Adriatica and winning the opening TTT straight after Dauphiné with the boys, guess that made up for it slightly, even if I was just getting out of the way as quick as I could."
The good news is that things tend to get better! Those early months are all about learning and improving. Once in the professional ranks for a while, the legs start to adjust, and performances start to improve. Riding for Quick-Step meant that James was learning the ropes as a domestique, but that changed when they sent a young team to the Tour de Fjords.
"I had a few moments here and there feeling okay, but really no consistency, especially through a stage race, adapting to the level and riding for the team were major parts of that. I think the first moment was in Tour De Fjords, the last stage was lumpy, and we had Fabio in the jersey, the plan was for me to wait and see what happened to Fabio and do my own race, if he didn't have the legs. Fabio told me with about 20km to go, on the final circuits, to do my own race and I had a dig at 2.5km to go on a little kicker. One guy came across and we got caught on the final climb at 600m to go. It was nice to feel part of the racing again and a reminder that not all races would be as hard as Catalunya, Basque, Flèche and Romandie, which I'd just done."
Tour de Wallonie was when things started to click. Quick-Step, again arrived with a young squad, all of whom were given the chance to attack. James might be from England, but he seems to love Belgian roads and a big performance was just around the corner.
"I came from a mid-season break and an altitude camp with the team at Livigno, so I wasn't sure how I'd go, but the legs were good, and it was a fun race, really aggressive racing, a fun parcour. We had a young team and made some mistakes, plus my mum and dad came over to watch, so I had to do something. In the end Wellens was just too strong, but to be one of the guys really shaping the race is an amazing really and something you have to savour after getting whacked for 6 months. I threw caution to the wind the last 3 days just to see if I could leap up a few places and had nothing to lose with teammates ahead of me on GC. Getting the response from the team about the way I was riding was probably the most satisfying part of the race."
James finished the race 6th on GC, a result that brought some confidence. He was very aggressive in the last few stages, constantly looking to attack and seeing if he could put some pressure on Tim Wellens, but the Belgian was enjoying a fine period of form and was unbeatable. Despite this, the confidence taken from his performance certainly helped in the next few races. After just a couple of days off, James was back on a plane and heading towards San Sebastián, for one of the biggest one-day races in the calendar.
"Such a cool race and what a day. I stayed with Julian all day, just chilling at the back, no stress, trying to help him where I could and moving up for the last few climbs and luckily avoiding the massive pile up coming into San Sebastián the penultimate time. It was all for Julian after the tour, Bob took care of him coming into the last climb whilst I flapped in the wheels, unable to go anywhere at such a crazy pace. It blew up on the final climb and I don't really remember thinking I was going anywhere, just trying to get up that filthy climb was enough of a challenge. I got in a group over the top and realised then that I was actually on for a ride and tried to do a bit of sprint in our group. The main thing was that Julian won but I can't deny I was really smug getting a half decent result in the process."
The day was a great one for Quick-Step, with Alaphilippe continuing his amazing run of form. As for James, he sprinted to a top 20 result, a very fine debut in this beautiful race. Having closely watched him all season, I could sense something had changed. Maybe he was a little stronger after 8 months riding against the best, maybe he had gained some crucial confidence or maybe he was just fed up getting his arse kicked! A switch had been flicked and the promise that he had shown in 2017 was now starting to reveal itself at the highest level. The next opportunity to shine came in Canada.
"Canada was really cool and I enjoyed the trip. Québec was a bit too much of a kermesse and more for the power guys, my doors blew off last lap, but it was a perfect opener for Montréal where the course seemed to suit me a lot better. A lot of top riders were there but I had the legs to be the guy attacking on the last lap and Wellens and Fugslang came across. I didn't have much left in the tank once they got across and we were quickly brought back, but again, another big step in the right direction."
When he started 2018, I bet you James didn't even dream of the World Championships. It is very unusual for a neo-pro to get the opportunity to represent their country in such an event, but this is exactly what happened at the end of September. The kid from Kendall was on the start line in his national kit.
"It was a massive milestone and such a big achievement. It's honestly hard to explain how much that meant, plus it was such a laugh being part of a British team again."
Despite racing since February, there was still one race left in the legs and James headed off to the Tour of Turkey. This was a race that really suited him, with a short, punchy climb likely to settle the GC. Unfortunately, he ended up the wrong side of Gaviria's crash in the opening stage and couldn't challenge for the leader's jersey. However, a 4th place finish in the Queen stage was a great sign of what we can expect in 2019.
"Absolutely, a massive positive finishing the season stronger than you start it and hoping it will be a good sign for next year. I think the main disappointment came from what felt like wasting my big chance, like you say all year getting whacked and then finally finding my legs. I had the best legs I had all year on that last climb, but with a headwind the group didn't really split up and it came down to a sprint. If I put away Ulissi in a sprint, even I wouldn't believe it."
2018 was a season full of learning for James. The opening months were very challenging, but he managed to make his mark towards the end of the year. I asked him if he was where he thought he would be at the end of 2018?
"Hmm, great question. I'd love to be able to speak to myself a year ago and see what he'd make with my season actually. It was a solid first season though, nothing spectacular with the usual up and downs. A great part of being an athlete is looking back at the progression, I can see consistent improvement across different things every single year and this year is no different. On top of that, I guess last year my head would have been filled with doubt whether I'd be good enough to ride at this level or just end up embarrassing myself riding for Quick-Step. At least, in that respect, it's been a good year."
Away from racing his bike, James has now lived in Girona for a number of years. For those that don't know, it is a mecca for cyclists all over the world and a huge number of the pro peloton call it home.
"I'm comfortable in Girona and I feel at home. I need a bit of work with the languages it's unfortunately always been a weakness of mine, but the Spanish is improving slowly. My Catalan is non-existent beyond basic words. Getting out the UK and moving to Girona was probably most significant because it was a huge commitment to cycling, I wasn't there to have a laugh and hang out with cycling. It meant I was moving out of my parents' house and focusing my life into cycling, that beyond the weather, nice roads and guys to train with has been the most important thing about it. I'm a bit more relaxed about it now, but I think it's still the right attitude to have.
There's a lot of guys in Girona and even over the couple years I've been there, the guys I predominantly train with has changed a lot. But honestly, variety is the spice of life in this instance, some days I can't get out the door without a group and other days I don't want anyone slowing me down, if I'm planning a mad one. Ah my favourite route, now this is a hard one, I'm really not sure. I think it depends more about the day, than the route, how you feel, who you're with, what the weather is doing. Probably any loop where it's a tailwind the whole way around! There're a few amazing loops in Girona and I love exploring, it's without a doubt my favourite part of training. I've been spoilt anyway, growing up just south of Kendal, we have amazing roads in every direction: the Lakes to the west and north, Pennines to the north east, Dale's to the east, Trough of Bowland to the south east and Morecambe Bay to the south. Plus, two seasons in Italy and now in Girona, I've done the majority of my riding in 3 beautiful places. I'm not sure anything will beat rolling around the lakes in the sun and stopping off at my granny's for a slice of shortbread and an instant coffee."
I think that James' honesty has given us a great insight into the trials and tribulations faced by the vast majority of young cyclists. From the tough beginnings in Catalunya, to the promising end in Turkey, it's been a year he won't forget. As he moves into next season, he will apply the lessons he has learned and become an even better cyclist. Keep an eye out for him in 2019, he's certainly a rider to watch!
If you liked this interview, head over and listen to my podcast series.
David Hunter
Follow us on @CiclismoInter
Join us on facebook: Ciclismo Internacional
Copyright © 2012-2018 Ciclismo Internacional. All Rights Reserved