Riders to Watch in 2019 – Mike Teunissen
By David Hunter
"At the beginning of the season I had the feeling I was really at a crossroad. Getting older and not being a prospect anymore I really felt that I had to make a step if I wanted to have some personal results in the next years."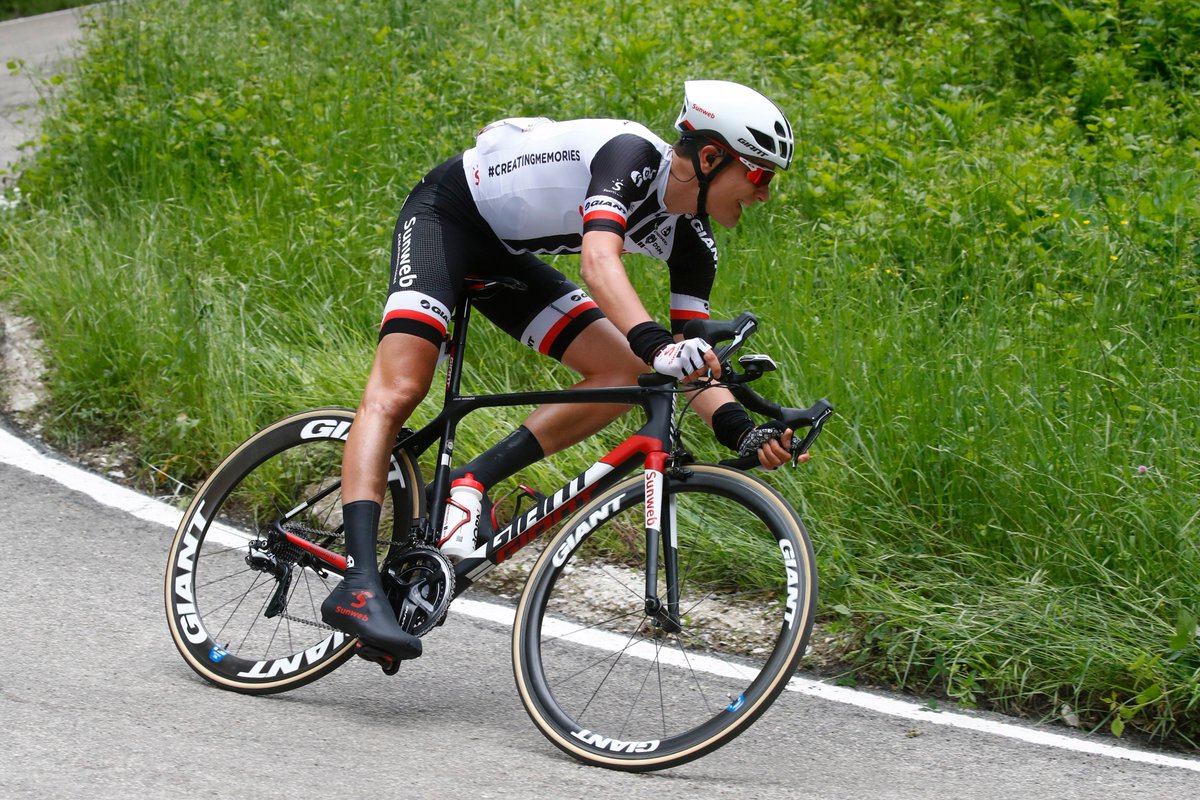 During this series, I have featured a number of riders who are at the beginning of their career, so I decided to change focus a little. Mike Teunissen used to be one of those riders, a guy with the world at his feet. He spent the first two years of his pro career at Team LottoNL-Jumbo, before looking to spread his wings at Team Sunweb and turn his promise into results. This season certainly had moments where it looked like Mike was close to reaching the top level of the sport.
"Luckily my spring was really good with a few good results in Paris-Nice, a good DDV and a solid Flanders and Roubaix."
For me, it was in Paris-Nice where we started to see the real Mike Teunissen. If you remember back, the opening stage ended with a real leg breaker of a final 2km, with a gradual climb and cobbles thrown into the mix. In horrible conditions, it was Arnaud Démare who took the closest of wins from Gorka Izagirre, with Mike finishing in 5th.
"It's quite amazing to challenge in a race like this. Until the u23s I was watching all these races and could only dream of competing there. When I turned pro, I could tick that box, but with that I also noticed how much higher the level was. Of course, I continued to try and compete in finals of big races, but it only happened rarely and never really at World Tour level. Until Paris-Nice, where I actually scared myself a bit in the final kilometre of the first stage. I suddenly was in the position to sprint for a result at the highest level of racing. That was quite special and gave my morale a huge boost.
It was typical French weather to start with, our race to the sun was just started but still a long way to get there! Actually, I think it never showed that week. In the final we tried to position Edward and Phil for the last 1.5km climb. In that hectic pre-final we lost each other, and, in the moment, we came back together Phil crashed and took Edward with him. I saw our GC leader Sam was okay, so I decided to give it a go even though I was still wearing my soaking wet Gabba, which added some more weight going uphill. In the final kilometres I suddenly came to the front and was full in the mix, quite nice actually."
With another three more top ten finishes before the end of the race, Mike left France full of confidence, if a little wet! Next up was the classics, races where he should be challenging. His best result was 2ndin Dwars Door Vlaanderen, but he also managed 18thin Flanders and 11thin Paris-Roubaix, a solid set of results.
"I experienced it's still quite a difference between competing in the finals of the semi-classics and doing so in the monuments. To start with in a semi-classic a few big riders are not there, in a monument everyone is present. You also feel that it is helpful if you've been a few times in the final of those big 200km+ races. Knowing how to manage your efforts and to go deep even though you're already quite tired makes it more special and harder. The monuments also 1.5 hours longer in which you can make mistakes, don't eat enough or run out of food, have bad positioning, crash, puncture, etc.
 I was really close to a top 10 in Roubaix and felt at least with the best 10 riders in the race, the next step is to actually get there and from there on get the best possible result of course. Flanders has a lot climbing and therefore Roubaix would suit me better, but I like them both and am certainly not only targeting Roubaix for the next years."
 As a former winner of the u23 Paris-Roubaix, it is a race that is special for Mike.
"I love the race, it is so much in one. It starts with the preparations, tire pressure, tactical plans, recons, etc. Then the pre-cobble part where it is about saving energy but also about getting control of the race, because it is such a big fight to get in the early break. Then the build up towards the first cobbles, the mythical Forest and in between always changing situations. Last year I felt well and just decided to go really early, now I know how to do things differently. Also, about taking positions before every section. This year I was too far off when we entered Mons-en-Pévèle and saw the break behind Sagan disappear. Next year (if I have the same feeling) I know I need to be sharp at every possible moment. Also, here it is mainly about getting the experience, the more often you do such races the better you can handle certain situations. That is why this year was so valuable and gives me extra morale to do better in my preparations towards and in those special weeks in April."
After the spring classics, a lot of Mike's season was about building towards La Vuelta. His last preparation race was the Tour of Poland, which was going very well with top ten finishes in the opening three stages, but then disaster struck when he crashed and broke his collarbone. As we all know, these cyclists are tough as old boots, a broken bone didn't stop Mike from being at the start line in Malaga.
"My collarbone was still not completely recovered, but as long as I didn't crash I at least I could try to get there. In the end I could ride outside again the week before Vuelta and decided to take the risk even though I didn't train really well in between Poland and Vuelta. Then I crashed again in stage 2 and from there on you now you'll never catch up on your normal self in those 3 weeks. But I knew I could still be of some assistance for Wilco in and outside the races and for Max in the sprints. I did the best I could and came certainly stronger out of it then I started it, so it was a good call. I saw already in Turkey and we will see it again in the next spring campaign, I'm certain."
So, Mike is saying goodbye to Team Sunweb and heading home to Team Jumbo, a move that fills me with excitement, as both he and the team are better than when he left.
"It really feels like coming home, it's clear that the team grew a lot since I left. We always kept contact, they liked my time before I left, I also liked it and it was quite a good fit to get back together after 'my little trip' at Team Sunweb.
At Sunweb I appreciated the great way everything was organised, it's a really tightly planned organisation in which everything is already checked and double-checked before the green light is given (talking performance plans, personal calendar, logistics, nutrition etc. etc). Everyone knows already in an early stage what the plans are, how we are going to do things and why.
Over the last two years I did quite a lot of race days, despite also quite a lot of crashes. I did the Tour last year in which you, off course, learn so much, simply because it's the pinnacle of bike racing. Finals were so much more nervous that every day you saw and experienced new things. Also, this year it was the first time I did the finals in the spring classics. It shows my general level is improving and it needs to continue to do so to ultimately be there consistently."
Now 26 years old, I think that Mike is about to hit his prime as a cyclist. He now has the experience which should help him to compete in the biggest one-day races in the calendar, but where does he think he can still improve?
"I think my sprint can improve still, also I would like to focus a bit more on becoming a better climber, at least to try to reach finals were some of the fast sprinters are already dropped.
And off course to be able to do the short kickers in for example Flanders as quick the 10th time as I am doing them the 1st time.
I think only becoming older and wiser, or let's say more experienced is very important for me. I combined cyclo-cross with road racing until I turned pro so every year, I did less kilometres compared to the (normal) road pros of my age. I think with every year I'm stepping up a bit on every level, I will get there some day.
I certainly hope I'm about to hit my prime, like you said I'm improving every year. Let's hope it will continue like that for a few more years, then I will reach quite a high level at least."
Teunissen is a rider who has a high level across a range of attributes but hasn't quite found his area of expertise. Moving back to Jumbo is a good move for all involved, as their classics squad could do with a rider like him and he'll benefit from the quality coaching that the squad can offer. As it seems likely that Wout Van Aert will also be joining the team, the squad is already starting to look much stronger than this season. Having two strong riders in the finale of races will give both a great chance of challenging for some wins.
"To win a race, just any will do. By now I only won a prologue and I would like to add a 'normal' race to it. Last year I practically only did World Tour races and could not imagine winning, but after this year, somewhere someday sure it must be possible, at least I can try."
In my opinion, a win is certainly possible. I think Mike's strongest attribute is his sprint, he's pretty damn fast! If he can reach the end of a race with a reduced peloton, he has a great chance of finishing first. It's up to Team Jumbo to help create these situations and then we'll hopefully see why I think Mike Teunissen is a rider to watch in 2019.
If you liked this interview, head over and listen to my podcast series.
David Hunter
Follow us on @CiclismoInter
Join us on facebook: Ciclismo Internacional
Copyright © 2012-2018 Ciclismo Internacional. All Rights Reserved