Riders to Watch in 2019 – Mikkel Frølich Honoré
By David Hunter
One of the most pleasing parts of what I do is trying to spot young riders who seem destined for greatness. Towards the end of the season, I started to pay close attention to Mikkel Frølich Honoré. The 21-year-old Dane had joined Quick-Step Floors as a stagiaire in August and seemed to cope well with the immediate jump in standard, which was very impressive given his age. He obviously made a big impression in the squad as he was rewarded with a professional contract for the next couple of years. To give you an idea of the standard required to land a pro contract just think that the previous two riders to do this were Álvaro Hodeg and Fernando Gaviria, Quick-Step don't just hand these contracts out to anyone!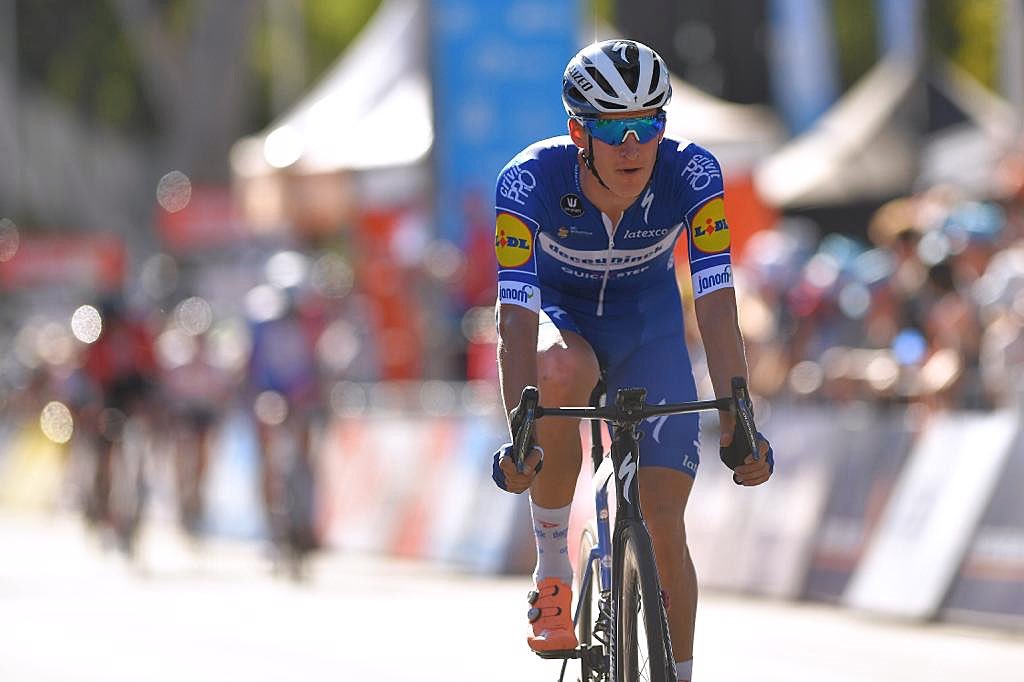 "Obviously there is a big jump coming from doing u23 race events compared to professional races. I feel very lucky to have been part of both Lotto Soudal u23, and Team Virtu Cycling as an u23 rider. Both teams provided a really great race calendar which helped my development very well.
Joining Quick-Step Floors is an absolute dream for me. It gives me a lot of hope because they have been successful for so many years. Especially, when you look at the young riders coming from the team. I find it a perfect match for me in regards race mentality and key values."
Mikkel joins a team that already has two Danes: Michael Mørkøv and Kasper Asgreen. This has been a brilliant period for Danish cycling, with huge performances by Michael Valgren and Magnus Cort, but also a large number of talented riders coming through the various age groups.
"I think a lot of it has to do with the work of the federation. They have put us in national team camps during the winter from u17 till end of u23 and educated us very well. Also, we are very lucky that there are so many well working teams in terms of organization all the way from the small ranks till elite. Furthermore, I think that success breeds success, so seeing the Danish professionals being successful on the World Tour aids further development of young riders. This seems to be a whole new generation, and there are a lot more coming."
 Riders are motivated by many different things, for Mikkel it is trying to do his grandfather proud, a powerful motivating factor.
"I started cycling during the summer of 2004 where I did a local race together with my grandfather on my old school bike. My grandfather was a very passionate cycling fan, and an amateur cyclist himself in his earlier years both on the track and road. He died just two weeks after that race I did with him, and I've since then wanted to show him how far I could reach in his beloved sport."
 After a promising junior career, Mikkel headed off to join Lotto-Soudal u23, one of the best development squads in cycling. After a successful spell, he returned home in 2018 joining Team Virtu.
"It was a great time riding and living in Belgium together with the Lotto-Soudal u23 team. I've learned a lot of great things from racing there that I'd benefit a lot from in the future. All from just the Belgian cycling culture to race tactics, training, roads etc. I felt that I got all the experience I could from living and racing around Belgium/Europe together with the Lotto-Soudal u23 team. I think that I somehow was looking for new challenges, and when I first met with Michael Skelde (Former head-DS of Team Virtu Cycling), I was sure that it was the right choice for my future and further development."
 That decision turned out to be a very good one. Mikkel won the Circuit de Wallonie, towards the end of May, but a crashed ruined his chances in Giro Valle d'Aosta Mont Blanc. Thankfully he wasn't off the bike for long and was selected to represent the Danish squad in Tour de l'Avenir. It was no surprise to see them claim the TTT victory, their squad was full of big engines.
"A team time trial win is always something special because you altogether get to go on the podium. Cycling is this unique sport where team play, and teamwork are so crucial to win, but just one rider is usually celebrated on the podium afterwards."
 By this point Mikkel already knew about the stagiaire ride with Quick-Step, that news came around the time of his crash in Italy and helped to motivate him for the rest of the season. In just six weeks he raced in the Brussels Cycling Classic, GP de Fourmies, Tour de l'Eurométropole, GP d'Isbergues, Binche-Chimay-Binche, Milano-Torino and Gran Piemonte. This was an impressive block of work and he simply didn't just roll round the course and DNF, Mikkel finished in the top 60 of every race.
"It's been amazing experience to ride as a stagiaire for Quick Step. Everyone has given great inputs which I can use for my future. Also, joining the 'Wolfpack' and getting to know all the guys has been really great.
 The results give great confidence for next season as I have already been up in front on such long races. However, I have not done any World Tour races yet, so I'm still very humble for the level. It's a really big step, and a lot of hard work has to be done."
 Also, during this period Mikkel was part of the Danish u23 team at the World Championships, but it didn't go exactly to plan for them.
"It was a big disappoint for the Danish team as our goal was the podium, which normally would be possible with the roster we had. Personally, I had a great day, my job was to make the race as hard as possible by attacking when we got into the laps. Unfortunately, our two captains had a bad day, and we did not get the result we hoped for, but this is part of racing."
Looking at his build and results, it seems that Mikkel is destined for a role in the classics. His ability to already cope with the long distance of some races also indicates a large engine, a valuable commodity in the world of professional cycling.
"The type of rider I will become is still something I really have to find out and decide. Perhaps it comes just by itself. At the moment me and my coach have focused on my endurance, so my engine is quite good. In the future I would love to become a rider for the Belgium classics. I think it would be either of or something in-between the Flemish and Ardennes races."
Away from racing, Mikkel is a dedicated trainer. He is based in Bergamo, a wonderful part of Italy.
"Since my girlfriend studies in Milan it seemed like an obvious choice for me. Milan is too busy to live in as a cyclist, and Bergamo is just a 45-minute drive from there. In Bergamo I got all kind of terrain where it's possible to do flat and short, steep, and long climbs.
 During endurance training and winter rides I love to do the group rides with my friends on the bike. If I have a particular goal and race close by, I prefer to do some of my training block alone to really get the shape fine-tuned.
 I am always interested in my power from training rides and races. I also like to read about different methods of training. Usually I tell my coach to explain to me the different effects of the intervals/workouts, so I can get a great understanding of why I do this specific effort. In my free time at home I also study exercise physiology from time to time."
Mikkel mentioned that he and his coach had been looking to develop his endurance, what type of training would he do for that?
"I would do a long endurance ride of 4-5,5h with some low zone 3 on all the climbs. So, a total elevation of 3000-3500m."
Away from the cycling, what is he like in the kitchen?
"I love to cook when I am home between races. Fortunately, my girlfriend does not like to cook, so I got plenty of space in the kitchen. What I cook depends a lot on the time of the year, but I got a weakness for the Mediterranean cuisine.
 I more or less eat what I want and feel for, but it all depends on what time of the year and if I have to lose weight or not. Sometimes I also do 'train-low' rides where I'm depleting the glycogen stores from carbs. Favourite dish to cook would be something like oven baked chicken with vegetables. Super-fast, and full of great nutrients as well."
 Looking ahead to 2019, it's going to be a year full of learning for the young Dane, something I'm sure we'll see him embrace.
"It would be a successful season for me if I could further continue my development. I have not decided to pick any success criteria yet before I have done the first one or two months of racing.
I have learned that key to success is consistency. Staying fully engaged on a few goals during the season will help you achieve them a lot more. In 2018 I did not get the results I really hoped for, but I am very happy with my season as I have learned so many great things that I can use for the future. Especially, the setback from breaking my scaphoid was a very hard time, but I can only agree with what Nietzsche said: 'What doesn't kill you makes you stronger.'"
It's not every day a cyclist quotes Nietzsche to me! Mikkel seems to be a very level-headed young man, who knows where he is and what is needed to progress in this tough environment. I would expect to see plenty of him in the first few months of the season as Quick-Step use that big engine of his. It's in the later part of the year where I think we could see signs of what he might go onto achieve.
David Hunter
Follow us on @CiclismoInter
Join us on facebook: Ciclismo Internacional
Copyright © 2012-2019 Ciclismo Internacional. All Rights Reserved