Riders to Watch in 2019 – Milan Menten
By David Hunter
"I started with cyclocross when I was 10. In the beginning I still combined cyclocross and football on a good level, but a few years later, when I also began road cycling, I stopped football and focused on cycling. I live in a very small village, between the fields and the farmers, with my parents and my older sister. Hobbies are mtb, cyclocross in winter, karting, playstation and spending time with my girlfriend, Laurien."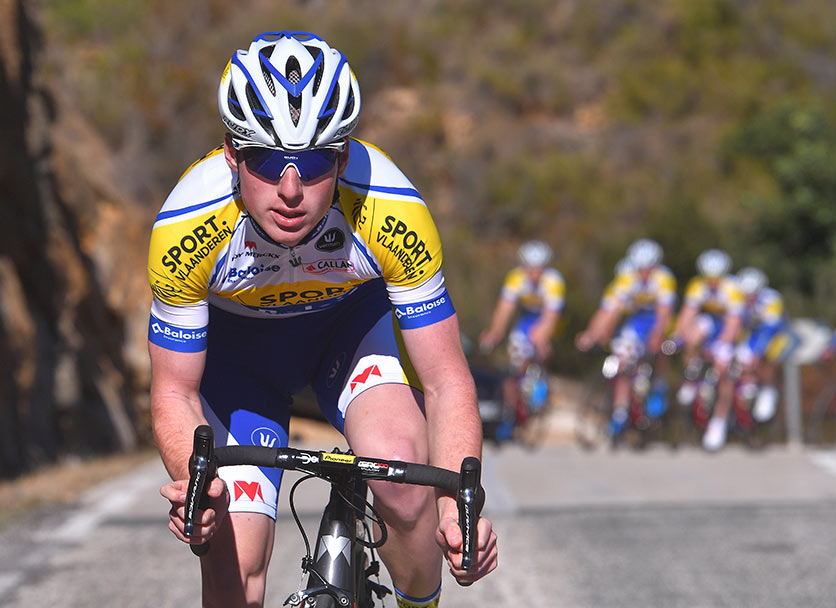 This is Milan Menten, a rider who I have followed for a number of years. Milan is a fast man, a sprinter. After a successful u23 career, 2018 was his first year in the pros, riding for Sport Vlaanderen – Baloise, but the early months weren't particularly easy!
"Yes, I did have doubts. I have to be honest, after the first month in Belgium I thought, is this what I expected? I can't even ride in the front of the peloton, I lost my morale a bit and motivation to train like I did as u23.
I started good in Bèsseges by wearing the mountain and younger jersey for 4 days, but after Bèsseges I did races like Murcia and Kuurne where I came in a crazy strong peloton and I couldn't finish those races…
In the early races I learned that timing and placing, before the little climbs and cobblestones, is the most important thing. Everyone is strong and every team has their man that needs to be in the front, it's so hard mentally to fight every time to be at the front.
There is a big difference between sprinting in the u23s and the pros. In u23 you start sprinting with fresh legs, with the pros, they go so hard in the last 10k that you are already on your limit before the sprint."
This tough period is something which is very common for a first year pro, you have to slowly grow into the big leagues.
"I expected not that much in 2018, because you don't want to put too much pressure on yourself, but for myself I hoped to do good and sprint a few times for the win."
Once Milan got to grips with the pro bunch, it was only going to be a matter of time before we saw him at the pointy end. Remember, Sport Vlaanderen are one of the best development squads in cycling. Put simply, they can spot talent.
"After the classics I found my old legs and motivation back, in the Tour of Norway, where I made a click and focused again like I had to."
It was in June that his form started to build, the first "big" result was 6th place in Ronde Van Limburg.
"This was the race I focused really hard on, it is on my trainings roads and the finish is in the city of my girlfriend and family. I was nervous but strong that day, I tried a lot of times to go in the attack but Cofidis wanted a sprint. I knew the uphill finish better than anyone and tried to surprise them to go from far. I had to sit down when Van Der Poel and Bouhanni passed me but I was so happy that day, I felt I could sprint for the podium.
For me, the Tour of Denmark will be looked upon as a turning point in Milan's career. Not only was he challenging in the sprints, but he held a high position on GC, even after the tough stage in Vejle. A poor TT stopped him from netting a big result, but the positive signs were certainly there for all to see.
It was a really nice race! The Vejle stage was the first time I could follow the pros uphill, like I could do in the u23s. It's a really steep climb but that's what I love and I think these finishes are the best for me in the future. It was great to be challenging in such a big race; the team started believing in me, which gave me so much confidence for the rest of the season."
This confidence boost was important for the rest of the season, where we started to see the team looking towards Milan as their main sprinter. After working hard in the BinckBank Tour, he picked up his first pro win in Desselgem Koerse.
"The win gave me such a boost, after it I wanted to go and win again."
Those last races in the season were very impressive, particularly the 5th place finishes in Famenne Ardennes Classic and Paris-Bourges.
"Famenne and Bourges where both hard hilly races which ended up in a sprint with 30 riders. I think I'm more puncher/sprinter, as u23 I won most of my races by attacking the last k or finishing on a little climb. The best for me is a hard race and sprint uphill with 30-40 guys."
To watch a young rider overcome a tough start to their first pro season, and then finish the year in fine form was very pleasing to see and encouraging for 2019.
"Yes, I can be happy with my year. I had a difficult start but a great ending, I learned from my mistakes and take this with me for next year. I hope to be on a good level from the first till the last race. Be stronger and ride podiums in the 1.1 and 1.HC races. For sure, I want to win again and show my qualities to the bigger teams."
Moving into his second year as a professional, I think we'll see an improved version of Milan Menten. His sprint finish means he can challenge for the podium in mass sprints, but reduced sprints are where we'll see him go for the win. As he starts to get more leadership opportunities, he'll grow as a rider and start to taste more success. Sport Vlaanderen is the perfect team to allow him to grow and it won't be long until the World Tour teams come calling.
If you liked this interview, head over and listen to my podcast series.
David Hunter
Follow us on @CiclismoInter
Join us on facebook: Ciclismo Internacional
Copyright © 2012-2018 Ciclismo Internacional. All Rights Reserved