Riders to Watch in 2020 – Carl Fredrik Hagen
By David Hunter
Every so often there's a rider who comes along and breaks all the rules, this is something I like in a cycling world which can sometimes become a bit repetitive and predictable.  Carl Fredrik Hagen turned pro at the ripe old age of 27, this is not normal. Carl Fredrik Hagen finished 8th in the Vuelta, in his first grand tour and in his first year as a pro, this is not normal. Carl Fredrik Hagen is a special talent, one who reminds us that there are many routes to the top.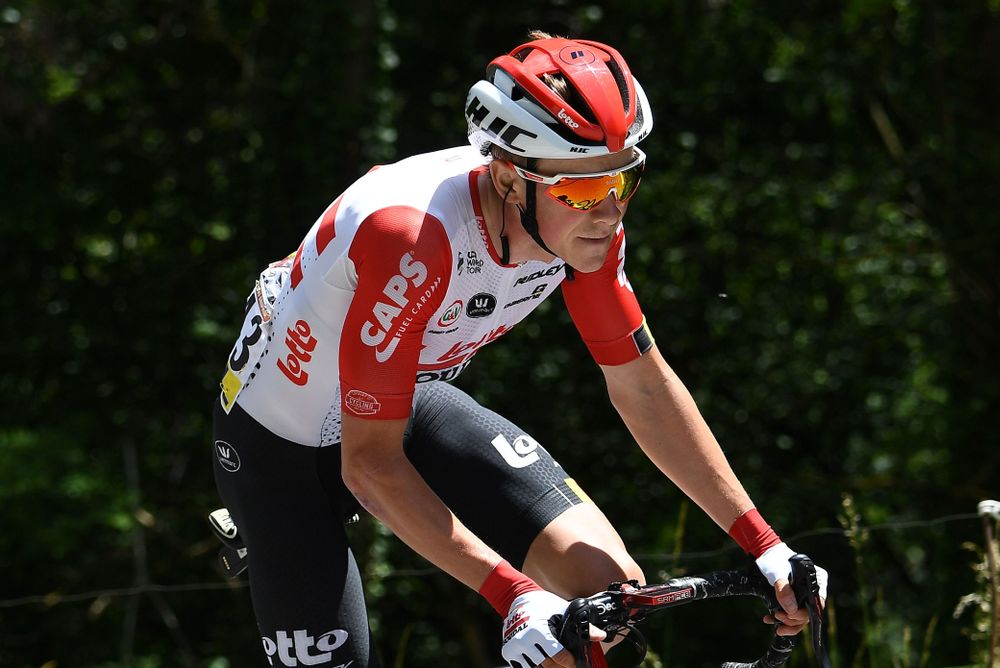 "I believe turning pro later is an advantage because I'm physiologically stronger and fitter."
Let's get straight to the Vuelta, stage 8 is when Carl made his big move, getting in one of the many successful breaks in the race. He tried his best to help teammate, Tosh Van Der Sande, win the stage, but it wasn't to be. Tosh rolled over the line in 3rd place, but Carl finished 9:24 ahead of the peloton and jumped up to 7th on GC. Despite the many challenges ahead, Carl never dropped out of the top 10 and eventually finished the race in 8th spot, which was an enormous achievement.
"I had one goal if everything went perfect: First; finish the race. Then; top 20. That was a realistic but also a high goal. However, to be top 10 was never in my mind.
I didn't have a day I felt off. My legs got better and better every week and in the last week I had my best stages. I saw it on my SRM, but I was feeling it in my legs that my overall shape was better in the final week.
I knew that it was going to be a tough race. Afterwards, it was as exhausting mentally as physically. It is really rough to keep focused 24/7 three weeks straight."
What about the day in the crosswinds?
"It was a special experience and the stage made me frustrated. I knew that this stage could be critical. I was nervous throughout the stage, but as I finished with the group of favourites I lost some weight from my shoulders."
Finishing 8th in your first grand tour is a huge achievement, especially as the Vuelta was very demanding, with many difficult stages, but 2019 wasn't just about this one race for our Norwegian friend. Looking back at the year he also finished 15th in Romandie, 10th in Norway and 8th in Guangxi, he also managed 3rd place in the final stage of the Dauphiné.
"I'm really happy with my season. It was my first year as a pro and I just wanted to learn, help the team the best I could and not focus on my own results. Therefore, I didn't expect the results I got. I took all the opportunities given to me and I am very happy and thankful for the chances Lotto Soudal gave me."
Coming to the professional scene much later than others could have left Carl wondering if he could match up against more experienced rivals, but not for long.
"I showed myself from the first moment that I was strong enough for the World Tour."
In fact, Carl's hopes at the start of the year were understated.
"My goal was to work for the team and do my best in every race I was sent to. The team was always my first priority. All other goals I might have had, I reached with a solid margin."
When riders first make the step up to World Tour level, they often feel like little boys competing against men. This wasn't the case for Carl, possibly due to his age.
"The level of racing wasn't a challenge because I have taken my progress step by step and improved myself the right way to be fit for this."
Most teams sort out race schedules during winter training camps, but 2020 features some special races for those who can climb.
"My race plan is not ready yet, but I want to do a combination of one-week stage races, Grand Tours, Olympics and Worlds.
Since I started with cycling I always want to go to the Olympics, at least one time in my career. Next year we have a profile that suits me well, and that could be a once in a lifetime experience. I hope I will be part of Team Norway, that would be a dream for me. There's also a lot of other nice races before the Olympics, so I want to do a good season from start to finish in 2020."
With tough routes for the Olympics and Worlds, it certainly is a great year for the climbers of the peloton. After such a rapid progression in 2019, it will be interesting to see how Lotto Soudal manage Carl and his objectives for 2020. The team don't have many riders who can seriously compete in hilly races, which will see Hagen thrust into many leadership roles.
"I am super happy for all the opportunities Lotto Soudal have given me in the season of 2019. Performing as well as I did was a great way of showing my gratitude towards the team. I hope this will continue for the next years."
And is he hoping for a grand tour bounce?
"After the Grand Tour I can feel that I'm stronger and I can start the 2020 season preparations a level above last year."
2019 was a year that Carl looked to learn more about himself and the world of professional cycling. Due to a variety of reasons he suddenly found himself as a protected rider and team leader, something he couldn't have planned for at the start of the year.
"I didn't look at myself as a big leader, because I was still first year pro, this year. But I got a free role in many races, got the opportunity from the team, took it, and I'm really happy that the team believe in me. I always put the team first, and to make results for the team is an honour.
As a person I really take care of all the people around me, like to have things clear, always saying the truth and I like to work together with my teammates in the same direction.
I'm motivated and looking forward to taking new steps next year. My preparation has started, and I will try to enjoy every day, have fun and focus on the right things in the right moment."
My next rider to watch in 2020, Carl Fredrik Hagen.
David Hunter
Follow us on Twitter and Instagram
Join us on facebook: Ciclismo Internacional
Copyright © 2012-2019 Ciclismo Internacional. All Rights Reserved