Riders to Watch in 2020 – Cees Bol
By David Hunter
There's not a doubt in my mind, one day Cees Bol will be the best sprinter in the world. 2019 was his first season as a professional, having joined Team Sunweb from SEG Racing Academy. Being an avid watcher of the sport, I knew about the talent he possessed, but even I was surprised by his rapid rise through the sprinting ranks. By the end of the year, Bol was one of Sunweb's most trusted fast men and he took a series of impressive results. The year was meant to be one about learning for the youngster, his goals were fairly understated.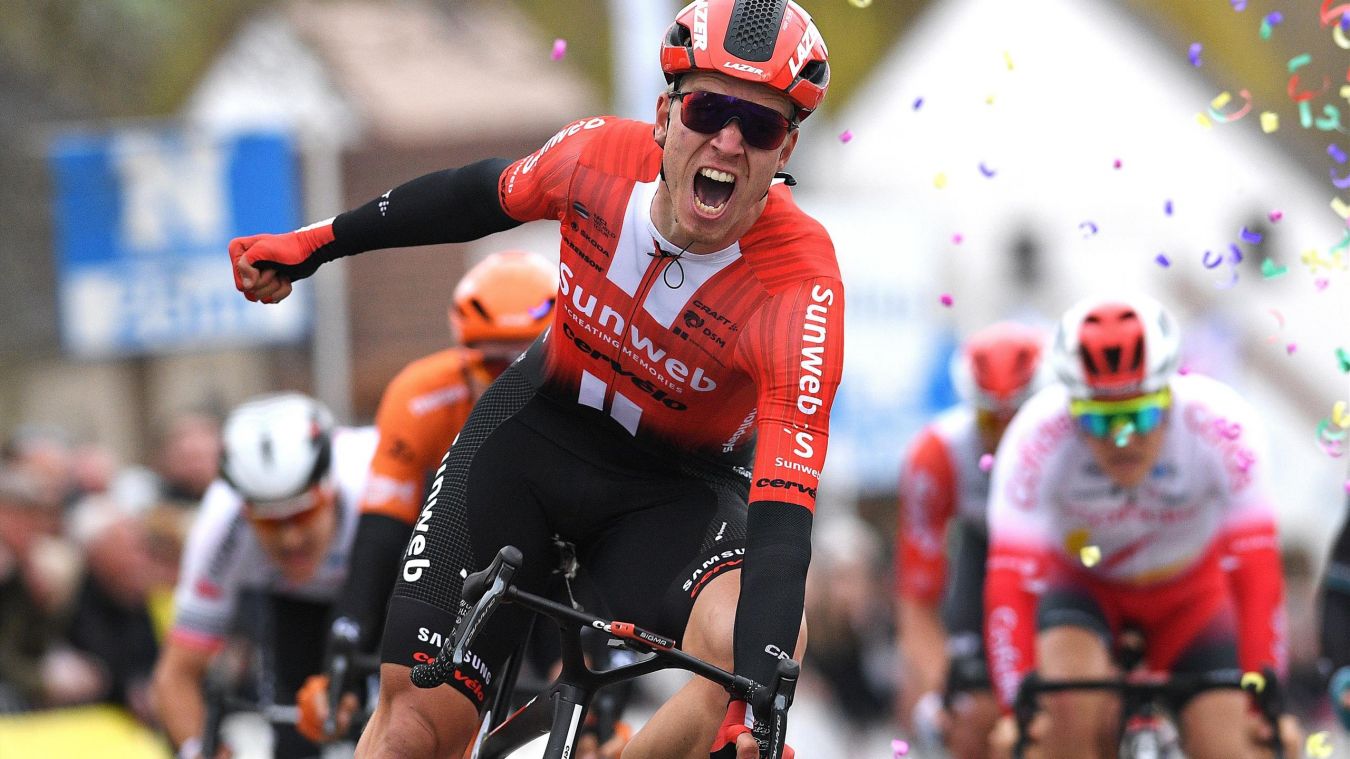 "To adjust to the world tour level and especially make progress as a classics rider/ sprinter. Those goals were maybe even more about training and the things you do off the bike rather than the being focused on results.
 I wanted to learn about routine, things like having a proper meal within an hour after a good training session, resting well, preparing races. Nothing special just everything a bit better and more consistent. Always trying to do the small simple things right, rather than focusing on crazy details for shorter periods."
Team Sunweb are renowned for their long-term planning. The team bosses meet at the start of the year and carefully plan the races and who'll be the protected riders. Now, some cope well with this, others can't stand it, but Cees certainly doesn't seem to have any issues with the approach.
"Yes, I knew in January that Nokere would be my first race as a leader. I just remember being really sharp and calm at the same time. Confident that I would not have to follow the attacks but still ride in the front, then later I just followed my teammates who did a superb job. I was well prepared for a long sprint, so I could sprint out of the saddle all the way to the line. Ackermann sat down at 50m to go, that's when I knew I had it. Then just pure joy. Amazing kick to win a race."
Debut season, and a win in the bank in March, that's what you call a good start to a neo-pro season. Those that remember that day will recall Sunweb dominating the final 1.5km, only for Selig and Ackermann to jump onto the front in the final straight. Ackermann launched his sprint from the front, but the huge figure of Bol easily managed to hold his wheel, and then accelerated past in the final 100m. The British commentators mistakenly called Max Walscheid as the winner, but it was our boy Cees who'd just smashed one of the best sprinters in the world. Welcome to the big time!
"It was a big confidence boost, for sure. Especially seeing him doing so well in the Giro, just a few weeks later."
Next on the agenda was the Classics, and the first time Cees had the opportunity to race 250km+, which isn't always an easy thing to do for a neo-pro, but it's all part of the learning curve.
"Those races are insane. From watching them on tv, doing the u23 additions and racing at a lower level in the same area, I thought I had a good idea of how hard it would be, but it was way harder. 260km is a long way and the race doesn't really slow down. However, with the crowds, the history, and knowing that these are the races you've dreamt about makes it super cool to race.  I prefer Roubaix, yes, more iconic I would say (and you don't cross the route, like you do in Flanders ;p).
When you're still in the race and suffering full there's not much thinking, but when I got dropped it was a relief not to suffer anymore. Suffering in the grupetto is mentally harder because there is no need to go fast. In Roubaix I just enjoyed it. In Flanders I was so fucked I got lost for a while because I tried to take a short cut back, then ended up in normal traffic. In that moment I was really disappointed, angry (from the traffic) and emotional from the suffering. Later I found the course and saw the favourites pass me with 3km to go. That was an intense day for my mind too."
After a short rest, it was time to head to the States, and the Tour of Sagan, I mean California! Sunweb had gone with Max Walscheid as their sprinter for the opening stages, but the hilly final stage was perfect for their young gun, and he had the chance to go toe to toe with Sagan. Unlike in Nokere, he had to fend for himself in the final kilometre, launching his sprint from around 5th wheel. Despite having Sagan in his slipstream, the Dutch kid had enough to take the win, his second as a professional.
"It's hard to say which win was better. I felt really strong over the hills. I felt super confident because of those good legs, but to finish it off was for me a surprise as well. Yes, I like a hard race, typical sprint days can be pretty boring. If I'm in good shape I can handle a hard race pretty well and I think it also helps me to feel that I have good legs and build confidence from that."
With soaring confidence, it was time for the Tour of Norway, and Cees took out the opening stage on his way to 5th on GC.
"Having the team behind you is always a good feeling. We also had Hirschi there who was protected as well, that made it a bit easier for me because in some situations I had Marc at the front. I was competing for the overall, but it was not too complicated I think. No real big climbs and no TT. So, every day I tried to hang on and sprint as well as possible. For the decisions like whether or not to control the race Roy (Curvers) was responsible."
Then came the call, one of those pinch me moments in life. The phone goes and it's your DS, who's about to tell you to pack your bags for three weeks of riding around France.
"I never expected that. The Tour is just the biggest thing in cycling and any rider wants to be a part of that. I found out a few days after ZLM, so that must be 2 weeks or so before the Tour. I was proud about it when I got the news but also nervous about actually riding it. I was training with Ramon Sinkeldam, so he was the first to know that it was certain. When I came home I told my parents and called my girlfriend and sister too.
Everything at the Tour is just bigger. It was good for me to feel that the level is super high, but I was happy that I could play a role in the team and contribute to the teamwork."
The long-term plans that Sunweb love to make were thrown into disarray when Tom Dumoulin announced he couldn't start the race, which made the team quickly come up with another plan, which was to support Michael Matthews in the sprints and hope he could win another green jersey. Cees was there as a lead out man, and a bloody good one. Then something strange happened, it was stage 11 to Toulouse and they ditched the plan and told Cees that he was going to sprint.
"Again it made me nervous, of course. But also in general, and with this chance, the team was not putting any pressure on me whatsoever. That made me want to try."
8th place that day wasn't a bad start to sprinting in a grand tour, but there wouldn't be any other opportunities as Cees crashed during stage 16 and didn't start the next day.
"I was disappointed. I was tired but not completely fucked, I think I could have made Paris, so that hurts a little bit. It was a discussion then but looking back on it now it's not a big thing. I was in race form from California on, and when I fell on my head in stage 16, I also agreed that it would be smarter to go home. However, looking at the finish in Paris did hurt me, so if I ever get the chance to finish it, that would maybe give me an extra special feeling then."
After the Tour de France, some riders enjoy a positive bounce, other riders bounce straight onto the beach. Which one was it to be for our young sprint star?
"I felt okay really quickly but then it took until the Germany Tour before I felt really powerful again. In Britain I was struggling a bit the first few days. It seemed like the split-second decisions were all wrong and I had some bad luck on top of that, but with some good coaching and maybe some luck we managed to come closer to a win in the last days.
I really like the late Belgium 1.1 classics because the weather can be shit and there is more often a hard race. I even added an extra kermesse race, you're better off just racing a lot because training in October doesn't seem as effective…
So not really fucked, still eager to race, but the real mental freshness is gone by the end."
Looking ahead to 2020, I see a very big year for Cees. Team Sunweb are undergoing a bit of a revamp, with a lot of younger riders joining the team. This means he'll be one of the main men when it comes to sprinting, with more opportunities than he had this year, but what are his initial goals?
"Getting closer to the final in the classics. Not being empty at 200km. Sprinting for wins."
And his top 3 moments of the season:
Nokere/California
Gent Wevelgem – being up there with the best surviving Kemmelberg the first time, drop back to the peloton, crawling up the Kemmel 2nd time, finish on 28 minutes completely fucked. 
Tour. 
Ladies and gentlemen, Cees Bol, my next rider to watch in 2020.
David Hunter
Follow us on Twitter and Instagram
Join us on facebook: Ciclismo Internacional
Copyright © 2012-2019 Ciclismo Internacional. All Rights Reserved