Riders to Watch in 2020 – Chris Hamilton
By David Hunter
Incremental progress, I'm a big fan. Chris Hamilton is still a young man, he's only 24, but he's already been competing in the World Tour for three years. Over this time we've seen him grow stronger and improve every season, with 2019 having some pretty impressive results.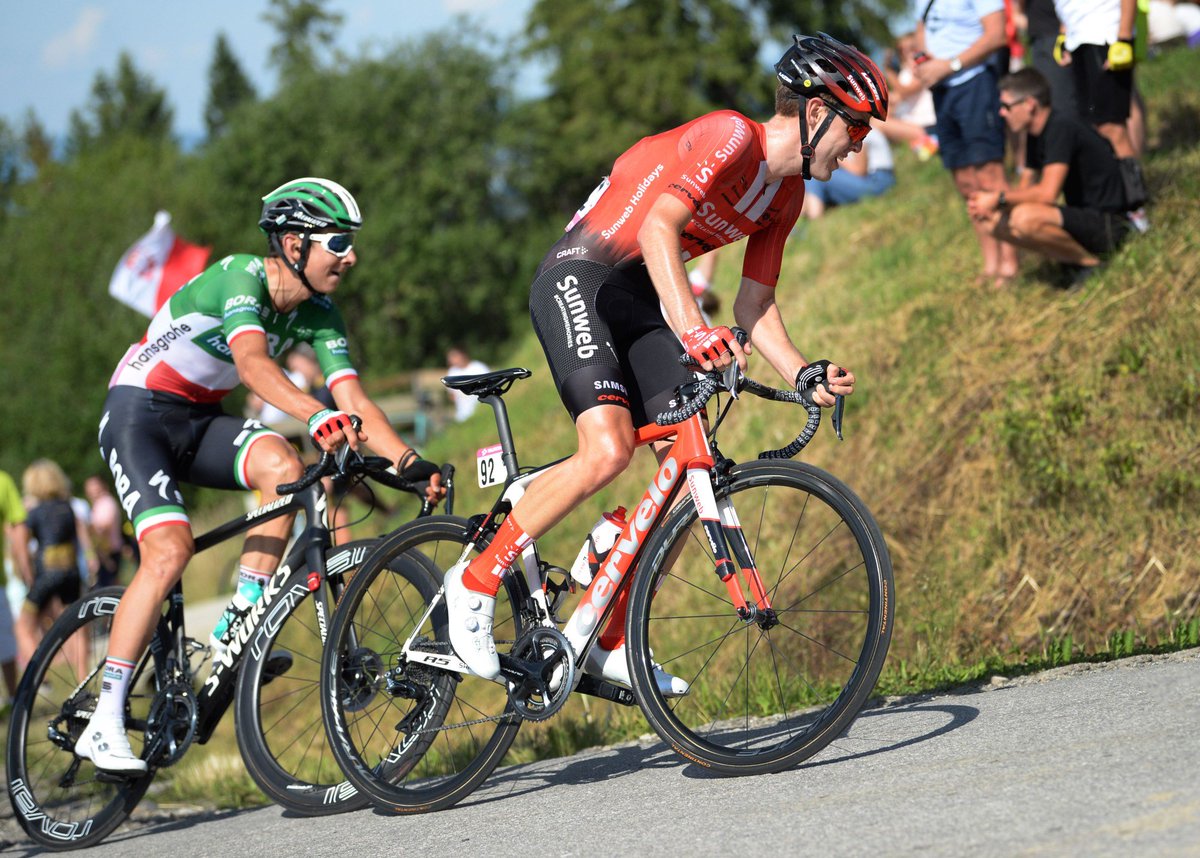 "Three years already?! Well to put it simply, everything I know about racing has come in the last three years. Well not entirely, the three years I kind of did on the Australian scene taught me heaps, but it's a lot different. If you're good there, then you will get good results. Not so much the case at WT as I quickly learnt. Just being good won't get you too far, there's a million other things that come into the equation, but I think I'm getting a bit craftier in my older years, learning when and when not to be relaxed. Also, just what I can do for the team on the bike and off. That's pretty important I feel. Living on the other side of the world made me grow up pretty quickly, I went from living at home straight to a town in Spain I'd only really heard about, never visited, knew nothing. That was pretty cool looking back, but I've found Girona to be pretty homely, and I've grown to love their way of life."
When he left Australia, Chris was a skinny wee climber, he's still a skinny wee climber but he's grown in other ways!
"Physically is quite interesting, I've found my numbers haven't increased as much as I would of thought. I mean for sure there are improvements, but the big difference is the duration. After a while your body just gets used to taking the beatings and gets stronger and stronger slowly. Experience makes it a little easier, especially the races that I've done more than once before. Knowing what to expect, well expect the worst and it can only get better right? Haha. But no, I understand the level and when and where it's going to be crucial for positioning, and the consequences if you don't put up enough of a fight."
It's not all been plain sailing for Chris. Like all young professionals, the jump to the World Tour can be very difficult to cope with, especially in the first year.
"I've had quite a number of low points that's for sure. I'm sure it's the same for any athlete. When it's all going well there's no feeling like it, living the dream, confident in what you're doing, and the sun is shining! My first year started off pretty good, I did all the Aussie races then my next race was Abu Dhabi, we were riding for Tom there which I was pretty stoked about and in the end I finished pretty ok on the final climb/stage. I thought, sweet, I'm really getting into the groove of this World Tour racing! Then came Catalunya… I'm a climber, this will be good for me, right? Wrong. What a wakeup call that was, a level and style of racing I was just not prepared for. Then I went to the Basque Country, and it was much the same, but we had one or two stage wins with Bling, so it was a cool week. To really finish me off I went to Brabantse Pijl a couple of days later, this put me in quite a hole. Got really sick in California, which my parents flew over to watch, couldn't train for a couple of weeks, then got a last-minute call up to Paris Nice where I was the very last rider to finish! Things got better from there on and I got to do the Vuelta, finished, then Lombardia to cap it off. But losing my best mate at the end of the year, I don't think I'll ever face something so difficult in my life again. He was hit by a car just before we were to meet for a training ride back home in Aus. We lived together that year and were due to do the same the following. Obviously things were pretty different after that, but so many people were affected by his loss, so I certainty wasn't alone in dealing with it."
Back in 2017 Team Sunweb put a lot of faith in Chris, giving him a three-year contract, which they extended for another two years. The team are well known for making strict plans and sticking to them. Team meetings in December are used to determine which riders will have freedom in the following season, something that some riders like, but not all. Not all teams operate like this, some still wait until just before a race starts before deciding who gets the nod. This time last year, Chris knew exactly the shape of his 2019 season.
"It makes it so much easier for us riders knowing the entire years plan in December. Sure things always change, but your never getting random call ups or wondering if you're doing a grandy a week out. My goals were Nationals, Tour Down Under, Cadel's Race, Giro GC support, Poland, then Tour of Britan. Most of them went to plan in aiming for top 10 results, aside from the Giro of course but nothing about that race went to plan for us.
My personal goals were essentially to be in the top 10, which I was for some, others I wasn't as good as hoped, but to be honest I don't have specific goals with a certain result here or there, I just want to be good. Win a bike race, don't care what it is or how I do it. It takes time, if it happens it happens, if not, well that's life I just love doing what I do."
Time to look back at Chris' season. As he mentioned it started way back in January with the Tour Down Under, a race that Chris has good memories of. Back in 2016, while riding for the Uni-SA team, he was 11th on Willunga Hill, a result that caught the attention of many. In 2017 and 2018 he was riding as a helper, but this year he was free to chase personal glory, an opportunity he took with both hands.
"The feeling was unreal, going back to my last point where I said I just want to be good, that's the feeling that I want. It was crazy, I know us Aussies always turn it on there because our preparation is better and what not, but it just gave me that insight to what it's like at the top. Now I just want to do it more in Europe. No more nerves than normal though for Willunga, excitement more. I rate that stage and I know so many people there. Also, my Dad was going to be at the top, so I had to pull something out for him!"
And pull it out he did. Chris finished 6th on Willunga, and yes he did the unthinkable, he tried to follow Richie Porte's attack! 6th on GC was a brilliant start to the year, a big statement about what was to come.
"It was a little above my expectations, I'll be honest, top 10 was always the aim, but I'm so happy. Still makes me smile now looking back. Then walking up on the podium for the white jersey just capped it off. All those hours on the bike and sacrifices don't matter. Sounds pretty clichéd I know, but it's true. I don't think I've ever had so many messages and notifications on my phone before. Took me days to reply to them all, it was amazing."
The Giro was meant to be a big part of Chris' season, but Sunweb clearly angered the cycling Gods as they lost Tom Dumoulin on stage 5 and ended the race with just four riders. This was Chris' third Grand Tour; how did it compare?
"Aside from the obvious of losing our GC leader, it was physically easier. You know what's to come, how hard certain people can go for, when it is and isn't worth fighting for one spot, and how to look after yourself in general. We get it pretty good, every night they put our own mattress in the hotel, our meals are all calculated so we always eat enough, and I feel stronger in general. They will always still be excruciatingly hard, but I haven't found myself in the grupetto anywhere near as much which is nice, haha.
We were dropping like flies! There was a massive change that day Tom crashed. It's crazy how quickly things change. I remember walking on the bus quite some time after everyone else (I got lost, very lost, after the finish) and it was like there had been a death or something. Everyone was super quiet and there was press everywhere. From the next day on we were there for stage results, to make the best of a bad situation. Spirits were always pretty good, we had no stress, and a lot of space! Everyone got their chance in a break for a result and then to finish it off with Chad's win, that was incredible."
After a break to recharge the batteries, Chris headed off to the Tour of Poland as one of the team leaders. This was a big moment in his career as it was the first time he had the leadership in a World Tour race in Europe. 8th on GC was a good return, but I have a feeling it could have been better. The 5th stage was the crucial one, and Sunweb had two riders left in the front group. After lots of attacking Jai Hindley(Chris' teammate) escaped off the front with Sivakov and Vingegaard, they stayed away until the finish. It could well have been Chris at the front, but that's how it sometimes plays out.
"It's always a big boost going to a race as one of the leaders, but I didn't feel under pressure to perform. Having a coach within the team helps with that, because everyone knows you've done all you can, done the training, hit the numbers. No unknowns if that makes sense. We had a young team there too.
Moving into a leadership role has been pretty gradual, I've found it not too bad because ever since I joined the team they made it clear there was no pressure for me to perform, but still always had faith. Looking back it does feel a bit weird to be one of the more experienced guys, and one of the oldest next year mind you!"
As I've already mentioned, Chris has made incremental progress throughout his pro career, but where does he feel he can still improve?
"Where do I begin? Everywhere is possible I feel. There's nothing I'm doing that I'm the best possible at, but so many tiny details go into this sport. Positioning has been something I've improved on the most though. When I started I was awful. Just had no idea what I was doing, and I was terrified at the thought of being involved in a sprint. Now I really don't mind. Some more work needs to be done on consistency or working out what kind of preparation gets the best out of me, I know I can climb with some of the best on my day, but just need more of those good days."
And what has he learned about himself this year?
"I learned I have the capability to be successful and I belong here doing what I'm doing. I have doubted myself a lot in the past. I learned that altitude training is worthwhile. I'd never done it before this year, and I guess it showed at Poland, but I really enjoyed it. Just up there with no distractions, hanging with your mates and riding your bike! I also learned that I can make it through a season without seeing any of my family. Every other year someone has come to visit which means so much to me, it just breaks the year up. I guess it means I'm starting to make more of a life in Europe which can only be a good thing."
Any chance of a scoop about his plans for 2020?
"That's always a secret subject for this team, you should know that!! I honestly don't know as of yet though. The year will start as it always does for me, maybe even another race snuck in the calendar for the start of Feb too…"
What a tease!
Chris has now served his apprenticeship at the top level. He is a rider who is working out what works for him, and I sense he's on the verge of making that next step up the ladder of professional cycling. Not only that, but he's a bloody good bloke.
Ladies and gentlemen, Chris Hamilton, my next rider to watch in 2020.
David Hunter
Follow us on Twitter and Instagram
Join us on facebook: Ciclismo Internacional
Copyright © 2012-2019 Ciclismo Internacional. All Rights Reserved