Riders to Watch in 2020 – Connor Swift
By David Hunter
Connor Swift is one of the rising stars of British cycling, which is a strange thing to say as he's just spent a year in the national champ jersey. The 24-year-old utilised the strong domestic scene to hone his talent and grow as a cyclist, he was on the Madison Genesis team for 3 years, bringing them a huge amount of kudos after claiming the national title in June 2018. This allowed Connor the honour of wearing 'that' jersey for 12 months.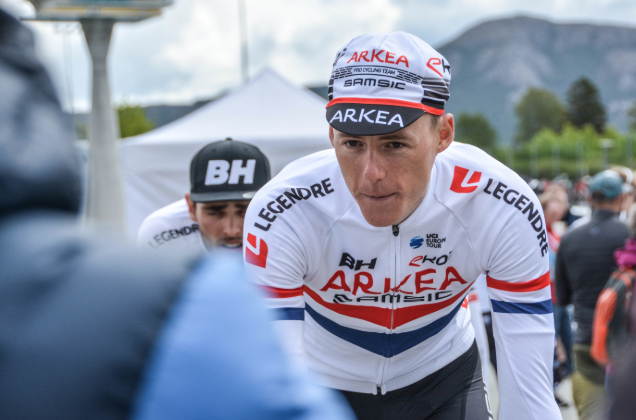 "The two highlights for me with the jersey were racing my home tours: Tour de Yorkshire and The Tour of Britain, it felt like I had a little extra to give in those races wearing the stripes. In training you have a smile on your face every time you put your kit on!"
We'll jump straight in at the Tour of Yorkshire, that's right, I can't bring myself to call it the Tour de Yorkshire! If you cast your mind back, it was a race dominated by a strong Ineos team, with Chris Lawless taking the overall win. The route was very demanding, I would say it was the hardest ever edition of the race, with Van Avermaet taking home the win on the Queen stage. In amongst all the World Tour talent stood the British champion, standing proud, representing his home county.
"It was nice to come away with a result like that at my home race. I felt like this year I was in really good shape at that race and it did suit the way I like races to go. On the last stage, up the Otley Chevin was unreal. The crowds, and Froome attacking, it was just great racing and for me to still be there at the end, in a group racing for 5th place on GC was pretty cool."
 Coming from a Continental team and finishing 9th was a huge result for Connor, especially considering he beat Froome, that's one to tell the kids in years to come! Madison Genesis had a good schedule this year, which included an invite to the iconic hipster race, Tro-Beo Leon.
"I was very disappointed after the race. I had it as one of my targets and it's a race I want to win. It was my first ever professional race in 2017 and since then I wanted to go back. The sectors near the end are just great and you can almost have fun. I forced a move in the last 50/60km, but then nearer the end the legs didn't want to play ball."
The big news came through just after the Tour of Yorkshire, Connor was off to the big leagues, thanks to a move to Arkéa-Samsic. He experienced a trainee spell at Dimension Data at the end of 2018, but this was his chance to move to Europe and race in the big leagues.
"My agency, Corso Sports, had been helping me contact a few French teams early season to see if we could get some options on the table for 2020. Around that time Andre Greipel had spoken to my agent. He was wanting to bring riders in and help Arkéa recruit guys to strengthen his lead out team. A few riders at Arkéa were sick or injured so I was asked if I could join straight away.
 Due to me being at Continental level I needed the approval of the Madison Genesis team managers to be allowed to step up to Pro-Continental level mid-season. They didn't hold me back and I was very grateful for them allowing me to take the move.
 I felt like it was a great opportunity and one I couldn't turn down!"
 He's right, it was a wonderful opportunity and he had to take it. A little problem was having to change squads during the season, something that's never easy to do.
"In a way it was kind of hard to switch mid-season… 3 days after signing my contract I make my way to France. 4 Jours de Dunkirk is my first race. The day before the race I have a short 90-minute ride on a totally new bike, kit, saddle, European brake set up, etc, and it felt OK. Whilst I was out training on the new bike a spare bike was built for me too. I hop on that for a few laps around the car park and give that the nod of approval for the race that starts tomorrow!
 Bad call! I spent the first 20 minutes of the race in the gutter with crosswinds, a saddle that was too low, French in my ear, not having a clue what is being said and I was questioning what I had just signed myself up for!
 After the first race, I set up my bike properly, and then got into the swing of things and have loved it since!"
 There was no easing in gently, Connor was thrown straight into the deep end with the 4 Days of Dunkirk, Tour of Norway, Belgium Tour and Tour de Savoie Mont Blanc in quick succession. It was bam, bam, bam! 11thplace in Belgium was very impressive considering the hectic block of racing.
"Yes, I was pretty happy with my result in Belgium. In between these races there was only a week or 9 days. Therefore, with my coach, we just took 2-3 days after each tour easy and then have only 2 training days before tapering back off. This just let the weeks' worth of racing come through the legs and mean I didn't put myself into a box."
Then came the Tour of Austria, time for the lad from Yorkshire to climb the big mountains of Europe. This wasn't going to be pretty.
"Haha! I can remember looking at the profiles before I did the race and thinking that's not so bad. It wasn't until I was out there racing up the mountains soon realising some race stage profiles are very deceiving!!! I enjoyed the race and Austria is a beautiful country. I surprised myself one day being in the final group after a hard climbing day where I wasn't expected to be there, so that was good. It's nice to test your limits, especially as it's racing that I have never done before."
Towards the end of the year, Connor turned his hand to one day races, this is where I think his future lies. It was great to see the team give him protected status in some of these events, a massive confidence boost after just a few months with the squad.
"It's nice because when I joined the team none of the staff or sports directors knew my strengths or weaknesses. I think that's why I was sent to Austria and also Tour de Savoie so they could see how I was at climbing too. So, progressively after each race they have been learning what type of rider I am and coming to the end of the season to have support and motivation from them to go for personal results was good."
Paris-Tours was the last race of the season, and what a race.
"It's a great race! Races with sectors, cobbles or gravel I do personally really like. The wind that day caused some carnage and the bodies scattered around showed that too. Unfortunately, I was just pretty burnt out in the final races I did this season and to not finish, I was gutted. I ended up riding direct to Tours in a group dodging the sectors."
Cheat!
Arkéa-Samsic are hoping for a big 2020, after splashing the cash on some marquee signings. Joining the team will be climbers like Nairo Quintana and Diego Rosa, but I wouldn't expect to see Connor in the mountain train.
"To be on a team with these big names will make me want to step up another level, and show the team I am able to compete at this level, and help my teammates when needed.
 I will be mainly based with the sprint side of the team next year. So this means being with Dan McLay and Bouhanni as the team want me to help them guys in the final 1km. Being on this race programme will be good and there will be some big races. In the stage races, or some of the classic style races, to have some opportunities for myself will be grabbed with both hands."
After a big year riding in British races as the national champion and then jumping over to race in Europe, what did Connor learn about himself?
"I found myself getting a little overwhelmed in certain races where I had made the front selection, then I would find myself not trying to fight for the win. Everyone's legs are hurting/suffering, so I need to remember that."
Learning is a massive part of professional cycling and I think 2020 will see Connor hit new heights and develop into a very important part of the Arkéa-Samsic squad.
Ladies and gentlemen, I give you my next rider to watch in 2020, Connor Swift.
David Hunter
Follow us on Twitter and Instagram
Join us on facebook: Ciclismo Internacional
Copyright © 2012-2019 Ciclismo Internacional. All Rights Reserved