Riders to Watch in 2020 – Jasper De Buyst
By David Hunter
After years of incremental improvement, we have a new lead out king in town, and his name is Jasper De Buyst. Lotto-Soudal are no strangers to the world of sprint trains, for years they had Greg Henderson as their go to man in the final kilometre, but they knew he couldn't last forever. Training up a new apprentice wasn't going to be easy, but they now have a rider who is one of the finest final men in the peloton. 2019 saw Jasper take huge strides in his development, and he helped deliver Caleb Ewan to two victories in the Giro and three in the Tour, it was a brilliant season for their brand-new sprint train. I was impressed with just how fast he and Ewan developed a relationship after a number of years riding for Andre Greipel.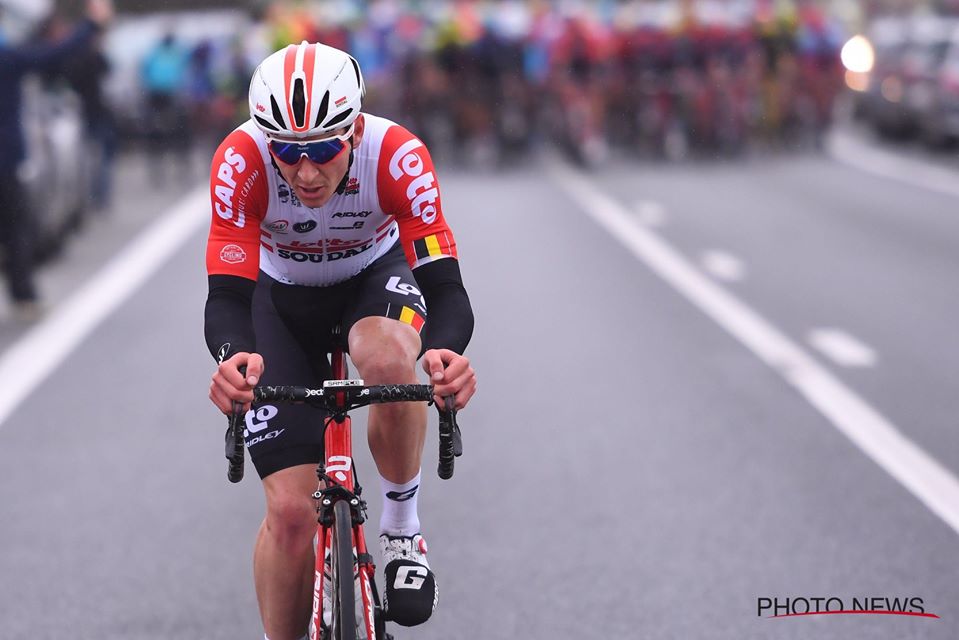 "Yes, there is Greipel and there is Ewan, two completely different sprinters. Andre was a guy who wanted to control from the front / be brought in a good place and didn't really care about an extra effort before the sprint, as long as he had space. Caleb is a guy who doesn't know danger… not in the bad way because he ain't a kamikaze, but he just wants to be in the mix where everybody fights – which is also the place where you can save energy by hiding."
Lotto Soudal took a small risk when signing Ewan at the start of 2019, but it was a brilliant move and resulted in a hugely successful season, with two Giro wins and four in the Tour, their best return for a long time.
"It's amazing, back in 2017 I was at the Giro when Andre took a stage and pink, but then in 2018 we had a really bad Tour and there couldn't be a bigger difference between my first two TDFs. It just makes it go by so much faster – when you have a grand tour like we had, it feels like it goes by in just a couple of days because you have so much fun and results make everybody more relaxed and calmer (staff and riders)."
Like most teams, Lotto Soudal now favour a small sprint train. Once we enter the final 2km, you'll start to see the huge frame of Roger Kluge lurking near the front, just waiting for the right moment to smash it. Tucked in his wheel are Jasper and Ewan, just waiting to be launched. It's a train that worked very well in 2019 and one that others fear, but what is the secret to their success?
"No idea at all, in the end I think Caleb was one of the fastest guys this season, it's his legs that do the job. We can just help him out, in and out the race. Keeping him safe in the race and making sure he's in the right spot when he has to be, and out of the race by just making him feel comfortable and confident."
When preparing the sprints most teams now take advantage of technology and spend many hours pouring over Goggle Maps and other websites to try and gain an edge. Jasper takes a more relaxed approach.
"I'm not the guy who sits in his room looking at all the weather apps and studying the race book. I count on the DSs, their work is to give us all the info we need for the final and our job is to execute the plan. My opinion is that nowadays you can have too much info to worry about – in the end, when you arrive with a bunch at 60kph you don't recognise a lot anymore from the images, due to the crowd and barriers."
After spending the opening half of the season working for others, Jasper was allowed to chase personal glory once the Tour de France was over. He took this opportunity with both hands, starting with his first win for almost two years over in the Tour of Denmark.
"It was a big relief to win – not only because it was a while since my last one, but mainly because, as a team, we went through a heavy period with the loss of Bjorg and personally I had a really hard time the days after his death and funeral. I was a couple days off the bike just doing nothing till I said to myself that no one benefits from me doing nothing – if I could win a race, I could at least honour him a bit and so I started training again."
The win came during a tough uphill finish, where Jasper won by a mile, I wonder if this type of finish could become his speciality.
"For flat sprints I just miss a bit of an acceleration, I can do a long sprint at high wattage, but I miss the capability of really exploding for a couple of seconds compared to the real sprinters, so probably that's why I became a lead out man. But because I'm quite small (1m78) I have a low weight for a sprint type of guy. So, low weight + long hard sprint results in possibilities when it goes up a bit."
The good form continued in the Tour of Britain, where Jasper managed two second place finishes and third on GC, he was flying!
"I believe I just came really good out of the tour; I wasn't f++ked coming out of it and took some time to recover, and then just kept training well and took care of myself."
After doing the Giro/Tour double, most riders don't have much left in the tank, but the opposite was true for Jasper. He bounced out of the Tour and looked at his peak throughout August and September.
"If I have the possibility again this year, I'll do exactly the same. The thing is, I never had the plan to finish the Giro. When you do two weeks you get such a "training load" you just can't simulate, and at the same time you get your massage every day, good food, nothing to worry about, just racing. So, to be around two weeks in the Giro to do all the first sprints and also prepare for the Tour is just perfect."
Looking back at such a successful year it's easy to forget that it didn't actually start very well for our Belgian friend. He crashed hard in Paris-Nice, during one of the crazy echelon days, and missed his beloved classics.
"The main lesson I learned this year is that even if the season starts bad, and you have two months of inactivity, it still can turn out nice and there is enough racing to do something."
While most riders enjoyed a long winter break, Jasper was quickly back at it, competing on the track in the six days of Ghent, the most important race in the six-day calendar.
"I did it in 2018 also, in the past I was a track rider and Lotto is sponsoring the Lotto six days a long time already, so after not being there for two years they asked me to do it again. I enjoyed it so much in 2018 that I did it again in 2019 and probably will do again in 2020. I would like to get my name in the most successful track riders of the Ghent six day of all time."
Looking ahead to 2020, Lotto Soudal have brought in Philippe Gilbert and John Degenkolb, as they look to try and improve on their recent classics record. After a successful 2019, Jasper will be an important part of this squad.
"I believe we have a really good team for 2020 and my season will be in three steps: Helping Gilbert, helping Ewan, and then, mainly at the end of the season, going for my own chances."
And what are his goals for the new season?
"Of course I look forward to the classics. Missing them this year, and with my form at the end of the 2019 season, I want to see how far I can get in them. For the rest of the season, if it looks like 2019 I'll be a happy man!"
Ladies and gentlemen, I give you Jasper De Buyst, my next rider to watch in 2020. Superstar lead out man and a rider more than capable of winning big races, when not helping others.
David Hunter
Follow us on Twitter and Instagram
Join us on facebook: Ciclismo Internacional
Copyright © 2012-2019 Ciclismo Internacional. All Rights Reserved