Riders to Watch in 2020 – Jasper Stuyven
By David Hunter
Jasper Stuyven ended the 2018 cycling season in amazing form, probably the best of his life. During the Winter much was written and spoken about his rise to the top and we were all left very excited for 2019.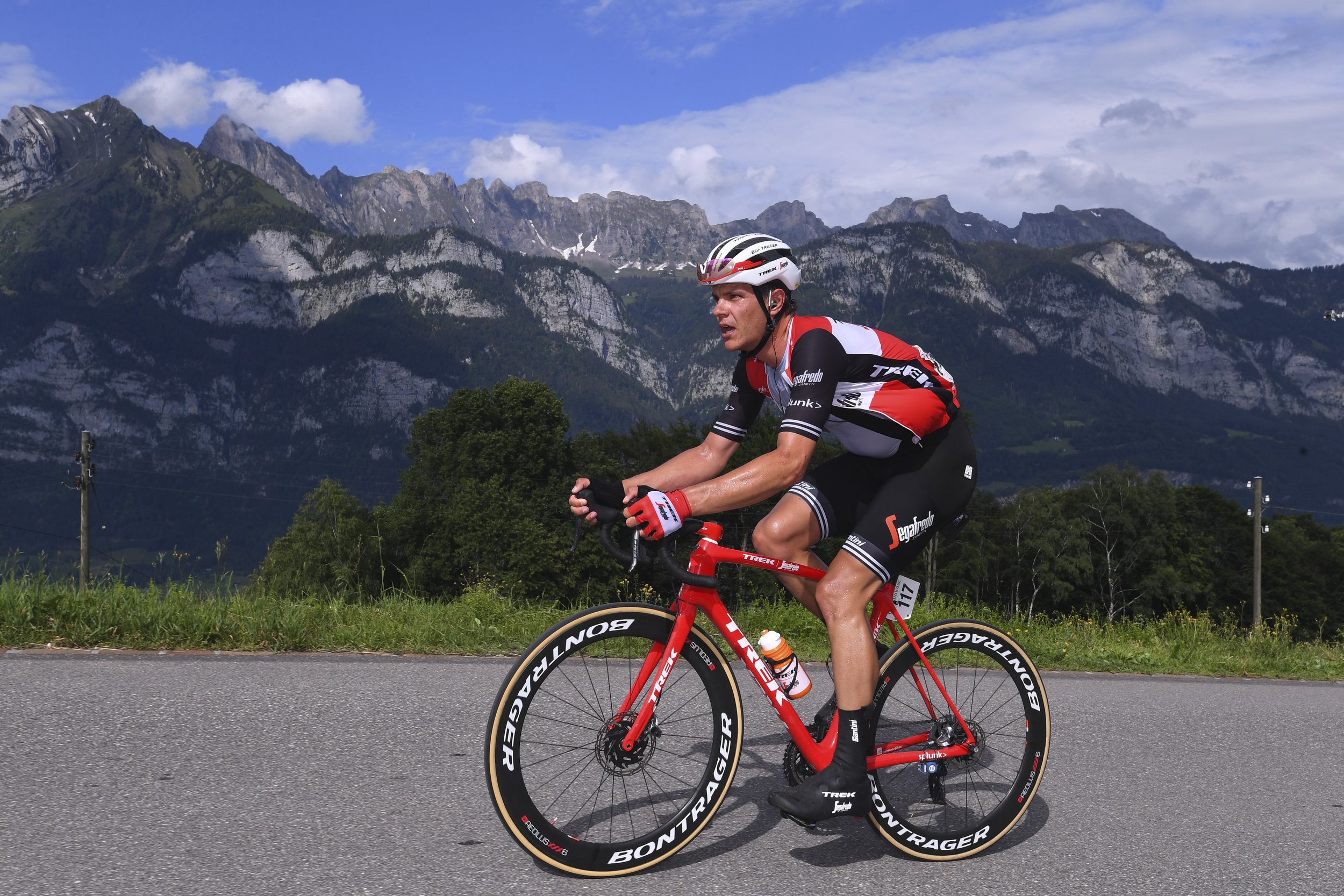 "I was pretty confident and motivated going in to 2019. After having a great 2018, I truly believed I was ready to change that consistency into a big win."
Don't be mistaken, a certain Belgian already had a few big wins in the locker by my reckoning. This is a rider who sensationally won Kuurne-Brussels-Kuurne in 2016 and also had two stage wins to his name in the Binck Bank Tour, but I know what he means. Stuyven was on the lookout for a big one, a monument, or at least a win in a big classic like Gent-Wevelgem. Unfortunately, 2019 just didn't start the way he wanted, as he hit the deck in the Algarve and had to abandon the race. This is a key preparation race for the "opening" weekend of the season, crashing out certainly wasn't in the plan. With just one week between the races, did the crash have an impact on his performance in Belgium?
"I am pretty sure it did. Although I had the feeling I recovered well and was taken good care of by the team doctor during the remaining part of Algarve, it clearly did hit me after the last good training on Wednesday towards the opening weekend. At the time, I was already really skinny (on the limit), so my body didn't have a lot of reserves to deal with the crash which made me really vulnerable for getting sick, which I eventually ended up doing."
This started a really poor period for Trek-Segafredo. On paper, they had one of the strongest teams for the classics races, with the likes of Jasper, Theuns, Pedersen, Degenkolb and Kirsch all looking to test their rivals, but in reality it just didn't happen for the team. You could almost feel the frustration when the riders and staff spoke to the media, things weren't going as planned and no one really knew why.
"It was really, really frustrating. I felt pretty early that it wasn't going to happen this year. So it makes it even more impressive that it almost did in Gent Wevelgem and apart from the 15m behind on Politt at the top of the Paterberg in Flanders as well."
Cycling is just like every walk of life, it's all about making mistakes and learning. As his career had been very successful until this point, I was interested to hear what Jasper had learned from this situation.
"That I have to accept that perfection doesn't exist, and I should strive less for that perfection."
Then followed an almost complete stop from racing. Jasper didn't compete for nearly two months after finishing 27th in Paris-Roubaix, it was a complete reset as he re-focused on the rest of the season.
"I really felt I needed a break which allowed me to completely disconnect, but also allowed me to do a really good and long enough altitude camp to prepare the second part of the season. The first goal I set for myself was getting back to the normal level of Jasper."
It worked, he dived straight back into racing at the Tour de Suisse, an important marker for the Tour de France. Not only did he manage to post a 5th and 3rd place for himself, he was involved in good lead outs for John Degenkolb, it looked like the old Jasper was back on the scene.
"When I started my training camp at the beginning of May, I actually felt pretty soon I was back at my level again. Having that feeling, was the biggest relief as I felt that would allow me to compete for wins again."
The Tour saw Jasper hit an impressive level of consistency, netting a total of nine top 10 results, which wasn't just his best ever performance in the Tour, but also his best performance in a Grand Tour. Saying that, Jasper didn't appear to be very happy with his own performance.
"It was frustrating. I felt like always something went wrong, just made the wrong decision, someone was just a bit stronger, smarter, faster, …
When I look back at it, I appreciate the results that I made during the Tour way more. For me the high point was stage 3, where I finished 3rd on a very demanding final. Also because I had a big fan village organised by a friend of mine who is a Champagne maker in that area (the course passed his domain)."
Then came the second half of the season. Post-Tour, he looks like a different beast all together, and this year was no different. Similar to previous years, he netted some impressive results from August until October. In that period Jasper raced 13 times, he was in the top 10 on 11 occasions, one of the times he missed out was due to a huge attack in the Primus Classic, helping to set up a win for Edward Theuns. How the hell is he so strong in the second half of the year?
"I have no idea… Maybe because I race more relaxed, or the others riders are more relaxed or don't care that much anymore? I have no clear answer to that to be honest."
During this purple patch of form, Jasper took home his first ever GC title, the Deutschland Tour. In the four stages he never finished outside of the top 5, it was a remarkable level of consistency given the route and rivals he was competing against.
"It gave me a lot more stress than I was ever expecting on the last day because it was something that was completely new to me. On the other hand, it's something I really enjoyed!"
Most people thought this performance would have guaranteed him a place in the Belgian squad for the World Championships, but it wasn't to be. Now, picking the Belgian team was never going to be easy, but eyebrows were raised when Stuyven missed out on travelling to Yorkshire. Given their best finisher was down in 8th, you could say it was a mistake, but hindsight is a wonderful thing.
"Of course I was really disappointed as I still believe I deserved my spot there. Not only based on results, but I think everyone knows that I can be a team player and be 100% loyal to the team orders."
The excellent run of form wasn't just for Stuyven, but most of his Trek teammates got in on the act. With wins in the Primus Classic (Theuns), GP d'Isbergues (Pedersen), World Race Race (Pedersen), Il Lombardia (Mollema) and Japan Cycle Cup (Mollema) the team ended 2019 on fire, a huge difference to the dark days of Spring.
"It felt amazing, there was a good vibe going on in the team and we built up a pretty good momentum. I think 2020 will become a special Classics season with Mads in the rainbow jersey. I think we all are hungry to continue that vibe from the second part of the season and arrive in the best possible shape to the Classics."
Trek-Segafredo have a lot to be excited about 2020, they'll have the world champion in their team, but more than that, they'll have a strong Classics unit to chase glory, but what will Jasper do differently compared to this year?
"Train less and try to be a bit more relaxed."
You might be a little surprised to hear a top cyclist say that training less is the way forward, but less is sometimes more. The early part of 2019 didn't go to plan, but it seems that Jasper has learned a valuable lesson, one that will push him towards success in 2020. Still just 27, the best years are still to come for Jasper Stuyven, especially when he tricks his body into believing that it's September all year round! Joking aside, Trek-Segafredo will be one of the main teams in 2020, they have a hugely talented Classics squad and I expect them to banish all memories of 2019.
We end the interview with a look back at Jasper's top 3 moments from 2019.
Birth of my godchild Pheline
Watching Mads win Worlds
Winning GC Deutschland Tour
Ladies and gentlemen, I give you my first rider to watch in 2020, Mr Jasper Stuyven.
David Hunter
Follow us on Twitter and Instagram
Join us on facebook: Ciclismo Internacional
Copyright © 2012-2019 Ciclismo Internacional. All Rights Reserved