Riders to watch in 2021 – David Dekker
By David Hunter
David Dekker is a rider who already has a big reputation. His impressive performances in the junior and under 23 ranks caught the attention of many teams, and there was a fierce battle to secure his services when he turned pro. The battle was between some of the biggest squads in cycling, with David deciding to join Jumbo-Visma.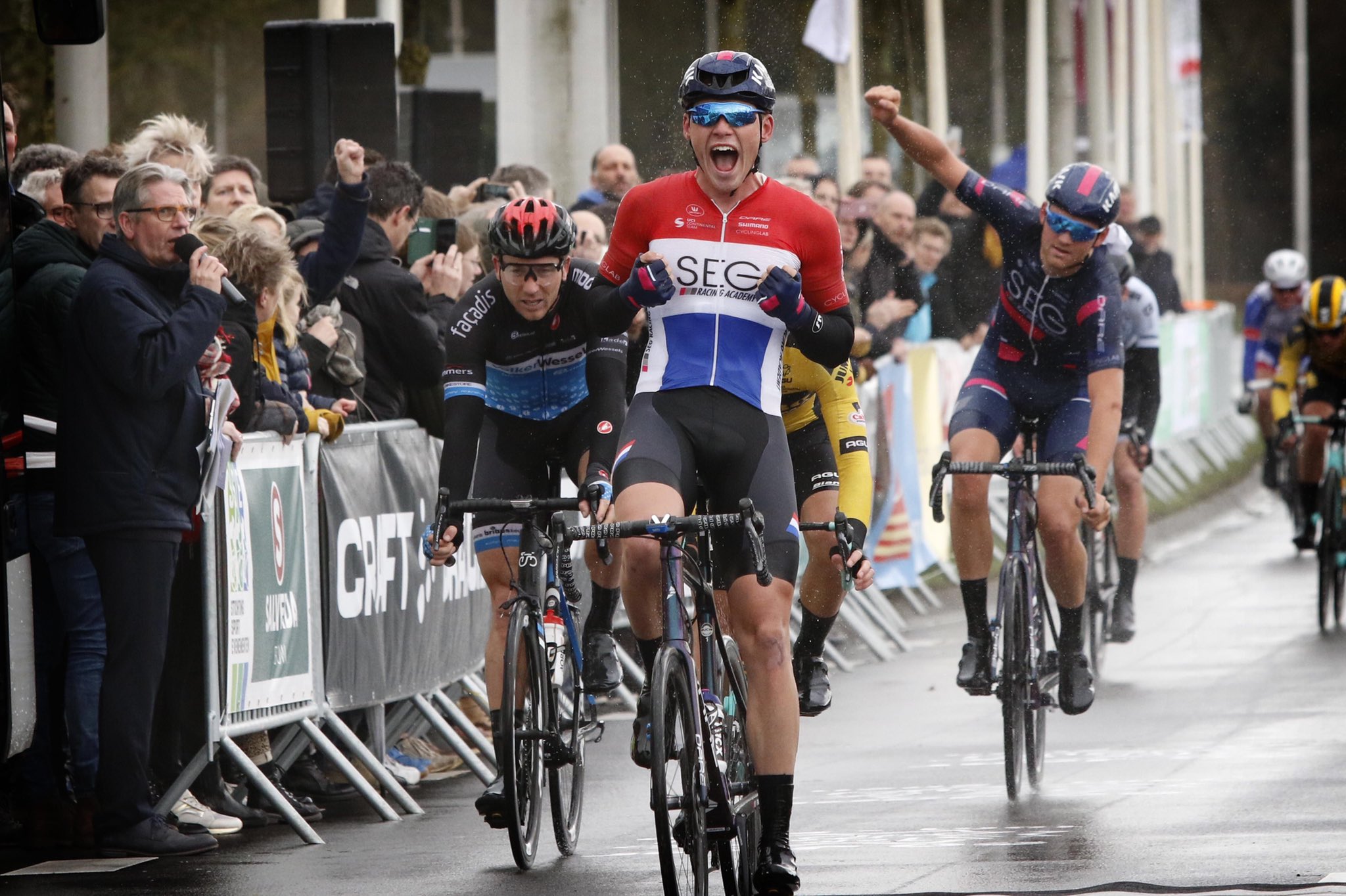 "I think Jumbo-Visma has not only proven in 2020 but also the years before they are at least one of the best cycling teams in the world. When I personally came in contact with the team for the first time, I was already very enthusiastic. I felt they had a lot of confidence in me as a rider and how I would be able to perform in the future. With Dylan Groenewegen they already proved they know how to develop a young sprinter to a world class sprinter, not only in terms of the sprinter itself but also working with a lead-out. Next to that I believe they have a world class staff, in for example training, nutrition, etc. Those were the most important reasons for me to join Jumbo-Visma."
2020 was going to be David's final year in the under 23 ranks, but this was severely hampered by the Corona virus. If you can remember back when the world seemed normal, David started his season by going toe to toe with the big riders in Le Samyn, netting a very impressive third place while riding for SEG Academy.
"Le Samyn was a wonderful day for me. It was the first time I really competed in the front of a race of this level. The first 30 to 60 minutes, after the finish, I felt very disappointed, but after that I slowly started realising that I just accomplished a great result for myself. The whole winter I was training with the idea of really making a big step, if you then in your second race of the season can show it like this, that is just about perfect. The thing I liked the most about the whole race is that I was always in the front. I wasn't just trying to follow and holding onto the wheel. That day I was just so eager and motivated and that really paid out for me."
Then came lockdown.
"Just before the lockdown was announced, I was completely focussing on Ronde van Drenthe, a race I really like but also suits me really well. So hearing that race was cancelled was really hard. But when it became clear everything was cancelled and almost the whole world would go into lockdown, because of reasons that are way more important than cycling, made me accept it quite fast. Of course you want to race but soon I made the switch to first resting and then riding my bike and not thinking about races because nobody knew when we could race again at that point. Quite fast we realised in the SEG Racing Academy that this period would last for months and not weeks. The only new thing I did during that period was e-racing. With the team we started doing some of them after 2-3 weeks in lockdown. It was fun because it brought back the feeling of racing again a bit. But in the end it is still something completely different to race from home behind a screen than on the road in a peloton. That was a good experience and together with the e-races we could also try to learn more about warming up for races, hydration, cooling your body during races, etc. and I think that has also resulted in gaining a lot of new knowledge that can be useful in your career."
The Baby Giro was one of the few under 23 races that did manage to go ahead when lockdown finished, but it didn't exactly go to plan for the young sprinter.
"The Baby Giro was a unique experience for me. The big goal was to go there for a personal stage win, to see how I would perform in an 8-day race with real climbing stages and also to help my Italian SEG teammate Marco Frigo go for GC. In the end I crashed 3 times in that Baby Giro. In the second stage there were two big group crashes due to heavy rain in which I was involved. This made my motivation go down a lot and after already two crashes in the 2-3 weeks before the Giro I started thinking about crashing a lot during the race. From then on I decided together with Sports Director Aike Visbeek to focus on getting the best out of this Giro for my shape in important races in September and focus on helping the team the other days. Day by day I felt I was improving again, and the last two climbing stages went really well, and I still felt motivated and full of energy, but then in the last and hardest stage I crashed on a downhill. I can't remember anything of the crash itself. Other guys in the group told me I went down a hole and flew over my handlebars at around 70 km / hour. I was immediately brought to the hospital. In the end I was very lucky. The helmet protected me very well and I got out of the hospital with only wounds on my body and a concussion. The concussion was basically the end for my 2020 season. For two weeks I was still focussed on recovering and coming back hoping to still do one or two nice races. But after 2-3 weeks we decided it was better to take 100% rest to recover from the concussion so I would be able to go healthy into the 2021 season preparations as a neo-pro."
If you don't know David he's a rider who packs a very fast finish, but also has the potential to be more than just a sprinter. 2020 was a tough year for everyone, but David still managed to progress and can now look to develop his sprint under the watchful eye of the Jumbo-Visma coaches.
"For sure I am happy with the progression I made this year. Of course due to the known circumstances I couldn't show or even further improve the progression I made. The big goal was of course to turn pro, but the more concrete goals were to be able to win races at U23 and 1.2 level and to be able to compete in front at the 1.1 level amongst the pro riders. I think I succeeded in that. For 2021 indeed the main focus will be developing my sprint. Both the team and I believe I am able to develop in a way I will be able to win races at some point."
Sprint finishes are not for the faint hearted. Having good positioning skills is vital for success, we've seen many riders in the past who lose wheels in the chaotic final stages and their chance is gone. Developing this key skill isn't easy, but it can be done.
"I think the most important thing to improve that is gaining experience. That was a big goal in 2020 but of course the experience hasn't been that much for this year. But also I think I can learn a lot from both the riders and staff with Jumbo-Visma who have been involved in sprinting and the lead-out of a sprinter. Next to that I try to learn as much as possible from watching sprints on TV in detail."
Despite his age, David will find himself as Jumbo-Visma's main sprinter in the opening months of the season, as Dylan Groenewegen is suspended until May. This means he'll get plenty of opportunities to match up against the top sprinters, the learning curve will be steep, but I get the impression he's a fast learner!
"Every year so far my goal has been to be in a good shape from the first race. Also in 2021 I aim to be ready from the first race where ever that might be. Normally I will be getting opportunities to go for my own result with the confidence and help of the team. Sadly enough Dylan will be suspended for the first months. For now, I don't know what kind of influence that will have on my racing program or my role in the team.
I started really training again with the help of the Jumbo-Visma performance staff already since November 1st. After building up for some weeks I am now working at full strength. Right now I am in Spain for a personal training camp of almost two weeks. The biggest goal this winter is to get a bigger engine. This will help me to mainly improve my sprint after a race of five hours but also to improve my climbing abilities to have more energy left after a harder stage or multiple climbing stages."
Being the main sprinter will obviously bring some pressure with it, although the team will give David time to develop and learn his craft.
"I think I can cope with pressure pretty good. Especially in finals, if it is a bunch sprint or a smaller group racing for the win I don't feel any nerves. I am just very focussed on my goal at that point and that is winning. Of course before a race you can feel some nerves, but in the end I like that feeling a bit as well. Because it normally means it is a big day where you can get a great result. But when eventually the race starts I am not thinking about the nerves anymore, just about the race itself and what I have to do."
Turning professional is a huge moment in the life for aspiring cyclists. The realisation of working towards a goal and achieving it is huge, but what is David looking forward to the most?
"It may sound a bit weird, but I just can't wait for the day my clothing package arrives. Every year it feels just so special like getting birthday gifts as a little kid. For years I have been dreaming about the day I would get that from my first professional team. Next to that I really look forward to hopefully one day be racing in the most important races amongst the best riders in the world."
I think David can become one of the best sprinters in the world, but how good does he think he can become?
"I think I have the potential to become a very good cyclist that is able to compete at the highest level of cycling. Of course I dream of the big races, but I also believe that one day I will be on that level as well. For me the key things to get to that level is to keep improving every season and don't try to rush things. Remembering to keep having fun in what I do is also important. Without remembering you started cycling because you had fun doing it, a career will not last that long, I personally think."
He has the speed, he has the kick, he has the team, he has the self-belief. David Dekker is destined for the very top of the sport.
David Hunter
Follow us on Twitter and Instagram
Join us on facebook: Ciclismo Internacional
Copyright © 2012-2021 Ciclismo Internacional. All Rights Reserved