Riders to watch in 2021 – Keegan Swirbul
By David Hunter
Without doubt, Keegan Swirbul is one of the most interesting characters I've come across. His story is unique, almost unbelievable at times, and one that has many chapters still to write. A cyclist who has mainly ridden in America, he might need a little introducing to some. He hails from Colorado and started out in cross-country skiing. At the age of 17 he won a junior national title in the sport, but weeks later he simply walked away from the sport.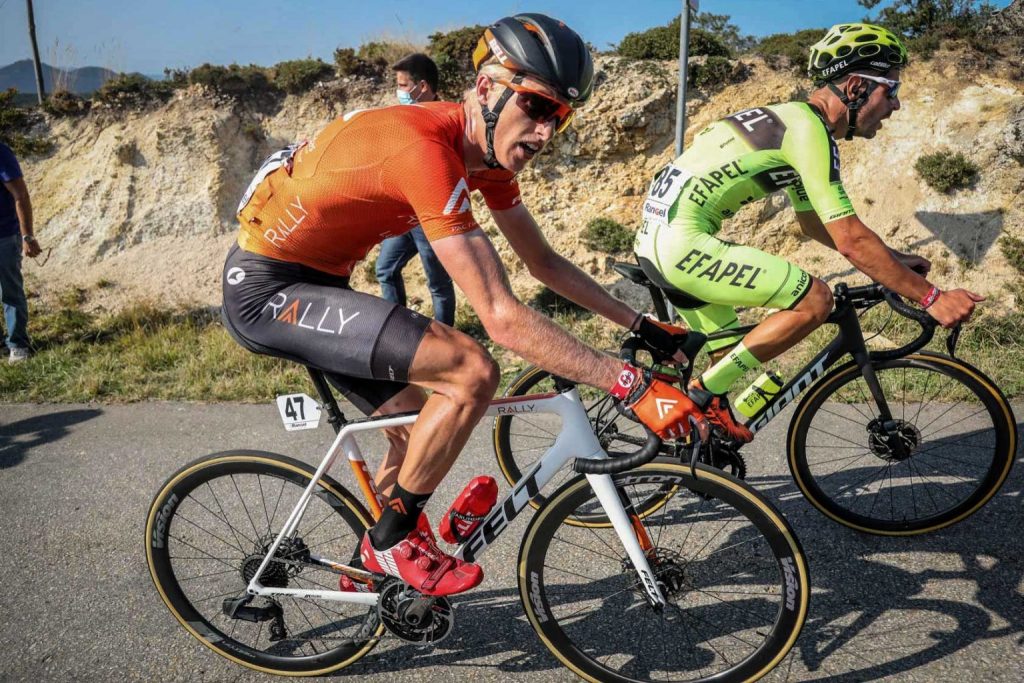 "My claim to fame, haha. A few reasons behind me walking away. First, I'm too naturally skinny to be a real top level xc skier. My upper body was/is RIP. Second, I am not a snow person. Lastly, I felt that in order to get to a place in skiing where you could make a legitimate career out of it, you have to be wayyyyy up there. Like the top 20 guys in the world make a decent living and underneath that it is tough to make any coin without selling your soul to Instagram and marketing the hell out of yourself, which is not something I am too hyped about doing."
And then there is the parkour! He must be the only professional cyclist to have their own YouTube channel to showcase their ability of jumping from pole to pole!
"Hard to say exactly how I started getting into it, but I'd say I just thought it was mad cool if you can chuck a flip in front of your buddies or do a cool move. And obviously it progressed massively over my time practicing. It was honestly the time of my life and I absolutely loved doing it. I'd go out for hours and hours every day alone and just have a blast trying to be creative. It was also a phenomenal way to see a new place or go to strange parts of a city that normally you wouldn't go to. I deffo miss it!"
Then came the decision to switch over to road cycling, but why?
"I was lucky in the sense that I was given a decent set of endurance genes to play with and I am pretty skinny. Of course I grew up watching Lance and always kind of had cycling in the back of my mind as what I wanted to do. I feel like to become a good professional, it takes work and patience like no other sport. The process of trying to improve is what I really love most."
And to wrap up the crazy start to cycling, along comes Axel Merckx with the offer of a professional contract before Keegan had ridden a proper road race.
"Pretty insane! I am beyond lucky that Axel gave me the chance to come on board. Certainly there were a million other dudes out there who were far more deserving to be on a team like that than I was, so I am forever grateful."
Told you his story was unique! Back in 2015 Keegan won the USA under 23 road race, a huge moment in his career, but it didn't propel him forward as most expected it too. It was in 2018 when I first noticed him, thanks to 7th place in the Tour of Utah, finishing within a minute of Hugh Carthy in 5th. In 2019 he moved to Floyd's Pro Cycling, and saw him finish 2nd in Langkawi and 8th in Utah, but still the big move didn't come. It seemed that he was drifting, bouncing from team to team, unfortunately always ending up at a team who were going to the wall.
"Yea it's no doubt stressful. There was a long period where I was pretty unbalanced in my life. Like I was truly all in trying to make it to the pros. And then I am 24 and I'm making no money and I just felt kind of badly about myself to be honest. So now I'm in school and trying to have a bit of a backup plan for the next time I'm on a folding team. It takes the pressure off me a bit which is nice. But more so I am just trying to enjoy the ride wherever it takes me. It was a bit frustrating, but I'm realistic and realise those two races(Utah and Langkawi) are really not races that have the deepest fields or the most prestige. I was hoping maybe one of those results would perhaps open the door to a pro continental level team, but it all worked out in the end this year."
2020 saw Keegan sign for the Slovenian team Ljubljana to try and get some experience of riding in Europe, but Covid put a stop to those plans.
"100% it was a big big blow. I broke my back this winter and had to ride the indoor trainer with a nasty brace on for 2.5 months and every day I was just thinking of how it would hopefully pay off in the races that never happened. But, thankfully at least with Covid I was not the only rider getting screwed unlike my injuries in the past where I am the only dude sitting on the side-lines. I saw the year as a great time to try and build the engine because I knew heaps of riders where mentally boxed, so I enjoyed training and riding my bike nonetheless."
Despite not having a team, Keegan was working hard through the summer months, hoping that someone would take a risk and sign him up for the rest of the year. Then came the call from Rally Cycling, but with just two races over in Portugal to prove himself, before the season drew to a close.
"Yea I got super lucky that Rally gave me a chance this fall! I just wanted to try and show that I could be decently useful and help the leader and hopefully fit in to the team's vibe which I feel I did okay. It was a pretty relaxed atmosphere because no one on the team really knew how we would go against the Portuguese guys, so the pressure didn't feel insane." 
Rally rocked up to Volta a Portugal without much pressure on their shoulders. The Volta is well known in cycling circles for many reasons, not all positive. To finish anywhere on GC you need to be going well, so Keegan's 15th place was a decent effort.
"Certainly was a different sport compared to racing in the US or Asia, but I really enjoyed feeling like I was in an actual bike race. Having to try and stay focused all day with the twisty and more narrow roads was a fresh challenge compared to chatting with your homies for 3 hours then racing 30 minutes at the end in some of the US races. I ended up having a few days where I rode decently but I had a bit of a nasty cold that made me feel pretty sacked. All in all it was a great tour though."
The good news was Rally liked what they saw in him, a two-year deal was offered and signed. At last Keegan can look forward to a little bit of stability, he knows his future is safe for two years and he can start to focus on the road and not worry about what lies ahead. It's strange to think that despite being 25 and having ridden professional for a number of years, it doesn't really feel like he's started yet.
"Yea deffo it does. It is a bit daunting actually because I feel like I am so far behind in terms of experience and skills, but I am hoping to learn quickly in the coming seasons. I do feel like despite my age, I still have a shot to someday be a decent rider at a high level, so I'll keep chipping away.
The security feels amazing knowing I won't have to scramble come next summer or fall like usual. Rally is a team that is undoubtably on the up, so I am honoured to be on board."
The deal means that Keegan is now preparing to head over to Europe, he's decided on making Girona his home for the cycling season. At long last, he's heading over the pond!
"I am deffo super hyped on moving there! I've never been but I've stalked the roads extensively on Strava and it looks like a great place. It will be nice to also have a few English speakers there as well. With Rally we could move anywhere in Europe but it's just easiest to go to Girona. Our service course is there, and I am not too great at bike fixing so if I were out in the boonies(wilderness) I could be RIP."
So, the deal is done, and Keegan can start looking towards developing as a cyclist and seeing if he can achieve his potential, but just how far does he think he can go?
"Good question. Tough to say exactly, I'm certainly no TDF champion(haha) but I do feel my potential is decent engine wise. I have the desire/dream to work to be up there doing the biggest tours and being a factor in the races. I'd love to someday develop into a rider who can be a reliable high mountain domestique for a big leader. Someone who can be up there in those groups of 15 guys in the big mountain stages and hopefully do a good job for a leader be it setting a pace for a bit or whatever. I like the long climbs and I do better the higher in altitude we go. Plus, I feel like I am able to recover day to day decently well so that would come in handy in stage races. That's the dream for me."
And what would a successful 2021 look like for him?
"As long as I can do a bunch of race days I will be hyped. I am aiming for consistency and to hopefully not do anything stupid. No overtraining, crash diets or stupid shit like that if I can help myself. Also, if I can feel like I am progressing skills wise and learning the trade of Euro racing a bit better come the end of the season, I would be hypedddd. We will see. Hopefully Rona doesn't create another disaster year for the sport." 
I'm genuinely excited about what the future might hold for Keegan Swirbul. He's already shown a huge amount of potential, but I get the feeling he's not even scratched the surface yet. Get ready to keep an eye out for my American friend, but hopefully he doesn't pull a front flip off his first podium!
David Hunter
Follow us on Twitter and Instagram
Join us on facebook: Ciclismo Internacional
Copyright © 2012-2020 Ciclismo Internacional. All Rights Reserved