Riders to watch in 2021 – Sarah Gigante
By David Hunter
Sarah Gigante burst onto the cycling scene at the start of 2019, when she sensationally won the Aussie road race at the tender age of 19. Before that point, most outside of her native Australia hadn't really heard of her, but all that changed one sunny day in Buninyong, where she defeated the might of Mitchelton-Scott.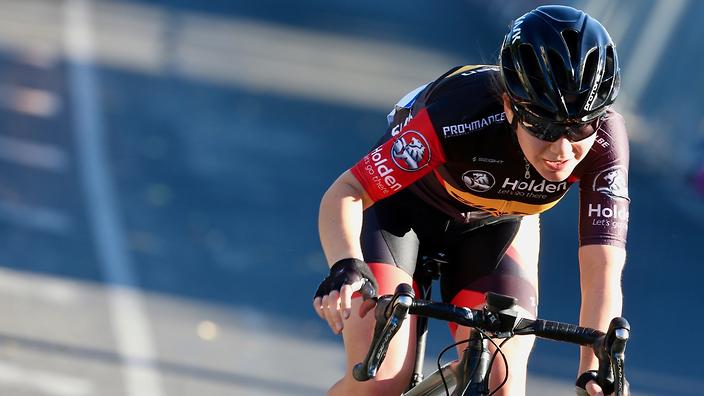 "The National Championships are definitely my favourite event ever, and I don't think it will ever be easy to top that road race win in 2019. It was just so unexpected and took multiple weeks to sink in. I wore my champion's jersey to bed the night of the race, and woke up wearing it yet still thinking it must have been a crazy good dream! I was racing in the U23 category for the first time, alongside the elites, on a very hard course and after a rough year with two broken arms and lots of schoolwork. I didn't think I would be medalling in the U23 category, let alone winning U23s, let alone winning solo against a team of elite riders who I'd looked up to for years! Every time I think of that race win or see a picture of it, I grin from ear to ear!"
2020 was meant to be the start of Sarah's pro career. She signed for Team TIBCO – SVB and was due to head off to Europe to start learning the ropes, but all that changed when the global pandemic struck.
"Yeah 2020 didn't turn out to be the year I was expecting as a neo-pro, that's for sure! I really enjoyed my summer in Australia, and I was super happy that my team, Team Tibco-Silicon Valley Bank, were able to come out Down Under. We had a great time with Lauren Stephens doing so well at the TDU and then I managed to pick up my first ever UCI podium on Falls Creek, which was awesome fun! I only snuck in three European races before everything started to get cancelled due to the pandemic, so I didn't really get to practise my Euro race craft much at all, unfortunately. There were bigger issues in the world of course, so I am looking forward to going back in 2021 and hopefully improving a lot more then! I enjoy being with my team and travelling across Europe, although it's certainly a bit harder coming from Australia where we can't go home between races. Being a professional and racing those huge and hard races in Europe has been my dream for so long though, so I'm more excited than anything!
Lockdown was quite challenging mentally, especially in the second half of it, where most of my competitors and teammates seemed to be back to racing and I was still stuck on the trainer. Australia did really well overall with the pandemic, however Melbourne, the city where I live, had quite strict restrictions from March all the way until just a few weeks ago. We had about 12 weeks where we could only ride 5km from home and spend 1 hour (and later 2) outside per day. I struggled with this a bit, because I absolutely love riding with my friends and absolutely love racing, both of which weren't possible for so many months. I was lucky in that I'm quite fond of Zwift though, and my coach Dylan Lindsey was great at coming up with lots of new sessions and including lots of virtual racing to keep the indoor training as fun as possible. Thankfully I didn't have any trouble returning to Australia from Europe, so I tried to look at it as a positive and as one more year I could spend getting stronger and spending time with my awesome mum."
As well as being exceptionally talented on the bike, Sarah is equally talented when it comes to her studies.
"So far, I've been studying full time at university and managing ok – I really like having something to focus on off the bike and find learning really enjoyable. I was planning to drop to part time this year though, when moving overseas, so if everything goes as planned and I spend most of 2021 out of Australia, I might have to do that – I'll see how I go. I'm not in a rush and can see myself as one of those people who just keeps studying for what seems like forever, so the thought of maybe taking a lighter load doesn't worry me. I'm only doing my bachelor's degree right now, but I'd like to do more studying after that, I think. I started off doing a science degree, focusing on maths and computer science, but I did a breadth in linguistics late last year and absolutely loved it, so now I've switched to arts so I can do a double degree in linguistics and geography. Maths and computer science were great too, but I'm a big fan of doing what you love, and I absolutely love linguistics so far!"
Sarah already mentioned her second place in the final stage of the Herald Sun Tour. That stage finished with the Falls Creek climb, which is 19.3km at 5%. She was only stopped by Ella Harris that day, but it does give an understanding of what type of rider Sarah might turn into. However, she's also the current Aussie TT champion, so what type of rider does she think she'll become?
"I don't really have too much of a long-term plan, to be honest. I like taking life how it comes and living in the moment – I like working hard, having fun, taking opportunities and seeing where it takes me! Right now, I definitely enjoy time trialling and climbing the most, but I do love any kind of hard, attritional race and I also love working for my teammates for a shared goal. I'd love to do more team time trialling too!"
Looking ahead to 2021, Sarah should be heading to Europe and competing against the very best in the sport.
"I haven't seen my calendar for 2021, but after a year with so little racing, I will just be so excited to do any and all of the races that I do get to do! Hopefully I can head over to Europe in February and stay there for most of the year. I guess that yes, it is a little daunting going overseas for so long, especially because the hotel quarantine situation in Australia means that I can't nip home for a mid-season break, but I'm more excited about the move than anything. I have a wonderful support network around me, and I love taking opportunities like these. I've spent this year almost completely at home – like a lot of people around the world have – so a year where I will be able to ride and race my bike in so many new places and with so many new people seems like an awesome opportunity. I have heard so many great things about places like Girona, so I'd love to head there when I can. Hopefully new opportunities like those in 2021 will help me to continue to develop as a rider and a person."
As she's heading over to Europe, the topic of learning languages popped up. Some cyclists choose to move to Girona, and not bother learning the language, but others try to fully integrate themselves. As a lover of linguistics, I have a good idea which category Sarah will fall into.
"Yes, I absolutely love learning languages! I did Latin and French until the end of high school, and although Latin was largely not too helpful, I'm alright at listening and reading in French – just a little rusty now! I'd love to take that further and spend some time in France to brush up on my skills and practise my speaking again. I also learnt Spanish at university last year, with the aim of doing a diploma in Spanish alongside my bachelor's degree. I'd like to learn more of that too because I really enjoyed it!"
Knew it! Sarah is still just 20 years old, and hasn't worked with a coach for long. The interrupted season stopped her from getting some big races in the legs, and helping to improve her, but she's already noticed some improvements.
"Yes, I'm so much stronger than last year actually! It's crazy how far I've come over the past 12 months, thanks to a solid year of hard work and also thanks to the dedication of my coach, Dylan Lindsey. My raw power has improved across the board, and significantly so for most durations. I'm actually really proud of myself for all of the effort I put in despite the hard lockdown and lack of racing this year – it's really really cool to see the improvements." 
If you've ever watched Sarah in an interview, you'd have been struck by her positivity. She constantly has the biggest smile on her face and looks like she's having the best of times. This attitude also crosses over when she's on the bike, she simply loves life.
"Loving what you do is certainly my motto for life. Since I started cycling, I've always enjoyed the challenges that come with it, so I guess I'm lucky in that I find hard work fun! There's not much more satisfying than the feeling of deadness after you absolutely nail the hardest effort ever. I also just absolutely love riding with my stronger and older friends and doing the silly little sprints to 60 signs or hilltops to try and beat them, since I'm super competitive. I only started getting coached and following a training program last year – but even with my now-structured program, I still aim to fit in as many fun bunch rides and club races as possible. My coach Dylan Lindsey has been great about that. I love working hard, but I'm certainly like a little kid in some aspects too!"
Learning is vital for all cyclists; no matter what age they are. What has Sarah learned about herself in the last two years?
"I think I've mainly learnt what hard work can do – I've always trained hard and loved self-improvement, even throughout juniors, but I feel like I'm suddenly seeing all the effects of my hard work, and it feels a bit surreal really! This year also taught me patience, which I have to say, I don't really have much of. I will never complain about a three-week gap between races again (that's how much I love racing!), now that I've gone nine months without knowing when the next race is coming! I also learnt that I don't have to change my number one goal of having fun in order to do well – actually, I think having fun is my not-so-secret weapon that really helps in my successes!"
The Tour Down Under won't be going ahead in 2021 as the European riders would be required to quarantine when arriving in Australia, but there will still be a race for the Aussie riders. There's also the not so small matter of the national championships happening in the near future, where Sarah returns as defending TT champion.
"I'm really excited for the summer of cycling in Australia, and I'd like to do well at the National Championships, in both the time trial and road race. It's a really special event to me because competing for the green and gold bands is such an honour and I now know what a special feeling it is to wear those colours throughout the year. After that, I want to gain experience in Europe and hopefully contribute to some team successes across the year. My teammates did amazingly in the second half of the 2020 season, so I'd love to play a part in helping out our strong leaders like Lauren Stephens."
Without doubt, Sarah is one of the most talented young cyclists on the planet. She's already achieved a considerable amount in her short career, but just how far does she think she can go?
"I will just stick to my plan of having fun, working hard, enjoying life with my teammates and seeing where it takes me. Right now, I'm absolutely loving it and I can't see that changing, so hopefully I'll be able to do this for a long time. No pressure though – I just want to keep loving racing my bike!" 
Spoken like a true lover of cycling. I think we'll see a few special performances in Buninyong come January, but I'm super excited to see Sarah racing in Europe. She has all the attributes required to become one of the very best, and a brilliant attitude too.
David Hunter
Follow us on Twitter and Instagram
Join us on facebook: Ciclismo Internacional
Copyright © 2012-2020 Ciclismo Internacional. All Rights Reserved