Riders to watch in 2021 – Thymen Arensman
By David Hunter
2020 was meant to be a transitional year for Thymen Arensman. The hugely talented youngster was due to spend the first half of the year riding in the under 23 category, before making his move to Team Sunweb in August. The Corona virus blew those plans apart, meaning he had to miss out on those final u23 races, and jump straight into the world tour.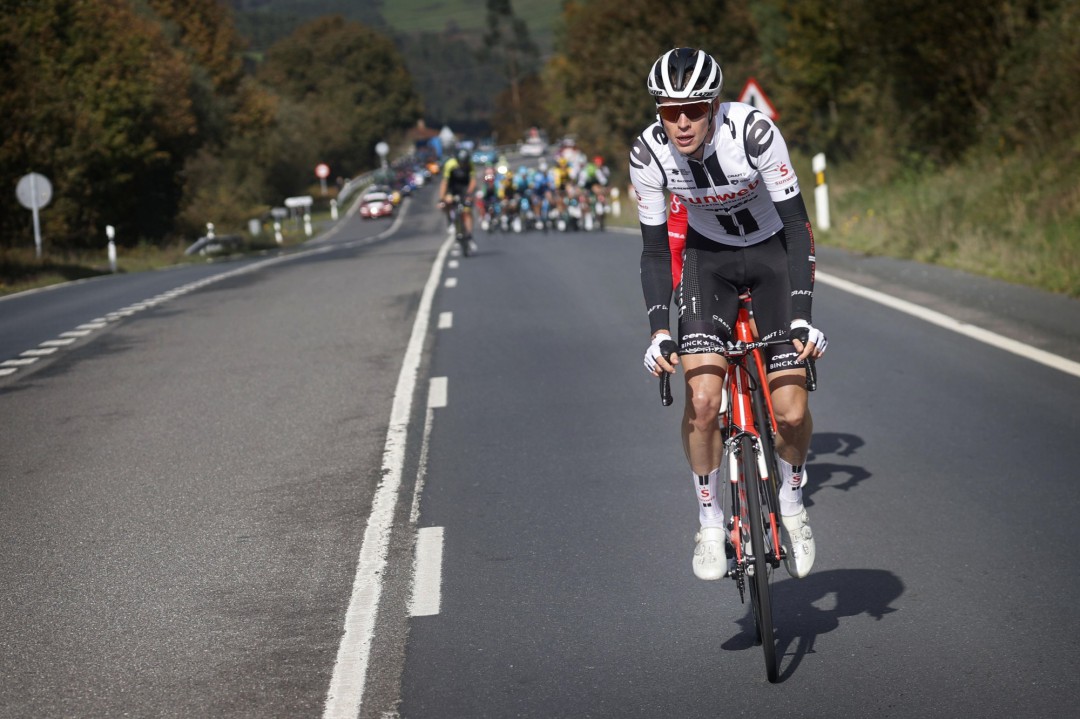 "I think everybody felt the lack of racing and so it wasn't any different for me. Maybe not in a negative way, the level was really high. Everybody was really eager to get racing again and trained hard. For me it wasn't any different. It was the same for me as for everyone, obviously. So I don't know if the lack of racing made the transition any harder. I think I had a solid year and even put some results in already, let's say it was just a good transitional year."
There wasn't much easing into the big time for Thymen, by the end of the season he had already completed his first monument, Liège-Bastogne-Liège, and his first grand tour, La Vuelta. To have already ticked these two races off at the age of 20 was very impressive, and he wasn't just there to make up the numbers.
"I felt kind of honoured to be selected by the team. I didn't really expect it but the team knew what I was capable of in training. That together with some great work helping Hirschi and others to some good results, so it was a great sign from the team that they let me ride there."
Thymen started the Vuelta with a bang. Stage 5 was the first time the breakaway made it to the end, and he was there. The day started with a massive fight to make the move, and a large group escaped the peloton, but the presence of Kuss and Bagioli meant that the pack started to chase. The riders in the break knew that something had to happen, and a move by Thymen created the split that successfully stayed away to the end. He was joined by Tim Wellens, and eventually Guillaume Martin also made it across. The trio stayed away until the very end and battled for the win.
"We wanted to race on that stage, we saw an opportunity. So we went for it, but more teams saw the opportunity too. It was in the end a fight of 100k until the final break went away. But as a team we were always in the front and so in the end made it with 3 guys. Having more riders didn't really help as solo riders started looking at us and that's way I accelerated. I felt strong that whole stage and so went for it and got Wellens with me. He also wanted to ride, and I immediately felt that we were gaining on the chasing group. We had a strong pace but didn't think that it would go to the end.
Yes, we eased up to let Martin across as we still had two big climbs to go with some long descents. With three riders you can sit more out of the wind and save more energy together, but in the end maybe it wasn't needed."
The final kilometres were tense. The uphill kick to the line was perfect for Wellens, he's a master in this type of finish, so a surprise attack was the only real option. With one kilometre to go, Thymen throw in a big attack to try and take the stage win. Unfortunately it didn't work, as Wellens was carefully watching his young rival.
"The move was planned with the DS. In those sorts of finals, a steep, short final climb Wellens is maybe one of the best riders. So I tried to get a gap and hoped that they started looking at each other as they maybe didn't know me, yet. But some stages later Wellens told me that I was maybe the strongest that stage and he really didn't want to let me go. That's experience." 
Third place in the fifth stage of your grand tour debut is a great result, but with a win so close I wondered what Thymen was feeling at the end of the race.
"When I crossed the line I was a bit disappointed. I felt good and always want to win, that is why you are a pro rider. I am racing to win or to get the best out of myself. But a few minutes later I already saw how special the performance was and it turned into a happy and proud feeling."
Fast forward just over a week and he was at it again, this time getting into the winning move on stage 14. This was another day made for the attackers, and making the move was a big success, but his old pal Wellens was also there.
"It was an another very hard stage, indeed. The break took again something like 70-80k. And when you see the names that were in the break: Wellens, Soler, van Baarle, Woods and Stybar I knew it would have a chance to go to the line. So I just closed a gap of 40-50 seconds on a little hill and was with them. I was happy with that jump but of course burned some energy. But I felt good and was able to battle with those big names."
The day ended in another win for Wellens, and Thymen rolled over the line in 6th. To get these results in your grand tour debut is hugely encouraging, it vindicated the team's decision to pick him, despite his age.
"To be honest, I still felt pretty good, at the end of the race. I also showed that in my results. Of course I got tired but maybe less than others. It could be a strength, my recovery. Maybe it can be a weapon in the future. So it was great to have this experience.
Maybe with a bit more experience I would have been a lot closer to winning a stage. I think being in the situation to fight against such big names means that you already have some power. But my physical skills are more towards endurance, recovery and TT. So in a final against a rider as Wellens I lack explosivity. Probably if I focus more on that I would have more of a chance, but we take it year by year to improve myself."
Thymen would normally use the winter period to compete in some cx races, but his heavy schedule towards the end of the season means this won't be possible, something you can tell he's not delighted with.
"Sadly, probably no. I have the opportunity from the team but 2020 was of course a very weird year. The Vuelta ended very late and the team wanted me to have some rest, of course. I never had a real offseason as I always continued in cx. But you just can't keep going and like van Aert and van der Poel, you have to make some compromises. I'll go to Gran Canaria in December with Ilan van Wilder to make some hours for 2021, but I really want to ride some cx races again next year. I like it and think it's great training."
As previously mentioned, 2020 was meant to be a transitional year, but Thymen ended up doing a lot more than I expected. What did he learn about himself this year?
"I learned about the pro-life. I learned what it takes to be a pro: I had to give up my history study at university because it was like I was doing two full time jobs. That was really disappointing, but I don't think it was a bad choice after this season I've had.
The best bit about being a pro is just making a living out of something that you really like. I recommend everybody to do something like that. But as a little child I thought that pros could ride their bike so fast because their legs didn't hurt. Well, I am a pro now but I gotta say that my legs still hurt. Fake News, haha."
As Thymen was a hugely talented youth, there was a lot of competition for his signature. The decision to move to Sunweb, now DSM, seems to already be a good one, but what does he enjoy about racing for this team?
"The structure and set goals, it just fits my personality perfectly. I like to have a clear view of planning, training, appointments, goals etc. I just want to have a clear view of what is going on, this is exactly what Sunweb/DSM gives. We have a certain goal, and we are working to achieve that goal. We make a plan and if we do everything right it will succeed, I enjoy that about Sunweb/DSM. The racing is the same, we have a plan and stick to the plan. You just know what to do but there are always some unexpected things where the team always finds the best solutions, and from mistakes we learn. There are some great people in the team, and I am proud to be part of it."
When you take a look at Thymen's palmaires, it isn't easy to work out what type of rider he'll develop into. Not only is he very strong on the TT bike, but he was 2nd overall in the Tour de l'Avenir. That would normally make you think he would become a stage racer, but he was also 3rd in the under 23 version of Paris-Roubaix. Where does he see his career going?
"I want to develop myself as a more complete rider in the next couple of years. Get better year by year and maybe I can be able to fight for a nice GC in a couple of years. Or maybe a monument, or cobbles as I was already 3rd in Paris-Roubaix 2018. I want to try a lot of things to make me stronger, better and a more complete rider."
And his goals for 2021?
"I just hope to keep improving, I would be very satisfied with that. If I can show my potential in some races and make a small step forward again, I would be happy. Step by step toward the goals."
I, for one, look forward to seeing him develop.
David Hunter
Follow us on Twitter and Instagram
Join us on facebook: Ciclismo Internacional
Copyright © 2012-2020 Ciclismo Internacional. All Rights Reserved