Riders to watch in 2021 – Tiesj Benoot
By David Hunter
It's been six years since I first interviewed Tiesj Benoot. Since that point he's gone on to become one of the best cyclists in the world, and I've become the best interviewer in the world;)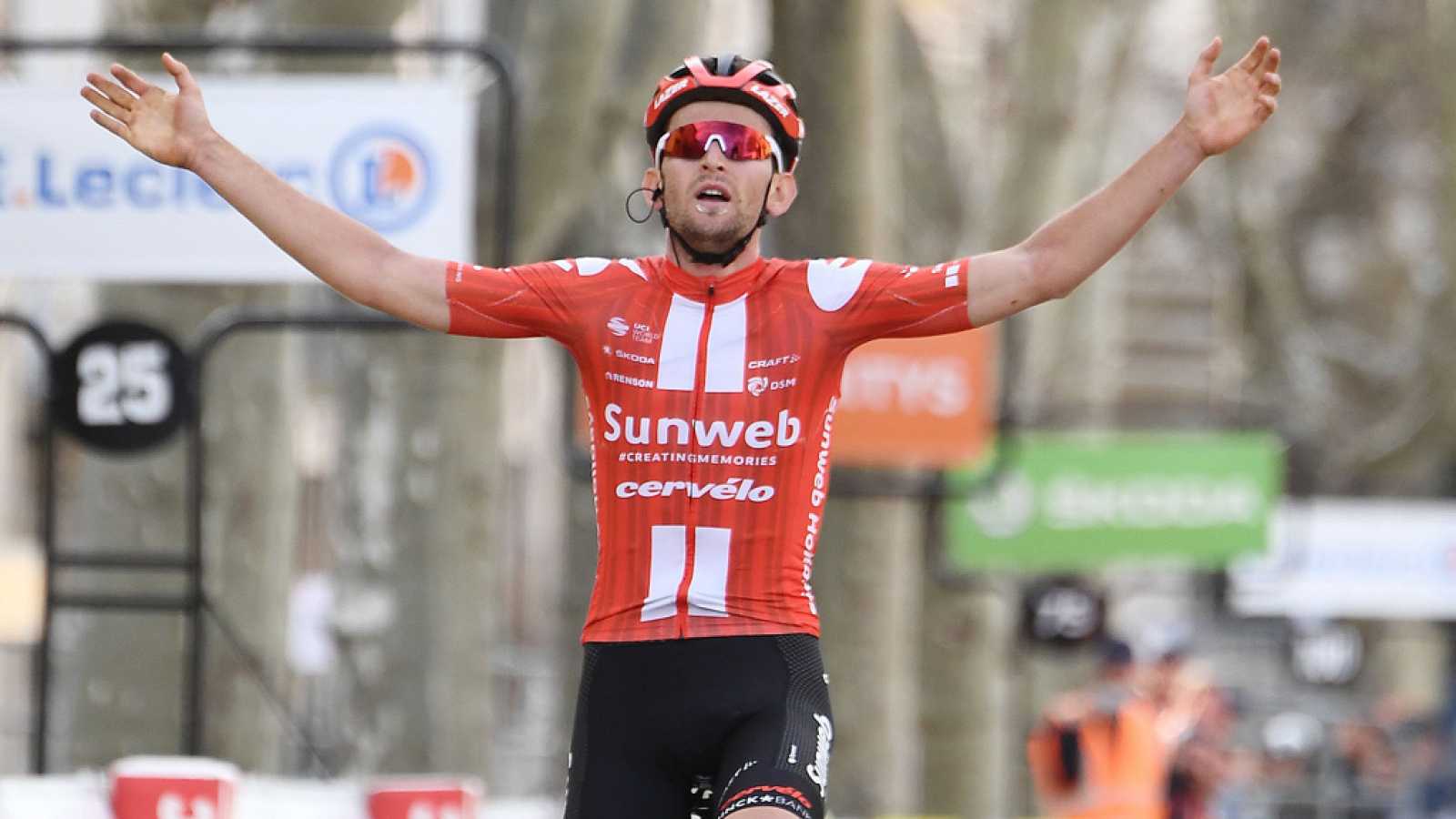 Tiesj is one of those unique individuals who can do most things on a bike. I'm sure everyone will remember his 5th place in Flanders at the age of 20, but he also finished 4th in Tirreno Adriatico and Tour de Suisse. It is very unusual for a rider to challenge in mountainous stage races and the cobbled classics, that last one was Geraint Thomas. Combining both can happen for a few years, but a decision will need to be made at some point on prioritising one over the other. Have we reached that point now?
"My season will be more or less split up into two parts. I start with the classics campaign and then like last year I will try again to be good in either Paris-Nice or Tirreno Adriatico, where I can go for GC. We have a two-year plan where we want to to see where I can get in terms of GC, so we'll try to focus more and more on the on the grand tours and then in 2022 maybe get my chance, but now I still have time to get some experience riding with Romain Bardet, and see what it is to be focused for three weeks riding for GC and maybe support him as the last guy, but this is well something we have to find out over the next few months."
We've haven't reached decision point yet, but it's coming soon. 2021 will look very similar to 2020 for Tiesj, hopefully not the Corona bit, but racing wise. This year started spectacularly for him, with a strong showing in the opening weekend followed by a huge moment in his career. He almost took an amazing win in the opening stage of Paris-Nice, but he and Alaphilippe were caught inside the final 3km. He was unlucky to lose time the following day after some misfortune in the crosswinds, but he put all that behind him on stage 6, winning in Apt.
"My stage win was something that we planned during the race. The stage didn't go as we expected, we thought it would be a big breakaway from the start, but it wasn't as DQS controlled all stage long. Then we decided to open up early, it was actually Søren who came to me with the plan and like you say Nikias went first, then Søren, then me, with Michael in the back to coverall attacks. It was a really, really nice plan and worked out in end because everybody was in great shape."
This put him second on GC, 36 seconds behind Schachmann. The next day was a mountaintop finish, and Tiesj threw everything at Schachmann with a big attack in the closing 2km. It earned him 2nd place on the stage, but he fell 18 seconds short of taking the yellow jersey, and as the final stage was cancelled it was so close, but yet so far.
"I think it was my best stage race ever, for the first time in my life I came close to winning a world tour stage race. I was already 4th in Tirreno and Suisse, but now I was really fighting for the win. Some people will say not everybody was there, but in the end teams that were there had their strongest riders. For example, Trek were there with Richie Porte and Vincenzo Nibali, and there was Schachmann, Pinot, Higuita and Quintana too. I was really, really proud of this effort, this performance."
With Tiesj flying, I was getting very excited about the upcoming monuments, but Corona struck and stopped him from potentially achieving a career defining result. I firmly believe he would have won the Tour of Flanders if it had been held at the usual time.
"In the end it was frustrating to not continue the classics campaign after this stage win and my second place on GC, but in the end I was also happy I could already show my abilities to my new team and have a win early in the season, so for me it was actually a relief. Then we had to go into lockdown, I think it would definitely have been worse if I hadn't won yet."
After racing resumed, the legs just weren't as good as before, but Sunweb were flying. At the Tour de France they claimed three stage wins and a host of other top results. They were almost unstoppable at times, combining super strong legs with tactical genius.
"At the Tour it was nice to be in such a great team, also there was a great atmosphere for three weeks long. Personally it was frustrating because I didn't have the best feeling, I had some back problems during the Dauphiné and Tour, so it wasn't the best Tour I've ever had, but it was really nice to be in the team and be part of all the success we had." 
In 2020 Sunweb were a young team, DSM are going to be even younger in 2021. At the age of 26 Tiesj is almost the dad of the group, poor Nico Roche must feel like the granddad! 26 isn't old in terms of cycling, but Tiesj has been riding at the pointy end of races for 6 years, he already has a vast amount of experience and the time is right to move into a leadership role within the team.
"I think in the classics I'm one of the guys with the most experience in the team so sometimes it's up to me to talk about the parcour and how the race could go. I don't think I'm the type of leader who bangs on the table and on his chest, but I try to advise the guys, for sure the younger guys, when they ask for help, I'm always eager to help them." 
Tiesj rounded off his season with top 10 rides in Flanders and Liege, but what did he think of his season as a whole?
"When I look back at my season, I give myself a 6 because I already have enough top 10s. I would say in the first part of the season I was an 8.5, maybe 9, but it was only the opening weekend and Paris-Nice. The total would be a 6 because I was expecting really a lot from the second part of the season, but due to the back problems I had I was not able to do the same level of performance like I did in the first part."
Looking ahead to 2021, the preparation has already started. Corona virus is still here, meaning most teams have cancelled December team camps, but Tiesj has a plan.
"I will go to Gran Canaria for 16 days coming back just before Christmas, it's different this year because it's not with the team in December. In January normally we go with the team to Spain and then I hope to go to altitude, but I will see what the plan of the team is."
When I started to look at the races Tiesj could race in 2021, one jumped out to me, the Olympics. A mountainous course awaits the riders in Japan, it is a very good route for someone like Tiesj, and maybe even Wout Van Aert.
"Olympics, I'm really eager to start there so I'm hoping I will be there with the Belgium team. I think it's something you don't refuse as a rider, or athlete in general, so I would really love to go there."
After five years at Lotto Soudal, Tiesj took a brave decision to jump ship and move to Sunweb. Leaving behind the comforts of a Belgian team wasn't easy, but the move has worked out well for him and I sense he's very happy with his decision to switch squads.
"I think the structure in the team is really nice because you know what to expect, when you have questions you always get clear answers. They're really professional, they have experts in all kinds of domains, so they can get everything out of your potential. Also, the feeling we had in Tour with everybody riding for each other was nice. They really look not to the individual, but more the team and build a squad with riders that are ready to sacrifice for each other."
Now that Tiesj has picked up his first world tour stage win, to go with his Strade Bianche success, what does he need to do to win a big one?
"To win a monument or stage race I think I just have to become a little bit stronger. I need a bit of luck, I would say, I was already a few times close and now with the team I have we can get multiple guys in the finale or have a great supporting structure in a stage race. I think I can maybe come a little bit stronger or leaner, but also have a sprinkle of luck."
And what did he learn about himself this year?
"I learned  in 2020 that you can have really high highs and low lows in one season. I also learned that I could win a world tour stage race." 
Finally, the most important question of the interview. In fact, the most important question of any interview he'll do this year… how does he cope with the pressure of being my mum's favourite rider?
"It's really hard but in the end I'm still there still surviving, and I hope I will in the future!" 
2021 is going to be a big year in the life of Tiesj Benoot, I sense a monument is coming. My mum had better get the champagne in the fridge.
David Hunter
Follow us on Twitter and Instagram
Join us on facebook: Ciclismo Internacional
Copyright © 2012-2020 Ciclismo Internacional. All Rights Reserved