Sebastien Reichenbach – Pinot's Lieutenant
By David Hunter
"The performance motivates me. It's in my nature. I'm lucky enough to really love cycling and have a competitive personality, so the top level of the sport really motivates me and drives me forward. The good thing with performance is that the more you can achieve, the more you want to achieve, it's never ending. That keeps me going."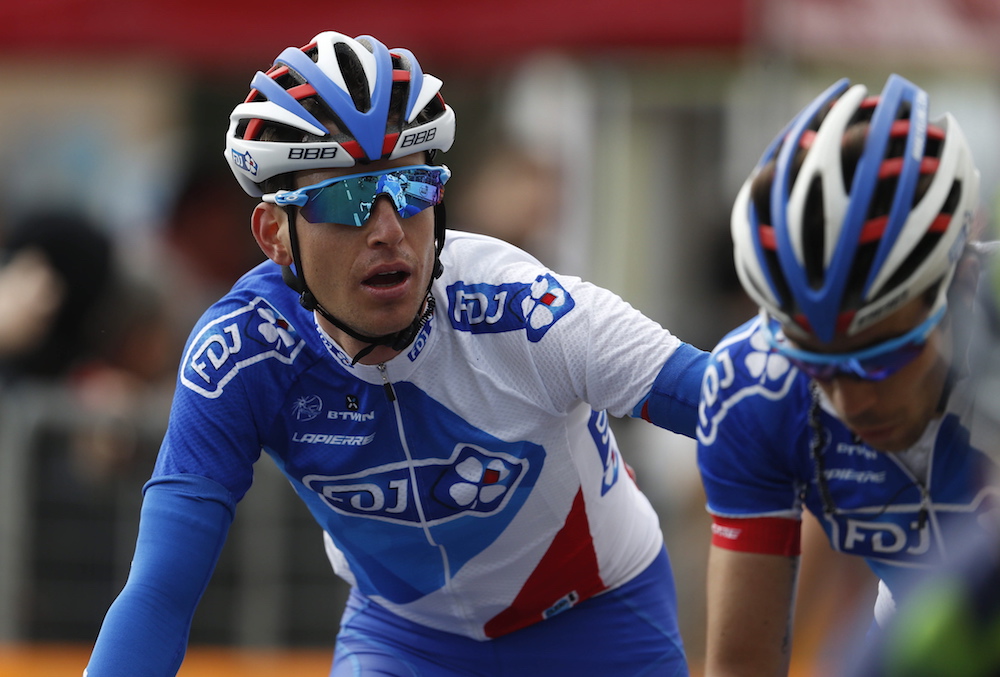 I love this answer! Seb Reichenbach has just completed his first season with FDJ. The 27 year old Swiss rider already enjoyed success with IAM Cycling, but seemed to find a new level in 2016. He spent most of his season as a luxury domestique, but still had a few opportunities for himself.
"My first season with FDJ went very well, it met my expectations on all levels: I was very happy with my position in the team as lieutenant of Thibaut Pinot, I really enjoyed the way the team & staff worked as a structure and my integration in the group was also made easy with the help of my teammate Steve Morabito – adding to this the global good performances of the season, I can say I'm very happy.
No, no major differences between IAM and FDJ, both are professional teams – but to be precise FDJ has of course a different approach, as all teams do, and I could feel the difference in the way the training is monitored and followed by the trainers as an example. You can feel the structure has more than 20 years of experience. The time trial training is also different, there's a lot of attention put in it, to make sure everyone evolves in that discipline. Having a TT bike at home and a specific training was really efficient for me."
We have all witnessed the improvement in the TT results of the FDJ boys, it clearly is something they pay a lot of attention to. The monitoring of training is something you see at some teams, but not all. Having big brother watching your every move certainly gets the best out of some riders, but not all.
"Yes, I did work on the TT last winter, and I'm planning to do so again this winter. We started the 2016 season with Tirreno as a team objective, the team time trial was important so we all gave our best to perform. Once again, you can always do better – and I'm planning to do so!"
Considering the potential he has, it's surprising to hear that Seb nearly didn't make it as a pro cyclist.
"Particularly at the end of the 2012 season, when I thought it would be my last year as an amateur, and as a cyclist. I had no contact with interesting teams at that time, and I really thought I would go back to working and drop the bike. Then came the IAM project, they trusted me and the adventure went further."
When I speak to Seb, I always get the impression of a very confident young man. He's not a showy cyclist, but one that just quietly gets on with his job.
"I like to see it more as professionalism than confidence. I am very concentrated and focused on my performances on the bike and I love it, which makes the job easier. Off the bike, things are different, I can not master them as much as when I train or race, so of course, I'm different."
Living in his native Switzerland, Seb is spoiled for choice in terms of his day to day training.
"My typical training at home is a daily 5 to 6 hours ride on the Alps summits of Valais, my home region. I can start on the flat of my valley then choose where I want to climb, I usually do 4 or 5 long ones a day, then adapt the exercises depending on the period of the year and my race program. 
I'm very interested in nutrition, so it's not difficult for me to keep the same diet all year long, during training or on races, I do it with pleasure. My menus really depend on the kind of work I'm doing on the bike at that time, so I have general guidelines and then adapt and change for diversity quite often.
I do some trainings under the "low carb / hi carb" regime – but I do it very carefully because they are demanding on the body, they should be chosen wisely. "
At this point in the year, riders start their winter training schedule. If they have identified a particular area that needs improvement, it gets written into their program of work. What is Seb's plan for the coming months?
"I'll be back on the road bike next week(2nd week of November). Winter time for me is: core training, stability improvement, mountain bike to get into the rhythm again, along with PowerCranks exercises and cross-country skiing. 
PowerCranks is an independent crank, meaning that you need to push and pull with the same strength and regularity in order to move forward. It's a very good and useful exercise."
Where can improvements be made?
"Definitely on 2 points: time trial and downhill. I'm looking forward to working on these aspects in the next few months.  
Basically, for TT, it's about riding as much as possible with it for the handling and feeling, and add quite a lot of interval training on it. 
For the downhill, there are no secrets: spend time on the bike for the confidence and also get concentrated to be mentally stronger."
For almost the whole of 2016, Seb has found himself at the service of Thibaut Pinot. Riding as his last man, he was a big part in Pinot's successes. It's a role that Seb seems to love.
"I really enjoy being 100% dedicated to a leader, my work for Thibaut Pinot this season really confirmed that, I enjoy that role. It's really satisfying to give it all for my leader, I love that "job done" feeling – even more when he finishes the job and performs, which is thankfully often the case with Thibaut."
It was meant to be the same during the Tour de France, but Pinot was forced to quit the race. That allowed some personal freedom for Seb, and he nearly took full advantage. Finishing 4th in Culoz was a good performance but a disappointing result. It was a day that his descending skills were put under pressure and it's no surprise that Seb wants to work on this over the winter. How did he cope with the withdrawal of Pinot and the sudden promotion to team leader?
"That wasn't an easy switch. It's always difficult to change role in the team along the way, both physically and mentally. When you start the race as a lieutenant, you approach it very differently then as the leader, you give everything to help and protect him, you rarely keep some power in reserve. Mentally it was also hard to manage, I have great respect for Thibaut as the rest of the team does, so we needed a few hours to get over the announcement of his retirement of the race. 
Once that was done, after a couple of stages, I felt myself comfortable again and did enjoy the position. My teammates where there for me too, and that helped a lot."
Seb eventually finished 14th on GC, a very respectable result. It would have been even better had it not been for a crash in the final week, something he felt cost him a few places. Those final stages where in his homeland, a special experience for him.
"Very special, passing in my home town, riding my mountains – fans, family, friends – everyone was there. I didn't feel any extra pressure, just more motivation. I'll remember these days for ever I think."
I'm fascinated by how riders spend their time away from races. Being a stage race rider comes with extreme pressure, so unwinding is crucial. Being able to switch off from a race and refocus on the next one is a key part of every top rider.
"I'm very good at switching off! Also because I need it, at least 30 days totally off. I have many other interest in life, so it's good to switch off, keep some time to refresh body & mind. When you do so, you come back with enough energy to put the hard work on again, at least this is the way it goes for me. 
I'm pretty much interested in coffees, wines, fishing and hip hop music. That keeps me busy during the days off, and keeps my mojo during the season. ;) 
Privacy is crucial for recovery, right after a race, I also like to get ''concentrated'' on that point. To avoid any extra stress or efforts. More globally I also need to go back home, in my valley in Valais, that's the spot where I fill up my batteries, I've got there everything I need to be happy."
What about the constant staying in hotels. Does this get tiring?
"It's part of the job, I have no problem with it. I'm now used to living with a team around, I'm easy going, so no problem for me. When it comes to media, they are also necessary and we all benefit from their presence and work. It's a matter of balance, I have no problem giving them time and most of the journalists are professionals too, they understand we can not spend hours with them or answer 200 times the same (often basic) questions."
Hope he wasn't talking about me;)
As we head into 2017, the focus turns to team leadership. It looks very likely that Pinot will ride the Giro, that would free up a potential leader's role for our Seb.
"It could happen, but we didn't officially plan the season yet, so I still have to discuss it with my sport director. Once again, I feel very good as Pinot's support man, so I'm not stressing with the leader position – if it comes along good, if not, I have a job to do anyhow."
The way he answers questions is exactly the way he is on the bike, extremely professional. Seb is a rider who could easily finish in the top 10 of a grand tour, but he doesn't chase personal glory, this is a rider who is happy doing his job. You'll see him supporting Pinot in many races during 2017, but I really hope he is allowed a crack at the Tour de France. Let's see if the lieutenant can become the general!
David Hunter
Follow us on @CiclismoInter
Join us on facebook: Ciclismo Internacional
Copyright © 2012-2016 Ciclismo Internacional. All Rights Reserved