Sibiu Tour 2020 – Prologue Preview
Sibiu – Sibiu 2.5km Prologue
We begin with a bang.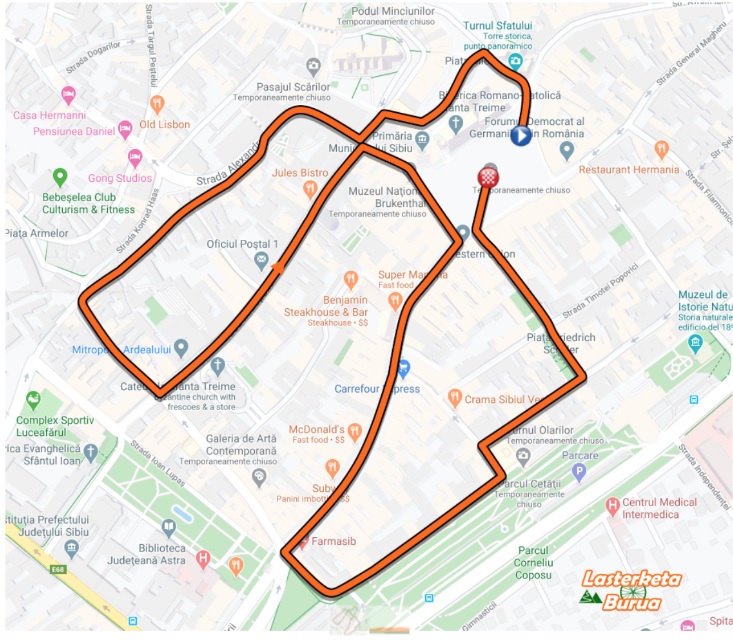 This is a very technical prologue. Just 2.5km long but it contains many corners, and did I mention the cobbles? The vast majority of the route is on cobbles, some of which look a little nasty. This is not a typical prologue.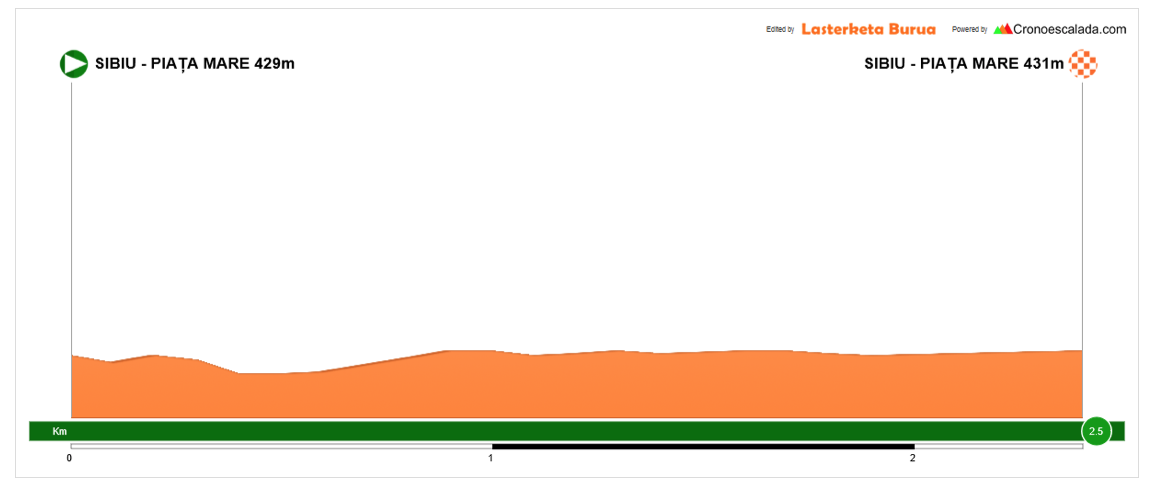 The profile doesn't tell us much as the distance is so short. There is a small uphill section, but it's barely 100m in length. This is all about bike handling skills and the ability to produce a lot of power.
Weather
The forecast is for rain, which isn't great news considering the route we have. Wet cobbles is not what the world tour riders would have wanted, there is no way they'll be taking risks with so much racing coming up, which opens the door to some of the riders on smaller teams. It currently looks like the later starters could get the best of the conditions, but remember that predicting the weather is even harder than prediction cycling races!
Contenders
Pascal Ackermann – this would have been a great prologue for him, but as I've mentioned above he won't take any risks on wet cobbles, so I can't see him challenging for the win.
Rüdi Selig – I'm a massive fan of the big German. He is one of the best lead out men in the sport, thanks to his amazing bike handling skills and speed, which makes him perfect for this stage. He might be tempted to take a few risks as he rarely gets to ride for himself, but we'll have to wait and see.
Matthias Brändle – the prologue expert. Last season the Austrian took part in three prologues, winning two and finishing second in the other, this is his discipline. He would have had this stage as a big focus throughout the last number of weeks and he will be going full gas and taking risks. Given his pedigree, most will have him as their favourite for the win.
Eduard Grosu – solid top 10 option for the Romanian sprinter.
Riccardo Stacchiotti – second in this exact stage in 2018 and 2019, the Italian sprinter will be determined to go one step better this year. After two years back at continental level, he's now stepped back up to pro-conti level with Vini Zabù – KTM. Knowing this course will give him an advantage over some of his rivals, and he'll be riding with a fire in his belly. Not many 28 year olds get a second shot at this level, he'll be super motivated to prove to everyone he deserves to be here.
Matteo Pelucchi – was third here last year, this really is a prologue where sprinters can shine. This is a big chance for him to take his first win in Bardiani colours, something that would delight his team.
Ivar Slik – third in this stage in 2018 and the winner in 2019, the big Dutchman loves this one. It would be a huge deal for À BLOC CT if they managed to take the win against the big teams here and Slik has an excellent chance of doing so. While some might be worried about taking risks, he'll be motivated as this is his world cup final! He recently smashed the Strava KOM on the Eyserbosweg, beating the previous record by 15 seconds. Now, you can't base everything around Strava rides, but it gives an indication of his current form.
Jan Bárta – the old warhorse. Now 35 and in the twilight of his career the Czech TT rider cannot be discounted. The course isn't perfect for him and I think he'd prefer a longer route too, but given his experience he should be challenging for the top 10.
Prediction Time
The rain makes this incredible hard to predict, especially with some riders not wanting to take too many risks. I'll shy away from picking one of the big names and instead go with Ivar Slik to back up his win from last year.