Sibiu Tour 2020 – Stage 1 Preview
By David Hunter
Sibiu – Bâlea Lac 183km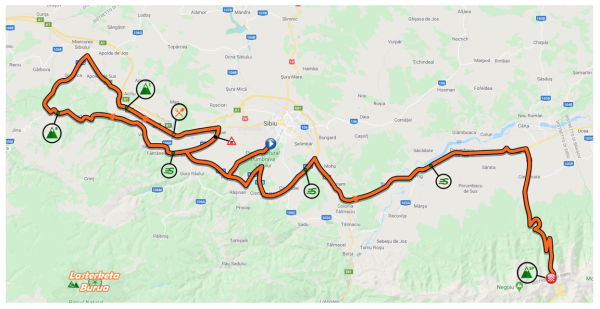 The Queen stage.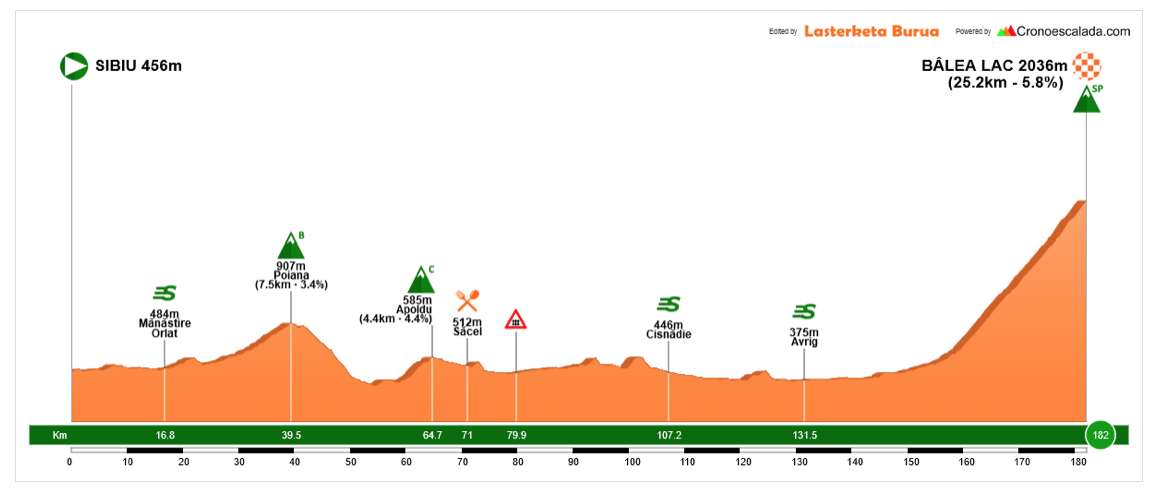 This is a proper mountain! I would expect to see Bora take control of the stage from the very beginning, ensuring a small break without big riders gets away. That will make the rest of the day very easy back in the bunch, before we get to the big mountain.
Yes, the climb is very long, but it's nice and steady. The road is also in fairly good condition, which makes things a little easier for the bunch. I would expect to see a nice tempo set by Bora and this will last quite a long way up the mountain. Things will start to get interesting in the final 5km once we hit the hairpin bends, which is the perfect place to launch a few attacks. Will Bora be able to keep it all together and launch their big move at this point? Can other teams attack early on the climb and put pressure on the Bora domestiques?
Weather
Different weather forecasts are saying different things. One says it will stay dry, the other suggests that there will be some rain in the afternoon and a relatively strong headwind on the climb. I know which one I'd rather see.
Contenders
Patrick Konrad – has to start as the massive favourite for this stage, he should be in a league of his own. With great expectation comes great pressure, something Konrad won't have dealt with much in his career. Bora will know that all eyes will be on them and they have to control the stage. They will be delighted to see a small break get away at the beginning allowing them to use one man on the front for the majority of the stage. This is a long climb, and they don't have a lot of climbing support for Konrad as the majority of the team are sprint based riders. We could see Bora blow the race to pieces early on the climb and drop as many riders as possible, this is a tactic I would like to see! Konrad has one professional win to this name, that was the Austrian road race in 2019, this is a massive opportunity for him, and he knows it.
Gregor Mühlberger – he'll be very important for Konrad, but can he disappear up the climb and take the stage himself? Team orders will no doubt be for him to ride for Konrad, but you just never know how things will pan out. Although not in the climbing class of Konrad, Mühlberger is better than everyone else. Expect to see him setting a very fast pace on the climb, before Konrad launches a big move. It will then be up to Mühlberger to see if he can ride to second place.
Matteo Badilatti – he's a good climber, but not in the same league as the Bora boys. This is a good chance for him to finish on the podium, but I can't see him getting close to winning.
Michal Schlegel – the Czech rider will be one of a handful of riders who will hope to finish on the podium at the end of the day. He was seventh here last year, so he knows what's required on the long climb. Elkov – Kasper are a relatively strong team and both Schlegel and Hník will be hoping to hang on with the big boys for as long as possible.
Serghei Tvetcov – fourth here last year, the Romanian would love to take a big result on home soil. He'll know that Bora are too strong, but I reckon he'll fancy his chances of beating Badilatti and possibly finishing third. With an uphill TT to come, he would love to limit his losses to Konrad and still be in contention for the overall title come the weekend.
Prediction Time
No surprises, Patrick Konrad to take an easy win.
David Hunter
Follow us on Twitter and Instagram
Join us on facebook: Ciclismo Internacional
Copyright © 2012-2020 Ciclismo Internacional. All Rights Reserved