Sibiu Tour 2020 – Stage 3a & 3b Preview
By David Hunter
Stage 3a Carmatura – Arena Platos 12.5km ITT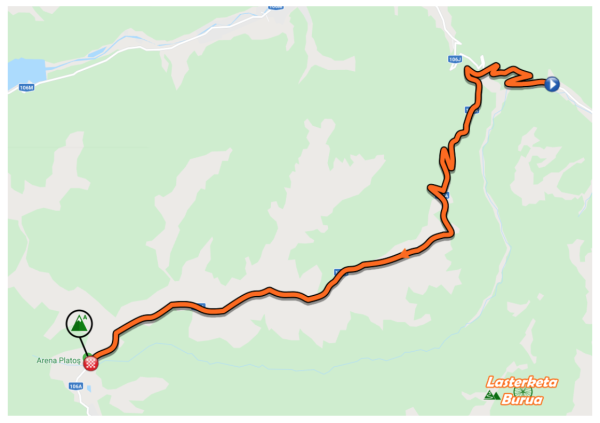 The first half of the day is a mountain time trial.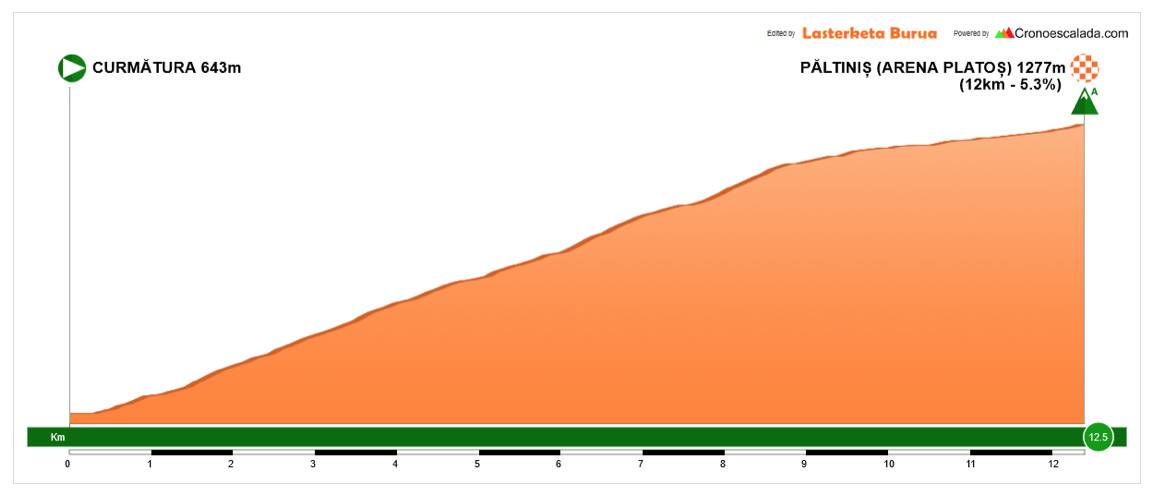 The opening 8.5km of the climb averages 6.5%, it then starts to flatten out a bit and gets easier towards the top. It is very unusual for a race of this stature to have such a TT, and I love it! There's no hiding here, the best rider will win.
Weather
There will be some rain around at the start of the day, but it should drift away before most riders start.
Contenders
Patrick Konrad – currently has a 3 second advantage over his teammate, Mühlberger. Konrad is a strong TT rider, his record against the clock is fairly good without being amazing. As this is an uphill TT it doesn't just rely on being a good TT rider, you must be able to climb too. We saw on Friday that Konrad is in good form, but he did seem to be rocking at some points on the climb. Most would say that his teammate looked in better climbing form, but Konrad will be confident of taking this stage given it's a TT.
Gregor Mühlberger – since turning pro his record on the TT bike is poor, but he's rarely in a position where he goes full gas. Just like Konrad he's represented Bora in the TTT World Championships, but in a normal TT stage you would expect him to be second best to his teammate. In his favour is the way he climbed on Friday, he seemed to have plenty left in the tank in the closing kilometres, although he said he was cooked. There will be no gifts given in this race, the strongest man will take the day, but which of the Bora riders will it be?
Marco Badilatti – I put a bit of pressure on his shoulders in my stage 1 preview and he delivered. To finish just 16 seconds behind the Bora duo was a fantastic ride by the Swiss climber and one he should be very proud of. His record in TTs isn't very good, but as this is a climbing test he should be able to post a good time, but not one that will threaten the yellow jersey.
Serghei Tvetcov – before the start of the race I though the Romanian would be challenging for the overall podium, but he had a very poor day on Friday. I cannot see him suddenly finding better legs in the TT.
Prediction Time
Given his track record in TTs I have to go with Patrick Konrad.
Stage 3b Sibiu – Sibiu 109km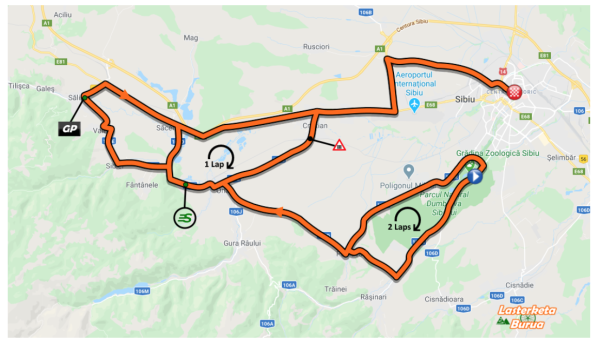 A tricky sprint finish to end the race.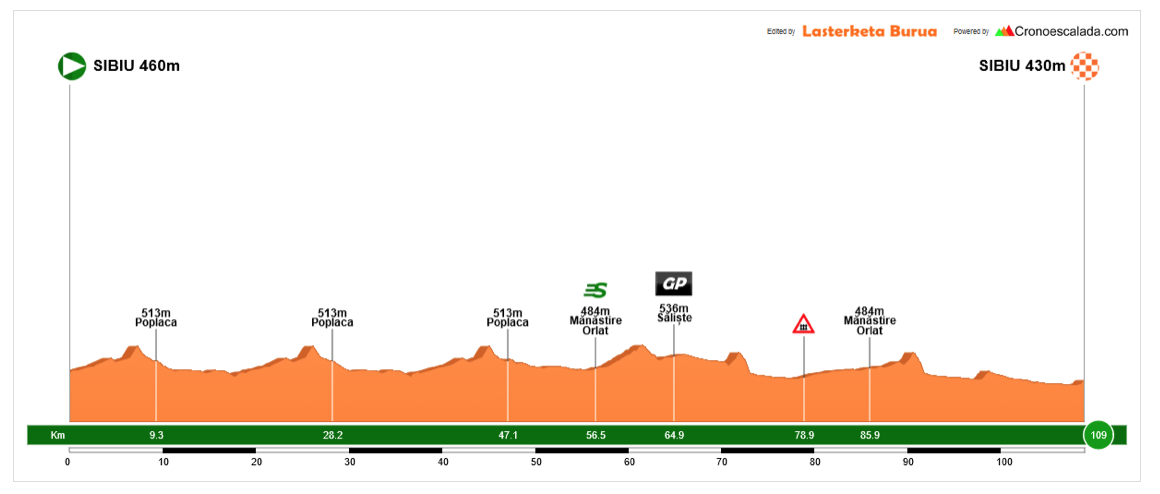 Being just 109km in length, this should be a nailed on sprint.
Finale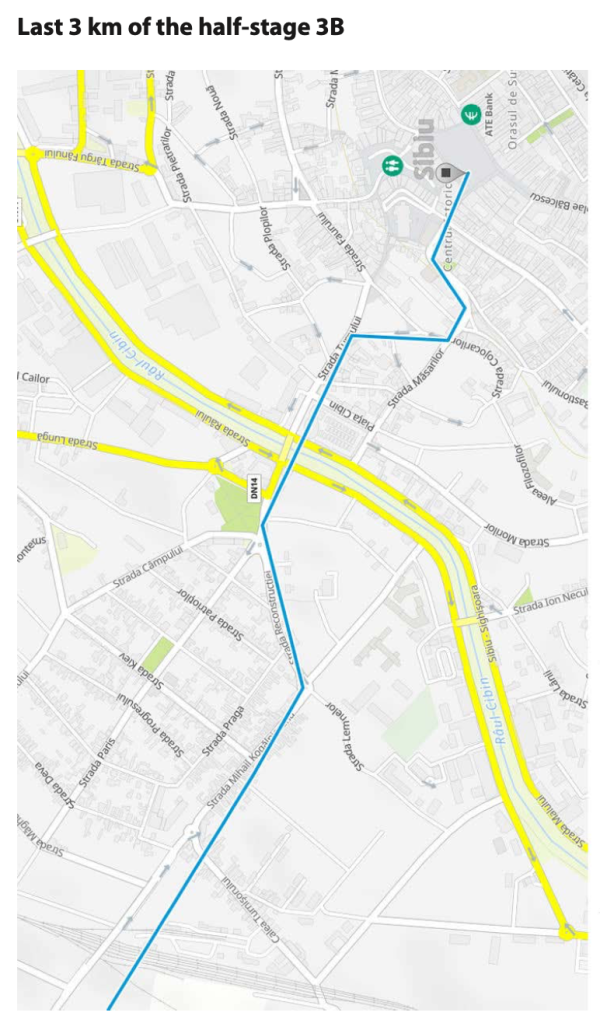 Once the riders make the right turn with around 600m to go they hit the cobbles and the road also starts to rise. The gradients are relatively shallow, but the presence of cobbles makes this a tough finish to get right. It should end in a sprint, but the finish does give a late attacker hope.
Weather
Like every stage this week there is a chance of a storm in the afternoon, but these are very hard to predict. If the cobbles are wet, it increases the chances of a surprise result.
Contenders
Pascal Ackermann – took a dominant win today, it was very easy for him. This stage is another which suits him and he starts as the big favourite. Bora have a very strong team at this race, they can easily hold the race together for the sprint.
Rudy Barbier – second place today, but he was nowhere near beating Ackermann. I can't see him winning this stage unless the German makes a big mistake.
Eddie Grosu – the local boy won here in 2017, the finish is very good for him. This year he has the two world tour sprinters to worry about, but I reckon he'll have a plan up his sleeve. I've seen Grosu not wait for the sprint finish before on days like these, he is a rider who doesn't mind risking it all with a late attack. He needs to do something different if he's to beat the big two sprinters.
Riccardo Stacchiotti – won here last year, that will give him a little bit of extra confidence. Third place today was a good result, but will he be brave enough to try something different in this stage? If not, second is the best he can get.
Prediction Time
Another win for Ackermann, sorry for being boring.
It's been great writing previews again, I'll be back with Vuelta a Burgos.
David Hunter
Follow us on Twitter and Instagram
Join us on facebook: Ciclismo Internacional
Copyright © 2012-2020 Ciclismo Internacional. All Rights Reserved