Strade Bianche 2016 Preview
By David Hunter
Siena – Siena 176km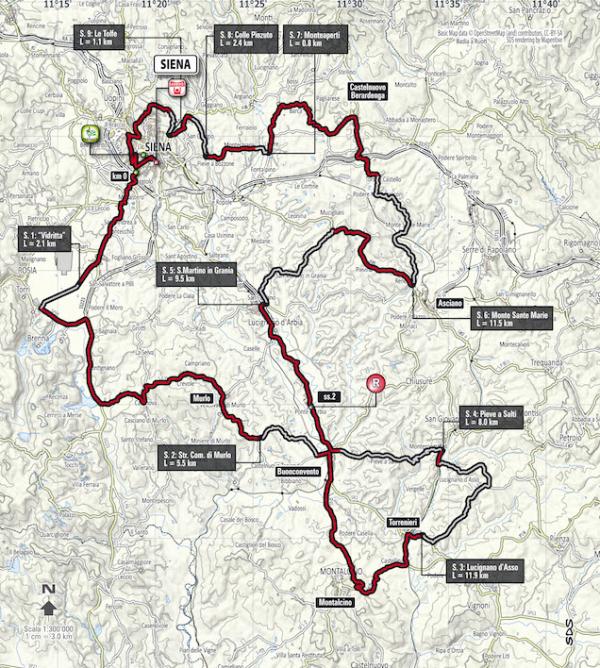 It might only be the 10th edition of the race, and despite what cycling snobs tell you, this is a classic! The white roads of Tuscany, the sterrato! We love them, the riders love them. This is one of the best races in the whole cycling calendar. Headline news is that the race is significantly shorter in 2016, down from 200km, due to the start moving to Siena. That means we have one less sterrato section, but it's still a hugely demanding day in the saddle.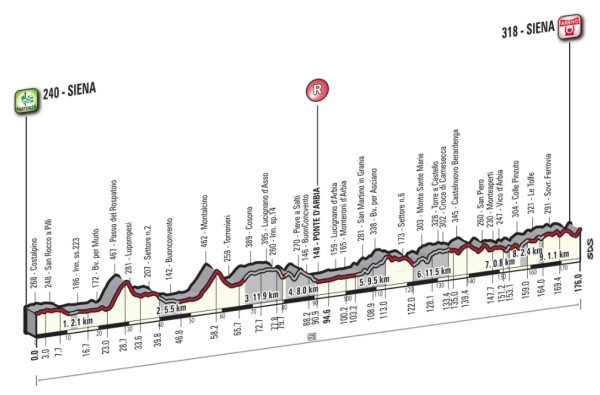 Most will agree that the race will really begin on Monte Sante Marie, section 6. This is a fearsome section of white road, with steep climbs and a challenging descent. Going up steep hills on these roads is an art form, staying in the saddle is certainly a good idea.
Downhill sections are brutal. Falling off is not advisable, it usually leads to a broken collarbone or losing a lot of skin. Being a good bike handler is certainly an advantage and you can see that by looking at the previous winners.
Sector 5 will see the first selection made, then sector 6 will blow the race apart. In 2014, we still had a relatively large group after Sante Marie, thanks to a regroupment on the normal roads. In 2015, we were down to just 7.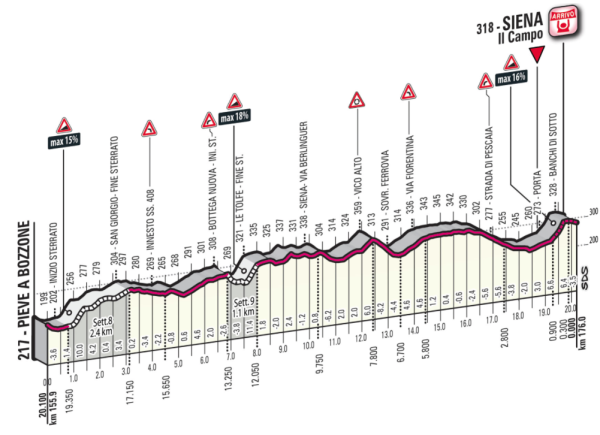 Sector 7 is just 0.8km long, but the final two sectors are very hard, with tough climbs. Due to the severity of the white roads, the front group will be small as we exit and head for the finish in Siena. How small, really does depend on the form of the riders, but don't expect to see anymore than a handful of men.
The climbing isn't finished there, the riders still have to head up Via Santa Caterina, with it's 16% slope. Such a finish really is fitting of the race. Seeing riders battle it out on this hill really is a joy. We've seen Sagan v Kwiatkowski and Stybar v Valverde v Van Avermaet. Who will be the main protagonists in 2016?
Contenders
Zdenek Sybar – Etixx have won this race two times in a row, they will hope to make it three. The ex-cross star is made for the sterrato. He was in amazing form in 2015, you might argue that his current form is not as strong. He decided to skip Omloop meaning we aren't too sure about his form. Yes, he finished 3rd in Mallorca, but those races are not as competitive as some would like.
Greg Van Avermaet – already in wonderful form.His win in Omloop was special, especially considering he was sprinting against Sagan. He had already taken 6 top 10 finishes in Qatar and Oman, before winning in Belgium. Followed that up with a strong ride in KBK. He was very close in 2015, dropping Valverde on the final climb. Shame that Stybar was there too!
Alejandro Valverde – has been close here before, finishing 3rd in 2014 and 2015. His form is excellent, what a win he took on Penas Blancas. At 35 years old, he shows no signs of slowing down. The Spaniard will be confident on finally winning this race. Everything about the race is perfect for him, but can he match the puncheurs on the final climb?
Fabian Cancellara – already won this race on two occasions, time for number 3? It's his final season and he's already started with a bang, taking wins in Mallorca and the Algarve. I have it on very good authority that Spartacus did 480watts for 20 minutes, in the Algarve TT. That is a phenomenal effort, almost unbeatable. He has been poor here in the last two years, unable to follow the big moves on the sterrato. This year should be different.
Peter Sagan – twice the bridesmaid, never the bride. Was second here to teammate, Moreno Moser, when he was the strongest rider. In 2014, Kwiatkowski, really give him a lesson on the final climb. Already in great form, despite not winning Omloop. The way he rode across to the lead group was very impressive, as was his attack in KBK. Sagan looks in the right mood, but can he cope with the explosive attacks on the final climb?
Vincenzo Nibali – never really shone in this race, which is something I'm sure he'll want to put right. Was in superb form in Oman, taking a rare early season win. When he's in this form, Nibali can win any race. His superior bike handling skills, puts him at a big advantage over most other riders. As usual, he arrives with a superb looking support team, especially Fuglsang. The Dane can handle this race and Astana have options, two of them!
Tiesj Benoot – Started the season with a bang! He took a 3rd and 4th place in Algarve, won the white jersey in Algarve and finished 3rd in Omloop. The young Belgian star has started the season they way he raced in 2015. Still without a pro win, I really hope he takes one soon. In theory, this is his type of race. How he copes with the sterrato is the big question? However, he is a champion and champions do well here. He did some mountain biking over the winter, with one eye on this race.
These 7 riders are the overwhelming favourites for the race. There are others who can challenge, in particular, those in superb early season form. I will pick out two such riders:-
Petr Vakoc – what a start to 2016 for the Czech champion. Stybar won the race in that jersey in 2015, I wonder if Vakoc can do the same? He was 2nd in Provence, before winning both the Classic Sud Ardeche and the Drome Classic. Form like this cannot be ignored. If we get into a tactical battle, he could be allowed to move with some of the Astana riders. Certainly provides Etixx with a strong alternative to Stybar.
Jan Bakelants – won a stage in La Med, 8th in Provence, 9th in Sud Ardeche and 2nd in the Drome Classic. I can't remember him ever starting a season like this. To be honest, he's carrying on the way he finished 2015. At the end of last season Bakelants won Emilia and Piemonte. He was also 2nd in Wallonie and 4th in Montreal. It really has been an amazing few months for the Belgian. A rider with such form, will always be a threat. He's not raced here since 2010, that could be a problem.
I could now list all the riders that have a very small chance of winning this race, but that's not my style. I have mentioned 11 riders, if one of them doesn't win this race, then I don't know what's happening with the world!
Having teammates could be an advantage, which should suit Etixx and Astana, but the race is normally a battle of the fittest and having teammates isn't a massive deal. The strongest rider usually wins the race, apart from Moser in 2013.
You might have noticed that I haven't mentioned Michal Kwiatkowski. He won a brilliant race in 2014, but this is his first race since illness. He did start the season very well in Mallorca, but it would take a huge effort to win following a spell off his bike. Sky do have a few options, with Kennaugh, Puccio and Moscon. I do like the two Italians, who could both threaten the top 10.
The Weather
I only remember sunny editions of this race. The Giro did visit the white roads in 2010, on a fairly epic day. It was cold and wet, making the roads a mud pit. I still remember the faces of the riders as they finished, it wasn't a pretty sight! Cadel Evans won that day, beating Damiano Cunego in a sprint. Only 7 riders finished within a minute of Evans, interestingly, Jan Bakelants was 10th. If we get bad weather, get yourself ready for one of the best races you'll ever see.
Prediction Time
Now this is just very hard. Stybar does not have the same form compared to last year, but he cannot be ruled out, due to his cross background. Valverde, Van Avermaet, Nibali and Cancellara are all flying. Sagan is a little behind them, but not much, and you can't ever rule out Benoot. So hard!
That final climb, it does make me wonder about Cancellara, but he could drop everyone on the final section of white road. I don't think he can win, if he arrives in a small group, the same with Nibali. Van Avermaet proved he was better on the climb than Valverde, in 2015, but he couldn't beat Stybar. So many variables.
The winner really does depend on who arrives together for the final kilometre, as Van Avermaet and Stybar should be better than the others. The task for Cancellara is to drop them before we get to that point. The wind and rain should help Spartacus, as he is brilliant in brutal conditions, however, Van Avermaet is looking very strong just now. I think that he'll have support till late in the race and take another win, in what is shaping up to be a brilliant season for him.
David Hunter
Follow us on @CiclismoInter
Join us on facebook: Ciclismo Internacional
Copyright © 2016 Ciclismo Internacional. All Rights Reserved