Strade Bianche 2020 Preview
By David Hunter
Siena – Siena 184.4km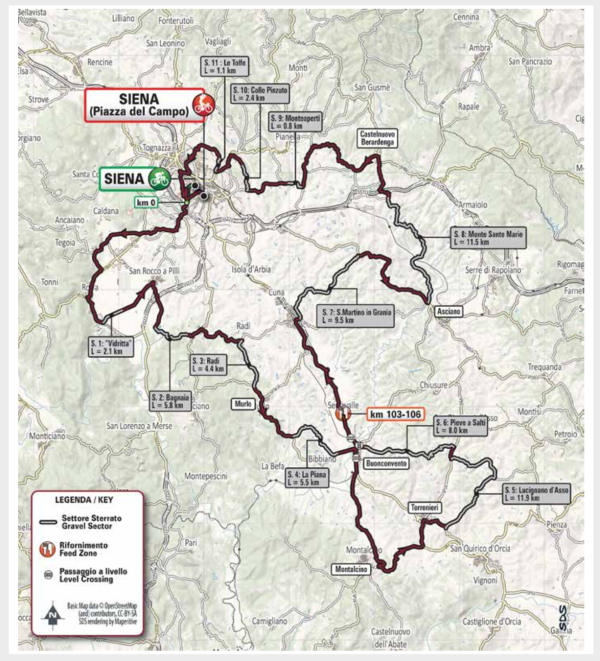 Classic route, no changes needed.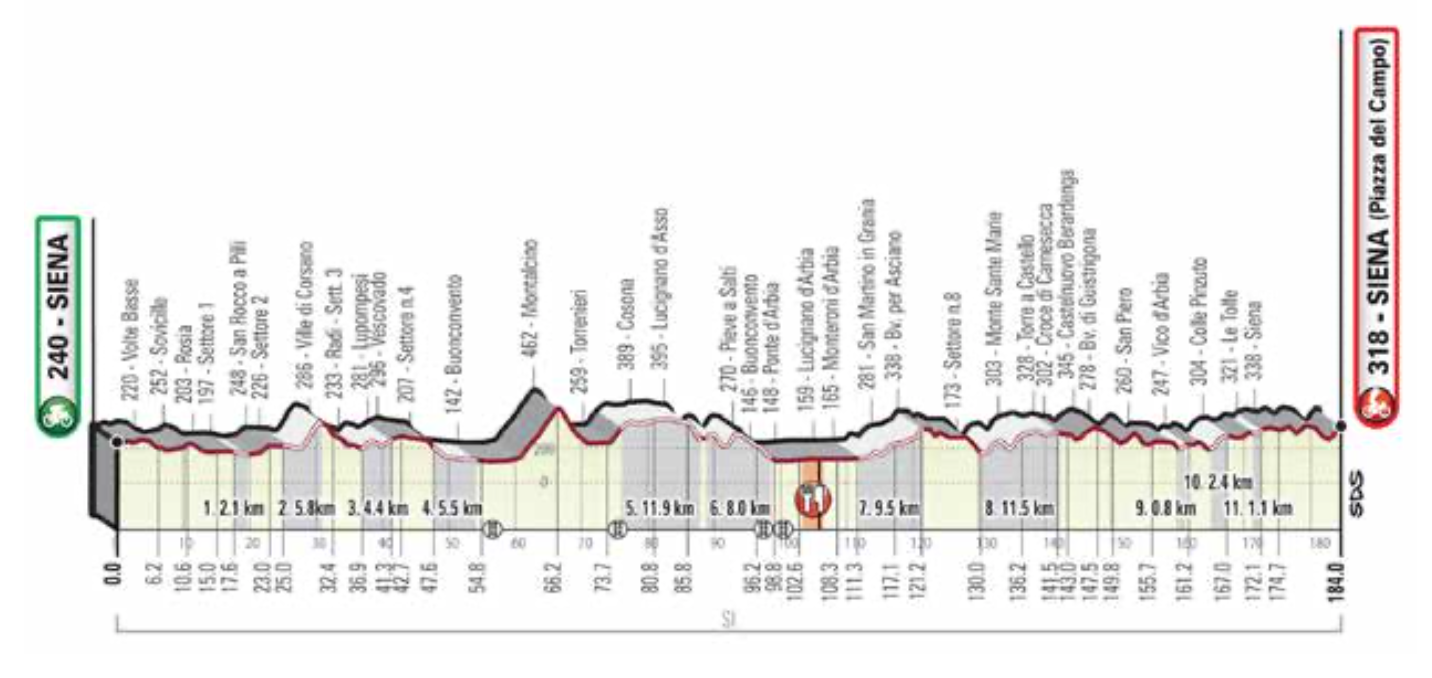 The weather can have a big impact on this race, what will it do this year?
Weather
Damn hot! Having moved from the spring to summer we now have totally different weather conditions. This will be the hottest Strade on record, which is good news for some, but bad for others.
Professional Insight
One name popped into my head for this race… Tiesj Benoot. There's no one better than a former winner of this race to help give some insight.
You started the season in brilliant fashion. Judging by the numbers you have produced in training what is your current level like?
"Close to top. 90%."
You know this race very well, what is the secret to success?
"Stay out of trouble and in the end the legs will talk. The race is hard enough to make the best riders of the race come forward."
Due to current uncertainty, do you think we'll see an ultra-attacking race?
"Hard to predict, but I also think a lot of riders will be scared about the heat and won't put in their effort too early."
How will the heat impact the race?
"It's the only factor I fear a bit right now. In the heat it is even more important to time your 'shot' so I'm curious to see how this will influence the race."
4 top 10s and one win here, is this your perfect race?
"Close to my perfect race indeed. But then in worse conditions ;-)"
Important Sectors
Traditionally the action kicks off on section 7, with lots of climbing and descending to slim down the bunch.
Sector 8, Monte Sante Maria, is the hardest sector in the race. It's the longest white road sector, and just look at all those sharp climbs.
Sector 10, Colle Pinzuto, is where Tiesj Benoot made his big move in 2018. It starts with a brutally steep section, before levelling off.
Sector 11, Le Tolfe, is the last sector in the race. The image above shows the final 400m of it, as the riders climb up to the church. If the race is still altogether at this point, this is where a winning move can be made.
Finale
The finish on the beautiful Piazza is one of my favourites in cycling. It's super steep with a flat finish, first one into the final corner wins the race.
Tactics
The race will be blown to pieces on sector 7, after that teams will need to look around and see how many riders they have left. Those squads with multiple riders will obviously have a better chance of winning the race. Remember though, the winning moves don't always go on the white roads, they can also go the flat tarmac. This period will likely be very tactical and hard to predict.
QuickStep and Sunweb look like the strongest teams on paper. After sector 7 I would expect QuickStep to still have Alaphilippe, Štybar, Ballerini and Jungels at the head of the race, but Asgreen might also be there. This will make life very difficult for the other teams as QuickStep will likely try and force a move to allow their team leaders to rest in the bunch. Sunweb should have Benoot, Kragh Andersen, Hirschi and maybe Roche at the head of the race. This will give them the options they require to fight against Quickstep.
Then we have the Van Der Poel effect. His team isn't as strong as most, but he is. When will he attack? He knows that no one will want to take him to the Piazza, so he must attack and slim the front group down. Normally it is risky for a team leader to attack early in the race, but we know that MVDP isn't afraid of doing this. This is his first time at this race, but his cyclo-cross experience means this isn't a problem, and Alaphilippe won on debut last year anyway.
Contenders
QuickStep – for me they have three options: Alaphilippe, Štybar and Jungels. How they approach the final 50km will be interesting, they will want to use their numerical advantage to beat down Van Der Poel. Alaphilippe is the defending champion and their strongest option, but he will be marked by the others. If this happens and he can't shake off his rivals, it will give his teammates a chance of sneaking away. Remember one thing, QuickStep are the best one-day team in the world. If they have three riders in the front group, in the closing stages of the race, the chances are they'll take the win.
Astana – they have two clear options in this race, Lutsenko and Fuglsang. This is the same as last year, when Fuglsang finished second to Alaphilippe. The Astana duo are both very strong and like this race. Fuglsang will be riding the Giro this year, that means we'll have to work out if his current level will be below the Tour riders or not. As strong as he was last year, he still couldn't beat my favourite stat… a climber has never won this race. Both Fuglsang and Lutsenko are brilliant riders, but I just don't see them winning.
Bora – beware Peter Sagan! It seems very strange writing this, but the great man has been written off by many people in the build-up to this race. He has two second place finishes to his name in this race, but they did come a while ago. In the last couple of years Sagan has used this as part of his classics campaign, but he usually carries more muscle for these races. Being a little heavier isn't ideal for Strade, but this year will be different. Sagan will already be near his Tour de France weight, and we all know what he's like at the Tour. Given the chance in scheduling, I think this will be his best chance of winning this race. Bora also have the option of Max Schachmann, another rider who has a good chance of winning. The German has all the attributes needed to succeed here, and could well benefit from being Sagan's teammate. Whatever happens, Bora look strong.
Mathieu Van Der Poel – the main man, the one they'll all be thinking about. Since he made the move to road cycling I'm sure I'm not the only one who's been excited about him riding this race. The parcour, the white roads, this is a race that's made for him. Now, his team isn't very strong, which impacts on how he rides the race. Don't expect him to wait until the closing stages before attacking, he needs to move fairly early as he will be isolated later. Given his punchy style, it's hard to see anyone being able to beat him on the climb to the line, that is why teams will try and put pressure on him earlier. He starts as the favourite, but it won't be easy.
Wout Van Aert – two appearances here and two third places, not a bad start! The belgian rider is one who has enormous potential and you can be sure he's on the right team to help get the best out of him. We'll remember 2019 for his terrible crash at the Tour, but it was a hugely successful season for him as he develops in road cycling. He can climb, he can sprint, he can TT, he can do everything. Given his cyclo-cross background, he will always be one of the big favourites for this stage. His team aren't as strong as some of the others, especially as a training crash means Mike Teunissen will not be there, but he'll hope to have someone with him in the front group after sector 7, then it's over to him.
Tiesj Benoot – four top 10s at this race and a win, Tiesj is brilliant here. As you've already read he's a little worried about the heat, the same can be said for many riders. He started the season in wonderful fashion, winning a stage in Paris-Nice and narrowly missing out on the yellow jersey. Sunweb have a very strong team, Tiesj can count on the help of Kragh Andersen and Hirschi deep into the race. He knows how to win here, he knows when to make the right move, he has to start as one of the favourites.
Greg Van Avermaet – raced here eight times, finishing in the top 10 on seven occasions, and twice on the podium, but he's still to win. Good weather conditions usually get the best out of Greg, he's one who shouldn't be worried about the heat. CCC don't normally have a strong team to support him late in the race, but he does have Simon Geschke this year. An attacking race would play into Van Avermaet's hands, he is usually a very good tactician and makes the right move more often than not.
Michal Kwiatkowski – the two-time winner is back knowing a third title means he gets a section named after him. 2019 wasn't a great year for him, he seemed a little off his usual level. The enforced break would have given him time to reset and work out what was going wrong. Ineos have a good team here, but not as strong as quite a few of their rivals. If the Pole is back on top form, he'll be one of the men to beat, but can he re-find his old legs?
Tadej Pogačar – a real climber has never won this race, but he could be the man to rewrite the history books.
Prediction Time
With no form to consult you simply have to go with your gut. I think Wout Van Aert will take home the title.
David Hunter
Follow us on Twitter and Instagram
Join us on facebook: Ciclismo Internacional
Copyright © 2012-2020 Ciclismo Internacional. All Rights Reserved