Strade Bianche 2021 – Preview
By David Hunter
Siena > Siena 184.2km
For me, it's the first monument of the year.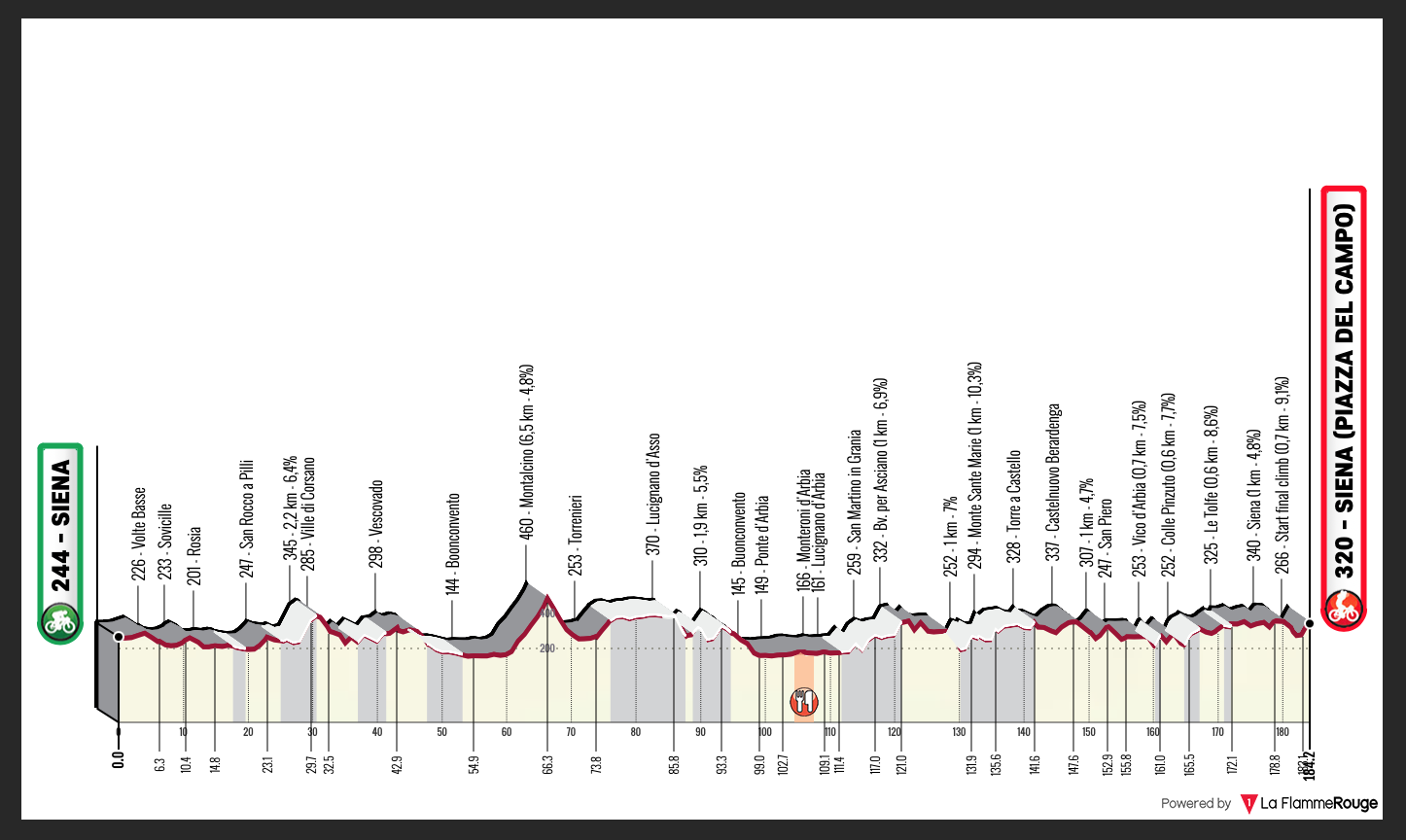 Easily one of the best races of the season, I can't wait to get stuck in. The route remains the same, there's no need to change a masterpiece. As usual we'll see a tremendous race full of attacking racing and tactical genius.
Weather
Looks like it will be dry and sunny. Temperatures will be around 12-15 degrees, a big change to last year's race in the scorching summer sun. The wind will get up to 20km/h and will be a lovely tailwind for most of the final 35km. A good day for a long-range attack. There's a slight chance of crosswinds early in the race, but the wind will need to be a little stronger than forecasted. Some of the white roads are wide open and very exposed, so it could happen.
Key Points
I'll start with sector 7. 9.5km in length and full of sharp climbs and tricky descents. This is where we should start to see teams trying to make the race hard, especially with the next sector not far up the road.
Monte Sante Marie is traditionally the main event of the day. It is a very long section, 11.5km, and features many steep climbs. The front group won't be very big at the end of the sector. A long section on normal road does follow, so it is possible for some riders to come back to the front group, but only if there is a significant slowdown.
Monteaperti is the next section. It might be very short, but it's also very steep.
Colle Pinzuto is next, this is the section where Tiesj Benoot put in a huge attack en route to winning the title.
Le Tolfe is the final section of the race, this is where Wout Van Aert put everyone to the sword last year. The ramp up to the crest is very steep.
Finale
The Piazza del Campo is beautiful, hopefully this year we get a small group of riders slugging it out.
DS Cycling Mole
Given the strength the team has, I've been called in to manage the egos at Deceuninck – Quick Step.
Put down your Game Boys and listen up. We win this race by taking advantage of the strength in our squad. We want to make the race hard, but nothing silly in the opening half. If we have 4 riders in the front group after Monte Sante Marie we win this race. The other teams know this, so it's up to them to make the race, we can sit back and see what happens.
Once into the final 30km we attack, even you Julian. I want you to rotate attacks until the elastic snaps and we get away, it's then over to you. Ballero, Casper the Ghost, Jules, Styby and Ally Almeida you are my chosen sons, now get out there and win.
Tactics
Well then, this is where things get complicated. Without doubt we have three enormous favourites for this race, but two of them come from teams that don't look overly strong to me, which could give DQT the upper hand. Being able to use the extra numbers isn't necessarily going to be easy. The weather conditions means that the front group should still be relatively big as we approach Monte Sante Marie, but to reach the end of that sector in the front group requires strength that most domestiques simply don't have. This is where MVDP and WVA can press on and make the race very difficult for all other teams.
The problem is we've seen before that these two don't always ride well together. Will we see an alliance between them in order to slim down the front group so only team leaders are left? I think this is unlikely.
So what will happen? The power will lie with any team that manages to have multiple riders in the front group after Monte Sante Marie, which means I need to look at team strength. DQT seem the most likely as they bring Alaphilippe, Almeida, Asgreen, Ballerini and Štybar to the race. UAE could also have options as they have Pogačar and Formolo, as do Ineos with Pidcock, Kwiatkowski and Bernal. When we have a race situation with three exceptional riders, having a team with numbers is the way to beat them. Can someone benefit from WVA and MVDP looking at each other? The answer is yes, and it has to be Deceuninck – Quick Step.
Contenders
Mathieu van der Poel – after having some fun in KBK and Le Samyn, it's time to get his race head on. He had a nightmare here last season, with an unfortunate puncture, but he also suffered like a dog in the sun. He knows that most riders in the peloton will be looking at him when the front group slims down, which puts him in a tricky tactical position. We've all seen that this is an area he seems to struggle with, but his incredible strength often makes up for his poor decisions. I do wonder how he'll approach the race; I can't see him waiting for others to make the race, he'll want to move early in order to nullify the stronger teams.
Wout Van Aert – he's just finished a three-week camp up on Mount Teide, where he produced some spectacular results. The team have been downplaying his chances, saying he's not yet at his peak, I don't buy that. Flanders is a month away, you can bet that Wout will already be very strong, and he'll be keen on defending his title. Jumbo-Visma don't have the strongest team to support him, but that was the same as last year. Back then the front group only contained single riders, which meant it was easier to hold together. How Wout deals with everyone looking at him and MVDP will likely determine the outcome of the race. I would love to see the big three battle it out on the Piazza.
Julian Alaphilippe – was great in Provence and looked strong in Omloop, but hasn't taken a win. His move in Omloop was a little strange, but it worked out well for the team. I wouldn't read too much into him getting caught, he was riding into a headwind and behind him were a lot of relatively fresh riders. Unlike MVDP and WVA, he does have a team that can support him deep into this race, which does give him a massive advantage. The world champion is the best in the world on steep slopes, I doubt anyone can beat him in the final kilometre, even the CX boys.
João Almeida – he provides DQT with a very good second option, or maybe a third depending on the form of Štybar. Almeida is yet to win a pro race, but he's been very close. I have no idea how he'll cope with the white roads, but he looks a fine bike handler so it shouldn't be too much of an issue for him. Given the strength the team have, it might not be Almeida who has a chance to go long, it could be Štybar, Asgreen or Ballerini. You might be surprised at my mention of Ballerini, but this is a race that "only" has 3000m of climbing, do not underestimate him.
Tom Pidcock – he's good, in fact he's really good, but he's not winning this. The young Englishman is a prodigious talent, but winning against the best in the world at such a young age will be almost impossible.
Tadej Pogačar – if you take last year out of the equation, this is a race that is always won by a rider who has shown good early form. Of all the riders in this race, it's clear that Pogačar has shown the best form in 2021. The problem is that a pure climber has never won this race, but the Slovenian is one that could rip up many of the old rules. He will start the race without pressure, which is unusual for him, this makes him even more dangerous compared to usual.
Jakob Fuglsang – is his form where it needs to be? Haut Var was used to test his legs and he looked okay. He then did Ardèche and the Drome Classic, where he threw in a few attacks, but without being able to get away. Was he simply getting kilometres in the legs, or is he still a little below where he would normally be? To win this race you need to be 100%, I'm not sure he is.
Tim Wellens – he would have preferred lots of rain, but this is still a good race for him. Saying that, he's never actually achieved a good result, apart from 3rd in 2017, but I'm not so sure it does suit him very well!
Michal Kwaitkowski – crashed hard in Laigueglia, which will make it almost impossible to challenge for the win.
Davide Formolo – he finished 2nd last year in what was a very impressive performance. This season he didn't look on great from in the UAE Tour, I doubt he'll match his result from 2020.
Valentin Madouas – he's good enough to challenge for the top 10, but making the podium will take an exceptional effort.
Prediction Time
Deceuninck – Quick Step to do what they do. They arrive with a ridiculously strong team, it's up to the others to make sectors 7 and 8 so hard that all domestiques are dropped, otherwise it's going to be hard to stop the Belgians. They'll attack, WVA and MVDP will pull it back together, and then Julian Alaphilippe will finish it off. Simples.
David Hunter
Follow us on Twitter and Instagram
Join us on facebook: Ciclismo Internacional
Copyright © 2012-2021 Ciclismo Internacional. All Rights Reserved