Taylor Gunman – Living The Dream
By David Hunter
As much as we all love the big races, cycling is much more than that. I, like many of you, have a similar passion for all cycling, no matter the size of the race. It's in these "smaller" races that we often meet some exceptional characters. One such individual is Taylor Gunman.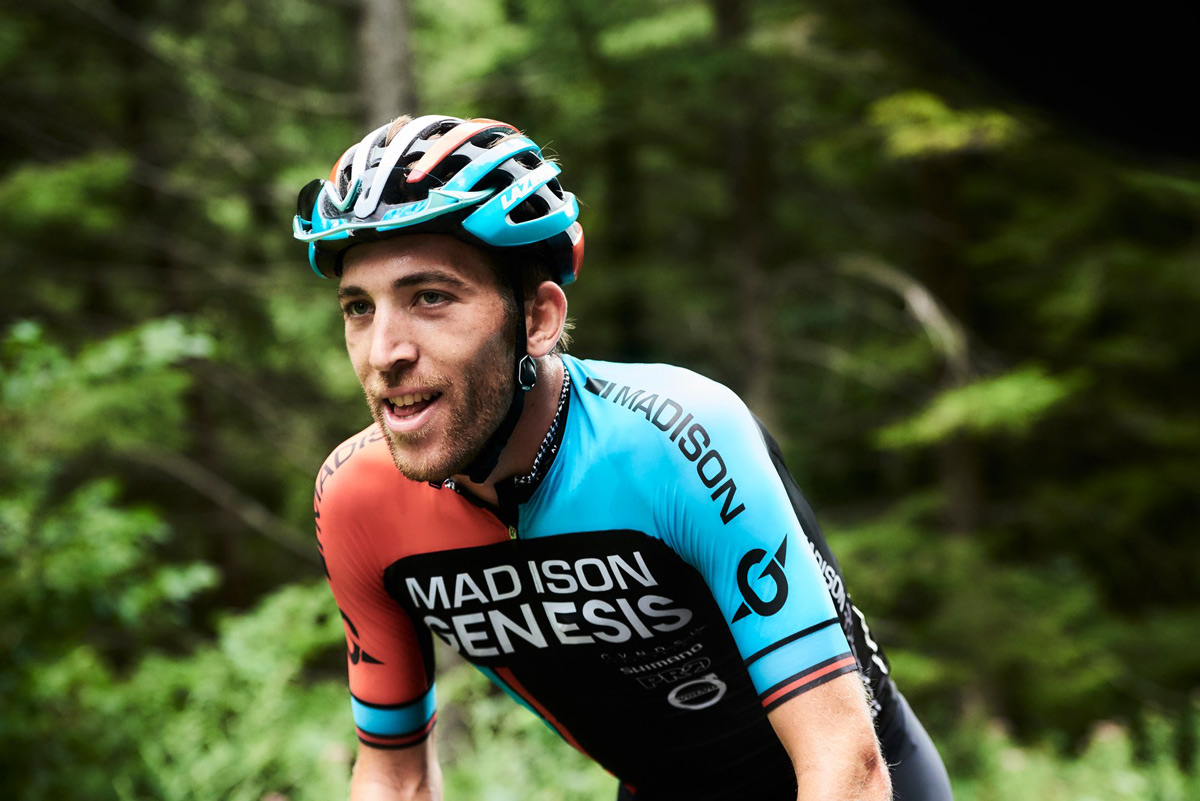 Some of you educated cycling fans will already be aware of Taylor, but a quick recap is needed for the rest of you! Taylor is a 25 year old Kiwi rider. He won his national ITT title in 2014 and both the New Zealand Cycling Classic and Oceania RR title in 2015. All of these wins were with the very successful Avanti team, but Taylor decided to move across to England at the start of 2016. The time was right for a new adventure with Madison Genesis, a continental team based in England.
Unlike many other countries, England has a number of continental teams with full-time pros. It means that the national scene is very competitive, full of talented riders. My first question was a rather obvious one…why move?
"When I look back on what I have achieved as a cyclist I want to be able to say I raced all over the world and against some of the world's best, but I wanted a new challenge and a new scene to put myself up against. I saw guys like Mike(Northey) and Tom(Scully) really succeed and have accomplished careers with the team and I simply wanted part of the action also."
The initial setting up of accommodation and a feeling of homesickness can often hold a ride back in the first few months of moving country. Luckily, it wasn't be.
"I was lucky to head of with Mike and stay with some close friends of his until I found a place of my own. I quickly found a fully furnished flat and rented a room.
Once over in the UK it was rarely home long enough! Stoke was perfect for training as I was able to head straight to the Peak District. I never got home sick as the UK is incredibly similar to home, be it the small things like driving on the same side of the road, etc. The most important thing for me is finding a little place that feels like home, and I was able to find a café in Stoke called Tsp. And quickly developed a good friendship with the team there (they even baked the team a end of season cake). It was my sanctuary."
I love that a cyclist is happy if they can find a good café! The importance of coffee and cake cannot be underestimated. Taylor got lucky finding a sanctuary, but there was no luck in finding a great team. Madison Genesis are one of the finest in the country, a very professional outfit to ride for.
"The set up at Madison Genesis is amazing. It has a real family feel as everyone looks out for each other. You certainly get taken care of. It was especially quite cool having one of my school yard mates, Chuck, as our mechanic and now Mike stepping in as Director, who was a rider I looked up as I grew up in cycling."
Despite racing in some big races for Avanti, Taylor was about to step up a level. You might think that a 2.2 race like the Tour de Normandie is easy, it's far from it! However, arriving as a winner of other races, the pressure was on from the start, mainly from Taylor.
"I put a bit of pressure on myself as I felt like there were some big boots to fill after Tom(Scully) left. But I had a good New Zealand summer of riding and went in feeling strong. From there a few things were out of my control with injury and I feel I didn't achieve the impact I wanted to have. But now it serves as good motivation for the coming season. There was never any issue being the new guy, everyone would talk things through with me about what to expect but I also wanted to learn as much as I could from the guys around me. There is a lot of experience among the guys like Alex(Blaine), Erick(Roswell) and Tom(Stewart)."
Early injuries took their toll on Taylor, forcing him to abandon both the Tour de Normandie and Tour of Yorkshire. At the An Post Ras, he was high on GC, going into the last two stages, but again had to withdraw from the race.
"That was a heart breaker, I had the confidence and I felt like I was still building. It was my first real chance to show my worth, so for a opportunity like that to disappear I was left feeling quite guttered. The guys supported Matt(Holmes)and I all week and not being able to do the job for them hurt just as much."
Despite his unlucky season, Taylor was picked to represent the team in the Tour of Britain. This was a big moment for the team and a sign that they trusted their talented Kiwi rider.
"It certainly was a bit of shock and relief. It was a goal of mine to make the squad, and when I was selected to support both Erick and Tom S, I was certainly up for it. However the crash at the end of Stage 3 knocked me down more than most crashes I have had, which took a long time to come back from."
Such a shame that crashes seemed to ruin most races this season. The knee injury certainly slowed Taylor down in his first season in England.
"The knee is and was a recurring thing. Hopefully we can get on top of it, but that responsibility lies with me. I was given a fair amount of opportunities, but I felt I didn't really capitalise on them as much as I wanted.
Mistakes, or learning curve? Either way you look at it, I want to turn things around and really get stuck into the season next year."
After all these crashes, it's no surprise to hear what area Taylor wants to work on.
"Bike handling. I have a had a few bad crashes which knocked the confidence and boy was I embarrassed with how I handled my bike in the Tour of Britain. The cross bike has been great fun and taking it into the Mountain Bike Parks have made this last month a lot of fun."
It's not just about improving road skills, cyclists spend a lot of time in the gym.
"I'll do a lot of strength and condition work in the gym, hopefully. A season ruled by one injury highlights the importance of strengthening your whole body not just your legs."
Being a lad of the southern hemisphere, Taylor is already back home enjoying the start to the NZ summer, but still working hard!
"After my break I got the cross bike out and it has been the only thing I have ridden since I have been home. Just going out and training up Te Mata Peak in Napier, then returning back down on MTB trails is something new and different I have been doing this year. Although my life in NZ has been more nomadic than what it is during the race season due to my partners commitment to her degree, we will finally settle a bit in Wellington for the summer. It is an amazing town with MTB in the heart of the city.
When it comes to diet I don't really have one. I believe in moderation. But also fueling/eating to what your going to expend. I love my food and I love my coffee."
Amen brother!
Being back in NZ allows Taylor to ride for some local teams, starting with the Tour of Southland. This is one of the most brutal races on the cycling calendar!
"We have Tour of Southland starting this week and then my next focus will be Nationals which is early January. For those races it's more so about turning up fit and just getting stuck in. There is no team leading the race. In a way Nationals is old school. Rider vs Rider, but my priority is with Madison and the coming season. With it being summer here it is very easy to race almost all the way through. So it is easy to over do it."
And what's the difference between cycling in NZ and Britain?
"The professionalism and set up of professional teams is the major difference, being back home will be fun for the few races I have as I wont have team mates to help cover moves and will have to get really stuck into racing. In the same breathe the aggressive nature of the UK season is awesome and the fact there is several teams competitive with each other is great. No one outrightly dominates in the big road races."
One thing I am always keen to explore is what motivates cyclists.
"Being able to 'live the dream'. I love the competition, the challenges and everything the sport offers. You can have so much go wrong but that one time it goes right it was worth every little bit of suffering. 
As a kid growing up I wanted to be a All Black so I am one of the lucky ones who can make a career out of sport. It would be silly to say I know no different, but I have spent years where I have worked part time at the bike shop and still ridden well, but it was also a reminder of what I do is a privilege and I have to keep making the most of it."
As we look towards 2017, what can we expect from Taylor?
"You have to keep aiming higher and you have keep striving for that development. So to improve of the 2016 season and hopefully get a win in the UK is a big goal of mine for sure. You can always push yourself to go that little bit more deeper and harder. Its your own head that stops you."
And returning to Madison Genesis?
"Yup, I'm returning and really looking forward to being back with the team. I am at an age where any year could be my best year, or my last year. So I was really happy the team wanted me back."
2017 is certainly going to be a big year in the life of Taylor Gunman. He's now settled into the British scene and if he can stay clear of injury, I expect to see a number of wins. He will be looking to follow in the footsteps of former Madison riders, Tom Scully and Tom Stewart.
David Hunter
Follow us on @CiclismoInter
Join us on facebook: Ciclismo Internacional
Copyright © 2012-2016 Ciclismo Internacional. All Rights Reserved