The 28 sectors of pavé of Paris-Roubaix
By @pmpalermo
On Sunday the hardest and most exciting of all the Classics, Paris-Roubaix, such a unique race that only a few can win and as such, deserves separate coverage.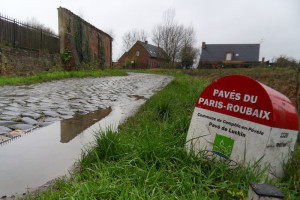 So you do not miss any details of "The Hell of the North" during transmission, we leave all sections of pavé that the protagonists must overcome located just as the organization has, ie in descending order.
Also we will tell you the name of each sector, how far into the race it is, the length and the number of stars according to their difficulty.
| | | | | |
| --- | --- | --- | --- | --- |
| Número | Nombre | Kilómetro | Longitud | Estrellas |
| 28 | Troisvilles | 97,5 | 2200 m | *** |
| 27 | Viesly | 104 | 1800 m | *** |
| 26 | Quiévy | 106,5 | 3700 m | **** |
| 25 | Saint-Python | 111 | 1500 m | ** |
| 24 | Solesmes | 119,5 | 800 m | ** |
| 23 | Saulzoir | 126 | 1200 m | ** |
| 22 | Verchain-Maugré | 130,5 | 1600 m | *** |
| 21 | Quérénaing – Famars | 135 | 1200 m | ** |
| 20 | Monchaux-sur-Ecaillon | 140,5 | 1600 m | *** |
| 19 | Haveluy | 153 | 2500 m | **** |
| 18 | Trouée d'Arenberg | 161,5 | 2400 m | ***** |
| 17 | Wallers – Hélesmes | 167,5 | 1600 m | **** |
| 16 | Hornaing | 174,5 | 3700 m | **** |
| 15 | Warlaing – Brillon | 182 | 2400 m | *** |
| 14 | Tilloy – Sars-et-Rosières | 185 | 2400 m | **** |
| 13 | Beuvry-la-Forêt – Orchies | 191,5 | 1400 m | *** |
| 12 | Orchies | 196,5 | 1700 m | *** |
| 11 | Auchy-lez-Orchies – Bersée | 202,5 | 2700 m | **** |
| 10 | Mons-en-Pévèle | 208 | 3000 m | ***** |
| 9 | Mérignies – Avelin | 214 | 700 m | ** |
| 8 | Pont-Thibaut | 217,5 | 1400 m | *** |
| 7 | Templeuve – Moulin de Vertain | 223,5 | 500 m | ** |
| 6 | Cysoing – Bourghelles | 230 | 1300 m | **** |
| | Bourghelles – Wannehain | 232,5 | 1100 m | *** |
| 5 | Camphin-en-Pévèle | 237 | 1800 m | **** |
| 4 | Le Carrefour de l'Arbre | 240 | 2100 m | ***** |
| 3 | Gruson | 242 | 1100 m | ** |
| 2 | Hem | 249 | 1400 m | ** |
| 1 | Roubaix | 256 | 300 m | * |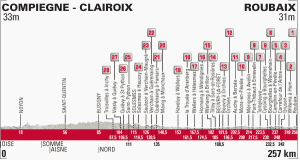 Relateds: Incredible Video presentation París Roubaix:http://www.ciclismointernacional.com/video-de-la-paris-roubaix/ …
Pablo Martín Palermo
Follow us in facebook https://www.facebook.com/CiclismoInternacionalLatinoamerica?fref=ts …