Tirreno Adriatico 2015 – Stage 6 Preview
By David Hunter
Rieti – Porto Sant'Elpido 210km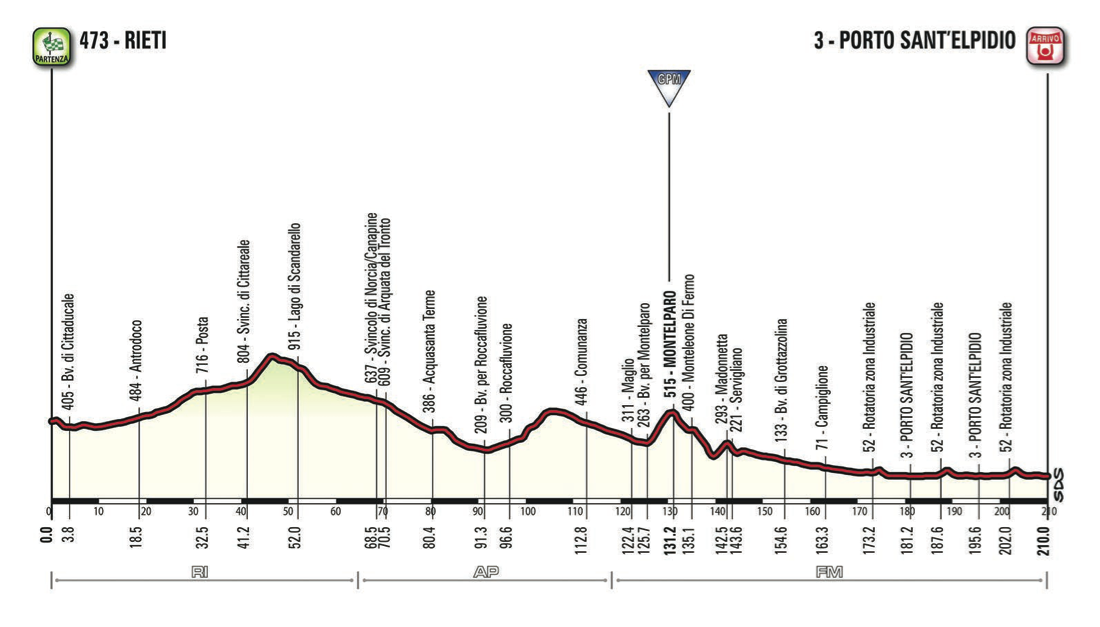 After such a demanding day, I have some bad news for the peloton…..210km and more rain!
A largely boring day in the saddle, with one categorised climb. It's 5.5km at 4.5% and crests 80km from the end of the stage. This means the climb is of no consequence to the riders.
The big question is whether the break succeeds? With so many tired riders, it has an okay chance. The route is not perfect and if a couple of teams want a sprint, that should be enough to make sure it happens.
Etixx are the team with the most to win. Cavendish was denied the chance to sprint in stage 1 and he didn't come here, to go home with nothing. Movistar are back in the overall lead and they will ensure the break doesn't get a huge lead. After around 100km, we should see Etixx, Bora, MTN and Giant to start to help out. This will make it very difficult for the break to stay away. The stage should end in a sprint.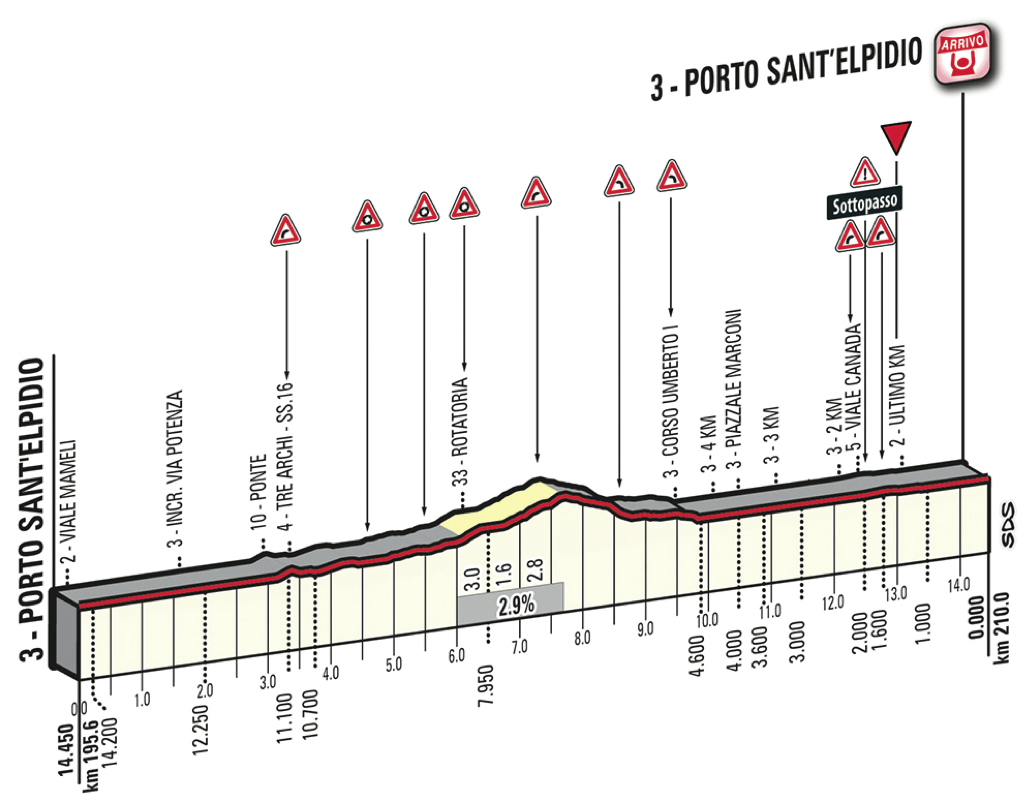 Once in town, we head out into a lap circuit. It does feature a short climb but it's barely a pimple!
The finish is nice and easy, with no corners in the final 1.4km. This is perfect for the sprint teams.
I expect a much more structured sprint, than the one we got in stage 1. Etixx have the bodies and the speed to control the finale. Expect to see Stybar hit the front with 1.5km to go. He'll pass onto Sabatini, then Renshaw before Cavendish launches his sprint. With less than a week till Milan-SanRemo, Cavendish will be wanting a win. He really should get it.
His biggest rival should be Luka Mezgec. Giant have a fairly good lead-out but in stage 1 they couldn't get close enough to the front of the peloton. If Mezgec is to challenge, this needs to change.
MTN controlled the closing kilometres, in stage 1. They were trying to set up Sbaragli but he lost the wheel of Farrar. They do have powerful riders but their sprinter lacks speed.
Sacha Modolo has bravely continued in the race but will he be ready to sprint against Cavendish? If feeling good, Modolo should be looking at a top 3 finish.
Jens Debusschere took a surprise win, in stage 1. He was helped out by Jurgen Roelandts, who delivered a world class lead-out. Don't expect them to control the closing kilometres, instead, they will look to pounce inside the final kilometre. They only have 3 men dedicated to the sprint, so it makes life hard for the Lotto boys. A second stage win would be incredible.
Sam Bennett finished last today, 34:51 behind Quintana. He would have suffered like hell, but battled through to hopefully try to win this stage. If he's to challenge, a lot will be depending on Zak Dempster. It would be nice to see his perseverance rewarded with a good sprint.
Peter Sagan has disappointed, again! He has one last chance to try and take a victory. He has the speed but not the train or the confidence. For the first time in his career, big questions are being asked. How will he respond?
Alexander Porsev is the only other rider I see challenging for the stage. He's enjoyed a good start to 2015 but he's up against faster sprinters here. The podium would be a good result for the Russian.
Prediction Time
This is all about Cavendish. He's not going to leave Tirreno without a stage win.
David Hunter
Follow us in facebook https://www.facebook.com/CiclismoInternacionalLatinoamerica?fref=ts … or Twitter @CiclismoInter
Copyright © 2015 Ciclismo Internacional. All Rights Reserved