Tirreno – Adriático 2019 – Stage 5 preview
By David Hunter
Colli Al Metauro – Recanati 180.3km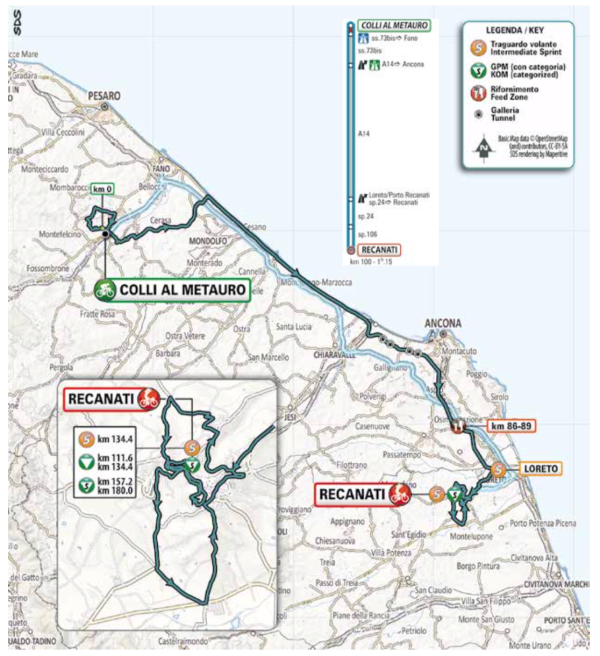 Another brutal day awaits the GC riders.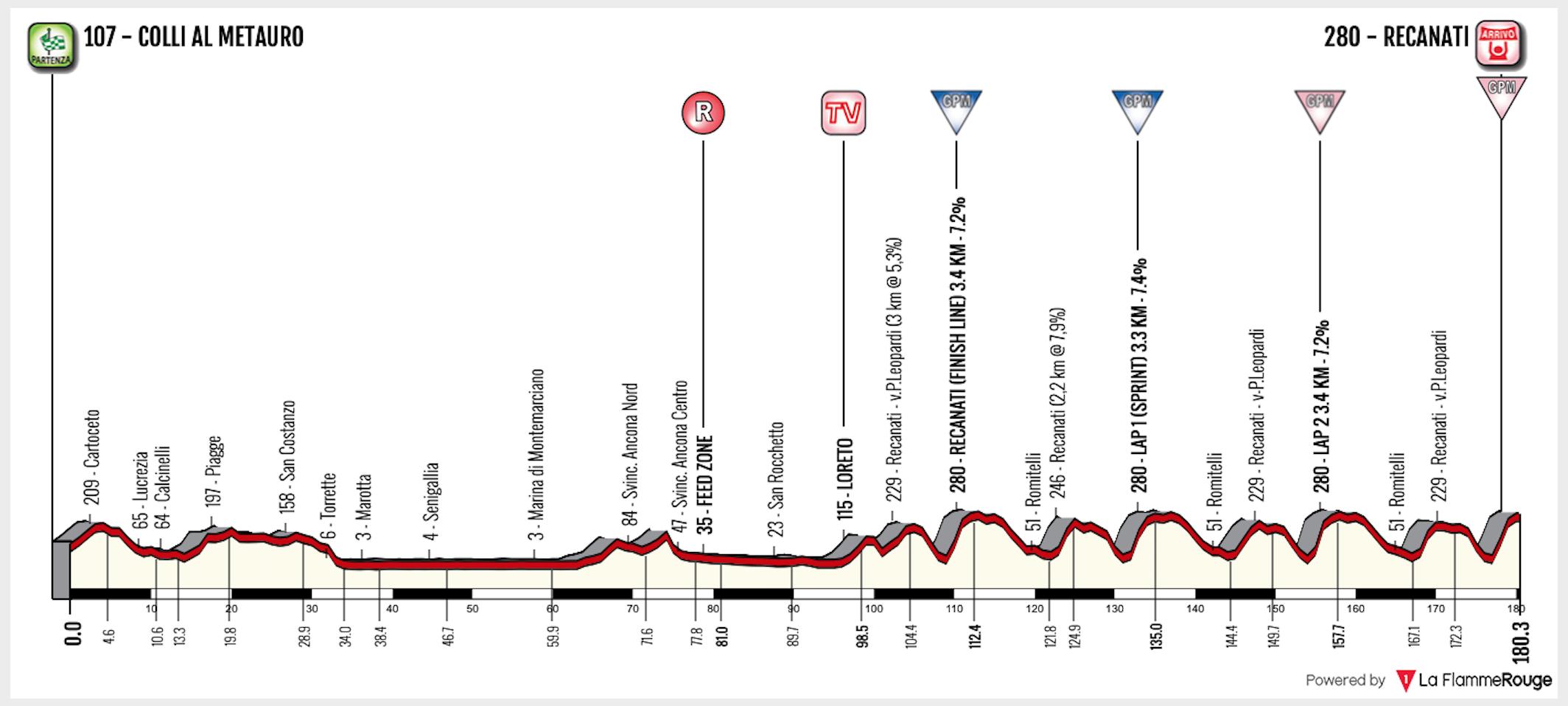 After a flat start to the stage, things get incredibly challenging as the peloton hit the lap circuit around the streets of Recanati. The circuit is dominated by two difficult climbs.
 The riders tackle Porta d'Osimo on four occasions, it is 3km at 7.9%, but that does include a relatively flat end to the climb. The main section of the climb is actually 1.5km at 12.5%, which is going to nasty, particularly on the final lap. This is the climb that finishes the stage, get ready for some fun!
Tackled on three occasions is the Muro di San Pietro, 2.2km at 8.3%, which has a maximum gradient of 19% near the crest. The final ascent of this climb crests with 10km remaining, I don't think we'll see riders waiting for the final climb.
Finale
 As you can see, once the riders get thought the 1.5km at 12.5%, they still have to negotiate another 1.5km of tough roads. Given that the legs will be burning, this is a cruel finish.
Weather
Another nice day for the peloton. There will be a little bit of wind around in the afternoon and it should be a headwind on the final climb.
Tactics
The circuit is only 22.7km long and features two climbs, which only have around 10km in-between. There is virtually zero flat kilometres, which makes this a very tough end to the stage. The stage is different from today, the climbs are a little easier, but the overall stage is a little harder.
Today, Astana want to blow the race apart and try to chase stage wins. I think they'll follow the same plan as today and try to launch one of their riders early, this time it should be Fuglsang. Behind them, Roglič and Yates look strong. Jumbo-Visma will hope that Laurens De Plus and Tony Martin are okay after crashing, they are important parts of the team. It would be a big help to Roglič if De Plus was there in the closing stages, if not, he'll have to ride more offensively.
With the GC still very tight, we could end up with a two races, one for the stage and the other for the overall. I'll be honest, I have no idea how this stage will play out, but you guys want me to try.
Okay, Astana used a lot of energy today and Lutsenko must be a little sore. That means we'll see an elimination race and the strongest will step forward. Judging by today, it will be Roglič, Yates and Fuglsang who will get away from the rest, but there is every chance of a rider further down on GC already escaping the bunch. If someone times their attack right, they could steal the stage from under the noses of the big 3.
Contenders
Primož Roglič – I love Primož Roglič! Unlike many of the big GC riders, he rarely asks for any help. On the final climb, he smashed up it and didn't want any help until the descent.  He then led out the sprint, but still managed to finish 2nd. Moving into this stage, he knows that Adam Yates is strong, but with the 10km ITT looming, there is no need to go crazy. The Slovenian knows that Yates is his main concern, he has a 43 second gap to Tom Dumoulin in 3rd, that means he only really needs to watch the Brit. However, this is not how Roglič works, he'll go to the front and try to drop everyone else. Did I mention that I love Primož Roglič?
Adam Yates – another rider who deserves a lot of credit after today. Yates looks in brilliant form, he was pretty easy following Roglič and Fuglsang up the final climb. He leads the race by 7 seconds, but knows that isn't enough of a gap with the ITT still to come. That means he needs to ride an attacking race and try to drop Roglič, that won't be easy. He could simply ride for the stage, but Roglič is faster than him in a sprint. This won't be an easy stage for him to win, but I think we'll see him challenging to do so.
Jakob Fuglsang – today was as strong as I've ever seen him, such a shame he still can't sprint! The Dane had a huge part in Lutsenko's win, but I was more impressed by the fact that he hardly looked out of breath. Moving into this stage, Fuglsang is still a massive 1:19 behind Adam Yates, that should buy him some freedom in the finale. He looked one of the best today, he should be very confident of challenging for the win tomorrow. One thing, it looks like he'll need to arrive solo!
Davide Formolo – I've been really impressed by him this week. He was active on Thursday and just missed the front group today, the Italian looks to be hitting some serious form. He has the ability to make the front selection, then he needs to see if he can take his opportunity. Sitting a little down on GC could work in his favour.
Tiesj Benoot – didn't quite work out for him today, but he did emerge as the strongest Lotto rider. Tiesj is in the same position as all the riders who are out of the GC picture, the stage will be difficult to win out of the front group, so he needs to think about when he can attack and move ahead of that group. His current form is good, but he'll need good legs and a little luck to take the win.
Zdenek Štybar – now that Alaphilippe has dropped out of the GC picture, the Czech star should be allowed some freedom. He's currently enjoying a brilliant run of form, but these climbs could well be on his limit. Štybar is the type of rider who could escape from the front group in the closing stages, this is the only way he can win the stage. It's a bold strategy but one that could pay off for him.
Wout Poels – never write off Poels. He is a rider who usually seems to get stronger the longer the race goes on, I think he should be about to hit a little peak. He can cope with the steep slopes and packs a good sprint.
Prediction Time
This is perfect for a rider a little down on GC to take the stage. Judging by today's stage, that man has to be Jakob Fuglsang, he is ridiculously strong just now.
Remember I've now got a podcast too. Go and give it a listen
David Hunter
Follow us on @CiclismoInter
Join us on facebook: Ciclismo Internacional
Copyright © 2012-2019 Ciclismo Internacional. All Rights Reserved