Tour de France 2014 – The Green Jersey
By David Hunter
The Battle of the Sprinters
Can anyone stop Peter Sagan?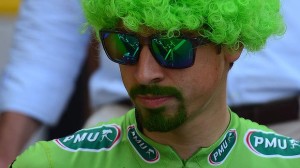 The brilliant Slovak returns, trying to win his 3rd consecutive green jersey. He will have the same strategy as in previous years, finish in the top 5 of the bunch sprints, win some intermediate sprints and win some very hard stages. If this happens, then he wins again.
Remember, the race organisers changed the scoring system after 2011 and we have different points awarded depending on the nature of the stage:-
Flat – 45, 35, 30, 26, 22, 20, 18, 16, 14, 12, 10, 8, 6, 4 and 2
Medium mountains – 30, 25, 22, 19, 17, 15, 13, 11, 9, 7, 6, 5, 4, 3, 2
High mountains – 20, 17, 15, 13, 11, 10, 9, 8, 7, 6, 5, 4, 3, 2, 1
Intermediate sprints – 20, 17, 15, 13, 11, 10, 9, 8, 7, 6, 5, 4, 3, 2, 1
Kittel and the others can beat Sagan in a flat finish, but Sagan scores points on difficult days, when the others pick up zero points. He does have more competition, this year, as Degenkolb, Kristoff, Demare and Modolo can get over the climbs, but not as many as Sagan.
There are 6 stages that look like finishing in a full bunch finish. They are stages 3, 4, 6, 15, 19 and 21.
We then have stages where Sagan and few others could contest the sprint. They are stages 1, 7, 11 and 12.
This year, Sagan has the capabilities of winning some very hard stages. Take a look at stage 8.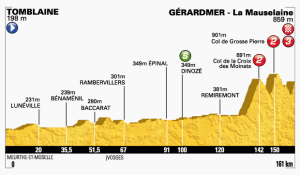 Despite looking like a mountain stage, I think Sagan could be a challenger on this day. If he does, then he'll take points, when the others don't.
He will also be liking the look of the pave, on stage 5. Out of his challengers, Degenkolb and Kristoff will also pick up points in this stage.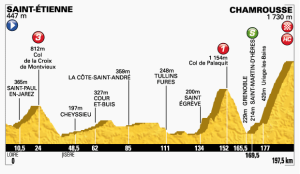 On stage 13, I wouldn't be surprised to see Sagan in the morning break. He can make it over the Col de Palaquit and then claim the intermediate sprint. His climbing skills are so much better than the other sprinters, he can claim points in ways they can only dream about.
If he wins the green jersey he becomes just the 2nd rider to win it on 3 consecutive occasions. The German, Erik Zabel, managed 6 in a row, Sagan is more than capable of doing this. What might stop him is a move towards becoming a GC rider.
John Degenkolb could be his biggest rival, but as he is on the same team as Marcel Kittel, this won't happen. It will be interesting to see if their combined score beats Sagan!
Barring a crash, Sagan wins number 3. I wonder if green is his favourite colour?
David Hunter
Follow us in facebook https://www.facebook.com/CiclismoInternacionalLatinoamerica?fref=ts … or Twitter @CiclismoInter