Tour de France 2014 – The Polka Dot Jersey
By David Hunter
After breakaway specialists dominated the jersey for many years, the change of points, in 2012, has seen this jersey return to the shoulders of the GC riders. Nairo Quintana won in 2013, but won't be back to defend his jersey.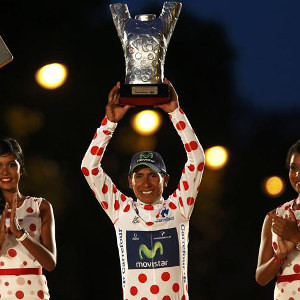 Different points are awarded, depending on the categorisation of the climb:-
HC – 25, 20, 16, 14, 12, 10, 8, 6, 4, 2
1st – 10, 8, 6, 4, 2, 1
2nd – 5, 3, 2, 1
3rd – 2, 1
4th – 1
If we have a mountaintop finish(HC, 1st or 2nd) then the points get doubled. This makes it very difficult for the breakaway riders. In 2013, we had 4 mountaintop finishes, 3 HC climbs and 1 cat 1. A break only survived in 1 of these stages, Riblon winning on Alpe d´Huez.
This year we have 6 mountaintop finishes! One of them is cat 3, so the points don't get doubled, but we have 3 HC climbs and 2 cat 1s. That's a potential 140 points. This is going to make it so hard for a non-GC rider to take the title.
It also depends on the number of breakaway successes in the big mountain stages. If we get the battle royale between Sky and Tinkoff, then there will be limited chances for the breaks, in the mountains. Again it points to another GC rider.
The natural thought is to go with the top rider on GC, but it didn't work out like that in 2013. Froome was yellow and Quintana was KOM. The overall leader doesn't like to get too greedy and will happily let another rider take the polka dot jersey.
Contador and Froome look stronger than the rest and should battle out the mountaintop finishes. This means that they should be considered as the favourites for the jersey. The other option is Richie Porte. The word on the street is that Porte is flying in training. If Sky can pull off another 1-2, then Porte would be the KOM, but with such a strong Contador, this is unlikely.
I don't see a breakaway specialist being able to score enough points to contend.
I think that Contador will win yellow, so will go with Froome for polka dot.
David Hunter
Follow us in facebook https://www.facebook.com/CiclismoInternacionalLatinoamerica?fref=ts … or Twitter @CiclismoInter