Tour de France 2015 – Overall Preview
By David Hunter
Well, it's just about here. The race of the year and potentially the race of the decade. After being robbed of a battle in 2014, it's time for an epic, titanic battle. We have Froome v Contador v Quintana v Nibali. They're not the only GC stars here. Also wanting to join the party are: Pinot, Rodriguez, Van Garderen, Rui Costa and Bardet.
Week 1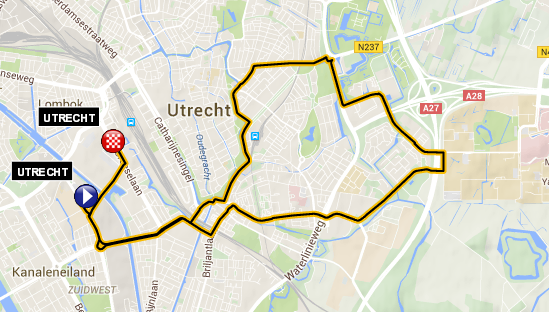 The race begins in Holland, with a 13.8km ITT. The stage is flat and features quite a few corners. It's technical and suits the TT specialists. We should see a fierce battle to claim yellow. The main riders will be: Tony Martin, Cancellara, Dumoulin, Malori, Kwiatkowski, Boom, Dowsett, Dennis, Froome, Thomas, Porte, Brandle and Cummings. The headline writers would love Tom Dumoulin to win, on home soil, but cycling doesn't always work out that way. He's going to have one hell of a battle on his hands.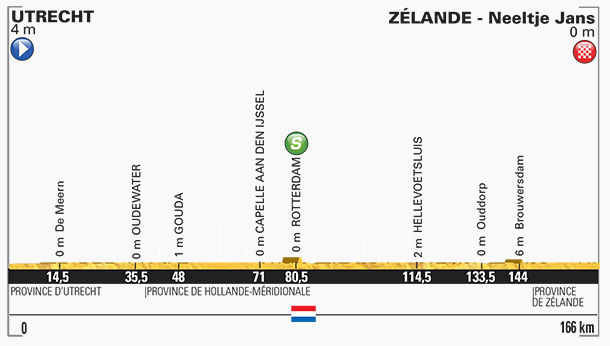 Stage 2 is 166km along the Dutch coast. That means we could get plenty of wind, which might destroy the hopes of the sprinters. The profile is very flat and if we don't get wind, we'll be in for a sprinting treat: Cavendish v Greipel v Kristoff v Sagan v Demare v Bouhanni v Coquard. For the first time, a stage will finish, "in the sea."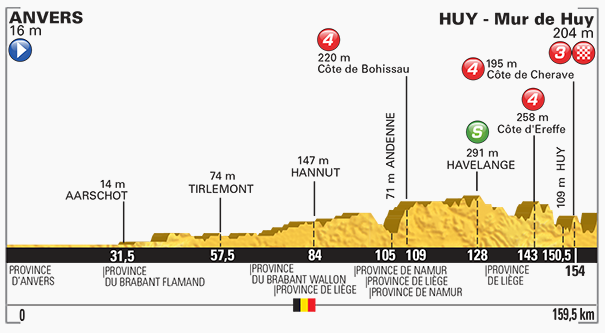 Stage 3 finishes, on the Mur de Huy. This is the first time the race has finished here and I can't wait. The big GC stars, normally don't do well in Flèche Wallone, so they'll be very anxious. The nerves will certainly lead to a few crashes and some attacking riding. The recently added, Cote de Cherave, will also feature. Valverde has won Flèche, in the last two years, he'll be hoping to take the win.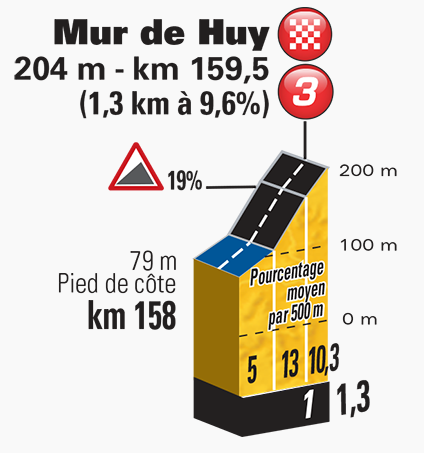 Of all the stages, I most excited about this, as the Mur, is my favourite climb.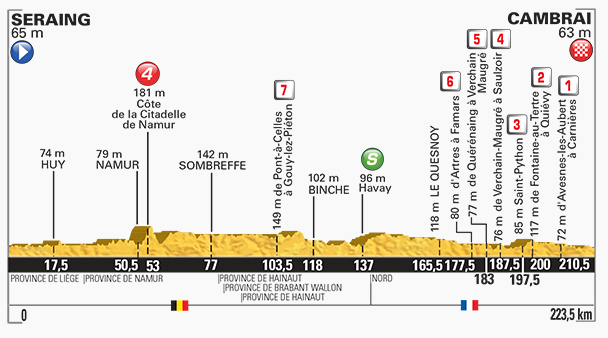 Stage 4 and we return to the cobbles. We have 7 sectors of pave, with 6 within 30km of each other. After the pave, there is just 13km left. 2014 brought terrible conditions and Nibali was the big winner, with Froome crashing and Contador looking nervous. Can the Italian strike a big blow here? It's not the same sectors as last year, hopefully the riders have done their homework! Of the sectors, only Saint Python, featured in the 2015 Paris-Roubaix.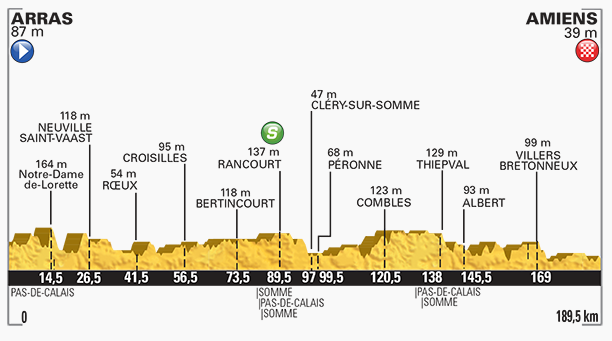 On stage 5, the race passes though the Somme, where many lost their lives during the First World War. This should be another sprint battle. Despite not having any classified climbs, this stage is lumpy and not as easy as it first looks.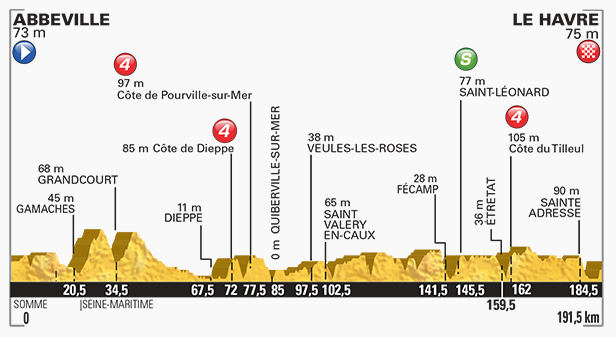 Stage 6 is another that could be affected by wind, as we ride along the Normandy coast line. The race ends with an 850m climb, at 7%. My type of finish. The sprinters and puncheurs will fancy winning this one, meaning a crazy finale.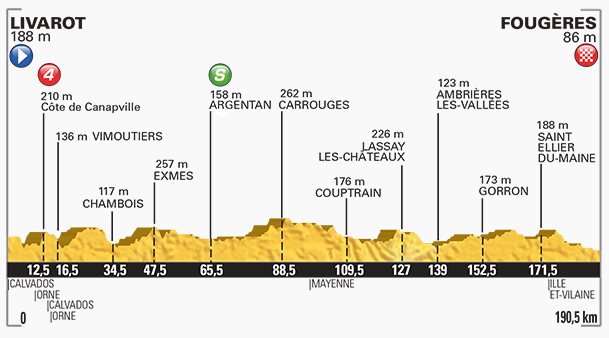 Stage 7 should be another for the sprinters, but also a good day to be in the break. It's possible to mis-calculate the catch, with all the little climbs. With so few opportunities for the sprinters, I wouldn't expect them to make a mistake, but you never know!
Stage 8 sees the return of the Mur de Bretagne. We were here in 2011, with Cadel Evans taking the win, from Contador and Vinokourov. The climb is 2km at 6.9%, but the opening kilometre is at 10%. This is a little beauty of a climb. A steep opening gives way to a much easier finish, where we should see a little sprint. GC men will be fighting the Ardennes men, but they'll all be fighting Valverde!
Stage 9 is going to be tough, really tough! A TTT over 28km, featuring 4 climbs. Climbs and TTTs, don't go well. It's hard enough keeping a group together, on the flat, let alone on these climbs. It finishes in Plumelec, where Valverde won in 2008. The final climb is 1.7km at 6.2%, but is deceptively hard. We will see some big gaps, bad news for some of the GC riders.
My Thoughts on the 1st Week
Week 1 of any grand tour is a dangerous place. You can't win the race, but you can certainly lose it. With stages finishing on the Mur de Huy and Mur de Bretagne, riders like Froome, will be concerned. Not only that, but you have the cobbles to deal with. Yes, the GC riders, will be happy when this week is over, especially if they stay within 1 minute of each other. It looks brilliant for Valverde, but that's not the Dauphine Valverde, but the Ardennes Valverde. Which one will we see? Him going well, would be great for Quintana, as he'll get an armchair ride, for a good few days.
Sprinting wise, Kittel is out, which is a massive shame. Andre Greipel, is going through a purple patch. He rode the Giro, as preparation for this race, picking up a stage in the process. Since then, he took a stage in Luxembourg and two stages in Ster, plus the GC. With the full force of Lotto behind him, he'll be the most confident of the sprinters.
Cavendish has enjoyed a great season, but with a poor Tour de Suisse, he might be starting to have some doubts. With his team looking towards the GC and sprints, they'll have to get the tactics, spot on. He does have Renshaw, but that wasn't enough in Switzerland.
Alexander Kristoff, has enjoyed a similarly good season to Cavendish. He did take a win in Suisse, and also beat Greipel in Paris-Nice. I wouldn't say he was faster than the big two, but he is hungry. If we get some rain, watch him go!
Week 2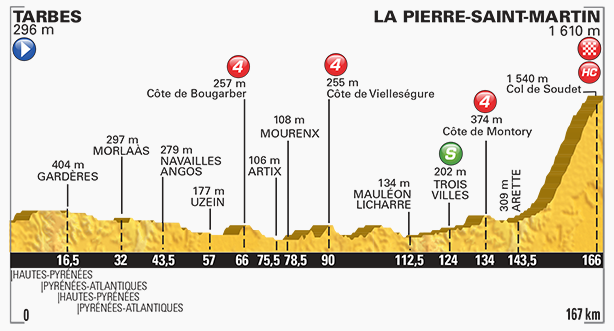 The second week begins with mountains. It's always nice to get a new climb and the finishing climb is just that. The climb is 15.3km at 7.4%, but the opening 10km is at 8.8%. This will test out the legs, especially after a rest day. It's also Bastille Day, expect the whole of France on the climb and in the break!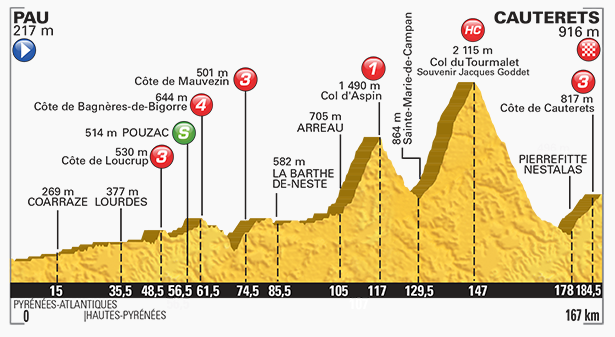 Stage 11 and we visit one of the most famous climbs in the Pyrenees, Col du Tourmalet. Home of many a TDF battle, this year it acts as the main course, before the desert. The stage finishes with a cat 3 climb of 6.4km at 5%, but who will be left to battle it out?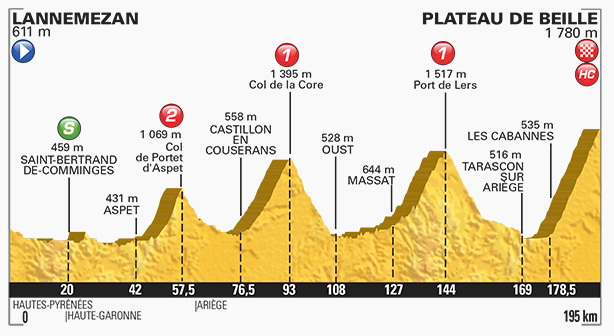 Stage 12 is the last day in the Pyrenees and it's the hardest. We return to Plateau de Beille, where Lance Armstrong and Marco Pantani, have won. Who will write their name in cycling history?
15.8km at 7.9%, this climb will give us a clear indication of who will battle it out for the yellow jersey. Expect to see at least one of the big four, falter.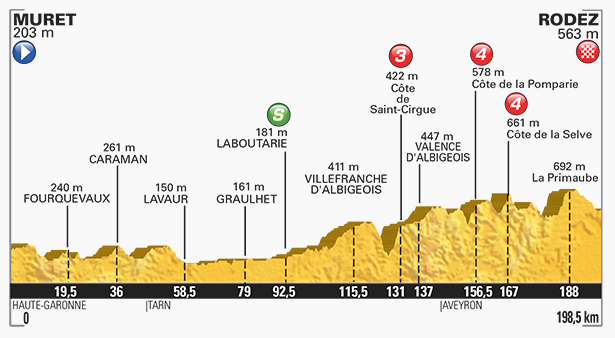 After battling through the first set of mountains, the sprinters are "rewarded" with this stage. The closing 70km, will see the pace high, as Sagan tries to eliminate the faster riders. This is the tour though, and the sprinters are used to digging deep! The stage will not scare Mark Cavendish, as he looks to add to his 25 stage wins.
Stage 14 and the third "wall" finish of the race. The organisers have been kind to the Ardennes riders, but this one might just be too long for them.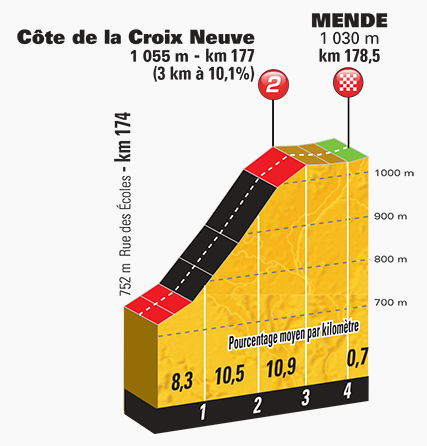 3km at 10.1%, followed by 1.5km of flat, is certainly a very interesting finish. This looks like being a day for the GC riders and I would expect to see a small group of riders arrive together. A rider like Simon Gerrans would hope to hold on, but realistically, I think this is too hard for most riders, but does that include Michael Matthews?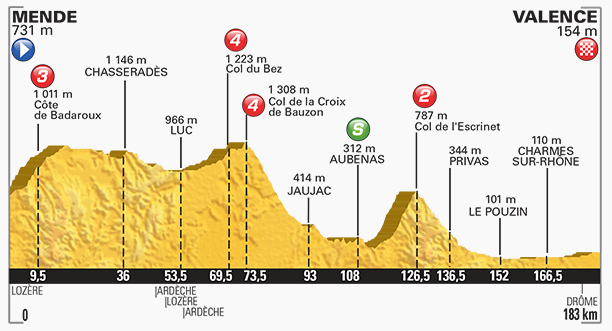 Stage 15 and it's a Sunday. These sprinters love winning a weekend stage and getting all the publicity they deserve. Getting over the cat 2 climb won't be easy, it's 7.9km at 5.9%, but they should be able to manage. We could see teams like Orica setting a fierce pace, to try and eliminate Cavendish and Greipel, but I've seen Cav winning harder stages than this.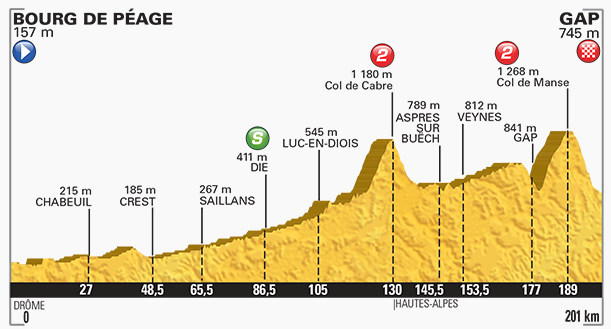 Stage 16 is the day before the rest day and we head to Gap. All that means, it's a day for the breakaway riders. Thor Hushovd took one of his best wins here, back in 2011. Rui Costa won on the last visit, in 2013. The Tour loves Gap and Gap loves breakaway riders. Getting in the break will be very difficult, but well worth the fight.
My Thoughts on the 2nd Week
This is where we'll start to see the challengers step forward. I would expect to see the teams battling to control the stages, not great news for breakaway hunters. We do have a couple of stages for sprinters, but they need to have their climbing legs.  The stage to Gap keeps the breakaway riders happy too. This week has something for everyone, especially the watching fans. The third week only has 5 stages, so expect to see a big GC sort out.
Week 3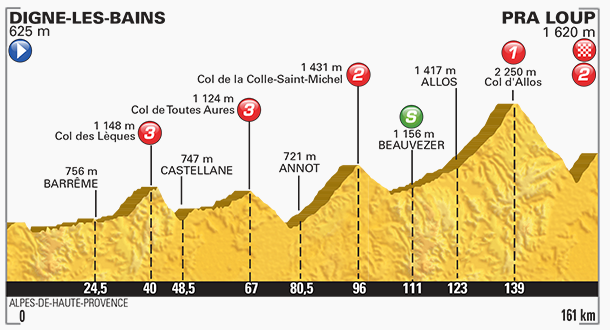 Stage 17, is a repeat of the Dauphine stage. The final descent is a beauty and the GC riders will attack Froome. He's not the best going downhill and he'll be praying for dry weather. If it's wet, he could lose serious time. The stage also looks good for breakaway riders, especially coming after the rest day.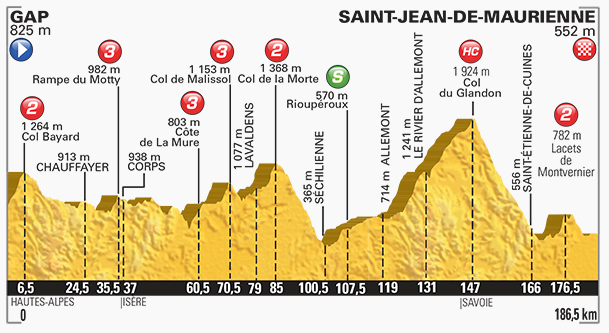 Col du Glandon is a horrible climb, 21.7km at 5.1%. After a long descent, we come to Lacets de Montvernier. It was also in the Dauphine, although not on live TV. It has 18 hairpin bends and could become a fixture in the race. Cresting with just 9km to go, ensures we will see plenty of attacks. This stage is going to be brilliant!
Another challenging day in the Alps awaits. Stage 19 features a new climb, Col de Chaussy. It starts immediately and could tease some teams into attacking, very early. In the middle of this short stage, 138km, is Col de la Croix de Fer.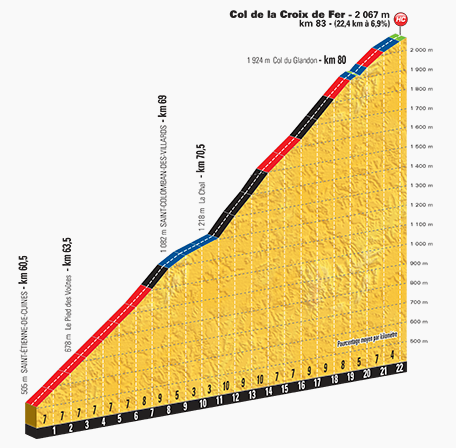 22.4km at 6.9%, is arguably, the hardest climb of the whole race. The stage finishes with another famous climb, La Toussuire. It's 18km at 6.1% and ends a difficult day in the saddle. Whoever is in yellow, is going to come under fire here. They'll need a strong team, to fend off the multiple attacks.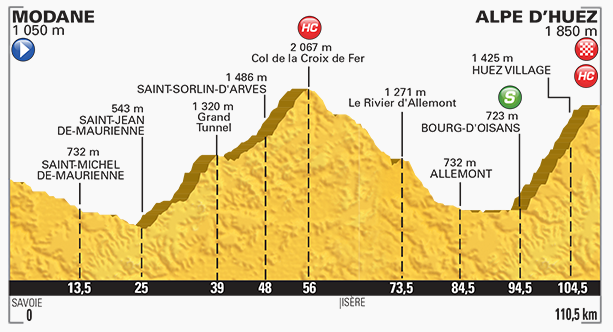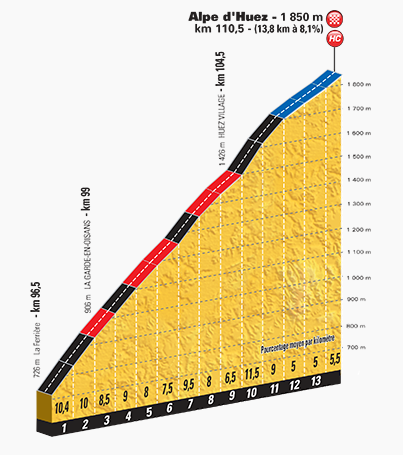 Stage 20 had to be changed. The Col du Galibier, has been removed, due to landslides. The stage will finish on Alpe d'Huez, with the riders heading over the Col de la Croix Fer, again! Probably the most famous climb in the Tour, will we see the battle for yellow going all the way to the penultimate day? The last two times here, it has been French riders taking the glory, Riblon and Rolland.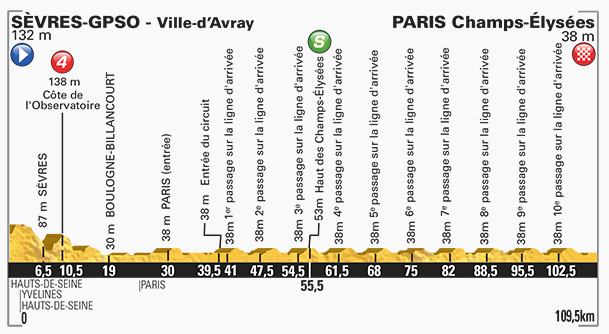 Stage 21 and we head for the Champs-Elysees. The yellow jersey will be settled and the sprinters will have one final chance of glory. Win here and your name is remembered forever.
My Thoughts on the 3rd Week
I'm glad I'm not a cyclist! Stages 17, 18, 19 and 20 are some of the hardest known to man. Riders need to save lots of energy for the final week, as it's brutal. I hope the GC battle remains tight and we get an Alpe d'Huez, showdown.
Teams
Lotto Jumbo:- Kelderman, Ten Dam, Gesink, Martens, Kruijswijk, Leezer, Vanmarcke, Tankink, Van Emden.
A team strangely lacking in workers. Ten Dam was 9th in 2014, but it was a massive surprise. Gesink has struggled to ride at the very top level, but in Kelderman, they have a star. Not a great season, but everything has been about this race. Kruijswijk was sensational, in the Giro, but holding his form will be hard. Vanmarcke is here for the cobbles, with the others looking for breakaways, especially as they don't have a sprint option.
GC – Kelderman, Sprinter – don't have one, Stage Hunters – Vanmarcke, Kruijswijk.
Giant-Alpecin:- Barguil, Curvers, Degenkolb, Dumoulin, Geschke, De Kort, Preidler, Sinkeldam, Timmer.
A team all about stage wins. They send a big train with Degenkolb. He has Geschke, Timmer, Sinkeldam, Curvers and De Kort. This is a serious sprint train, the longest in the race. Even with that train, Degenkolb will find it hard to win flat sprints. He has a better chance on harder days. Barguil will go for stages, once he is out of the GC picture. Dumoulin is all about stage 1 and if he wins it, he would expect to hold it for a few days.
GC – Barguil, Sprinter – Degenkolb, Stage Hunters – Geschke, Dumoulin, Preidler.
BMC:- Caruso, Dennis, Oss, Quinziato, Sanchez, Schar, Van Avermaet, Van Garderen, Wyss.
This squad is all about Van Garderen and the TTT. He can count on Caruso, Dennis and Sanchez to help in the mountains and they will be disappointed to not win the TTT. The American is hopeful of a top 3 finish, that sounds like talk to me. He should be happy with top 5, in this company. No sprinter, so might try for breaks, on the flat days.
GC – Van Garderen, Sprinter – don't have one, Stage Hunters – Oss, Van Avermaet.
Trek:- Arredondo, Cancellara, Devolder, Didier, Irizar, Jungels, Mollema, Rast, Zubeldia.
Another team that arrives without a sprinter, but with a GC hope. They signed Bauke Mollema to become their GC man and he's had a good season. Injury held him back in the Dauphine, but he should be looking to better his 10th place from last year. Bob Jungels has been fantastic, this season. He'll be on hand to help his team leader and also hopeful of a top performance in stage 1. Cancellara is here to win stage 1 and take yellow. He'll want to hold onto it and win the cobbled stage too. Week 1 is good for Fabian. Arredondo is stage hunting, maybe looking towards the polka dot jersey and Zubeldia will be his usual self. You don't see him all race and he finishes in the top 15!
GC – Mollema, Sprinter – don't have one, Stage Hunters – Cancellara, Arredondo, Jungels.
Lotto Soudal:- Bak, De Gendt, Debusschere, Gallopin, Greipel, Hansen, Henderson, Sieberg, Wellens.
This team is all about Greipel. He arrives with a very strong lead-out train. They will go Hansen, Sieberg, Debusschere, Henderson and Greipel. They will expect wins, especially with no Kittel. The inclusion of Debusschere, is an interesting pick. He has been selected instead of Roelandts and is quick, but I can't help thinking that he isn't as good as Yogi. Wellens, Gallopin and De Gendt will have free reign to attack and try to take a couple of stages and maybe the polka dot jersey.
GC – Don't have one, Sprinter – Greipel, Stage Hunters – De Gendt, Gallopin, Wellens.
FDJ:- Seb Chavanel, Demare, Geniez, Bonnet, Ladagnous, Morabito, Pinot, Roy, Vaugrenard.
A team splitting itself in two! Pinot will be helped by Geniez and Morabito. Considering he was 3rd in 2014, he would have expected more help. I would be a little disappointed, if I were he. Demare has Chavanel, Bonnet and Vaugrenard to help him. This is nowhere near the level required for the Tour. A real shame that they have tried to help both riders but haven't managed to put enough quality behind either.
GC – Pinot, Sprinter – Demare, Stage Hunters – Geniez.
Katusha:- Kozontchuk, Guarnieri, Haller, Paolini, Kristoff, Rodriguez, Machado, Caruso, Losada.
Another team looking after a sprinter and a GC rider. FDJ should look at this squad with envy. They have provided top quality help for both team captains. Kristoff arrives with his trusted lead out train of Kozontchuk, Haller, Paolini and Guarnieri. They have helped him take many wins and he will win, 1 or 2 stages. Rodriguez was looking ready to hit some form, in the Dauphine. He doesn't have Moreno but does have Losada, Caruso and Machado. This is a very strong team and they'll expect wins from both captains and a top 5 finish from Rodriguez.
GC – Rodrgiuez, Sprinter – Kristoff, Stage Hunters – Machado
IAM:- Brandle, Chavanel, Clement, Coppel, Elmiger, Frank, Hollenstein, Pantano, Wyss.
The debutants will be hopefully of picking up a stage win. They have left their sprinters at home and focus on helping Matthias Frank to try and break into the top 10. When away from the mountains, they have plenty of opportunists. Coppel is flying just now and is a name to remember for mountain breakaways. Brandle, Chava and Clement will hope for a top 10 finish in Utrecht. Frank can count upon the help of Coppel, Pantano and Wyss. A solid team, especially considering it's their first Tour.
GC – Frank, Sprinter – don't have one, Stage Hunters – Chavanel, Brandle, Elmiger
MTN-Qhubeka:- Boasson Hagen, Cummings, Farrar, J Janse Van Rensburg, R Janse Van Rensburg, Kudus, Meintjes, Pauwels, Teklehaimanot.
Another debutant. They have left some of the big names at home and will be hoping for stage wins. EBH will have a few opportunities and is in good form. Cummings will hope to challenge in stage 1, with Meintjes looking to shine in the mountains. I don't see him challenging for GC, but could take a stage win, in the Alps. Despite having Farrar, they don't really have a top sprint option, for flat days.
GC – Don't have one, Sprinter – don't have one, Stage Hunters – EBH, Meintjes
Bora-Argon 18:- Barta, Bennett, Buchmann, Dempster, Huzarski, Mendes, Nerz, Schillinger, Voss.
The last of the debutants. They look like they wanted to back Bennett, but got scared. They arrive without his best lead-out man, Shane Archbold. This is a mistake and Bennett will struggle to compete in the sprints because of it. GC wise, they have Mendes and Nerz, but look weak in this area. They should really have backed Bennett, with one more man. A decision they will live to regret.
GC – Don't have one, Sprinter – Bennett, Stage Hunters – Barta, Huzarski, Buchmann.
Etixx:- Cavendish, Kwiatkowski, Martin, Uran, Stybar, Renshaw, Vermote, Trentin, Golas.
Another team splitting themselves between sprints and the GC. They have the World Champion and Uran, as their GC riders. They will be supported by Golas, a loyal servant to Kwiatkowski. In the sprints, they have Martin, Vermote, Trentin and Renshaw to lead out Cav. This is not as strong as Cav would like. They signed Sabatini, to ride in number 3, but he has been poor. That means, Matteo Trentin, will be drafted into the position. This isn't a great move, as the Italian can struggle in that role. Once Tony Martin pulls off, I would expect to see the other teams swamp Etixx and they will have a struggle on their hands. Kwiatkowski will be looking forward to the first week, with plenty of stages for him. The team will also go well in the TTT. I will be amazed if he doesn't wear yellow, in the first week. That will hurt the chances of Cavendish in the sprints.
GC – Kwiatkowski & Uran, Sprinter – Cavendish, Stage Hunters – Stybar, Martin
Astana:– Nibali, Fuglsang, Boom, Grivko, Scarponi, Westra, Gruzdev, Taaramae, Kangert.
Here with one focus and that is Nibali. Having dropped quite a few kilos since the Dauphine, Nibali is a big threat. The team look good for the cobbles, but maybe a little lacking in the high mountains. They will hope that Fuglsang, Scarponi and Kangert can last the pace. Kangert did well in the Giro and Scarponi has been very impressive, this season. Fuglsang looked great in the Tour de Suisse, until the Queen stage. At that point, his old flaws, resurfaced. Nibali's performance on the Mur de Huy, will give an indication of what he is capable of this year. When not in great form, he is terrible on the short, steep stuff.
GC – Nibali, Sprinter – don't have one, Stage Hunters – Taaramae, Boom.
AG2R:- Peraud, Bardet, Cherel, Gastauer, Gaudin, Vansummeren, Vuillermoz, Bakelants, Riblon.
After their overwhelming success in 2014, you can't help but think they only way is down. Peraud has not been in good form and a top 10 result would be a bit of a surprise. Their hopes rest with Romain Bardet. He's had a consistent year, but not brilliant. He was 5th in Andalucia, 9th in Trentino, 9th in Romandie and 6th in the Dauphine. His stage win was a brilliant example of attacking riding and I would like to see him continue that in this race. With so many superstars here, he could benefit from some freedom. It's going to be very hard to better his 6th place from 2014. Keep an eye out for Alexis Vuillermoz. He was 11th in the 2014 Giro and has a lot of potential. He will be crucial to their hopes of claiming the Team Classification.
GC – Bardet & Peraud, Sprinter – don't have one, Stage Hunters – Bakelants, Riblon.
Bretagne Seche:- Sepulveda, Fedrigo, Brice Feillu, Delaplace, Fonseca, Gerard, Vachon, Perichon, Brun.
The French squad arrive with almost an all French team. The only foreigner is their team leader, Sepulveda. The Argentine, is a very talented rider and was devastated to miss out in 2014. He has claimed some good results in 2015: 4th in San Luis and 2nd in Turkey. This is his first grand tour, so he'll need to see how he copes with the final week, to decide if he can threaten for a top 10 spot. If he doesn't this year, he will in the future.
GC – Sepulveda, Sprinter – don't have one, Stage Hunters – Fedrigo, Feillu.
Movistar:- Anacona, Castroviejo, Dowsett, Erviti, Jose Herrada, Gorka Izagirre, Malori, Valverde, Quintana.
This is a serious looking squad. They have workers for the flat lands and plenty of help in the mountains. When the roads get steep, Quintana can count upon the help of Anacona, Castroviejo, Herrada, Izagirre and Valverde. That puts him in a strong position. Certainly one of the strongest squads, the will also be capable of doing a good TTT. My only concern is the cobbles, but they don't really have a specialist in their squad. Quintana will be very pleased with this squad, as he looks to try and claim his first yellow jersey. Questions will be asked about Valverde and whether he will help Nairo? Of course he will, he's here to do a job, but having him high on GC is a good thing, not a bad thing!
GC – Quintana, Sprinter – don't have one, Stage Hunters – Valverde, Anacona.
Sky:- Froome, Porte, Konig, Poels, Roche, Stannard, Rowe, Kennaugh, Thomas.
Wow! The strongest TDF squad I've seen in a long time. The help that Froome will have in the moutains, will be the envy of all teams. The only issue is what order they'll line up in. Thomas, Porte and Poels will all be vying for the final spot, in the lead out. Froome will be very happy and having this team behind him will increase his confidence. I would expect to see Team Sky dominate the mountain stages and try to put the other teams under pressure. It's going to be important to keep as many riders high on GC as possible. That might just free Geraint Thomas up, to have a crack on the cobbles. Whatever happens, Team Sky are going to have a large say in the race.
GC – Froome, Sprinter – don't have one, Stage Hunters – all about Froome.
Cannondale Garmin:- Martin, Talansky, Hesjedal, Bauer, Koren, Langeveld, Navardauskas, Van Baarle, Hass.
They arrive with two captains, Martin and Talansky. With the Mur de Huy and Mur de Bretagne, we should see Dan Martin emerge as their star. He's had a poor year but a good TDF will save his season. These stages are perfect for him and I would hope to see him challenging for stage wins and a top 10 overall. Not sure what to make of Talansky. He has lots of talent but I get the feeling he isn't 100%. Ryder Hesjedal was back to his best, in the Giro. Such a strong ride, should fill him with confidence for the Tour. He's here to support his leaders but watch out for him going in breaks. The Canadian has a good record of converting breakaways, into stages.
GC – Martin & Talansky, Sprinter – don't have one, Stage Hunters – Hesjedal, Navardauskas
Lampre:- Bono, Cimolai, Costa, Durasek, Oliveira, Plaza, Pozzato, Serpa, Valls.
For a team like Lampre, this is an impressive looking squad. Rui Costa has unfinished buisness, after having to DNF in 2014. Winner of 3 stages, he is massive rider. This season has been good, his best result was 3rd in the Dauphine. He has solid riders to help in the mountains: Serpa, Oliveira, Plaza, Durasek and Valls. In fact, solid, is doing them a disservice. Valls won in Oman and Durasek in Turkey. This is the best GC line up, that Lampre have had here, for a number of years. Costa will be going for top 10 and praying for top 5. Cimolai will be eyeing up the uphill finishes, expect him to feature in Le Harve.
GC – Costa, Sprinter – Cimolai, Stage Hunters – Pozzato.
Tinkoff-Saxo:- Contador, Sagan, Rogers, Majka, Bennati, Basso, Kreuziger, Valgren, Tosatto.
Contador's boys certainly look weaker than Sky. Not only is Alberto trying to do the Giro/Tour double, but he arrives with many riders who also competed at the Giro. Whereas Froome has 7 riders in support of him, Contador really only has 5. Sagan is here and he wants stages and another green jersey. To help him he only has one rider, Daniele Bennati. The Italian is in amazing form and they make a very strong partnership. The double is mythical, and last achieved by Marco Pantani, in 1998. Contador is the rider of his generation and the only one capable of doing it. He could really do with a strong Majka, as having someone near the end of the climbs is very important. A surprising omission is Jesus Hernandez. I doubt Contador will be too happy with this decision.
GC – Contador, Sprinter – Sagan, Stage Hunters – Valgren
Europcar:- Coquard, Gautier, Gene, Nauleau, Quemeneur, Rolland, Sicard, Tulik, Voeckler.
A weird squad! They have plenty of talent, but a lack of support for their captains. Coquard was one of the surprises of 2014, finishing 3rd in the green jersey competition. He just won two stages in Route du Sud, but is seriously lacking helpers. He stands little chance of success, competing against the big sprinters and fast trains. His best position in 2014 was 4th, I doubt he'll be able to do better. Pierre Rolland has serious pedigree. He has finished 11th, 10th and 8th, in the Tour, but can he step up again? He was outstanding in the 2014 Giro, finishing in 4th place. He has bags of potential but sometimes lacks decision making skills. Voeckler will be Voeckler!
GC – Rolland, Sprinter – Coquard, Stage Hunters – Voeckler, Sicard
Cofidis:- Navarro, Bouhanni, Laporte, Senechal, Soupe, Simon, Mate, Edet, Vanbilsen.
They arrive with a battered and bruised Bouhanni. It was all looking good for him, but the next moment he's on the deck and thinking he won't make the Tour. The x-ray showed that he had no broken bones, but he is battered and bruised. A lot has been made of Cofidis building a train for him. Despite his wins in the Dauphine, I don't see it. There, he was sprinting against a tired Modolo and not much else. They are his only significant wins of 2014 and his lead out, is non-existent. He does have Soupe, an outstanding pilot fish. Vanbilsen will be in front of them, but the rest are not of the quality required. In fact, I doubt Vanbilsen will be able to match the other riders in rival teams. Julien Simon, could be drafted in at 3, and he has looked quite good but again I don't think he's better than the other number 3 riders. The lead out is poor, Bouhanni is bruised, I don't see many reasons to be cheerful! GC wise, they have Navarro. His season has been ruined by injury, but he is fit and ready to impress. 16th in the Dauphine was a step in the right direction, but a top 10 spot looks a long way away.
GC – Navarro, Sprinter – Bouhanni, Stage Hunters – Senechal, Edet
Orica Greenedge:- Simon Yates, Adam Yates, Matthews, Durbridge, Gerrans, Impey, Tuft, Weening, Albasini.
The Aussies expect to be challenging on a number of fronts. They have Matthews and there are plenty of stages that suit him. I doubt he'll bother getting involved in flat sprints, as there is too much competition here. He'll be a lot more selective and the team will be fresh for their "marked" stages. They also have Gerrans, who will be looking at a couple of victories. GC wise they have the Yates twins. Simon has had a better season, in fact, he's had a great season: 5th in Pais Vasco, 6th in Romandie and 5th in the Dauphine. He's only 22 years old, so expect the odd bad day.
GC – Simon Yates, Sprinter – Matthews, Stage Hunters – Weening, Adam Yates, Gerrans.
The Sprints
With so many talented riders, the sprints are going to be fast. As normal, it's going to come down to sprint trains. It might surprise you that I don't think Etixx arrive with the strongest train. We have seem them dominate for a long time, but they have really struggled to find the right mix, in front of Renshaw. Yes, they have won plenty of races in 2015, but they haven't had to compete against the other top trains. There are two sprint trains, far better than the rest: Lotto and Giant. The Belgians arrive with a very settled squad, with the exception of Debusschere. He replaces Roelandts, but this was tested in Luxembourg and Ster, with positive results. In Ster, each man, went way past their metre markers. In fact, Henderson launched his lead out, with just 150m to go, in stage 2. Lotto are looking great!
Giant are also looking strong, but are missing two of their most important men: Veelers and Kittel. These men were unstoppable, in 2014, and have left two enormous holes. Trying to fill the gaps are Ramon Sinkeldam and John Degenkolb. The pick of Sinkeldam is very interesting. He's a very fast rider and finished 2nd in the Dutch RR, but I have some doubts as a lead out man. They'll probably go with him at 3, leaving De Kort to guide Degenkolb into position. It's not a tried and tested train, but these boys spend a lot of time working in training. Giant will be good, but Degenkolb lacks the speed required to win multiple stages. He is quick, but not at the same level as Greipel and Cavendish.
Peter Sagan is a man who doesn't need a big lead-out train. Give him Daniele Bennati and he's happy. The Italian was outstanding in Tour de Suisse, so was Sagan. With his eyes firmly set on another green jersey, Sagan knows that he needs to finish in the top 5, on flat days, and win the tough days. Expect to see him mixing it on the flat days, especially as Bennati is looking as good as ever, just now.
Cavendish will expect wins, but he might have to wait until later in the race. It might take a few stages for the squad to click, especially with Trentin at 3. Having a slightly weaker train, is going to make life difficult for Cavendish. Can he come round Greipel? No one is really sure, we haven't seen them sprint against each other for a very long time. He is in brilliant form, his performance in the British RR was amazing. He has the speed and the experience, can his train deliver him into position?
What about Kristoff? He will win stages, but probably on technical/wet days. His train is good but not as good as Lotto and Giant. The others are scared of his raw power and is ability to hold positions. He loves a roundabout!
The French boys are talented but lack quality trains: Demare, Bouhanni and Coquard will only disappoint.
I doubt we'll see any sprinter taking 3 or more stages. It looks like the stages will be shared around, as they are quite even in ability. The Lotto train, edge it for me and I see Greipel being the man to beat, especially in an easy sprint finish. On the harder days, it's Sagan v Kristoff v Matthews v Degenkolb. Any stage that finishes in a sprint, is going to her very close and exciting to watch.
The GC Battle
The first 9 stages will see a race within a race. The GC riders are going to be worried about losing time on the Mur de Huy, the cobbles, Mur de Bretagne, Le Harve, the ITT and the TTT. What a opening week we have, the best in memory. The cobbles is where we'll see the biggest gaps but I don't think it will be as big as last year. That was a real novelty, but the riders will now be better prepared and I don't think Nibali will make huge gains, unless the weather is poor.
Once in the mountains, expect to see Contador, Froome and Quintana coming to the fore. I was going to rule out Nibali, but he won the Italian RR and looks very thin. At last, he seems to be back at his 2014 level. If he performs as well as last year, we could be in for an enormous treat! Looking to break into that elite rider bracket, is Van Garderen and Pinot. Out of the "others" they seem best suited to cope with the demands of this race. Although, it will take a hell of a performance to make the podium.
Don't write off Michal Kwiatkowski. The Pole was 11th in 2013, and I have a sneaky feeling that he is targeting a big performance. He used the Tour de Suisse as preparation and I think we'll see him come out flying. He'll take the yellow jersey, on Mur de Huy, and hold onto it for a long time. A top 10 finish is within his capabilities, maybe even better.
We were denied a Contador/Froome battle in 2014, but got it at the Vuelta. Contador was miles better than Froome, although the Kenyan struck back in Andalucia. Contador won the Giro, against a very strong Astana, Froome won the Dauphine. Can Contador do the mythical double? I think he can. These two are going to be locked in an amazing battle, but if they focus on each other, little Quintana, might just surprise them all. If he can slip away, while the other two argue about chasing, it could be all over. This is the beauty of the 2015 Tour de France. With so many contenders and so many mountains, anything could and probably will happen.
Prediction Time
I'll go with Contador for yellow, Sagan for green, Quintana for white and Arredondo for polka dots.
Why Contador?
The last time he locked horns with Froome, in a GT, he smashed him! Yes, Froome has the stronger team but he'll be concerned with the cobbles. If Contador can take 1 minute on him, he'll be able to follow wheels in the mountains. The double is very hard to do, but I am a huge fan of his, and the romantic bit in me would love to see it done. If he does, get ready for him to ride the Vuelta and go for the treble!
Why Sagan?
Just so consistent. He'll finish in the top 5, on flat days, and get lots of points on harder days. The sprinters will share out the victories, making it almost impossible for them to compete.
Why Quintana?
Best young rider by a mile!
Why Arredondo?
Winner of the KOM jersey, in the 2014 Giro. Brilliant in the mountains and not a GC threat. After the cobbles, he'll be well down on GC and free to go in the breaks and collect valuable points.
Get ready for 3 weeks of the most brutal racing you've ever seen. This race is going to go down in history!
David Hunter
Follow us on @CiclismoInter
Join us on facebook: Ciclismo Internacional
Copyright © 2015 Ciclismo Internacional. All Rights Reserved