Tour de France 2015 – Stage 1 Preview
By David Hunter
Utrecht – Utrecht 13.8km ITT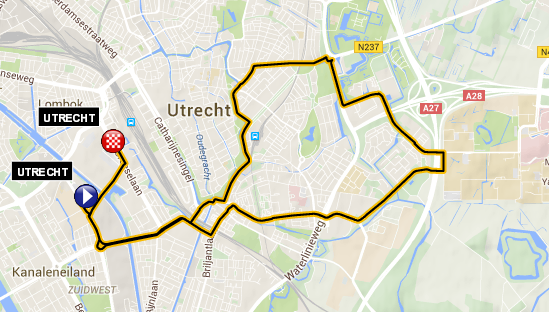 No prologue, no road stage, we are straight into a TT. At 13.8km, it's long enough for some proper gaps and the winner could win by around 5 seconds. The route is technical, with a lot of corners to be covered. Despite the corners, we do have opportunities for the powerful riders to take advantage. I don't expect to see any surprises, only a few riders are capable of winning this stage.
Tony Martin – This year, he won the German TT title and ITTs in Algarve and Romandie. He was 4th on Col d'Èze and a disappointing 11th in Pais Vasco, where he was the only rider to use his TT bike. The length of this TT is very similar to the Tour of Belgium. In 2013 and 2014 he won the TT, over 15km and 16.7km. On both occasions, the man in second place was Tom Dumoulin. Just saying!
Fabian Cancellara – For a long time, the best TT rider in the world. That honour hasn't been his for a while, but he's still capable of winning TTs. This season, he won in Tirreno Adriatico, against Malori. He was 2nd in Qatar and 3rd in Tour de Suisse(prologue). The ride in the Tour de Suisse was very strong, despite being ill for much of the previous week. His win in Italy, was over 10km. He managed to beat Malori by 4 seconds and continued a great start to 2015. That great start faded away and it's not been a wonderful season. Can he roll back the clock? Amazingly, he hasn't won an ITT in the Tour, since 2010.
Tom Dumoulin – The new kid on the block. After a string of second places, he took a massive win in the Eneco Tour. Beating Cancellara by 2 seconds, over 9.6km. This season, he has competed in two ITTs and won both. They were in Pais Vasco and recently in the Tour de Suisse. He seems to have made the move into the elite bracket of TT rider and is a real contender for this stage. He has great acceleration, which is particularly useful on this course. He had to go very deep, in the Tour de Suisse, has he had enough time to recover? That would be my only concern. He is Dutch and would love to win the stage and wear yellow, in his homeland.
Adriano Malori – The Italian, riding for Movistar, has plenty of wins. He was a regularly on the top of the podium, in 2015, but has only one in San Luis, this season. That was before he won the Italian championship, but not against any quality. Cancellara beat him in Tirreno, Dumoulin and Cancellara beat him in Suisse and Tony Martin had the better of him in the Algarve. His only win against the big boys, was in the 2014 Tirreno. That day he was the beneficiary of some motorbike drafting, that won't happen here. It's unlikely that he'll beat all the big names here.
Michal Kwiatkowski – On his day, he is capable of winning this stage. The route looks good for him, thanks to his speed out of the corner and is superior bike handling skills. His TT form has not been great in 2015, except for his prologue win in Paris-Nice. He wants to go very fast, as he has the chance of taking the yellow jersey on the Mur de Huy. He was poor in the Tour de Suisse, but was only using that as training. He has been focused on this race all season and is ready to peak. I would expect a big performance from him.
Geraint Thomas – What a season he's had. Winner of E3 and a stellar spring campaign, then he goes and nearly wins the Tour de Suisse! He looks thin and is flying, remember he matched Dumoulin for most of the final TT, in Switzerland. A former track gold medal winner, he will love this stage. Of all the Sky riders, he has the best chance. Certainly an "outsider" compared to the other riders I've mentioned, but he might just surprise!
I could mention Dennis and Dowsett but I really don't think they will contend for the win. Of the GC riders, Contador should go the best. Froome hasn't done a good TT since the 2014 Dauphine.
As it stands, the weather looks good, in fact it's going to be a very hot day. There could be some rain, early in the day, but conditions should be great for the late starters. That's good news for the all big boys!
Prediction Time
It's just long enough for Tony Martin to win. The route favours Dumoulin but experience counts and the German will be in yellow at the end. It will be his first ever yellow jersey, in the Tour.
David Hunter
Follow us on @CiclismoInter
Join us on facebook: Ciclismo Internacional
Copyright © 2015 Ciclismo Internacional. All Rights Reserved