Tour de France 2015 – Stage 3 Preview
By David Hunter
Anvers-Huy 159.5km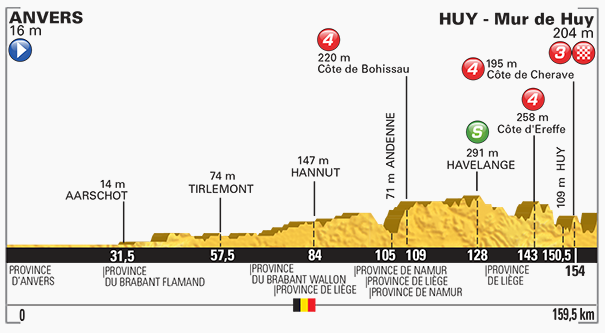 This is not Flèche Wallone! Yes, we finish on the Mur, but this stage is around 10% as hard as Flèche. Their, the riders cover 11 climbs, with the Mur done 3 times. This isn't even a mini Flèche Wallone. This is a very easy stage, with a hard finish. It opens the door to a number of riders who would not be able to win the Ardennes Classic.
The stage is short and really begins after 143km. The Cote d'Ereffe is 2km at 5.1%. The next climb is the Cote de Cherave. This was introduced into Flèche, just this year. It's a very difficult, 1.3km at 8.1%. It really is a grind and will see the first selection made. It crests with just 5.5km remaining, so watch for attackers trying to get a gap. Vincenzo Nibali, attacked on this climb, as did Tim Wellens. The Belgian got a gap, but was caught on the lower slopes of the Mur. This is a perfect launching pad for an attack, I'm sure we'll see plenty.
The race ends with the legendary, Mur de Huy.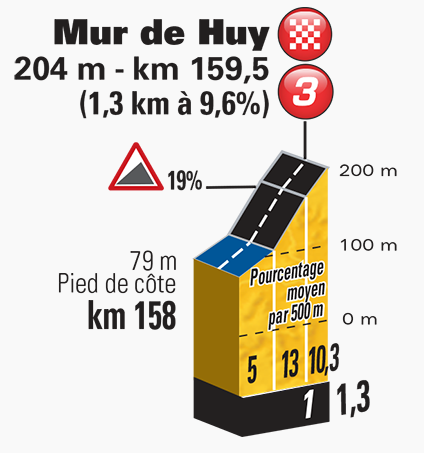 1.3km at 9.6%, with a maximum gradient of 19%. One of the most iconic climbs in cycling. Winning this stage is something that any rider would love to do. The finish to this stage is going to be crazy!
Where to begin? The peloton is huge and the easy profile means that the whole bunch will arrive at the penultimate climb. The battle for road position is going to be mad and will lead to a number of crashes. All the teams will be trying to reach the front but only one or two will succeed.
The Cherave, really impressed me, in Flèche Wallone. It's a tough climb and it begs riders to attack. Those that lack a really explosive finish, will want to go here. Getting away, is a different story! Cancellara is in the race lead, but he only has 3 seconds to Tony Martin, 6 seconds to Tom Dumoulin, 33 seconds to Peter Sagan, 35 seconds to Geraint Thomas and 42 seconds to Daniel Oss. Cancellara will be determined to hold onto his jersey, but he's going to come under threat from Tom Dumoulin. It's a bit much for Sagan to take 33 seconds on such a short climb, so Fabian will be watching Tony Martin and Dumoulin. Cancellara should be able to climb better than the German, but the Dutchman, can climb very well. He finished 3rd in Paracombe, during the TDU, on a very challenging climb. This is his big chance to wear yellow. Opportunities like this, don't come around too often. Don't forget that Cancellara can also climb well, and will benefit from the extra energy, the yellow jersey can give you.
Trek's tactics are going to be interesting. They have to try and protect the yellow jersey, but also need to focus on Mollema.  That means, Julian Arredondo, might have to sacrifice his own ambitions. The finish is great for him, he was 11th in the 2014 Flèche Wallone. I would expect to see him be on worker duties, which is a shame. He'll get his reward later in the race.
The overwhelming favourite for the stage is Alejandro Valverde. He's won Flèche Wallone on 3 occasions, including 2015. There are some big questions surrounding his form just now, despite his win in the Spanish Championships. He usually copes well with poor conditions and I was surprised to see him lose ground today. I get the feeling he's not at 100%. The lack of a demanding stage also goes against him. He excels in long, hard races. Against riders who will be fresh, I'm not sure if he has a huge advantage. It seems crazy to suggest this, but previous form in Flèche Wallone, doesn't mean an awful lot here. This statement could well come back to haunt me!
To win this stage, you need to be able to climb well, but also be explosive. The other contenders are:-
Peter Sagan – In great form and unlucky not to win today. As we all know, he climbs very well, and this type of finish should be great for him. It will be hard to take 33 seconds on Cancellara, but he'll try! Hopefully, he doesn't have to wait for Contador!
Joaquim Rodriguez – Brilliant on these types of finishes. He crashed today and has been moaning about injuries to his elbow and knee. Not a great sign.
Dan Martin – Has the kick, has the climbing ability but does he have the luck? Never seems to be in the right position and also seems to carry a large slice of misfortune, wherever he goes.
Michael Albasini – This is his type of finish. Copes well with the short climbs and has a very fast finish. He'll be given a sprint train, to bring him into the climb. This puts him at a serious advantage to the rest. If he isn't feeling great, they can also turn to Michael Matthews and Simon Gerrans.
Michael Kwiatkowski – Did a brilliant job today and looks to be riding into a bit of form. His recent races have been poor, as was his TT. I was getting concerned for him, but he was great today. Another rider who is brilliant on this type of finish, he'll have a big part to play in the stage. if he is not feeling great, they will shout on Stybar, although someone needs to try and help Tony Martin, into the yellow jersey.
Tim Wellens – Has a good chance of a getting in a late break. Such an attacking rider, he's always willing to make the risky move. He'll have a chance of succeeding, but it depends on the amount of riders he can take with him.
Froome/Contador/Nibali/Quintana – On paper, they lack the explosive kick required to win this stage. But, this is the tour, and they are the top 4 riders. I would not be surprised to see one of them standing on the podium at the end of the day.
Van Garderen – Cast your mind back to 2014, stage 2 of the Tour. We had the climb of Jenkin Road, 800m at 10.8%, that crested with 5km remaining. The American, was second over the climb, behind Chris Froome. He's another that cannot be written off!
Van Avermaet – The easy stage opens the door to GVA. After a brilliant season, this would be the icing on the cake. He might have to help Van Garderen, but do not underestimate the Belgian.
Speaking of Jenkin Road, I see this as something similar. That day, we had the top GC riders mixing it with Sagan, Albasini, Gallopin and GVA.  It was a harder stage, than we have tomorrow, but I think comparisons can be drawn.
The lead-in, to the Mur, is vital. You really need a team who are capable of a very fast lead out. That puts Orica, BMC and Tinkoff in a great position. The Aussies will probably be the first team onto the climb, but having a few riders in front of Albasini, is important. On Jenkin Road, he was left isolated, but the easier stage should allow them to give him proper support.
Prediction Time
Forget about Flèche Wallone!!!
This is about the GC riders and Sagan, Albasini and Van Avermaet. It is incredibly difficult to call, but I think that Orica will control the finale and the break will be caught. They should enter the climb and set a fierce pace, but it makes it even better for the GC stars. I'm going to go out on a limb here and pick Peter Sagan. He's in brilliant form and the finish should be within his capabilities. I think Tom Dumoulin will move into the yellow jersey.
David Hunter
Follow us on @CiclismoInter
Join us on facebook: Ciclismo Internacional
Copyright © 2015 Ciclismo Internacional. All Rights Reserved