Tour de France 2015 – Stage 7 Preview
By David Hunter
Livarot – Fougeres 190.5km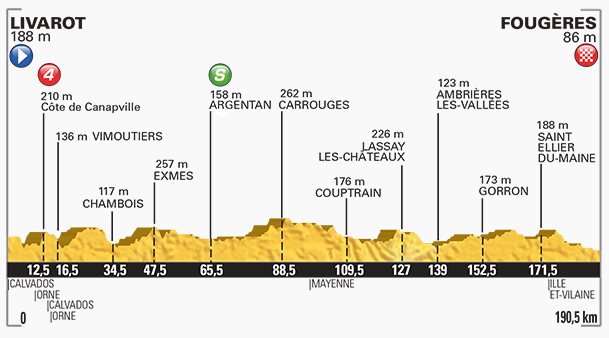 The race continues it's stay in Britanny, with a day designed for the sprinters. The profile isn't easy, as the roads in this area are rarely flat. There is just one, cat 4 climb, so Daniel Teklahaimanot, will have another day in the KOM jersey. This stage is all about the sprinters, so let's get straight to the finish.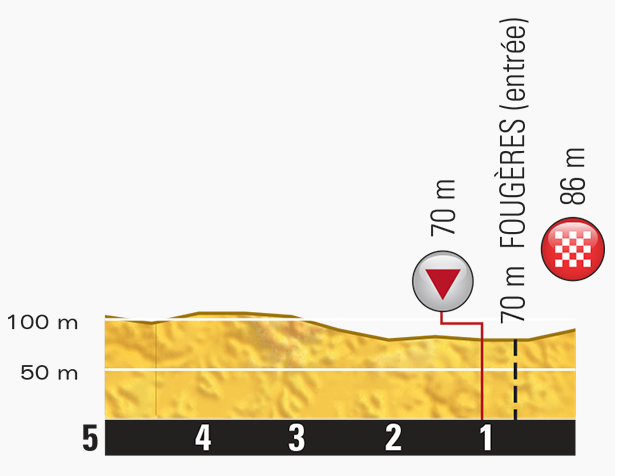 The stage ends with a little bump! It's only around 3% but certainly makes the finish a little more interesting! Injuries have had a massive impact on the sprint trains and you all know, I love talking sprint trains. Time to look at the new line ups.
Etixx – Kwiatkowski, Stybar, Trentin, Renshaw, Cavendish.
Lotto Soudal – Gallopin, Sieberg, Debusschere, Greipel.
Giant Alpecin – Timmer, Curvers, Sinkeldam, De Kort, Degenkolb.
Katusha – Paolini, Guarnieri, Kristoff.
MTN – JJ Van Rensburg, Boasson Hagen, Farrar.
Tinkoff Saxo – Bennati, Sagan.
Europcar – Gene, Coquard.
FDJ – Chavanel, Demare.
Most teams are counting the cost of the opening six stages. Key men are missing. Before the race I said that Lotto had the best sprint train. The crashes have seriously depleted them, and Greipel has still won 2 stages! No Henderson is huge and they need Debusschere to really step up. He's been posted missing, so far, but tomorrow he must deliver. There is no pressure on Greipel, thanks to his brilliant wins. He is full of confidence, a vital aspect for any sprinter. Even if he loses a wheel, he has faith in his own ability.
The Etixx train is missing Tony Martin. His power is crucial, to bring them to the front of the race. Without him, Kwiatkowski, will need to do a longer turn, which is not what he wants to hear. The final three have misfired. Surprisingly, Cavendish and Renshaw have not clicked and I already flagged up my fears about Trentin at 3. The pressure is starting to mount on these boys and they will be very keen to get it right.
The best sprint train, is now Giant Alpecin. They didn't get it right, on stage 5, hitting the front too early. They will have learned from this and will try to ensure better timing. They have the advantage at number 4, with Roy Curvers. He is the fastest, in that position, and should ensure they hit the front as we approach the flamme rouge. He hands over to Ramon Sinkeldam, a very fast rider. He is the best rider, currently operating at number 3. In an ideal world, he would like to ride from 800m to 400m. Having the best riders at 3 and 4 is huge and Giant should be in the best position. That leaves us with De Kort. He isn't as good as Renshaw and that could be a problem. Don't get me wrong, he's bloody fast, just not as quick as Rens. Degenkolb is not as fast as Greipel and Cavendish, that is a massive problem. If he's going to win, he needs the "perfect" lead out. De Kort needs to deliver him at 150m and the German can finish it off. That distance makes it very difficult for another rider to come round you. It's the only way, he's going to win.
Kristoff hasn't clicked yet and Marco Haller is a big miss. He crashed again today, and I doubt he'll be able to fill his normal role, in the train. That leaves them under strength and it's a shame. The Norwegian, is about to hit form, but he's going to start, too far back.
Peter Sagan is amazing. Despite not having a train, he floats around the front of the bunch, jumping from wheel to wheel. His strength is normally choosing the right wheel to follow, which has helped him to make the podium, in both "sprint" stages. I can't see him winning though, as he is always coming from behind Greipel. He isn't as fast as Andre, so starting behind him is not a wise move. His lack of teammates, means it's his only choice.
The boys from MTN can mix it in the final kilometres, but lack a speedy sprinter. Coquard doesn't have the acceleration, in a flat sprint, so this finish is good for him. Unfortunately, the uphill ramp isn't steep enough for him. Demare is not enjoying himself, yet. He doesn't need a sprint train, as he is also good at surfing wheels and he can go very fast. Hopefully he can channel his frustration into a good performance.
The Finish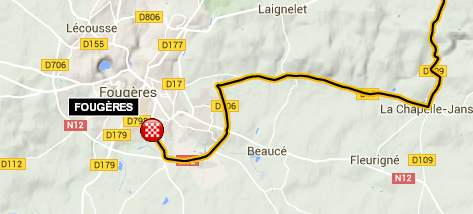 With 4km to go, we turn left. There is at a roundabout and from that point on, it's vital to be close to the front. After 500m we have another roundabout, this time going straight on. The big issue is the right hand side is shorter than the left. Get on the wrong side and you are in big trouble, but there is time to make up the ground. After another 400m, there's another roundabout and again it's shorter on the right hand side. Around the flamme rouge, there is another big roundabout and this time it's vital you are near the front. The riders are going right and there is enough space to go fast, without touching the brakes. Soon after, the riders head left, with a wide corner. Watch for the front guys moving across the road, to be on the inside line. The finishing line comes after a lazy, right hand bend. It means they don't see the finishing line until the very end.
Just getting to the end is difficult and then the last 500m is uphill! The uphill sprint is great news for Degenkolb, Sagan, Demare, Coquard and Kristoff. It's less good news for Cavendish and Greipel, although they can sprint uphill. This brings all the sprinters a bit closer together, in terms of speed.
Prediction Time
The technical finish is great news for the teams with the best lead outs. That means Giant are in pole position. They should be able to drill it from 3km and put Degenkolb in the perfect position. The uphill sprint is great news for him and I think we'll see another German stage winner. His main concern will be Alexander Kristoff.
David Hunter
Follow us on @CiclismoInter
Join us on facebook: Ciclismo Internacional
Copyright © 2015 Ciclismo Internacional. All Rights Reserved