Tour de France 2017 – Overall Preview
By David Hunter
Like most fans of this sport, I can't help but be disappointed with the Tour de France route. Lacking in demanding mountaintop finishes, this year is great for riders who climb well and TT even better. With many sprint stages, it promises to be a tough race for fans to watch. I hope I'm wrong, but I fear not.
Key Stages
Stage 5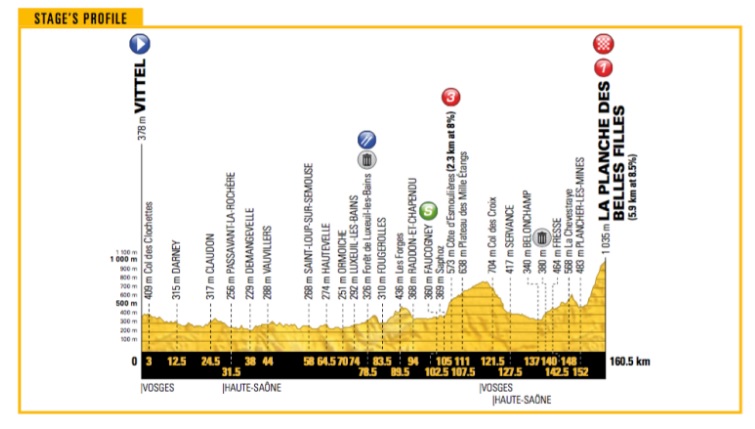 The climb of La Planche des Belles Filles is very steep, but only 5.9km long. We will see some gaps, but I doubt the main riders will gain anymore than 20 seconds on their rivals. This is the first real test of the race.
Stage 8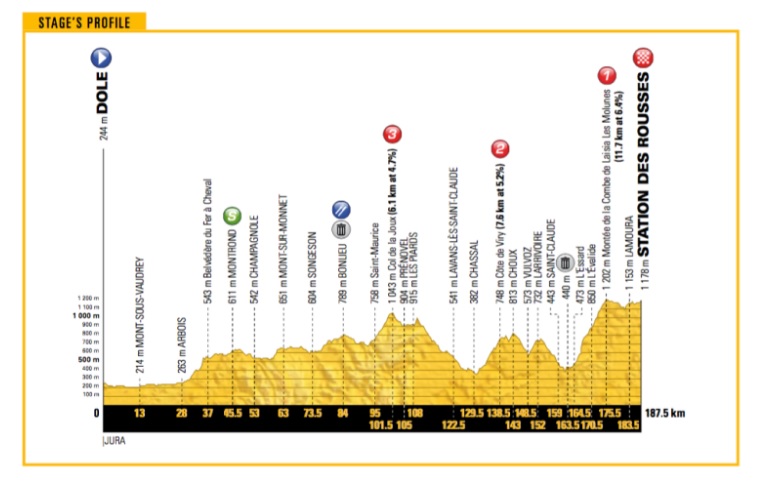 The final climb crests with 12km remaining, this will allow some dropped riders to rejoin the front group. The climb is 11.7km at 6.4%, I doubt the podium contenders will be worried about this. The run for home should see lots of attacking with a small front group.
Stage 9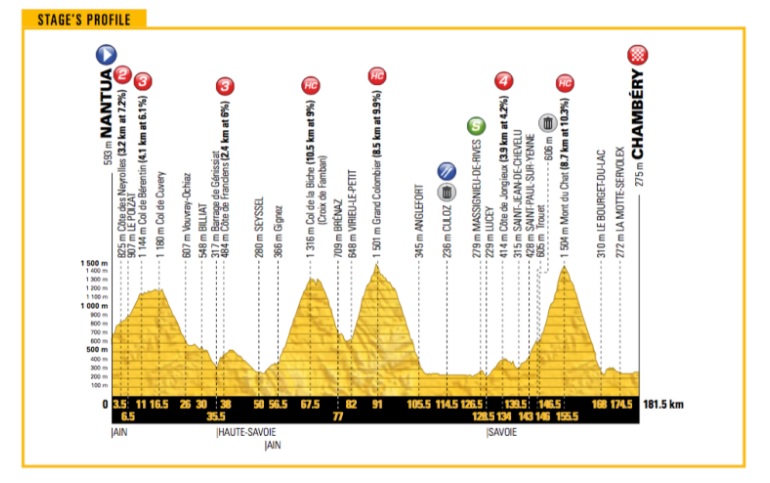 The 9th stage is the first truly demanding day in the saddle, thanks to three HC climbs. The problem for the attackers, is the 50km between the top of the Colombier and the beginning of Mont du Chat. You will remember this climb from the Dauphine, it is very tough. More memorable was the descent, but the riders have more flat before the finish than they had in the Dauphine. Again, this makes it hard for solo riders to attack on the climb and stay away until the finish.
Stage 12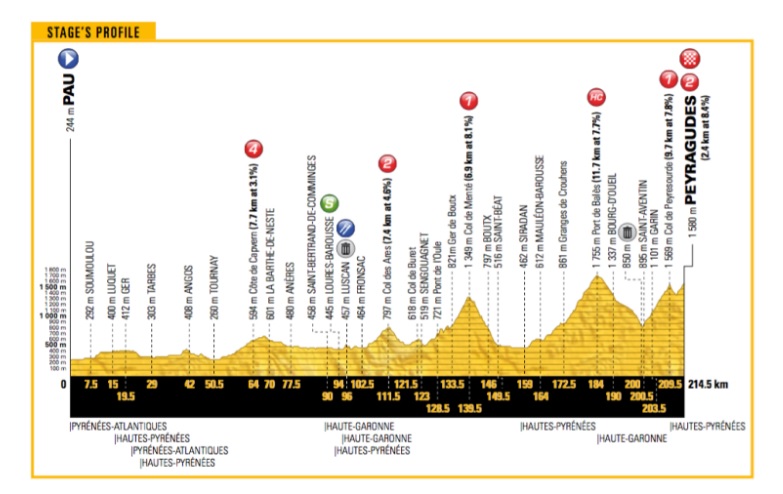 With a run of three climbs at the end of the stage, we'll see big gaps on this day. First of all it's Port de Bales, then Col de Peyresourde, before the finish in Peyragudes. This is when we'll start to see the winner of the yellow jersey step forward.
Stage 17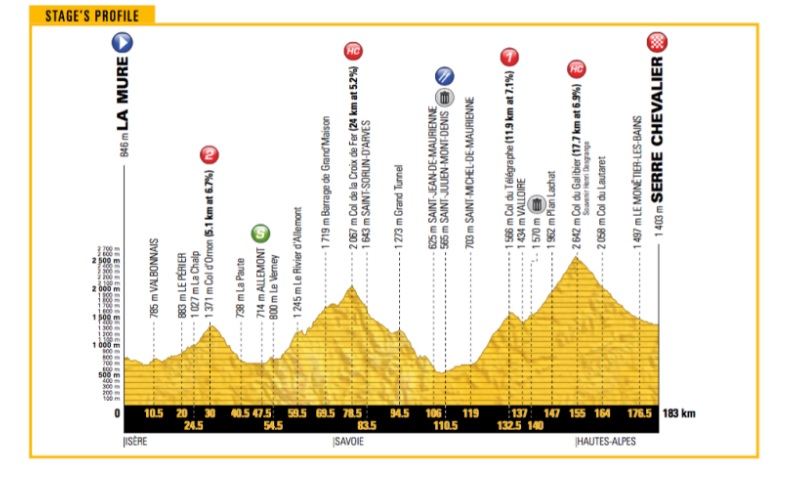 Another day with HC climbs, but the final climb crests with 28km remaining. The riders have to tackle Col de la Croix de Fer, Col du Telegraphe and Col du Galibier. These mountains are icons of the sport and beg to be attacked. This should be a big day for the GC, despite the distance between the final climb and finishing line.
Stage 18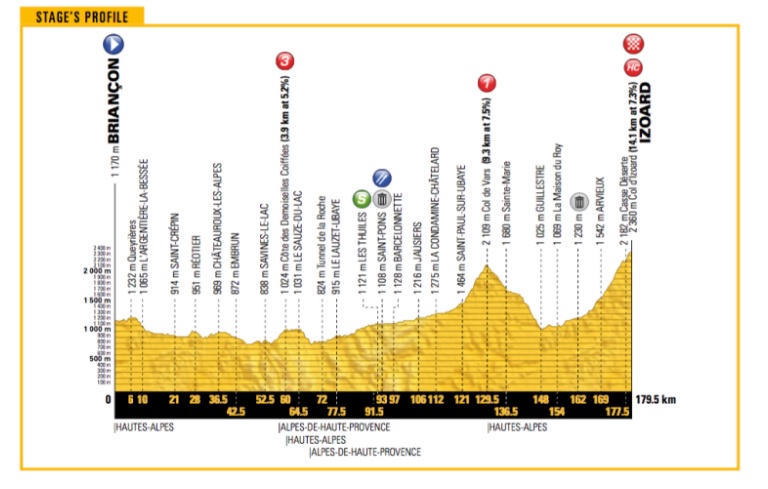 Stage 18 features the only HC finish, something of a disappointment. The climb to Izoard is a tough one, 14.1km at 7.3%. This is the final chance for the mountain climbers to take time and the length of the climb is great news for some.
Stage 20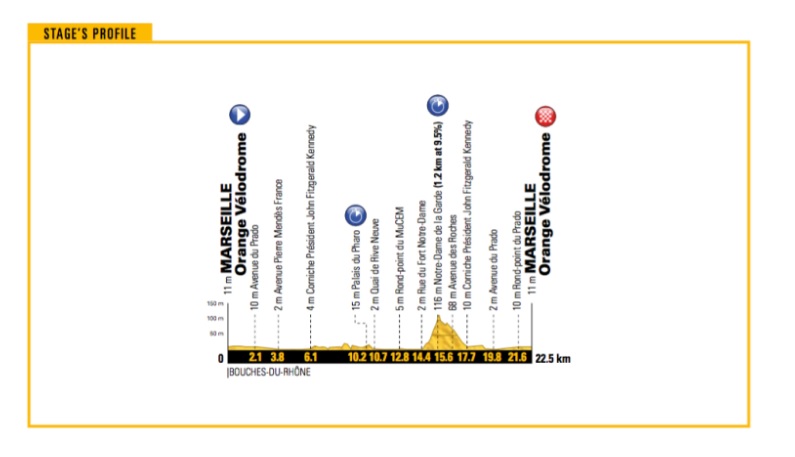 The penultimate stage of the race is a 22.5km ITT in Marseille. I love that the organisers have included a 1.2km at 9.5% climb, that should make things more interesting. The race for yellow should be alive until the end of this stage.
Contenders
Chris Froome – this is not the same Froome as previous years. Aiming for his 4th title, his season has been bitterly disappointing. I will not pull my punches, Froome has looked a shadow of his former self. It is unrealistic to think that his dominance would last forever, given his ridiculously high level over the last 4 years. In 2017 his best result was 4th in the Dauphine, a race he normally wins. Another worry is his TT form, given the importance of that discipline in this race. He might have the strongest team, but stage 9 looks like the only stage where this will be a big advantage. Can he turn things around? We will have to wait and see.
Richie Porte – he's had the opposite year to Froome. The Aussie has stepped up several levels in 2017, taking wins in every race he's competed in. He seems to be climbing better than ever, but has still maintained an impressive level on his TT bike, a huge advantage for this race. His team are not as strong as Sky, but he should be able to rely upon Caruso and Roche to help in the mountains. He was exposed in Paris-Nice, wind doesn't seem to be his thing! He will pray that we have calm conditions in the flat stages, Sky will want the opposite. Another thing that Porte needs to conquer is bad luck. Throughout his career, he has been unable to get through three weeks of racing without a major incident. To win this race, everything needs to go perfectly.
Alberto Contador – still one of my favourite riders, but his days of challenging for this race are over. Despite an improvement in his TT riding, he will still lose vital time to his main challengers. In the mountains, he is not the rider of old. I cannot see Alberto attacking and dropping the other GC favourites.
Nairo Quintana – what does he have left after the Giro? That is the question that needs answered. A stage win and 2nd on GC certainly wasn't a bad result in the Giro, but it was a race he would have expected to win. The feeling was that he always needed to leave energy in the tank, if he wanted to compete for the Tour title. Has he done that? He was 2nd here in 2013 and 2015 and it looked like he was close to overtaking Froome. Despite finishing 3rd in 2016, he was never in contention and that was a huge disappointment. He made up for that by winning the Vuelta and putting Froome to the sword, but this is the race he needs to win. The Colombian now has both Giro and Vuelta titles to his name, can he complete the treble and take the yellow jersey? If he is going to do so, he needs a much better performance in the ITTs.
Alejandro Valverde – a definite second option for Movistar. Valverde has been in brilliant form, but he usually cannot respond to Froome and co in the high mountains. With fewer tough days, their is a real possibility that Valverde will be high on GC coming into the last week. If Movistar are going to win this race, they need both riders threatening yellow. That will allow them to attack and force the others into chasing. His season has been a massive success, but France has often been his weakness.
Ion Izagirre – starting his 6th grand tour, it will be fascinating to see how he deals with targeting the GC, for the first time. The Basque rider is a huge talent, someone that continues to make steady improvement every season. He is now one of the best 1 week racers in the world and hopes that will translate into grand tours. He has all the attributes to do well here, he can climb, TT, descend and sprint. Bahrain have a rider capable of challenging for the top 5 and maybe the podium. Of his 9 pro wins, he already has stage wins in both the Giro and Tour, he really is a touch of class.
Romain Bardet – after finishing 2nd in 2016, how will he cope with the pressure of the nation? Without a home winner since Hinault in 1985, the French are desperate for Bardet to challenge. No doubt he can climb with the best, but his TT performances have not been good enough. He will certainly lose time to his main rivals, time that he will struggle to make up in the mountains. Another podium is a possibility, but I cannot see him winning the yellow jersey. The wait goes on!
Dan Martin – in exactly the same position as Bardet, except he's not French! 9th in 2016, he'll be aiming for the top 5.
Fabio Aru – is this the 2015 Fabio Aru? If so, he has a big chance. The Italian would have been delighted with his performance in the Dauphine, it was a welcome return to form. On his day, he can climb with the very best. Aru has worked hard on his TT performance, and although it's better, it will still stop him from contending for the yellow jersey. He will have his eyes on the podium. His confidence is also sky high just now, he was outstanding in winning the Italian road race.
Jakob Fuglsang – won the Dauphine, but has peaked too soon. It takes a very special rider to be able to maintain form throughout June and July, the Dane is good, but not that good.
Esteban Chaves – 2016 was an enormous year for the little Colombian, finishing 2nd in the Giro and 3rd in the Vuelta. Injury has ruined the majority of his 2017 season, but he did look good in the Dauphine. With just 20 race days, he will certainly start this race much fresher than the others, but will he suffer from a lack of race kilometres? His TT ability is not great, something that could prevent him from challenging for the podium. I have always said that Chaves will win a grand tour, but I think the Vuelta is more suited to his style. Despite that, I expect a big three weeks from him.
Prediction Time
Can't believe I'm saying this, but Richie Porte will win the Tour de France. I think Froome will be good enough for 2nd and we'll see a huge fight for 3rd.
David Hunter
Follow us on @CiclismoInter
Join us on facebook: Ciclismo Internacional
Copyright © 2012-2017 Ciclismo Internacional. All Rights Reserved