Tour de France 2020 – Stage 18 Preview
By David Hunter
Méribel > La Roche-sur-Foron 175km
The last big road stage of the race.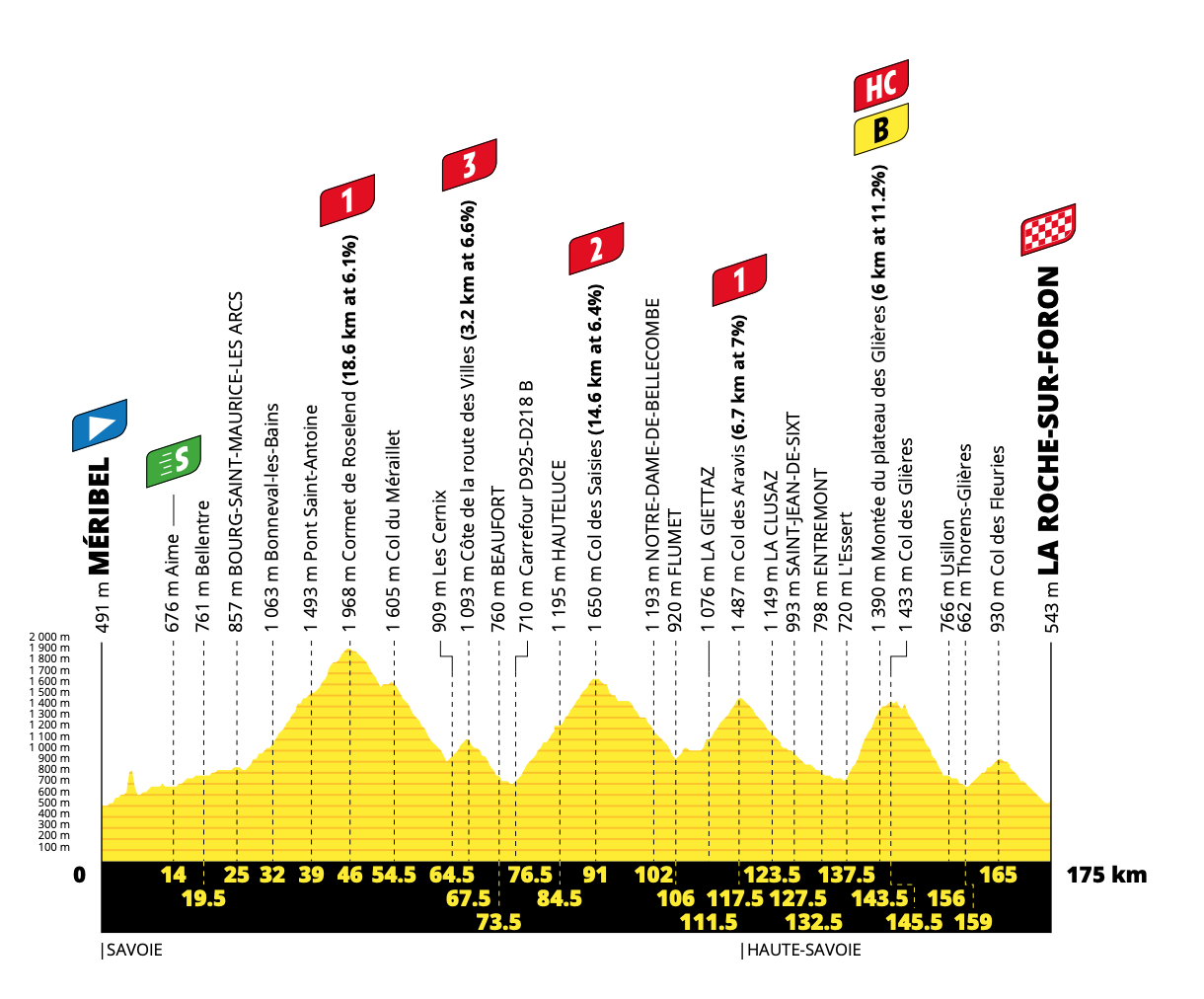 This is one of those days some riders will dread. We have a big climb at the beginning of the stage, the racing will be on from the very start and likely to continue to the very end. Some riders hate this type of day, but other flourish. Weirdly, the neutral zone is a steep descent down from Méribel, don't think I've ever seen this before.
The Intermediate Sprint
It comes after just 14km, most of which is uphill. Please ignore the spike on the profile at the start of the stage, this gives a false impression of the road. At this point the riders go through a rather long tunnel, for some reason tunnels often mess up the profile. Sam Bennett will be present for the sprint, and he'll win it.
The Climbs
Long and tough. Fingers crossed the GC boys come out to play right from the start, the climb is hard enough to do so.
After a long descent, with a little cat 3 thrown in, the next obstacle is Col des Saisies. This is a long and steady climb.
Col des Aravis is categorised as 6.7km at 7%, this is another steady climb where riders can settle into a rhythm. A long descent of 20km follows before the big climb of the day.
Col des Glières is a really hard climb, 6km at 11.2%. At the top we have a short gravel section, but that shouldn't really have an impact on the race, apart from an unlucky puncture or two.
The final obstacle of the day is Col des Fleuries, which is 5km at 4.6%. Not hard, but a final chance for those not wanting a sprint.
The descent off the Glières is fast, narrow and technical. Just what the doctor ordered for those wanting to take some risks.
Weather
It should be a sunny day, but the wind is stronger than in previous stages. The bad news it means a headwind for the vast majority of the stage.
Breakaway Hopes
It all depends what action we see on the first climb. At this point in the Tour de France, if the pace is pushed on, the front group will be small by the crest. There is a chance some riders can get back on during the descent, which will allow attacks from non-GC threats on the Col des Saisies, but you can bet riders sitting just outside the top 10 will sense a chance to get away and move up the rankings.
This is a tricky day for the breakaway riders to get right. It is possible to escape, but I don't think it'll be the first move of the day. The clever riders will be patient and try to sit in the wheels for as long as possible, then launch their move. With a lot of GC attacks expected, this is not a day we'll see a large gap and an easy win for the break, but they could succeed with a later move.
Tactics
This is where the fun begins! It might be stage 18, but this is the first time we'll get to see long range GC attacks. The opening climb will be used by teams to get strong domestiques up the road, allowing team leaders to attack from distance. The job of Jumbo-Visma will be to keep the pace so high that this cannot happen, either by catching attacks or deterring them altogether. If they succeed, the race will settle down until Col des Glières. For us fans watching, we'll want them to fail so we can see 175km of full gas racing!
Once we get to the Glières expect the usual thing to happen, all riders will try to defend their spot in the top 10. Roglič only needs to concern himself with Pogačar, which means this is an excellent opportunity for someone sitting a little further down the GC to get a gap, for the first time in the whole race. Pogačar did suffer today, and Roglič has spoken about wanting more time for the TT. The problem is the HC climb is little far from home for a big attack to stick.
This is a wonderful opportunity for someone like Enric Mas, Guillaume Martin or Alejandro Valverde to take a "surprise" win.
Contenders
Ineos – it's great seeing them chase stage wins. Carapaz has been close two days running, you can bet he'll try again. Throw in Sivakov and Kwiatkowski and they have three riders with a real chance of stage success. Timing the attack will be very important, but these guys know what they're doing.
Bora – will Kämna ever get tired? Can Buchmann summon his power for one big effort? Max Schachmann for a long-range attack? I'm not sure Bora can win this stage.
Sunweb – okay, I'll admit it, I've gone a bit Hirschi mad! This stage is really tough one, I'm not sure they have they firepower to win it, especially as Hirschi has started to look a little tired in recent stages. If not him, hopefully Tiesj can find that little bit extra that he's been missing since the race started.
Guillaume Martin – the classy Frenchman has enjoyed a strong performance in both the Dauphiné and Tour de France. He might be a little disappointed that he's not in the top 10, but a stage win would be much more important than that. We've seen in previous stages that he's interested in attacking and a stage win would be a fair reward for his attacking throughout the whole race.
Alejandro Valverde – you might be thinking I've lost my mind, but I don't care! With the top GC riders not wanting to let anything get away, the door is wide open for a rider like Valverde. Cast you mind back to the final mountain stage in 2019, it was he who was just denied by Vincenzo Nibali. We've barely seen Valverde throughout this whole race, but there he is sitting in 10th place on GC, not bad for an old man who started the race is poor form! Now, as weird as it seems, the great Bala is using this race as preparation for his main goal of the season, the World Championship. With just over one week until the road race, you can bet that Valverde is nearing his top form, so watch out!
Julian Alaphilippe – he'll keep trying until the very end. You got to love his spirit.
Marc Soler – this type of stage suits him very well. After missing the move today, Movistar will want to ensure they secure the team classification by the end of this stage. With Mas and Valverde in the lead group, they'll wait to see how the race develops before sending Soler up the road.
Prediction Time
Experience to rise to the top and Alejandro Valverde to take the win. In the battle for the yellow jersey the HC climb is too far out for my liking. As Jumbo-Visma will still have domestiques I don't see anyone being able to put Roglič under pressure. Roglič will try to distance Pogačar, but I don't see it happening. I think we'll see minimal gaps between the top riders.
David Hunter
Follow us on Twitter and Instagram
Join us on facebook: Ciclismo Internacional
Copyright © 2012-2020 Ciclismo Internacional. All Rights Reserved