Tour de France 2020 – Stage 5 Preview
By David Hunter
Gap – Privas 183km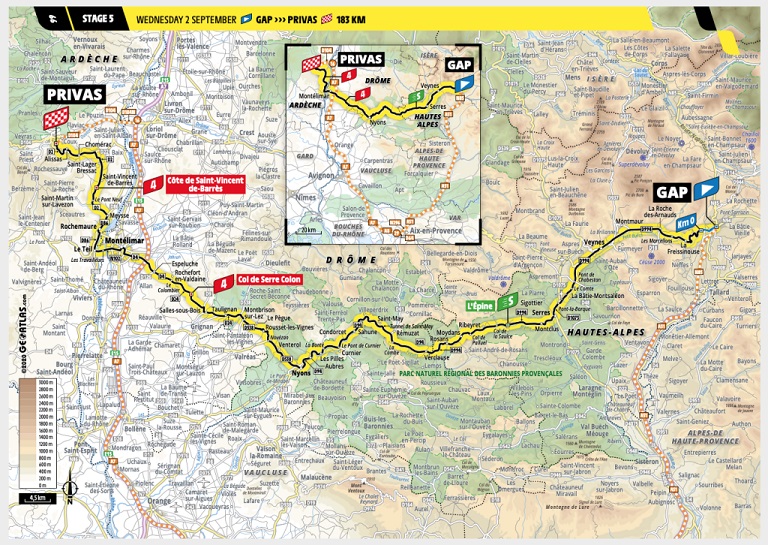 Another day for the sprinters.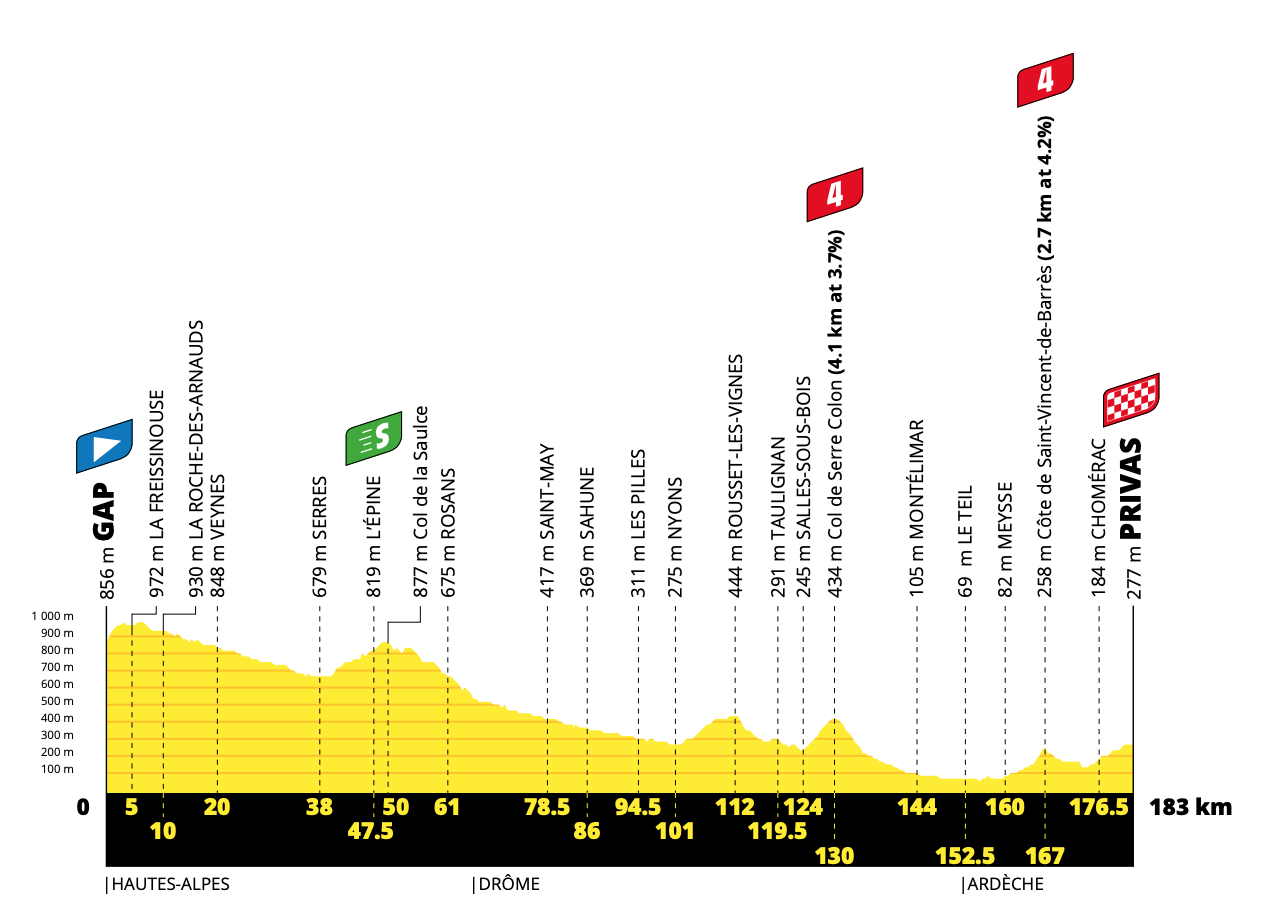 This stage contains very little climbing, but the final 20km has an interesting look about it. As the bunch head towards the finishing town, there are a number of little kickers to make life interesting for us. First up is 2.7km at 4% which crests with just under 16km to go. A descent follows before the final 7km gradually rises up to the line.
700m at 4.4% cresting with just 5km to go.
1.1km at 3.3% and this one tops out just before the flamme rouge. This is a finish which is going to hard for a few of the quick men.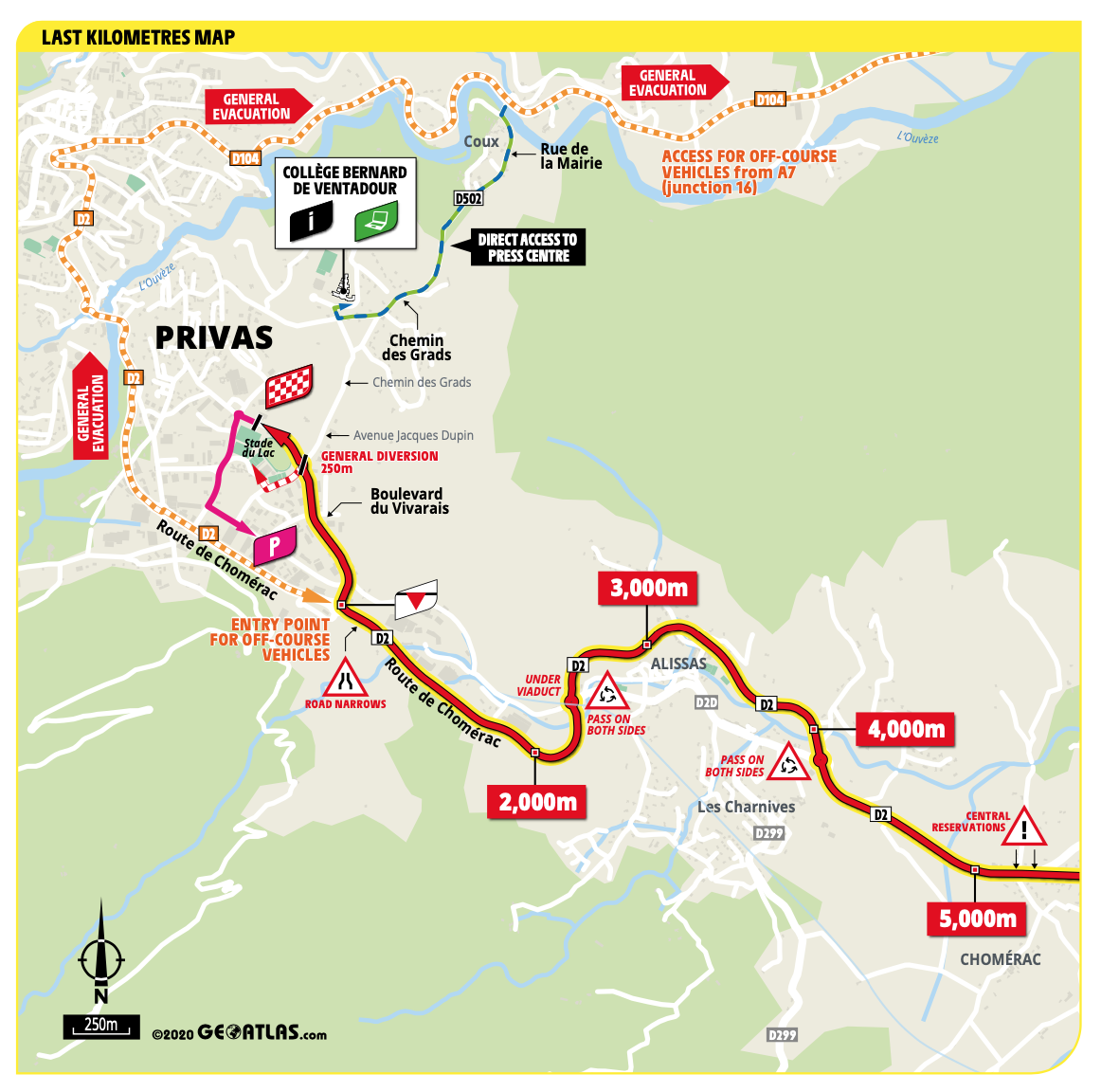 Not only that, but the sprint trains also have to deal with round furniture, roundabouts, narrowing roads and a big compression point at the flamme rouge.
One further point for those teams reading this(you know how you are!), there is a roundabout not shown on the roadbook with 250m to go, I assume it's not in the roadbook as the organisers have paved over it, but I'd be wanting a staff member to check the finish and report back to the car.
Weather
Another sunny day, with a little wind coming from the north. That means its headwind for the sprint.
Tactics
The sprinter teams will need to keep the pace ridiculously high to stop any late attacks. The series of little kickers aren't overly difficult, but they do provide a potential launchpad for a late move, particularly the final one which crests with just over 1km to go. This is the most important point in the race, as the road narrows to one lane at the crest of the little climb. What follows is a fast downhill, leading to a right-hand turn and the race to the line. You need to be in front at this point.
Contenders
Caleb Ewan – his win on Monday was a magnificent piece of sprinting. Lotto got to the front of the bunch, despite only have a four-man train. The work of Frison, Kluge and De Buyst was very impressive in the final 10km. Near the final kilometre, Caleb made the brave decision to drop back a few wheels due to the headwind. He knew there would be a chance of getting blocked, but he took the risk and it paid off. I've been saying since the start of the race that he's the fastest sprinter in the world, and he proved it. He'll start this stage as the big favourite, but I do worry his train is a little short for this finish. He needs to be right at the front for the final kilometre, that will take a huge shift from his trusted lieutenants.
Sam Bennett – close but no cigar on Monday, he cannot let Caleb get in his head. There is a danger of Bennett becoming overly worried about Ewan, but he needs to focus on his own race. Luckily he's a levelheaded guy, and has the experience of Michael Mørkøv to help. Sam needs to forget about the little Aussie and focus on getting into the perfect position and launch his sprint from the front. If Ewan comes around him, then so be it. I still have my concerns about his sprint train, especially as QuickStep put in a big ride today, and will be expected to shoulder most of the workload in this one too.
Giacomo Nizzolo – he'll prefer this finish compared to the previous two sprints. His train didn't work particularly well on Monday, they are missing the injured Ryan Gibbons. Nizzolo will look to be at the very front for the final kilometre, using the little climbs to his benefit, then we'll have to see if he can hold off the faster finishers.
Cees Bol – the man with the longest sprint train. This is the stage for Sunweb to use their power, and the finale is perfect for the Dutchman. Bol is very fast going up small hills, just think back to his power sprint in Algarve earlier this year. Obviously, this isn't an uphill sprint, but the little lumps before it will be hugely important. Given the road in the final kilometre, this is a race to the 1km point and then all about holding position and grinding the biggest gear possible in the sprint.
Trek – who will they sprint for? Theuns finished well on Monday, but had to start from too far back. Pedersen was second on Saturday, a lot of that was thanks to the lead out from Theuns and Stuyven. Maybe Trek can organise Theuns to be in positions 3 and 1! I have no idea who'll they turn to, so no point making a prediction.
Peter Sagan – I'm sorry to say it, but Sagan is looking a shadow of his normal self. He's lacking in the power department and I just can't see him winning a stage, despite it being a good one for him.
Greg Van Avermaet – is it possible for a puncheur to smash up the final little climb and solo to victory? Probably not, but Greg would be your best bet.
Wout Van Aert – it's just far too hard predicting if he'll sprint, so I won't bother.
Prediction Time
Size is everything in this finish, it's a win for Cees Bol.
David Hunter
Follow us on Twitter and Instagram
Join us on facebook: Ciclismo Internacional
Copyright © 2012-2020 Ciclismo Internacional. All Rights Reserved