Tour de France 2020 – Stage 8 Preview
By David Hunter
Cazères Sur Garonne – Loudenvielle 141km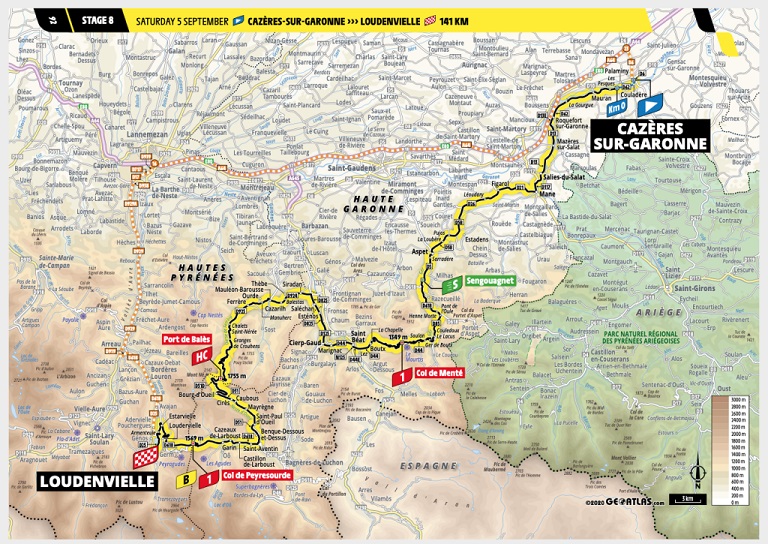 Welcome to the start of the GC battle.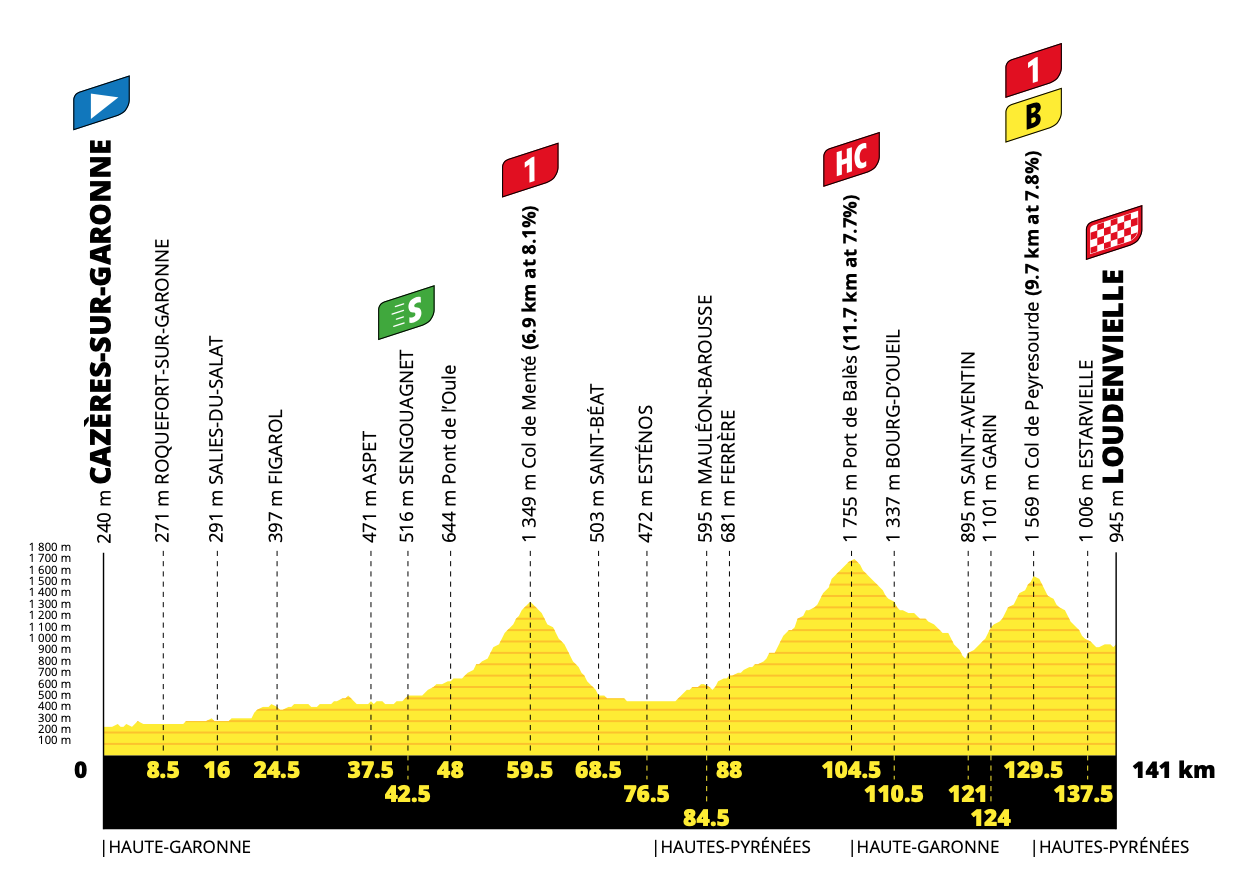 Stages like this have an interesting history in the race, it's very hard to predict if they'll be won by the GC group of the breakaway. As it's not a summit finish, that normally pushes the advantage to the break, but we do have cases in recent history of the winner coming from the GC group, I'm thinking back to Uran on his single gear and Roglič storming downhill after the Aubisque.
The Climbs
Col de Mente is first up, 10.9km at 6.4% is tough but it's a long way from home.
The racing will properly kick off on Port de Balès, home of chaingate. This is the first HC climb of the whole race, and it's a proper beauty. 11.6km at 8% and few places to catch your breath. From the crest there is only 36km to go, which could tease out some long-range attacks. The descent off it is fairly easy and lasts for 15km.
The Peyresourde, 9.7km at 7.2%. Certainly easier than Balès, but still a tough way to finish any race.
Weather
Sunny, quite warm and not much wind.
Breakaway Hopes
As I have already said, this would normally be a good day for the breakaway. In this type of stage we usually see a big fight to join the morning move and a large group eventually establishes an advantage. Now, I do love when the break wins, but I'm worried about this one. The start of the race is on a standard two-lane road, which is only about 6 metres wide. Not only that but the opening 20km is pan flat, which isn't what the climbers want to here. It looks very easy for GC teams to block the road when a small, manageable group has escaped. Those wanting a group of twenty up the road are going to be disappointed.
Tactics
Having teams of eight and two protected riders really does change how the race is approached. Both Jumbo-Visma and Ineos are in this position, it means that the early climbs have to be done at a pace that their big engines can cope with. This means Col de Mente will be ridden at tempo, with an almost full bunch approaching Port de Balès. Once there we'll have to see who wants to dictate the pace, but the presence of ultra-strong domestiques like Sep Kuss means that attacking from distance is a suicide mission. If you ride for another team, you have to wait until he's out of energy before making your move, but when will that be? I think the American will still be there deep into the Peyresourde, not much fun for those wanting to have a go at the stage. Once he goes, then we'll see who can win the Tour de France. Roglič is sure to attack, will anyone be able to follow? The top of the climb comes with just 11km to go, with a fast descent down into town. A solo rider will easily be able to hold off a small group and take the stage win.
Contenders
Primož Roglič – started the race with some doubts after his crash at the Dauphiné, but his emphatic win on stage four told us that he's recovered just fine. Jumbo-Visma have the strongest team at the race, they'll be able to ensure Roglič has to do nothing until the key point on the Peyresourde. The downhill run to the line also suits the Slovenian, he's a brilliant descender and this stage looks perfect for him.
Tadej Pogačar – such a sensational rider, it's incredible to think he's still just 21. He's looked nice and strong so far, but unfortunately lost time today. He'll be hoping to land a big result in this stage, and push himself back up the standings.
Adam Yates – another who has looked in great form. Yates should enjoy the challenging day in the saddle, but he will come under severe pressure during the stage. Being in yellow comes with extra responsibility, and his team aren't really built for the mountains. On the plus side, he does have Esteban Chaves, who should be around until very deep in the stage. Given the current power of Roglič, Yates will find it hard to hold onto yellow.
Nairo Quintana – it's very hard to work him out just now. Only he will know if he's over his recent knee injury, but he has looked good in the opening week. Quintana is one of the best in the proper mountain stages, and this is one. The descent to the finishing line means he's very unlikely to win, but if he manages to stay with the very best, it will give him a huge boost for later in the race.
Egan Bernal – he just doesn't look at his best, which is a real shame as his back injury must be holding him back.
Miguel Ángel López – another rider who's impressed me so far. The Colombian clearly used the recent races as training, and he now looks in good form. López isn't scared of attacking from distance, I hope he goes for a long one in this stage. I get the feeling we could be seeing a lot of López over the next two weeks.
Thibaut Pinot – after his big crash on Saturday, it's great that he's been able to stay at the front of the race. Of all the contenders for the yellow jersey, Pinot looks like the real challenger to Roglič. If he is now pain free this type of stage is brilliant for him.
Prediction Time
Sorry breakaway riders, the start of the race is simply far too easy to block. This is going to be a GC day and Primož Roglič will take the win and the yellow jersey.
David Hunter
Follow us on Twitter and Instagram
Join us on facebook: Ciclismo Internacional
Copyright © 2012-2020 Ciclismo Internacional. All Rights Reserved