Tour de France 2021 – Stage 15 preview
By David Hunter
Céret > Andorre-La-Vieille 191.5km
Andorra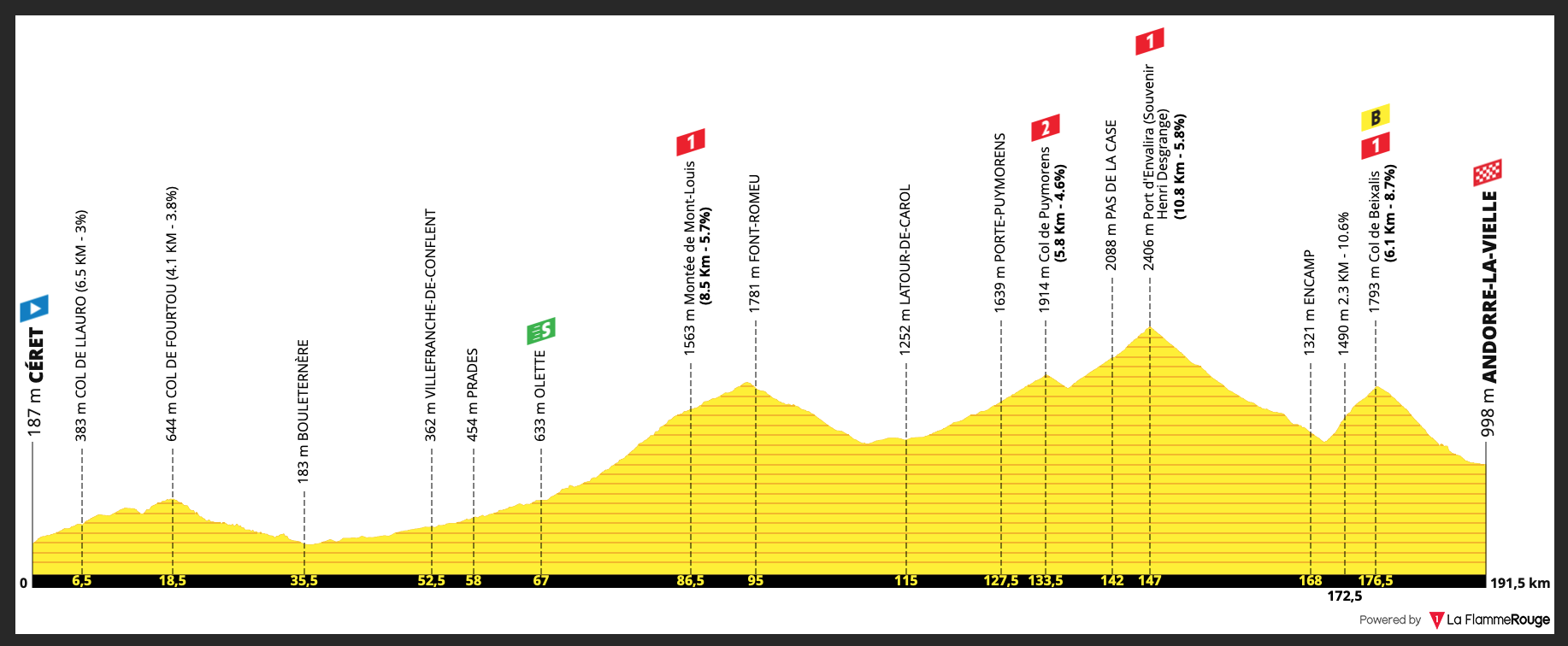 Forget the Ventoux stage, this is the hardest stage in the race, a day where the GC could explode. Don't let the profile fool you, just three cat 1s and a cat 2, but this is a very demanding day in the saddle.
I wanted to get some local knowledge on the route, so got on the phone to two of my mates who live and train in Andorra, where's what they had to say.
Massive fight for the break, the first two climbs seem to go on forever but aren't that hard, d'Envalira is much harder than it seems due to the altitude. Officially it is 6%, but feels like 8%, but still hard to make a gap here and keep it all the way down the descent as the road is nice and wide. Huge fight to start Beixalis at the front as it's very narrow, they've been repairing the road, so the surface is good. Steep and twisty for the first half, significantly easier in the last couple of kilometres. Descent is quite technical and steeper at the bottom. Very little downhill in the whole stage, it will seem like you're on the pedals all day. If you're not on a day you're going to hurt. If you are floating, you'll be giving it full beans up Beixalis.
Weather
Hot as hell. The wind is relatively light and will be a tailwind at the start but swings round and becomes a headwind in the second half of the stage.
Key Points
The start doesn't look much but looks can be deceiving. The opening 18km is uphill and has some steep gradients too. The road looks grippy, perfect for the breakaway to establish and start to build a significant advantage.
Montée de Mont-Louis is a long climb, 24.9km at 4.4%, despite the organisers only saying it's 8.5km at 5.7%.
Col de Puymorens is another long one, 15.6km at 3.9%. A short descent follows before a very important point in the race.
Port d'Envalira is 10.6km at 5.9% and climbs all the way to 2400m above sea level. As I've mentioned already, the riders tell me the altitude makes it feel like 8%. Damage can be done here. We then have a fast descent and a huge battle for a good position for the start of the next climb.
Col de Beixalis is a nasty climb, 6.2km at 8.4%. The entrance to the climb is narrow, the first 3km has gradients way above 10% and we have lots of hairpin bends. From the crest there is 14.5km to go.
The descent isn't too bad, but there are a couple of technical sections. This finishes with 5km to go, most of which is flat.
Tactics
Will it be another stage for the break? Who wants to chase them down? Ineos tried in the Ventoux stage, but it didn't work. Jumbo-Visma don't have enough riders to chase, but EF Education – Nippo do have what it takes to chase the morning break. If they and Ineos join together the break won't win, but there is no guarantee this happens. A downhill finish is normally good news for the break, but not always.
One thing is certain, teams will set a furious pace on Port d'Envalira, the plan will be to isolate Pogačar. UAE are not looking strong, especially as Majka crashed on Friday and he was the last man on Ventoux. Once Pogačar is alone, the big attacks will fly on Beixalis, and from the very first ramp. Vingegaard put 45s into Pogačar on Mont Ventoux, make no mistake, the Slovenian cracked. Jumbo-Visma will throw everything they've got at Pogačar, they smell blood. We'll see on the final climb if Pogačar has peaked too soon.
The Local Lads
It seems like half the peloton now live in Andorra, knowing the roads always gives an advantage. Some will also have extra motivation as friends and family will be at the finish, a very important factor to consider. Keep your eyes out for Kuss, Alaphilippe, Geoghegan Hart, O'Connor, Mas, Woods, Chaves and Guerreiro.
Contenders
Tadej Pogačar – all eyes are on Tadej after what happened on Ventoux. He'll likely not have much help on the final climb, it'll be interesting to see what moves he looks to cover. His gap is huge, but he has shown a little weakness for the first time. He'll hope that Vingegaard, Urán and Carapaz counter each other, but I wouldn't rely on that. Normally he'd be the favourite for this type of stage, but there is some doubt, especially with the heat.
Jonas Vingegaard – time to see what he's got. His attack on Ventoux was hugely impressive, the fight for yellow is still alive. Jumbo-Visma don't have the men to control the whole stage, but they do have the climbers to make the last two climbs hard for Pogačar. I expect the team to really go for it, they'll make it as hard as they can, then Vingegaard will attack on the final climb. Then we'll see if he has what it takes to drop Pogačar for a second time.
Richard Carapaz – he'll like the altitude but doesn't seem as strong as he would like.
Rigoberto Urán – he'll also like the altitude and seems to be growing into the race. It's unlikely he'll win the stage, but the podium is possible.
Julian Alaphilippe – breakaway hopeful number 1.
Michael Woods – breakaway hopeful number 2.
Sergio Higuita – breakaway hopeful number 3.
Miguel Ángel López – breakaway hopeful number 4.
Prediction Time
Another day where we're likely to see two races in one, with the breakaway taking the stage. Despite his crash today I'll take a win for Michael Woods. The Canadian is a local and will know the roads well, which will help him on the descents, hopefully he doesn't waste too much energy chasing KOM points. In the GC group I think we'll see something special, with Vingegaard dropping Pogačar, and this time he won't be able to come back. The fight for yellow is on!
A message from Cycle Pal: During the Tour de France, we'll add some extra pressure onto David as we'll be giving away a care package that includes tools worth up to £85 every time he predicts a stage winner correctly. To enter, all you have to do is click the link below and enter your email. Enter here: http://cyclepal.co.uk/tdf
Cycle Pal is a small UK-based cycling company that specializes in unique tools to help you with everyday cycling problems. If you struggle with changing stubborn tyres, you may be interested in our Tyre Seating Tool, you can find more information here: http://cyclepal.co.uk/cyclepal
David Hunter
Follow us on Twitter and Instagram
Join us on facebook: Ciclismo Internacional
Copyright © 2012-2021 Ciclismo Internacional. All Rights Reserved