Tour de France 2021 – Stage 20 preview
By David Hunter
Libourne > Saint-Émilion 30.5km ITT
Time for a TT.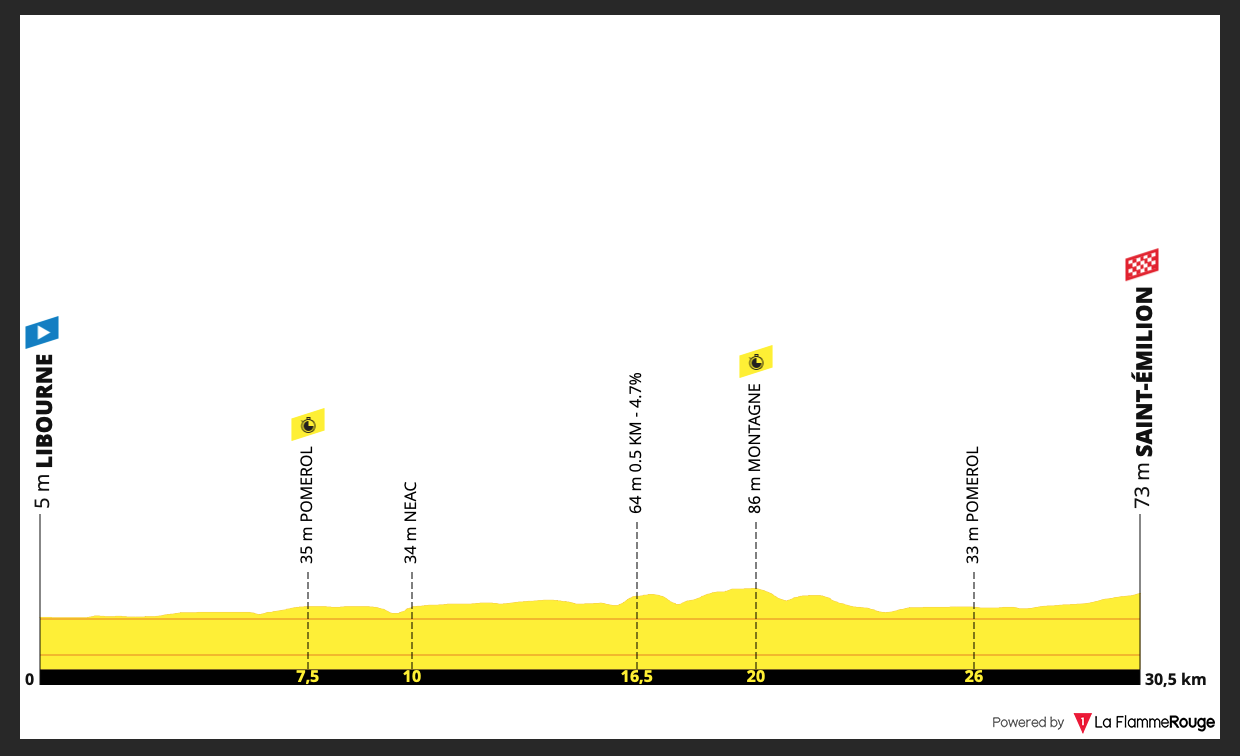 The GC battle ends with a relatively long, fairly flat TT. 31km is going to hurt at this point in the race, but in reality only a handful of riders are going to go full gas. We have a few rises throughout the route, but this is one for the specialists.
Weather
A beautiful day. The wind is coming from the north, this means a headwind for the first half and then a tailwind for most of the second half. The strength should remain constant for all.
Contenders
Stefan Küng – so close to winning the first TT, he'll look at this as a huge chance to win his first grand tour stage. His results this season have been excellent, and he's been carefully managing his energy for over a week now. Most of his rivals for this stage have been working their socks off while he's been chilling at the back, this gives him a massive advantage.
Wout Van Aert – this has been a big target for him, but he's been working hard throughout the whole race. He started the race a little off his best, but he's grown stronger as the race has gone on.  He was 4th in the first TT, he'll be disappointed not to better that result. The route is a good one for him, depending on how much energy he's got left.
Tadej Pogačar – can he win a flat TT? Of course he can. Now that the yellow jersey is secure, he must be thinking about Tokyo. There really isn't any need to go deep in this stage, he should ride a nice tempo and not go into the red. He might not do this, he might fancy a 4th stage!
Kasper Asgreen – big and strong, the podium will be a target for him. Similar to Küng, he's been able to manage his efforts throughout the last week, saving energy for this stage.
Jonas Vingegaard – he needs to push hard to secure 2nd place. His TT performances have been brilliant this year, but after going very deep in the past week I'm not sure he'll have the energy to challenge for the win.
Mattia Cattaneo – as you know, I'm a big fan of Mr. Consistent. He'll be in the top 10, maybe the top 5 on a very good day.
Mikkel Bjerg – he's been working very hard on the front of the bunch throughout the race, does he have any energy left?
Brandon McNulty – he's in the same position as Bjerg, it's all to do with how much energy is left. McNulty is brilliant on his TT bike, if he's been saving some energy back, he could challenge for the win.
Stefan Bissegger – crashed last week and he's struggled through the mountain stages. This is his first grand tour, I'd be amazed to see him challenging for the win in this stage.
Prediction Time
Time for Stefan Küng to get his first Tour de France win. The GC will finish Pogačar, Vingegaard, Carapaz.
A message from Cycle Pal: During the Tour de France, we'll add some extra pressure onto David as we'll be giving away a care package that includes tools worth up to £85 every time he predicts a stage winner correctly. To enter, all you have to do is click the link below and enter your email. Enter here: http://cyclepal.co.uk/tdf
Cycle Pal is a small UK-based cycling company that specializes in unique tools to help you with everyday cycling problems. If you struggle with changing stubborn tyres, you may be interested in our Tyre Seating Tool, you can find more information here: http://cyclepal.co.uk/cyclepal
David Hunter
Follow us on Twitter and Instagram
Join us on facebook: Ciclismo Internacional
Copyright © 2012-2021 Ciclismo Internacional. All Rights Reserved